After our epic bouncing session on Tuesday at Rebound revolution Elliot decided that 2 hours in a trampoline park wasnt good enough. Elliot wanted a park and to be honest i knew he'd be flat out in the car so i'd get 5 mins of peace. That's where the Bartons Play park came in.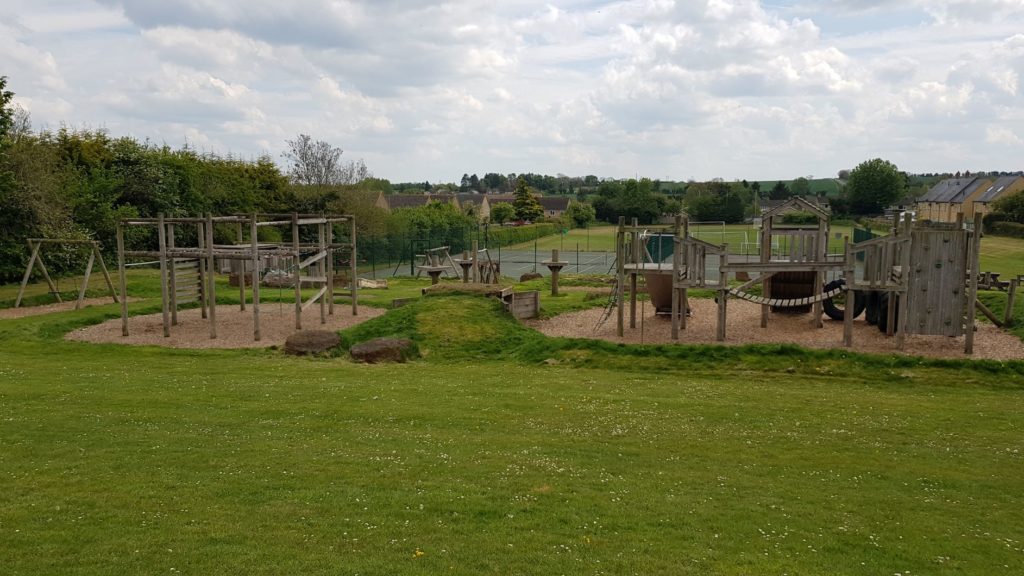 Where is the Bartons play park?
The Play park luckily wasn't that far away from where we were. Far enough away that he'd get a decent nap if i sat in the car park long enough once we got there.
So the name of the play park might actually be a bit of a give away. Yep that's right its in Middle Barton which from us is around 20 mins away. I never really know how far I'd go for a decent play park but i do know that I'd take the kids here again.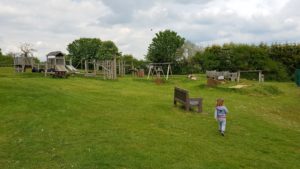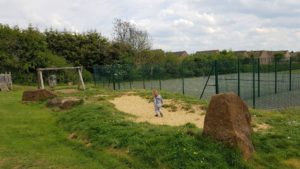 You'll be happy to know that if you do decide to go to Bartons play park that it has a pretty big car park. When we went during the week it was so quiet. In fact we were the only people using the play park. Just how i like it (for photography purposes of course)
The play park shares it's space with Barton memorial sports club. So be prepared for a busier car park at certain times when football and other sporty bits are on.
Is Bartons play park any good?
I'll be honest when i parked up i wasn't expecting great things from this park. I was preparing myself for a shit review. However when Elliot decided he'd had enough of napping we went to investigate. I took back all my previous cynicism and was pretty impressed. As was Elliot he was long gone.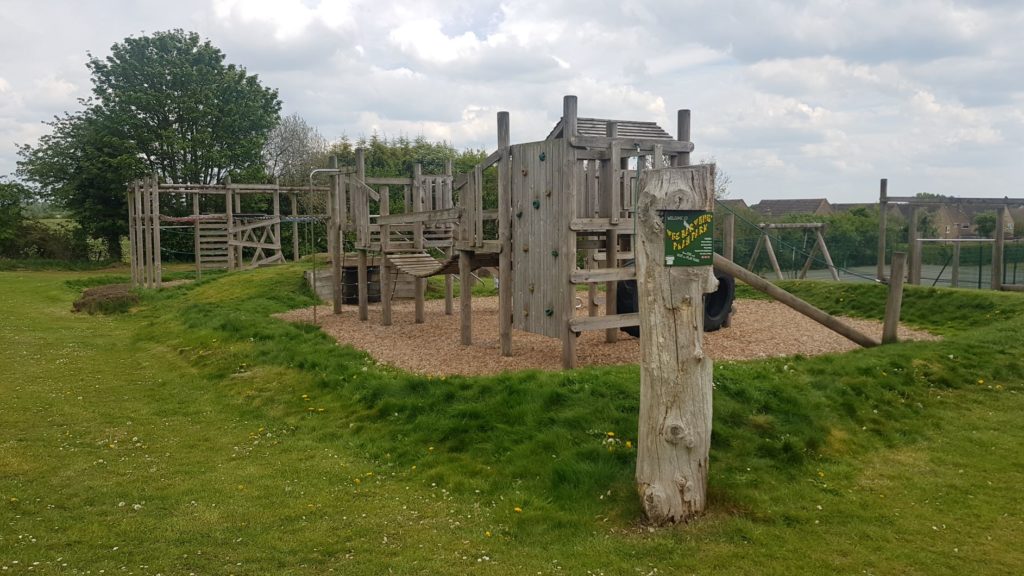 The park is more or less safe that i could see. As in it was gated off from the car park. The whole area was massive though so i didn't do a perimeter search. Sod that I was too busy running after Usain Bolt (aka Elliot)
Whats at Bartons play park?
I don't really know where to begin with whats in the park. There a whole lot of stuff and to be honest half the shit in there i have no idea what it was supposed to be. So best prepare yourself for some totally random descriptions a bit similar to the springy face twatters i often talk about. Don't worry none of those in sight here.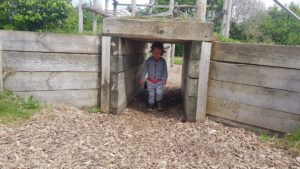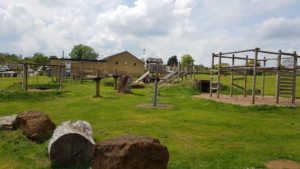 I'm going to try and tackle it in sections. The whole play park is mostly wooden frames and not one of them have been done badly. You will find something for all ages here.
Toddler Frame
I'll start with the toddler frame which is right at the back. Good luck getting past the bigger stuff though. Its really easy to get onto so if your kids not a mountain goat they should still be able to get up somehow.
Its like a mini fort with my favourite kind of slide. A wide slide making it possible for me to fit my load down if i fancied a go.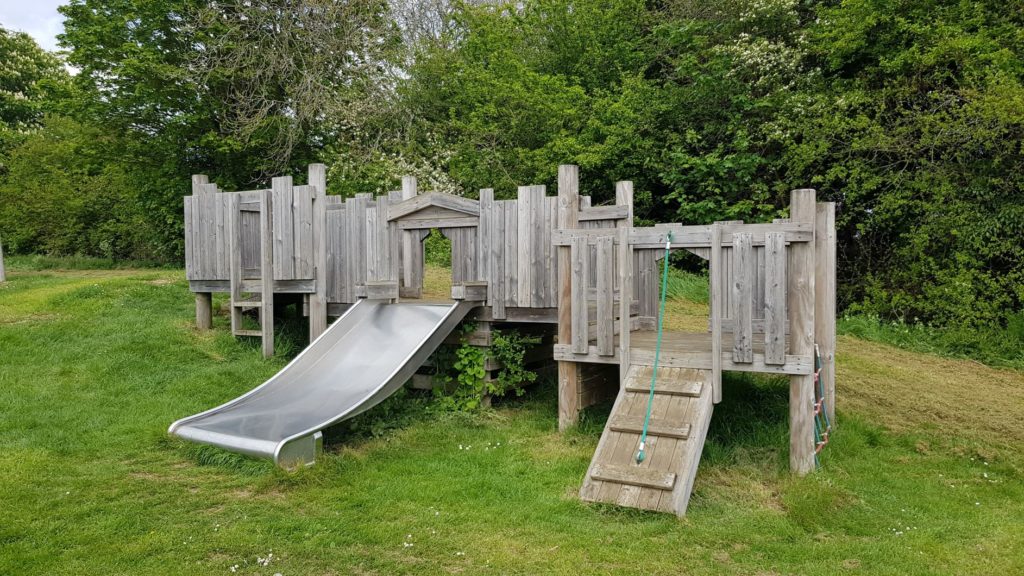 You'll notice that the toddler frame is right next to the sand pit. Now i use the word sandpit loosely. I imagine back in its hey days it was an awesome feature however right not its looking a bit well shit. It need some tlc and i wouldn't want my kid digging round in it and pulling up a cat shit. Yeah it looks a bit like a giant litter tray.
Climby fuck knows what frame
Yep here's my first random description. The climby fuck knows what frame. Dont get me wrong it's pretty cool i have never seen anything like it before in all the parks we have been to (thats a lot of park's)
Thankfully Elliot wasn't able to climb that big bugger. He did stand under it for some time though trying to figure out what the shit it was. If i'm honest i couldn't tell you either. I'd say this frame is better suited for older kids. Looks like a great space to climb up and chill.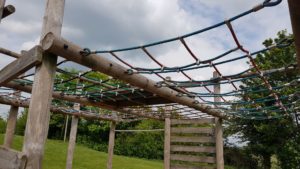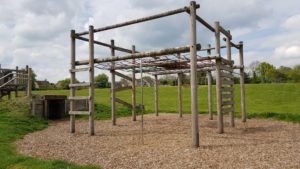 I would trust Clark up there (6) but mostly because the last time he climbed anything that height he fell off and fucked up his collar bone. Maybe better for Early teens.
Opposite this frame you'll see 2 podiums/pedestals again not a clue what the fuck they're for. Maybe a game of the floor is lava for the older kids. Made a great photo when i suck Elliot on top though.
The Main Frame
The main frames pretty cool its got a bit of everything and looks fun. Its challenging enough to make the kids want to play longer too. So lots of balancing bits, climbing wall, another wide slide, Wobbly bridge and a huge hit with me. Giant tractor tires, There's something about a giant tractor tire that just makes me want to stick the kids in and get a photo. Elliot on the other hand thought "fuck that not again"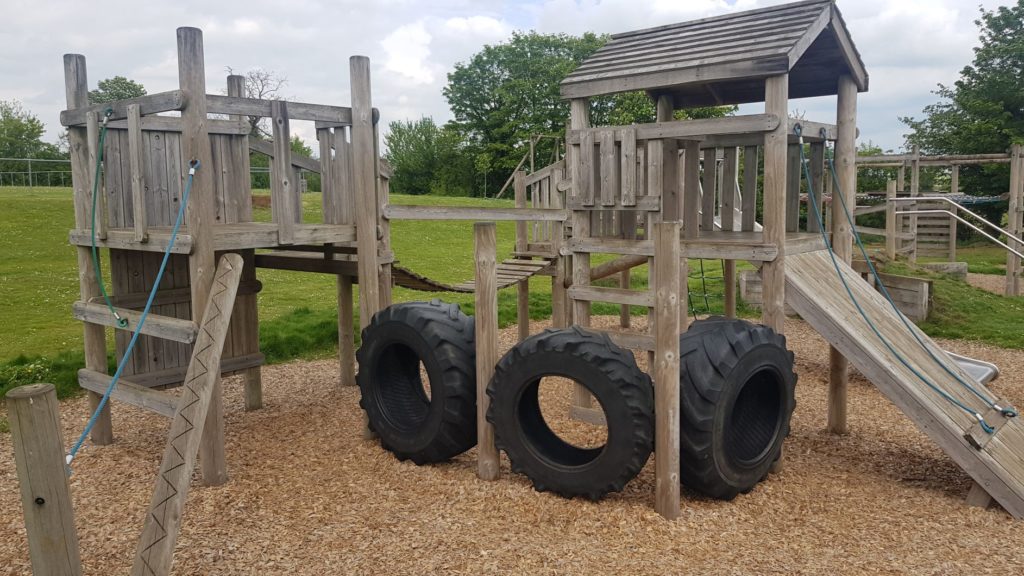 Opposite the main frame you also have a pretty cool balancing course. I do love a good balance and so do the kids.
There are lots of benches scattered around too. Perfect if you're lucky enough to have kids old enough to play on their own or with friends. Take a flask and a picnic sod it i would if i had kids old enough.
What else is at The Bartons play park
I've missed so much out so I'm just going to list all the other bits now. There's a cargo net swing, baby swings, a spinny thingy, a tunnel, Lots of natural balance parts (aka rocks to twat their heads on) a zip wire and 2 metal poles sloping down a hill (not a fucking clue what they're for).
I've probably missed off more but i cant remember everything. I'm having a good day if i can remember what i did the day before.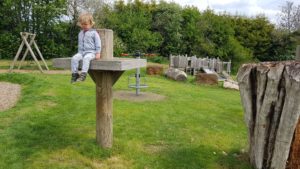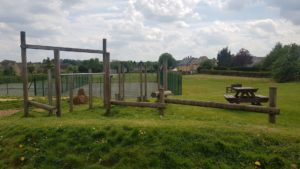 What i did find on the other side of the football pitches though was what i think might have been/ is a dirt track for bikes. I cant be 100% certain on that because I'm no expert and again it was pretty overgrown. Might be some good for older kids though that don't really care for safety too much.
Don't be enticed to go over to the other frame you see on the other side of the fields like i did either. Its shit and very likely to be the original park before they got the new one.
The Bartons play park stats:
Distance from Bicester: 20 mins
Sat nav: Barton Memorial Sports Club, Worton Rd, Middle Barton, Chipping Norton OX7 7EE Click to load sat nav
Wheelchair friendly: No Lots of uneven flooring
Equipment upkeep: 7/10
Cleanliness: 9/10
Facilities: Car park, possibly toilets if the club house is open when you visit
Age range: All ages
Safety: 7/10 the fuck knows what frame scares me and the rocks are a bit lethal
Fun factor: 10/10
Dog friendly: Not in the play area.
Pushchair Friendly: very uneven so could be a struggle
Bikes and Scooters: Not scooters but possibly for bikes on the dirt track.
Conclusion
Ok so the Bartons play park is the best up kept park out of all the ones i have reviewed but its in good condition where it matters. I think with a bit of mowing and a sandpit deep clean it would be up their with some of the all stars.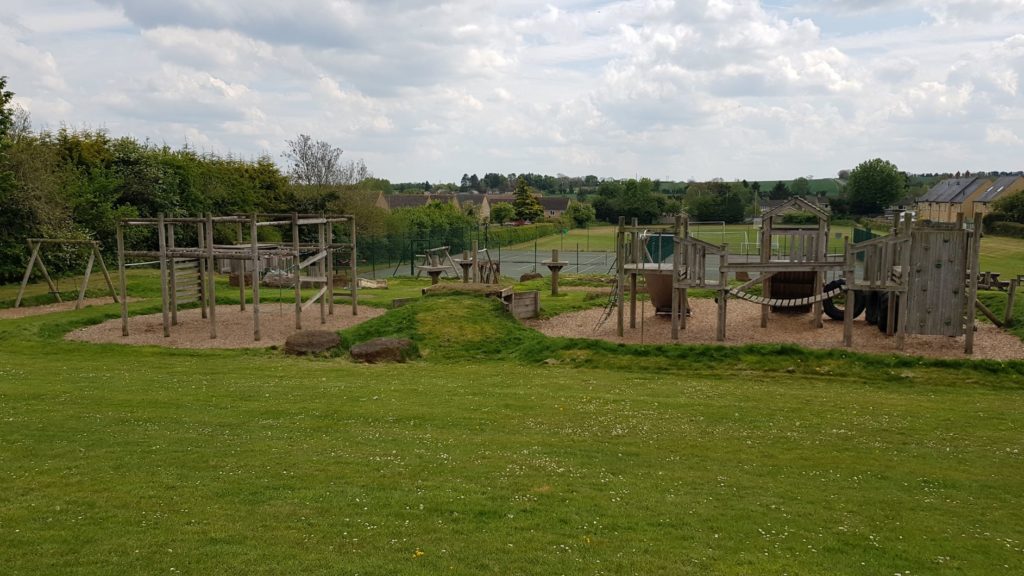 Its a cracking park and its only 20 mins away. I would highly recommend going and having a look for yourselves. I do love a good car park too. I've no doubt that your kids will enjoy it and i particularly like that it could appeal to older kids/younger teens too. Making it perfect for the parents with bigger age gaps.
Its full of really unique equipment that i haven't come across before either so makes it a bit more interesting.
AOB
If you haven't already then come and join the family ticket on Facebook too. HERE
If you'd like to see the other parks we've reviewed have a look HERE