Maybe one of the best free days out we've had recently was when we all visited The Rye High Wycombe. Who'd have thought you could find a waterfall in the middle of an English City.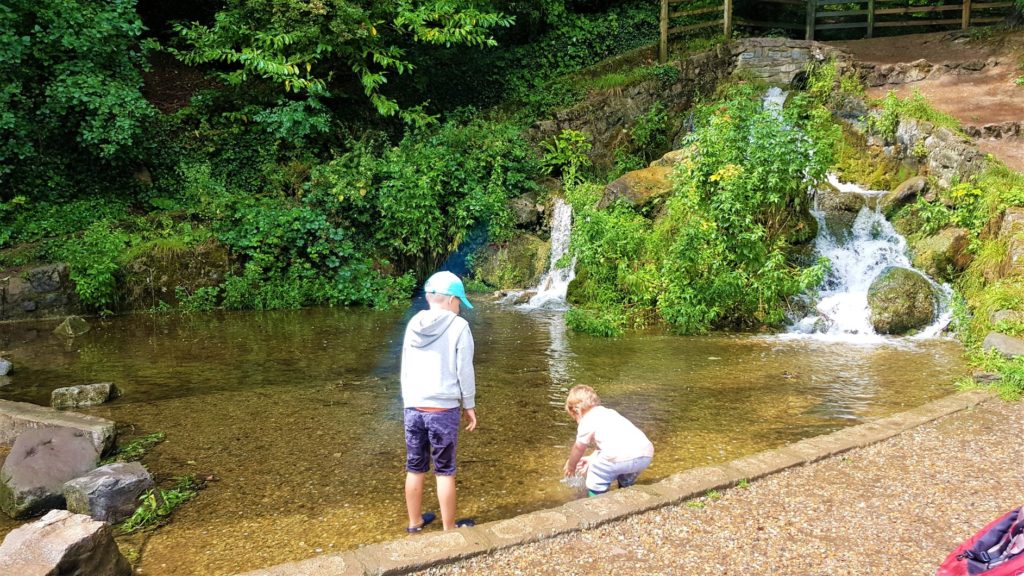 Good news for all you none drivers too. Its withing walking distance from the train station. This is a day out for the list for sure.
The Rye High Wycombe
We left sunny Bicester on Sunday and by the time we had rocked up to High Wycombe it was pissing it down. We we're so close to not getting out and heading to hellfire caves instead. However luckily for us it had eased up a bit so we went for it.
The car parking is cheap as chips 50p for up to 2 hrs and £1 for up to 4 hrs. Its a pretty big car park too and because of the rain it was quiet.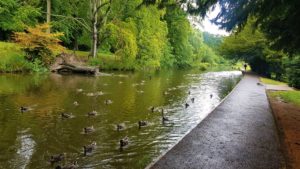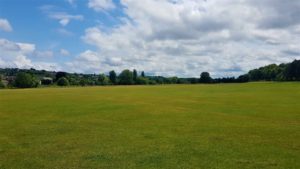 Now I've been to the Rye before around 3 yrs ago before i could drive and before i started reviewing places. I took Clark on the train and he loved every min of our day then. Even if he couldn't remember it.
So despite the fact it had been raining. I still wanted the boys to go for a paddle by the waterfall exactly like Clark had 3 yrs previously. We packed the towels, wellies and water shoes and off we went.
The Rye Waterfall
As the car park was so close to the waterfall we decided to head over that way first. If however you do visit via train you'll likely enter the Rye at the play park end which is the total opposite end. Not that it'll matter because the walk over is stunning anyway.
The waterfall or maybe waterfalls (it splits into 2) are by no means Niagara Falls but you're in the middle of High Wycombe. I was shocked we found such a vast amount of green space as it is.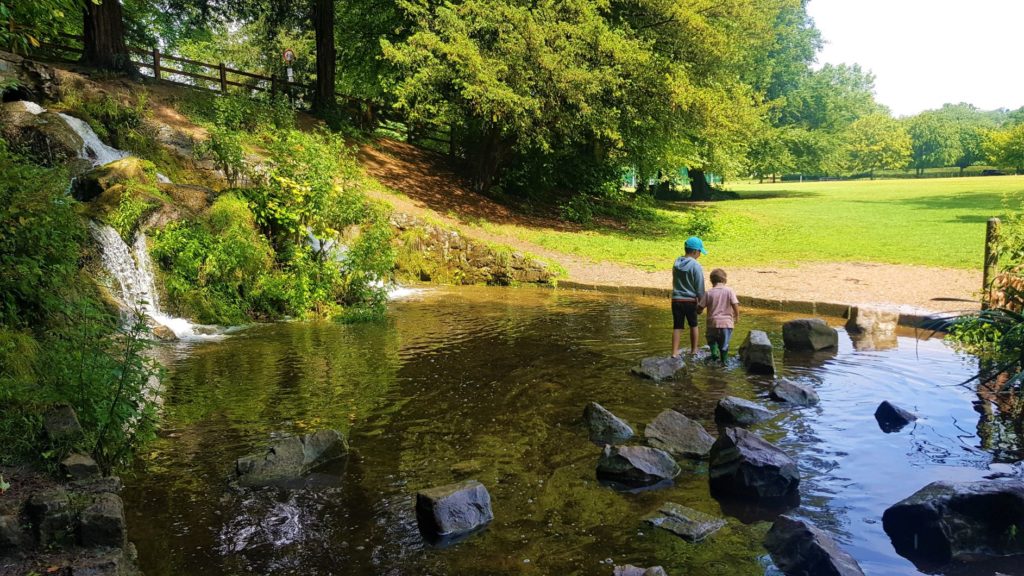 Now I'm sure I'll get loads of people moaning that it'll be full of bird shit etc but to be honest i had a look and it was clean enough for me. The kids weren't bathing in it or having a drink and their feet were protected. Something which you should also think about when you go to.
We were the only people in the water (probably because 5 mins earlier it was pissing it down). The boys had a great little play about with their buckets (always take a bucket even if theres no sand) Clark was jumping along the stepping stones and they both stayed clear of the actual water falls. It was lovely and not too deep either.
The Rye Woodland Walk
Finally managed to drag the kids away from the water and get them changed. Clark had sat in the water so needed a full change and Elliot had gone a little too deep and the water had gone over the top of his wellies. This is why we always take spare clothes even for Clark.
Luckily we had the bargaining chip of the play park to drag them out. We headed down to the play park via the wooded side of the Dyke (Water FYI). Its a lovely little circular walk with the waterfalls or the park as a halfway point either end. Perfect for small legs.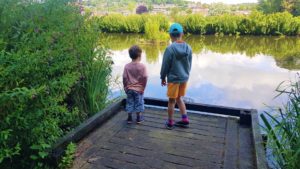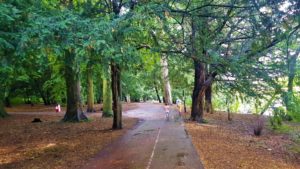 I don't know if i caught the boys on a good day but not once did they moan about walking. They had so much to watch and do the whole time. Mostly watching the ducks, Throwing sticks and their favourite game of standing under low branches while the other one pulled it soaking the other one with the rain water off the leaves.
The paths are perfect for bike, scooters and prams too so there's no need to worry about that. Just keep an eye on your kids and make sure they don't nosedive into the dyke (woo that sounds soooo bad)
The Play Park
Now the play park in the Rye is an absolute monster. I mean it magnificent and we all loved it. Its not your usual run of the mill play park and you'll see this from the photos or when you go yourself. Its a climbers heaven.
1st stop for the boys was the trampolines. 2 pretty big ones but they decided to share one nicely (starting to get creeped the fuck out now with their getting alongness). After the trampolines they were off to the ramps and slide…. which was weirdly dry as the man drinking the can of fosters while chasing his toddler told me.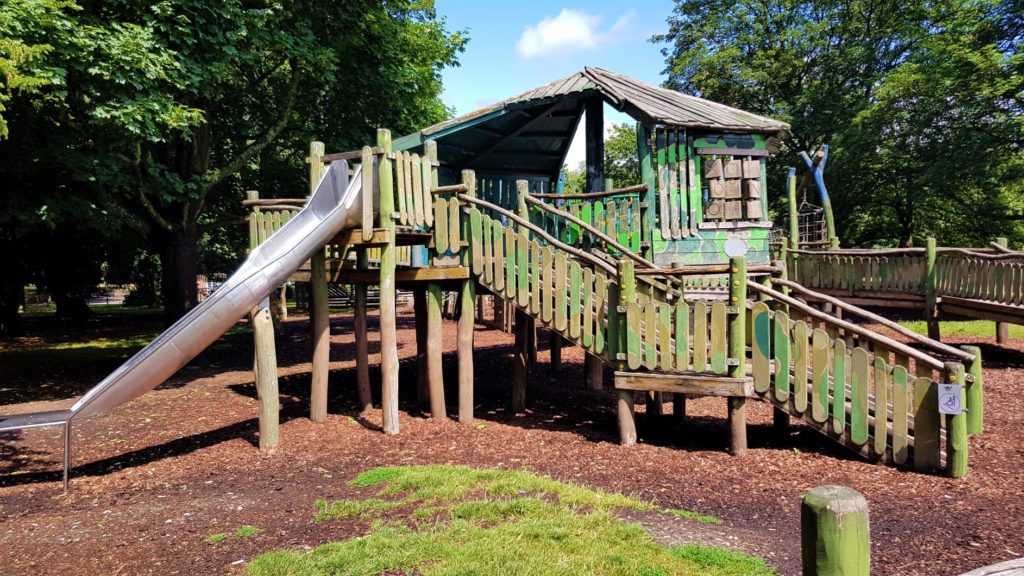 The boys had a great time making their ways over the bridges and ropes. Apart from the slide and the tree house shack bit i would say the rest of the area was for older kids. We had to keep a close eye on Elliot (3) but he just about handled it and loved every second of it.
At the other end you ll find the swings, A weird wobbly platform that looks like something out of a sex dungeon, A basketball court and probably the kids favourite thing in the park, The double ended spinning swing thing (so many sexual inyourendos in this review i swear i don't have a problem)
Cafe And Boat Hire
The boys played happily in the park for around an hour and would have been longer if we'd have let them. Again because of the earlier weather the park was dead when we first got there. By this point the weather had cleared right up and we were thinking about sun cream.
We bribed them out (Bribery is how we parent and we're ok with that) with the promise of an ice cream. The cafe shack is right next to the Play area. TAKE CASH!!! they don't accept card. Thank fuck i found a few quid at the bottom of my bag (along with sheep feed and shit loads of crumbs) otherwise we could have had a shit storm.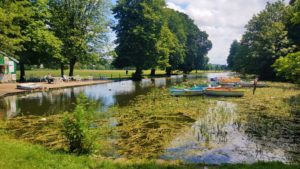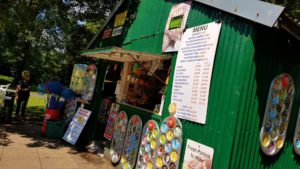 The cafe also rents out boats. They weren't running when we were there. Again I'm guessing due to the weather. They also sell nets and duck feed too.
The first time we went there were kids all along the dyke with their buckets and nets catching the tiny fish, It was so cute. We promised the boys we would go back again and do this too. So If you do plan to go. Take your own bucket and net to save yourselves a few quid.
What Else Is There At The Rye?
We took food with us today which i would recommend you do too that way you're days even cheaper which if you've come by train will be a godsend. I'm going to attempt to speed this review up a little bit now because I'm rambling.
There's soooo much green space that even on a busy day I doubt you'll be on top of each other. Pick a spot and chill for the day (especially with older kids). We took a Frisbee with us like usual. Who needs a dog when you have 2 feral kids like mine that'll literally chase anything you throw anyway.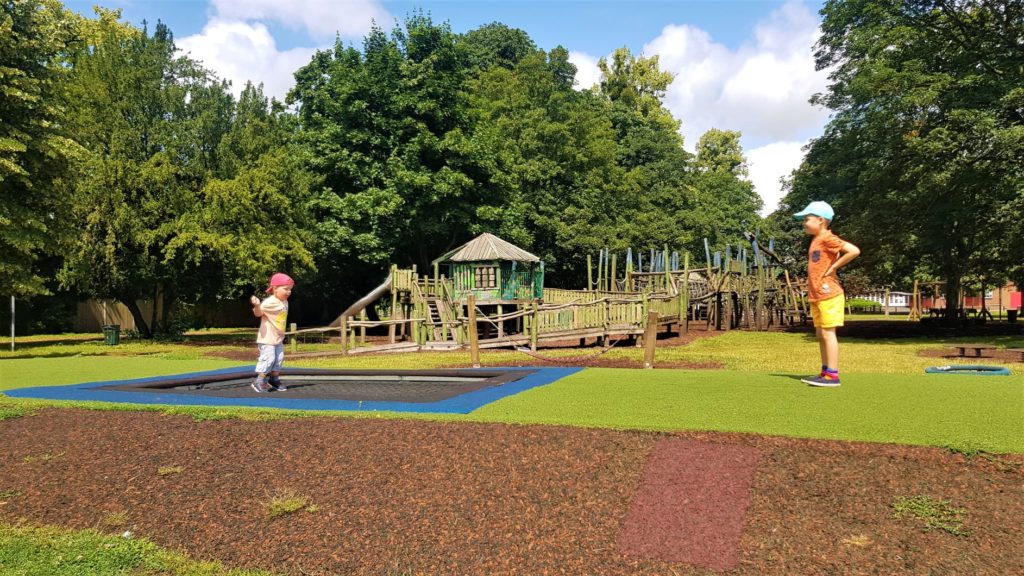 Guess what else they have at the Rye? they only have a a lido too!!!! (an outdoor pool for those that don't know what a lido is) I had a look through the fence and luckily didn't get arrested for perving and they have 2 pools a toddler one and one for confident swimmers. I have no idea how much it is but it looks like another stop of for your day out if its sunny.
Now you may have also noticed that the play park i raved about was better suited for older kids. So what is there for toddlers. Calm your tits. There's another play park! now we didn't visit it because we well couldn't be arsed and it looked busy. I didn't get any photos but when we drove past it looked perfect for smaller humans. Loads of families were enjoying it.
The Rye Stats:
Distance from Bicester: 37 mins
Sat nav: The Rye, Bassetsbury Ln, High Wycombe HP11 1QX Click to load sat nav
Wheelchair friendly: yes
Equipment upkeep: 8/10
Cleanliness: 8/10
Facilities: Everything you need
Age range: All ages
Safety: 7/10
Fun factor: 10/10
Dog friendly: yes
Pushchair Friendly: Yes
Bikes and Scooters: yes
Public transport: 38 mins on the train from Bicester and about a 10 min walk from the station.
Conclusion
We loved our £1 (Parking) day out at The Rye and I'm confident you will love it to. There's so much to do. You can easily spend a full day here and its FREE.
There are a few things to remember. There will be dogs, Take buckets, spades, towels and a change of clothes. If you have a net take one for the fish. Pack balls or field games and if you can fit your bikes or scooters then take them too. Fuck it may as well pack the kitchen sink and a tent. Move in We love it.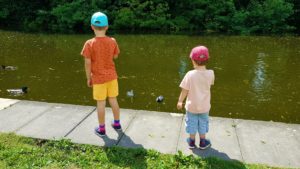 We will be heading back again during the 6 week holiday and we might even go on the train as an added treat for Clark.
I'm sure in fact I'm certain there's loads of other bits that I've missed out about the Rye. The place does stretch over 53 acres.
AOB
For more days out near you check out the map >>HERE<<
Fell free to join me on Facebook and let me know your thoughts >>HERE<<
Check out the Rye's website >>HERE<<