My mums down at the moment looking after the kids while we get some adult shit done. However I did manage to get a sneaky new play park tour in though. Today's park hunt was Stanton Harcourt Play park. It should say Parks because they have 3!!!!!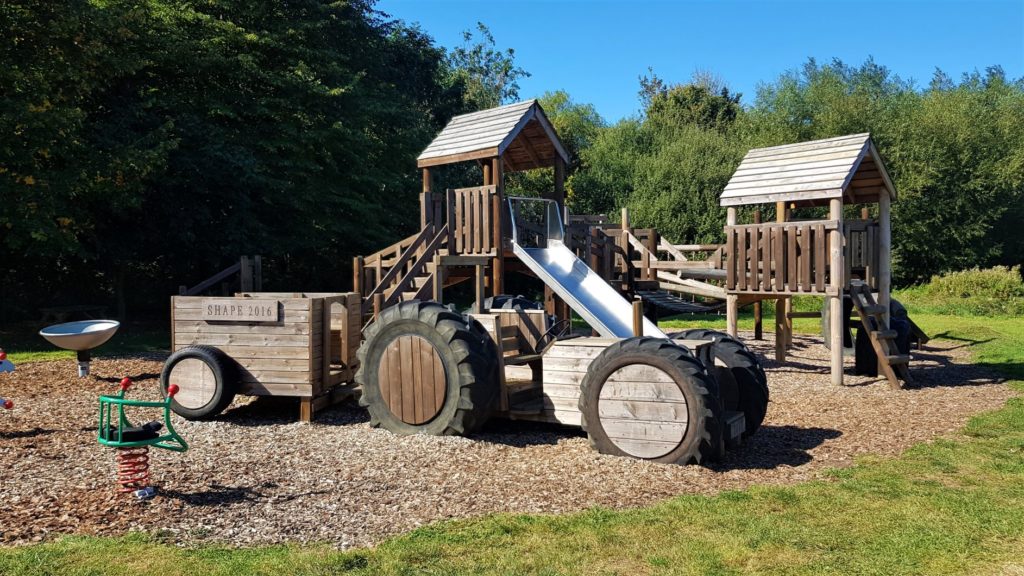 Stanton Harcourt Play Park
I wont lie this play park was a bitch to find. When we did finally find it. It turned out not to be the park I was looking for anyway. Not that it mattered because this bad boy was so much better. The only reason we found it was because my mum asked for directions haha.
I'd have never asked. I'm a drive round in circles cursing my sat nav then giving up kind of person . Luckily she did though because after some dodgy/not too sure if it was legal or not parking we were on our way.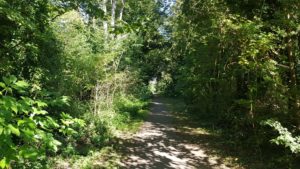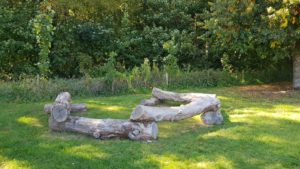 We parked on the main road before turning down the lane to the school. You can try and find a space but they were all used by teaching staff. Maybe you'll have better luck on a weekend. Just make sure you park as near to the school as possible.
You'll get to see some huge ass houses too. What do all these people do for jobs??? I can barely afford the rent on my humble abode. Some of those fuckers are the size of a whole housing estate in Bicester.
Lovely Walk To Stanton Harcourt Play Park
As you walk past the school you'll have woodlands on your left. Its a stunning little walk. Mum even pointed out the lovely little stream…..Lovely until we saw the waste pipe spewing shit into the stream. Actual faeces too it was grim. Mum said a photo would be going too far.
She knows what I do and that I swear but she wont read it. I blame her for my swearing anyway. Teach her for making me say the swearwords into the toilet when I was younger. Just made me remember them better. Maybe I should have tried reciting my times tables to the toilet too.Might have ended up with a bigger house!!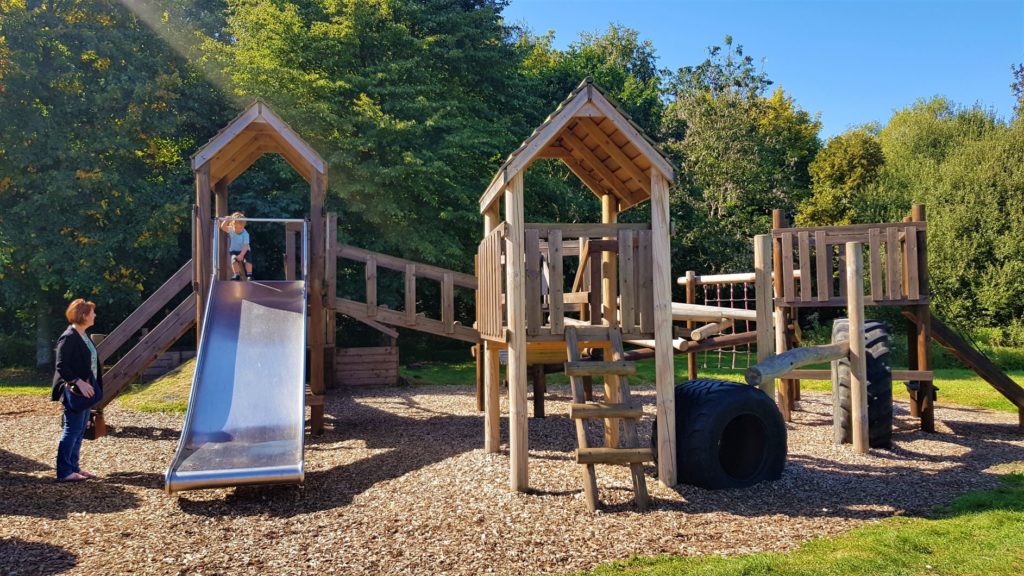 Bollocks I'm veering off topic again. Anyway just keep walking we thought the little old lady who gave us directions had stitched us up for a laugh (what I aspire to be when I'm older)
Once you come out of the little wooded area you'll see the play park.It's actually called the Leys but I didn't want to confuse it with the Leys in Witney. Its tucked away in the corner against the tree line which is great because you can get partial shade too.
Whats In the Play Park?
Its a pretty large timber framed structure with loads of little areas for different play. The thing that caught Elliot's eye was the large Tractor. It even had a steering wheel that moved too. He's never impressed with steering wheels that don't turn. The tractor has a lovely trailer on the back too with seating. Perfect for driving friends into the Imaginary farm.
After booting his nan off the tractor he was up on the frame sliding down the extra wide slide. Love wide slides, means I can fit my fat arse down too.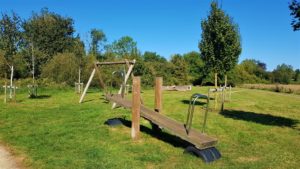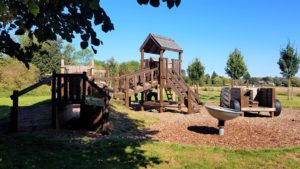 As Elliot was navigating his way around the frame I noticed a bit of a funky smell. A chemical type of smell I recognised it but couldn't put my finger on it. Didn't click what it was for a while. Mum was with Elliot and I was taking photos. Then I noticed it wasn't all the same colour. Too late all over mums cardy hahaha. It was bloody wood stain still wet no fucking sign. Annoying but at least they're up keeping the park.
It did however mean that Elliot couldn't carry on playing. I didn't want him covered so we went on all the other little bits around the frame.
The Other Bits
Around the outside of the play frame you'll find more play equipment. A springy face twatter and a none springy face twatter (the one that just a seat and nothing to twat your face on).
There's a single spinny saucer thing, A walk on seesaw, 2 older kids swing and lots of natural play equipment like boulders and big logs to balance on.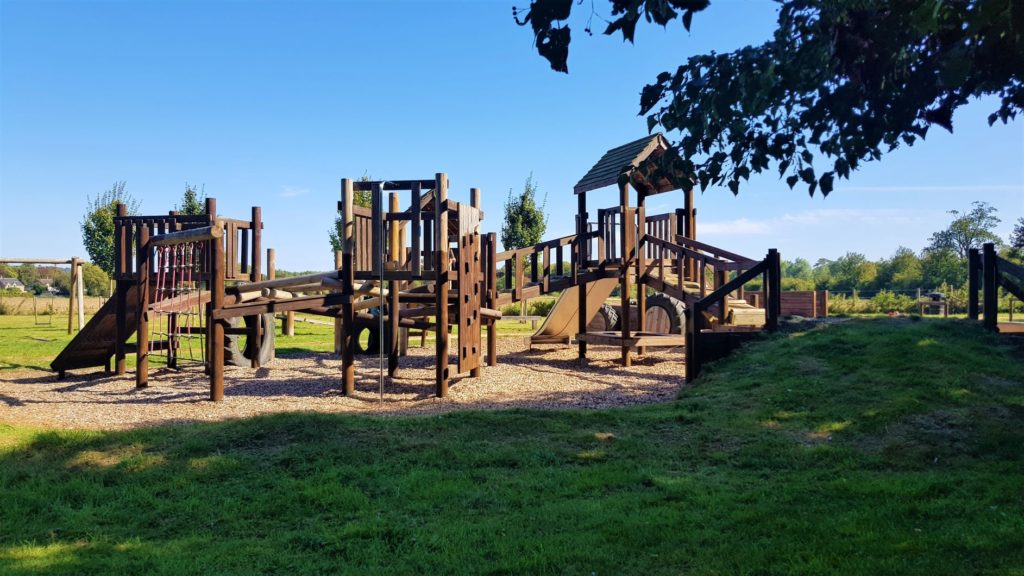 The views across the fields are lovely too and there are nice little paths which are perfect for bikes and scooters. Dog although not allowed among the play equipment are allowed in the area and the walk. Its a really nice area for them. If i had a dog I'd take them along with the kids. 2 birds 1 stone and all that.
The play park is only supposed to be for up to the age of 10. Its a great park but not the best for smaller one's due to the lack of baby swings. I personally wouldn't take a none walker. There's not a lot for them to do.
Stanton Harcourt Play Park Stats:
Distance from Bicester: 32 mins
Sat nav: Stanton Harcourt C of E Primary School, Main Rd, Stanton Harcourt, Witney OX29 5RJ Click to load sat nav
Wheelchair friendly: Yes
Equipment upkeep: 10/10 so much so it was still bloody wet
Cleanliness: 10/10
Facilities: No facilities that i saw even the pub has turned into a house
Age range: confident walkers and up to age 10 (I reckon older will be happy too)
Safety: 8/10
Fun factor: 10/10
Dog friendly: Yes just not in the park
Pushchair Friendly: Yes
Bikes and Scooters: Yes
Public transport: I couldn't find the bus route but there is a bus.
Conclusion
We had a great time at Stanton Harcourt Play Park and we will go again…hopefully the paint will have dried by then. Its a stunning park in a stunning area.We even went for a circular walk afterwards (how we found the other park)
There are loads of low flying planes to spot too. We even saw a stealth bomber not being very stealthy mind but it was cool because I haven't seen one before.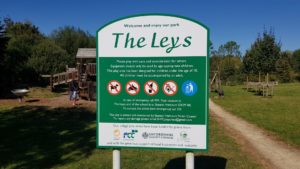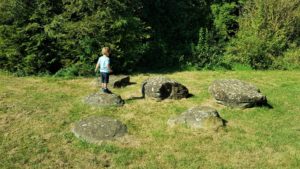 Tar lakes Isn't very far from here either so we had a quick pit stop on the way home and it was a lovely little walk. Again another perfect dog walking and bird watching spot. I'm starting to think we should get a dog soon.
Bottom line is. The play park is really nice. Its half hour from Bicester and well worth the drive.There so much more to do in the area too if the weathers nice. Get your arses (aka kids) over and have a gander.
AOB
I'm always on the lookout for new play parks to review so if you know of any good ones please do message me. Its easier to message me on the Facebook page HERE
If you'd like to check out more play parks near you then have a look at the Play Parks map HERE