This review will likely have to be a quick one. I took Clark months ago on a park Crawl and I'd fogotten all about Freeland Play park. I think i remember on the day not being massively impressed. Looking back at the photos though I'm not sure why, Looks pretty good to me.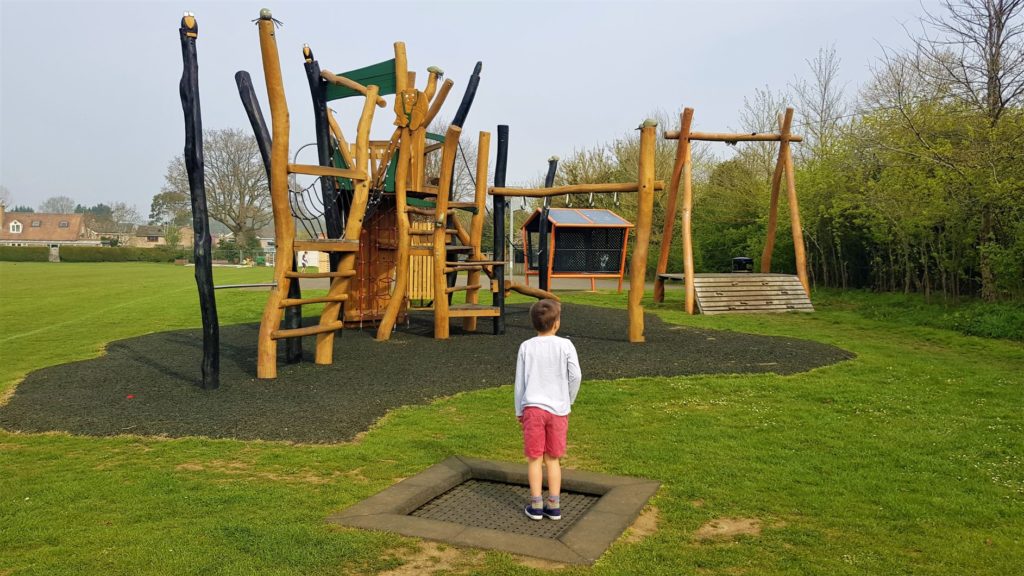 Freeland Play Park
You'll be happy to know that if you do decide to visit Freeland play park, They have a car park. Its right next to their village hall and other new building which i think may be the sports changing rooms. When we visited their was a football match on but there was still plenty of space to park.
As you may have guessed when i said football. There's a huge green space which is prefect for ball games. There was even a basketball court next to the play park at the top of the field. Next to that you had some of those net things which i thought were for baseball practice/Cricket practice.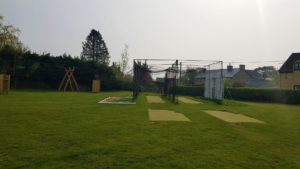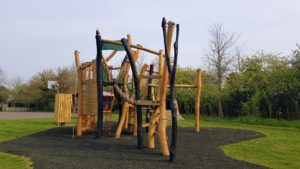 The drive was easy enough it was around 25 mins away and Freeland isn't far from Long Hanborough which may be a perfect opportunity to visit the bus museum too. Or Freeland Play park might be a good add on to the bus museum.
Thankfully we picked a warm day and the play park was empty when we rocked up. Just how i like it. Surly i cant be the only one who generally hates the general public?
Whats In Freeland Play Park?

The main attraction for Freeland Play Park is their rather snazzy pretty looking climbing frame. Now although its a pretty looking thing its not for toddlers or kids that don't climb. Unfortunately when we visited Clark wasn't in the mood for climbing. Shame because the frame really is a good one and looks really new too.
The frame had a climbing wall, fireman's pole, net bridge and more climbing things. The part i liked the most was the animals carved into it. So the kids can try and spot all the birds and bugs while they're there. Clark again couldn't really give a shit he was happy enough.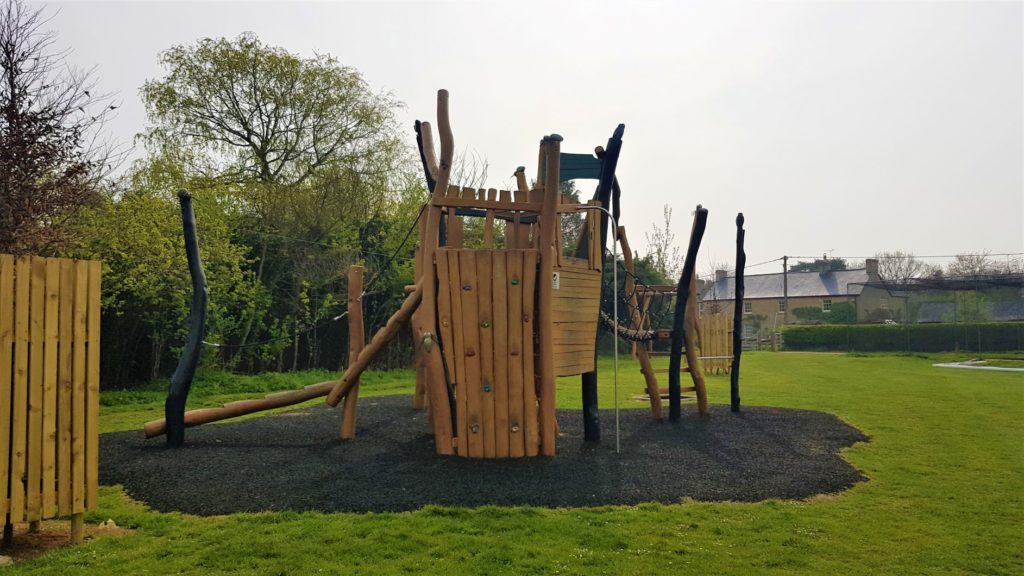 He had found a trampoline. He was happily playing on that for ages. We used to gauge whetre a play park was good based on if they had a zip wire. Turns out most play parks have them these days now anyway. Clark has now upped his play park game. They need to have a mini trampoline.
To be fair Freeland play park also has a zip wire too so when i managed to drag him away from the trampoline to have a look at the other bits he still had a few goes on the zip wire for good measure.
Is There Anything For Toddlers At Freeland Play Park
If you have a toddler You'll be happy to know they have a nice little space for them. Even better, Its fenced off from the rest of the park. Just be weary of incoming balls (the football kind). Last thing you need is a trip to a&e because your little one tried to header a football with their face.
There are 2 little frames in this section both with slides. One for the really smaller kids and one for the slightly older toddler. Pretty good really. Both pretty easy to climb up too.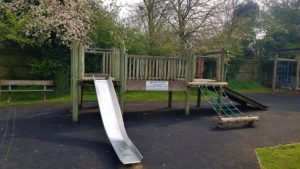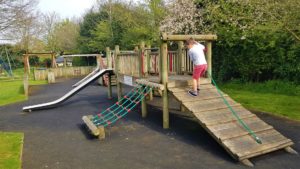 In this area you also have the baby swings and then a bigger frame in the corner. This frame is for older kids still its a bit like a balance course but in a frame style.
Ok looks like I'm still managing to rattle on because we're still not done. That's right there's more!
Anything Else?
Outside of the toddler park you will see the big tall vintage slide. I've been coming across a lot of these lately where when a park gets updated they keep some of the old equipment. Looks like these old slides were made well. As i like to call them if its sunny. Thigh Melters.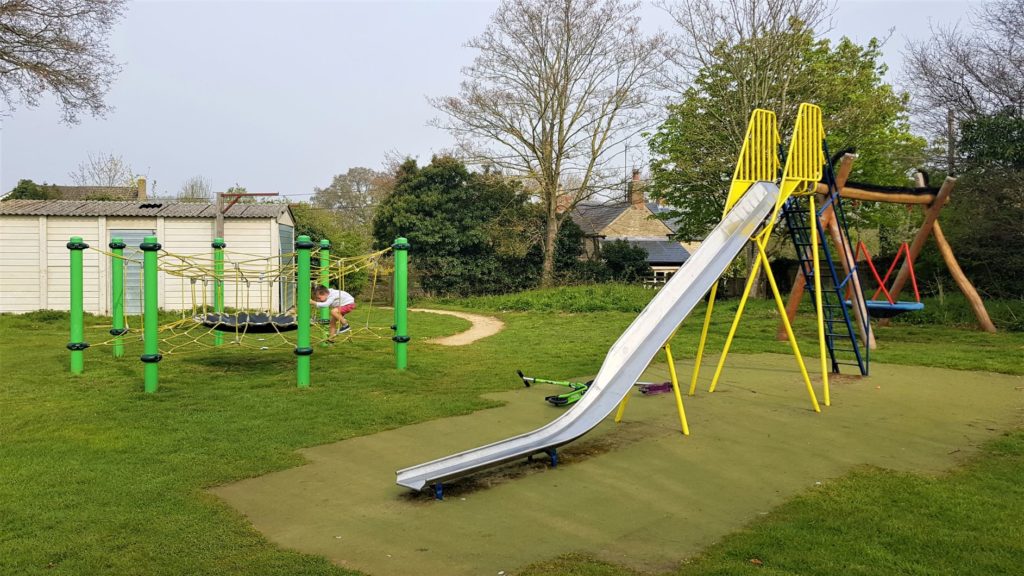 You'll find the cargo swing out here too as well as the older kids swings. Me and Clark i remember had a great game of who can kick your shoe off the furthest while swinging. Plenty of space to do this here plus it was quiet. I used to love playing this as a kid.
Last but not least is the weird arse cargo net nest style thing. Not really sure what the hell it is but if they can climb it they will. Clark sat in the middle too, he thought it was a trampoline at first.
Freeland Play Park Stats:
Distance from Bicester: 25 mins
Sat nav: Freeland Hall, Wroslyn Road, Freeland OX29 8AL Click to load sat nav
Wheelchair friendly: yes
Equipment upkeep: 10/10
Cleanliness: 10/10
Facilities: Didn't see any toilets or cafe
Age range: All ages
Safety: 8/10
Fun factor: 7/10
Dog friendly: Not sure
Pushchair Friendly: Yes
Bikes and Scooters: I wouldn't bother
Public transport: No bus stops in Freeland that i could see. Nearest stop is on the 233 bus to Burford, get off at the Freeland Turning and walk 15/20 min to the park. You can catch the 233 outside Blenheim. To get to Blenheim catch the 500 to Woodstock if you're getting off at Oxford Parkway station.
Conclusion
Looking back at the photo's Freeland Play park looks pretty good to me. I'm not sure why i didn't rate it too much. Maybe i was having a bad day?
Its a good one for families with both older and younger kids because it caters for them all.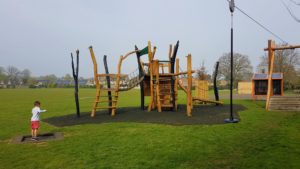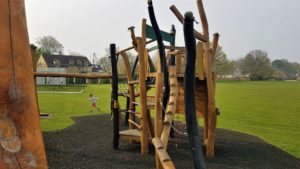 Although i didn't see any Cafe's or pub in the village that isn't to say there aren't any. Hopefully a local or someone more knowledgeable will let us know.
AOB
For more days out near you check out the map >>HERE<<
Fell free to join me on Facebook and let me know your thoughts >>HERE<<