One of my likers on Facebook recommended this one to me and after a few of the last dodgy recommendations i wasn't expecting much. However Great Milton play park was a pleasant surprise.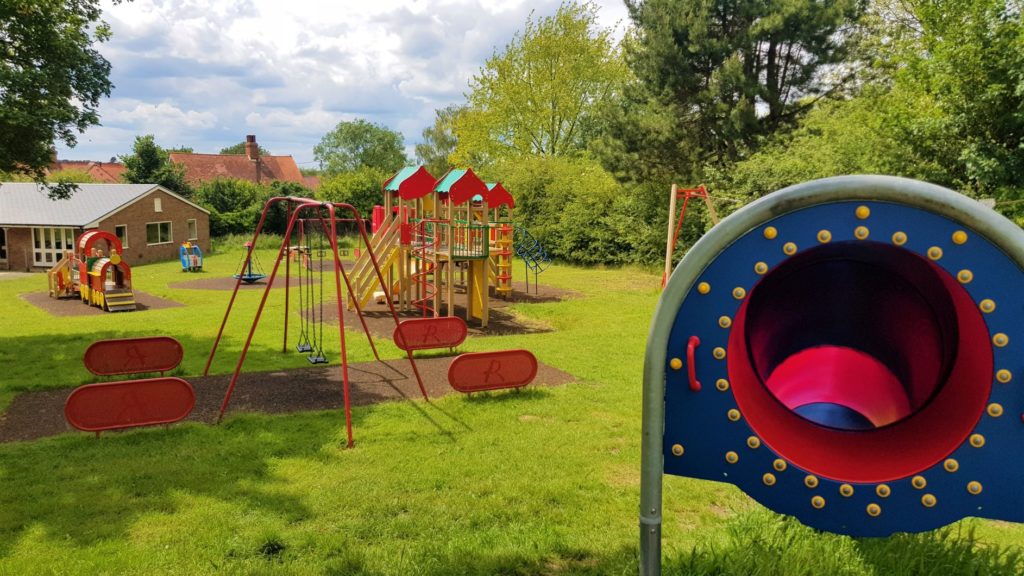 We managed to pick a day where it wasn't absolutely peeing it down too. We had the husbeast with us today though and hes normally a bit of a killjoy safety boy when it comes to parks.
Where Is Great Milton Play Park?
Great Milton play park is set back from the main road through the village so you'll need to keep your eyes peeled for the signpost.
We spotted the sign and we weren't really sure if it was a road or not. Sod it we went in anyway. We eventually saw a speed limit sign and speed bumps.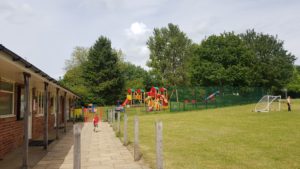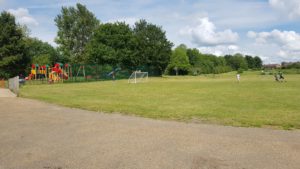 However when we drove round the corner you come to the fields and the village hall. It doesn't say you can park but nor does it say you cant park either. We just winged it and parked on the grass next to the only other car.
Apart from 1 family and a couple of lads playing football in the fields the place was dead which shocked me because as soon as you round the corner you cant help but miss the park. Great Milton play park is probably the most colourful park I've ever seen.
Great Milton Play Park
The park is set along the side of the huge recreational field which i later discovered also backs onto Great Milton school.
Its all fenced in with a higher fence along one side to stop the footballs from being kicked in a twatting some poor toddler in the face. Safety in this park is pretty well thought out.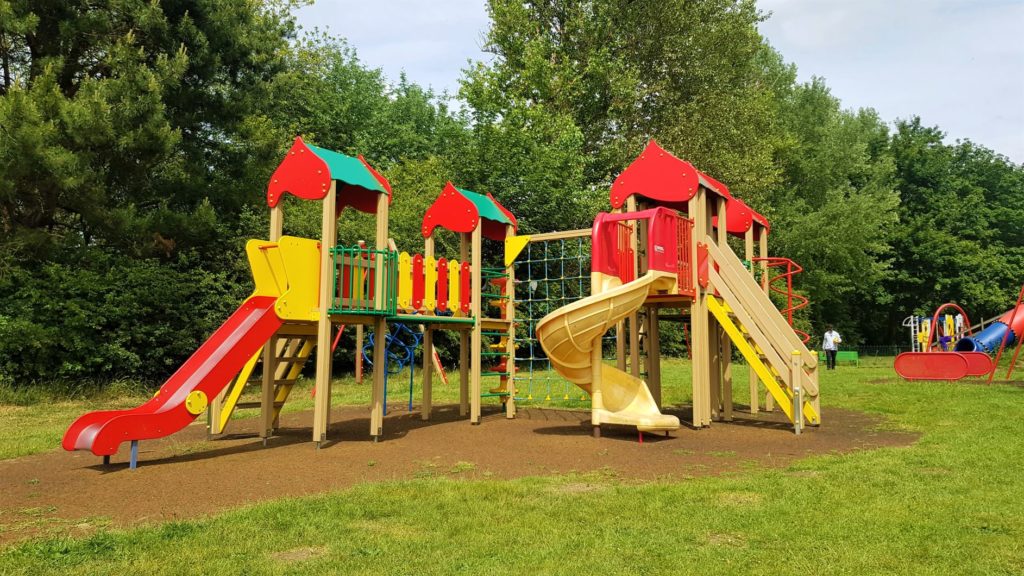 Talking of toddlers Great Milton play park is perfect for them. In fact its pretty decent for the older kids too. I don't think either of my boys were ever bored while we were here.
I might even be as bold as to say this park might be in my top 10 now. Its a cracking all rounder. I loved how quiet it was too especially for a weekend too.
What Equipment can you find at Great Milton Play Park?
If I'm going to be honest its going to take me forever to list all the equipment in the park in detail so ill go over some of the best bits and list the rest so i don't bore the shit out of you all. Unless you're like me and just skip to the photo parts haha.
one of the main attractions would have to be the frame. Its bloody nuts and impossible to miss. I didn't think i liked none timber parks very much until i came here. It's not like any typical big frame either. It has lots of unusual parts to it too.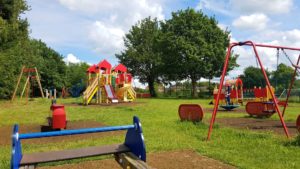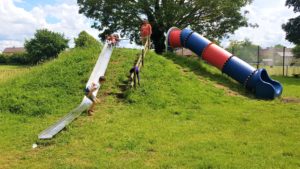 Not the other main attraction of the park (as far as I'm concerned) are the slides. Not the one on the main frame but the other 2 on the hill. Yep there's a tunnel slide and a retro thigh melter (Metal slide). They're both side by side so you can have races if you like…..well the kids not you. Although i did have a sneaky go on the tunnel slide too. Was wide enough not to worry about getting my arse stuck anyway.
The husbeast made a good point too (Rarity) It looks like they have kept some of the original equipment and just added new bits. I thought it looked great. Brilliant idea if you can do that. This meant there was a cool vintage horse rider thing. Looks dodgy as shit when you're trying to get it moving while sat on it on your own though. Looks like i was trying to shag the thing.
More Equipment
Ok time to start reeling off all the other equipment before you fall asleep. The Springy face twatters in this park are in another league entirely. You've got a helicopter one, a double sided boat and a giant god know what one.
You then have the train. Which is an awesome smaller frame for the toddlers with a slide and tunnels etc it really it pretty well made for them.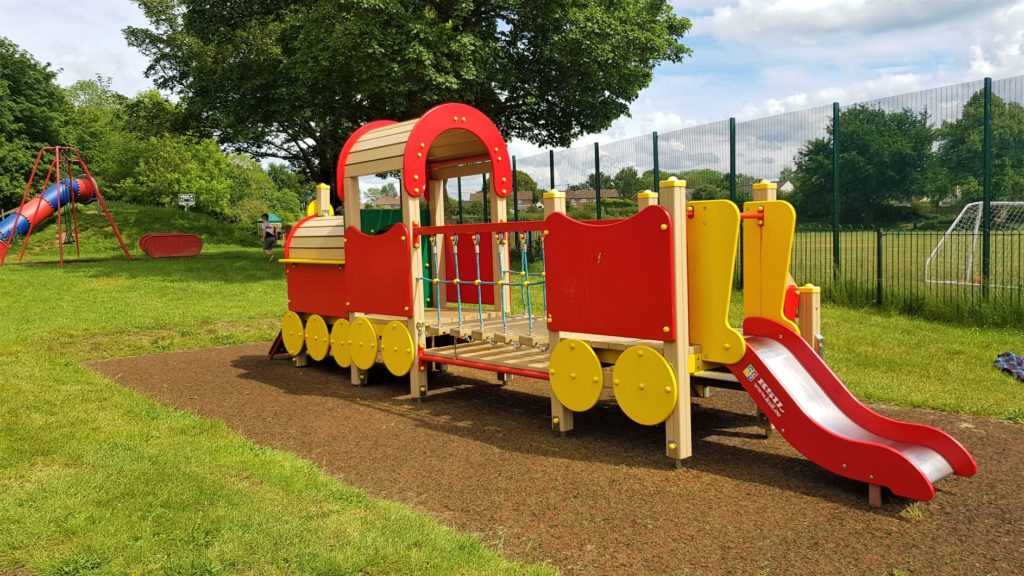 You have the zip wire which at first we didn't think was going to work but turns out it went so fast I'm surprised Clark didn't end up with whip lash when it got to the end.
A spinny cargo net climby thing, 2 baby swings, 2 older swings and a few benches including a cool picnic bench with board games on the top.
At the far end of the park you have another gate which leads out to the cargo net swing and a really weird/cool outdoor gym equipment thing. Looks different to any of the other bits I've seen recently and great for older kids too.
What Else Can You Do At The Park?
As i mentioned earlier its surrounded by some pretty big fields which are perfect for football and other ball games.
I'm pretty sure i saw some kid of cage like thing for cricket or baseball (if they even play that in the uk)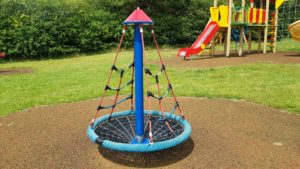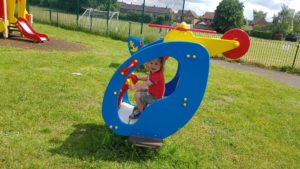 I had a scout too and didn't see any overhead wires either so its pretty perfect for kite flying too which seems to be the boys favourite thing at the moment.
Great Milton Play Park Stats:
Distance from Bicester: 23 mins
Sat nav: The Old Garage, The Green, Great Milton OX44 7NP Click to load sat nav
Wheelchair friendly: Yes
Equipment upkeep: 9/10
Cleanliness: 10/10
Facilities: None that i saw unless the village hall opens at certain times
Age range: all ages
Safety: 8/10
Fun factor: 10/10
Dog friendly: Yes but not inside the park fence
Pushchair Friendly: Yes mostly Grass
Bikes and Scooters: I wouldn't say so
Conclusion
If you're looking for an all rounder or a really good toddler friendly park then i would highly recommend Great Milton Play park.
Its big, safe and set back from any roads, it has 5 slides!!! and absolutely shit loads of things to keep the kids busy. Armed with a picnic and a potty (or a decent bush) you could easily spend a whole morning or afternoon here.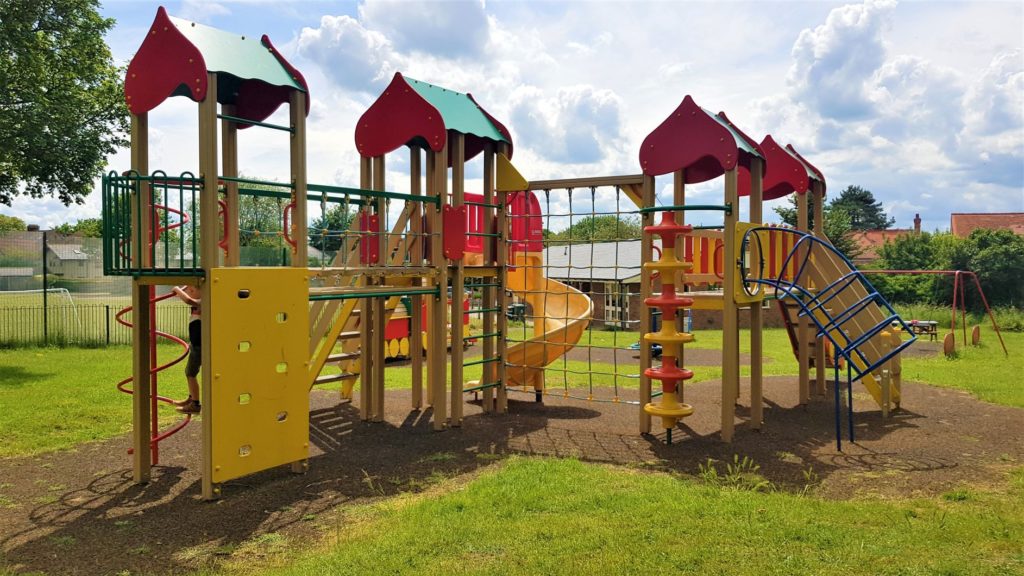 I've no doubt that there will be a nice pub or cafe in the village that someone will recommend so if you know of any please do leave a comment so other readers can see.
I did see a shop on the main high street too which would be great for snacks and ice creams if the weathers ok for it. Not that a new ice age would put my kids off wanting an ice cream anyway.
AOB
If you know of any play parks you think I should review then pop me a message on the Facebook page HERE
For a list of all the other play parks I've reviewed then check them out HERE