We visited the Exeter hall play park in Kidlington last summer just after they had their refurbishment. Bit far you say? but its brilliant. I used to take the eldest to Exeter hall play park pre refurb back when he fell down the huge metal metal climbing frame steps face first! I thought it was good then (not the face planting part but the park)
Anyhow its had makeover and its possibly one of the best parks I've been too for a while. Absolutely something for every age, including myself (love a good round about).
Refurbishment
It has a super soft interactive area for the smaller ones more liable of face planting. A larger play area for the bigger kids which is thankfully harder for the smaller ones to climb up. Whats also great is its all fenced in.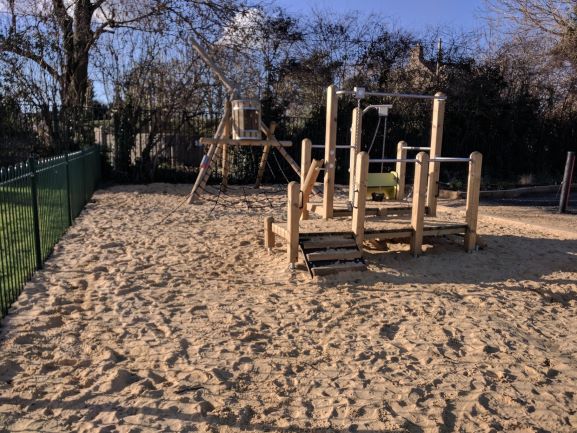 It's always annoying when you go to a park and think it's safe to turn away for a moment thinking your 18 mth old won't be able to get onto the big stuff. Next thing you turn around and the little buggers doing the monkey bars using his neck.
Equipment
Exeter hall play park has the usual baby swings side by side but the older kids swings are great. Loads facing inwards into a big circle. The swings even have backs on them so they're super comfy.I did try to try one out (for review purposes of course) alas my ass was too wide.
They have 2 little trampolines, a music thing which I'll admit is so nice sounding I stood there for a good 5 mins trying to bust a tune while looking like I'm out on day release from my usual padded room.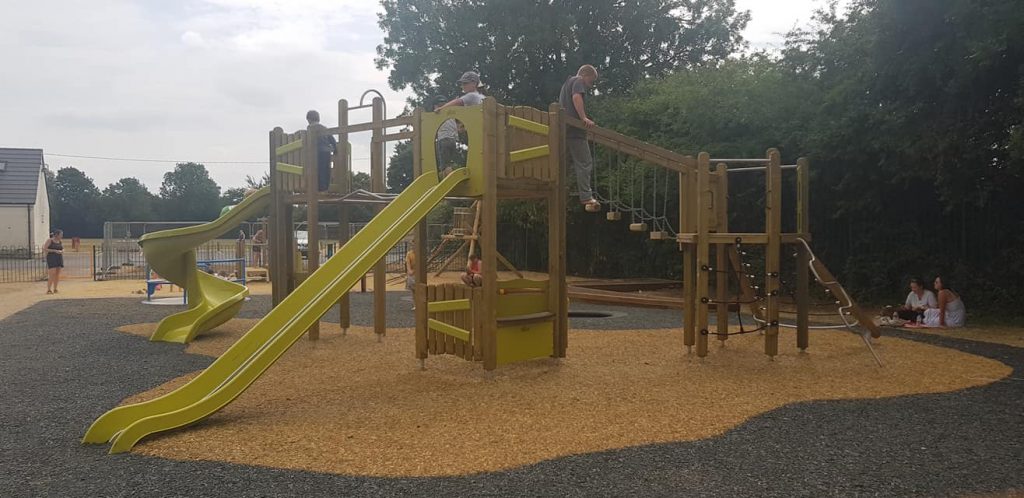 There's a double zip wire just outside the fencing where all the older kids like to race, a rope style climbing frame, tire swing (getting bored of listing the equipment now) the list goes on.
Fossil hunting
However hold your hats to the pièce de résistance the sand pit!!! I mean I know parents hate sand especially when it's so hot the stuff sticks to your sweat like you've been tarred and feathered but this sand pit is worth the discomfort.
It has pullies, buckets all sorts of working bits and bobs where the kids have to work together (to throw it in the other kids eyes haha kidding) and to top it off they can dig for fossils! Seriously real life fake dinosaur fossils.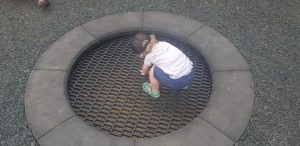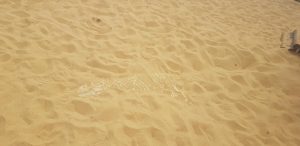 If you do decide to visit Exeter hall play partk its slap bang in the centre of kidlington surrounded by cafe's, pubs (Red lions my favourite) shops (including a sweet shop that sells milkshakes) the park is conveniently right next door to the doctors surgery should your little cherub hurt themselves (or another child if you have a child like mine)
Make sure you take a ball or any other field games because its right next to a huge field. Plenty of picnic space too.
You can reach Exeter hall play park on foot from behind Exeter Hall. Or there is a small car park right next to the play area just off Crown Road.
Exeter hall play Park stats:
Distance from Bicester: 16mins
Sat nav: Crown Road, Kidlington, OX5 1AG Click address to load google maps navigation.
Wheelchair friendly: Yes
Equipment upkeep: 10/10
Cleanliness: 9/10
Facilities: 7/10 you'll need to use near by facilities
Age range: All ages
Safety: 7/10 (common sense needed in places)
Fun factor: 10/10
Dog friendly: Not in the play ground unfortunately. Welcome in the field.
Conclusion
Overall verdict: JEALOUS! Wish we had something similar to Exeter hall play park in Bicester . If anyone suggests Garth park i'll likely kick you in the nuts.
You really should head over and have a look at the area. You can jump on the train at Bicester village and be there in no time. Jump on a bus that'll drop you just by Exeter hall afterwards. If the weathers good there's plenty to do.
AOB

For more free play parks in the area why not try my free park guide HERE