Visited friends on Sunday (I use the term friends loosely they're both dicks really) Anyway they live near what i think is a pretty cool park. Bonus is it's only in Ambrosden so its a perfect park to pass a couple of hours.
It's fairly new by the looks of it and it was well kept and spotless.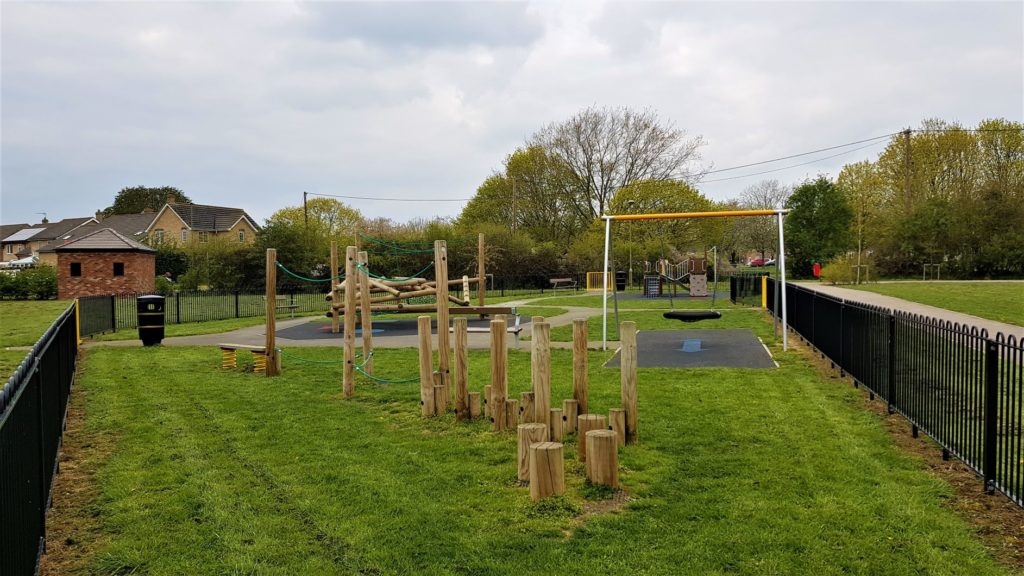 Good Tea
After a cup of tea (they make fairly good tea though to be fair to them) the kids were starting to wander and when i say kids i mean Elliot. He started to just walk upstairs. Maybe its just me but i couldn't just go chasing him up the stairs in someone else's house.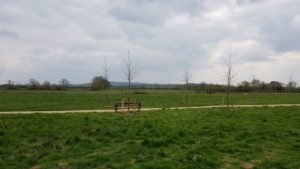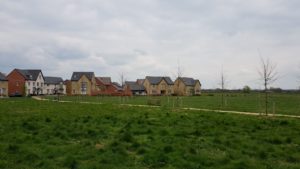 The upstairs for us are out of bounds mostly because we have a floordrobe and its a shit pit but these people live in a spotless house and Elliot being the nosey bugger he is he'd be in a and out of the draws. I was praying that he didn't come down the stairs with a vibrating butt plug or something. Its always the quiet ones. Thank fuck he didn't come down in a gimp mask either.
Anyway to keep him from finding anything we decided to head to the park which is conveniently a min walk from their house.
Park
Its a quiet area and the roads are really quiet too. On the plus side there are loads of paths perfect for bikes and scooters. Luckily we had Clark's scooter and Elliot's balance bike in the boot of the car.
The park itself is a fully fenced in beast and its a pretty decent size. Other times we have been we have been the only people in there and today was no different. Which meant that Elliot could quite happily whizz around the paths inside the park.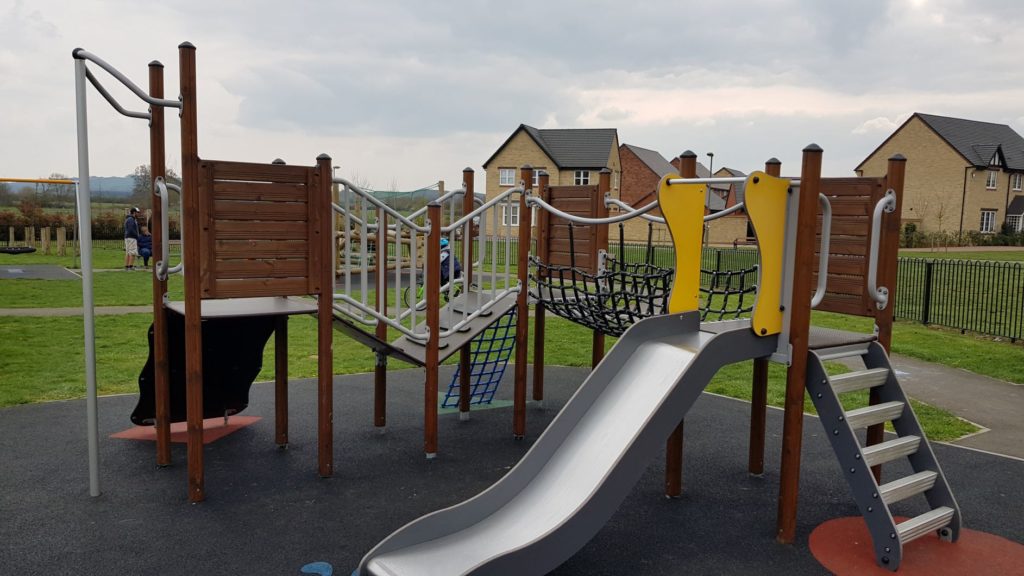 There are 2 climbing frames one for the younger one which is a mix of wood and metal. I prefer 100% wooden ones but maybe i have become a bit of a park snob now. It was still good Elliot liked climbing up the rock wall and nearly throwing himself off the fireman's pole while no one was looking. That kid is a Lemming! fireman's poles are about as lethal at the springy face twatters. Maybe i'll rename them slippy leg smashers.
There's a nice little metal slide on their too. A perfect conductor of heat for when the big burny bastard in the sky heats up turning it into a leg melter. Some cargo bits and a bridge. Its ok pretty good little frame and it kept Elliot away from twatting his brother for 5 mins (his new favourite game)
Pick Up Sticks
The older kids frame is the wooden nest style which you see popping up in most new parks. It looks like some giants have had a game of pick up sticks (Hope I'm not the only one that remembers this game). Some ropes in there too for good measure.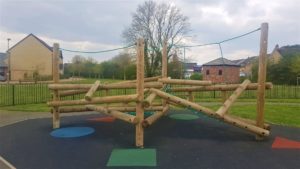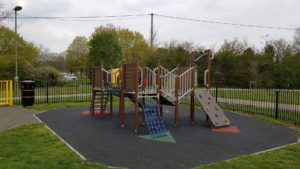 I'm not sure if the older frame is any good or not because neither of the older boys had got of their wheels. By this point they were happily scooting and riding on the paths outside of the park. Its all very safe… well as safe as wheels and a couple of 5 year old's can be anyway. The paths circle the park and you can see them the whole time and are always within shouting range.
The park also has a small little balance circuit which again the kids would normally hone in on but today they had their wheels and by now Elliot had also joined the older boys on his balance bike around the outside.
Sex Pests
This left 4 adults in a play park in the middle of Ambrosden without any kids. We looked like either a bunch of sex pests or a bunch of wannabe stoners having a midlife crisis. Thankfully the kids kept popping in and out of the park so we didn't look like complete tools.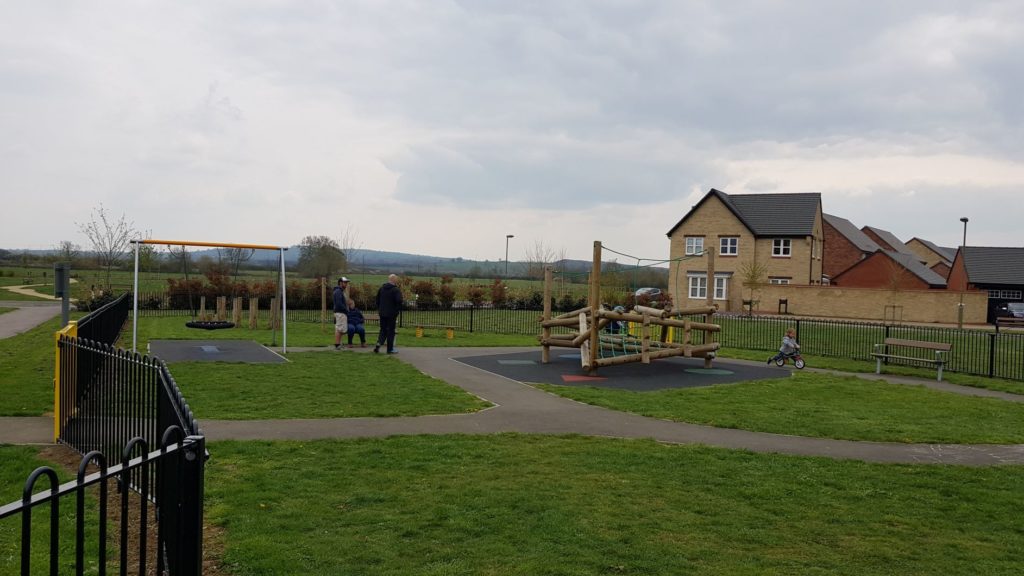 Ambrosden park does have a swing but unfortunately just the one. Its a cargo swing which i guess is the best best for all ages but it could really do with maybe 2 more for it to be a better park. Shame really because it had the size for it.
Ambrosden park stats:
Distance from Bicester: 10mins
Sat nav: Springfields, Ambrosden OX25 2AH Click to load sat nav
Wheelchair friendly: Yes
Equipment upkeep: 10/10
Cleanliness: 10/10
Facilities: No toilets or cafe but my friends make a good tea.
Age range: It would be better for confident walkers and up
Safety: 8/10
Fun factor: 8/10
Dog friendly: Not in the park but the fields surrounding are
Conclusion
I like this park our friends don't rate it much but they don't have the shitty park next to their house that we do haha.
The reason i think its good is because of the scooter and biking possibilities which i think makes it perfect for if you have a toddler and older kids that want to either wheel around or even have a game of football.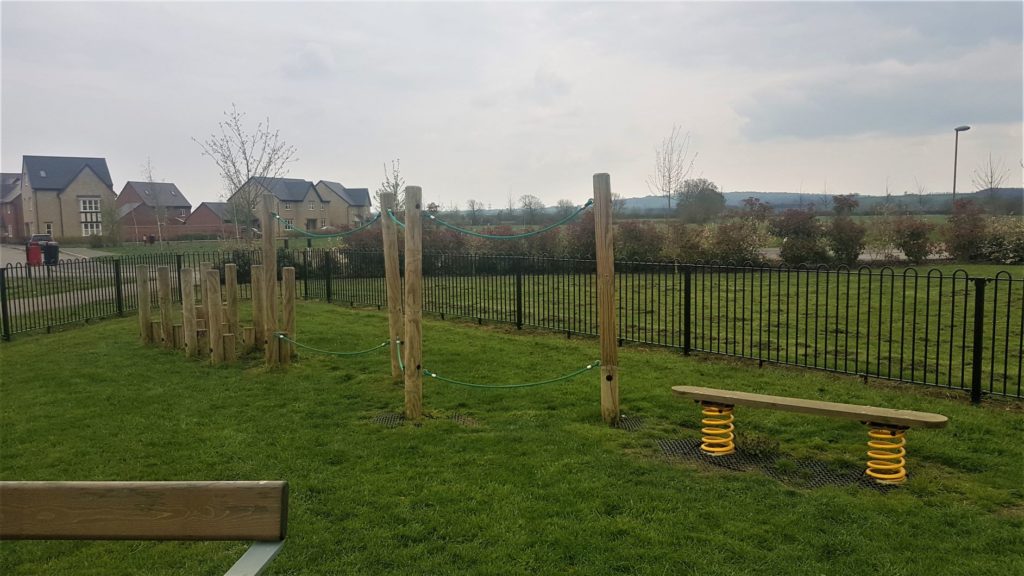 Clark and his friend didn't use any of the equipment in the park once but they still had a great time racing around.
Don't get me wrong its not the best park We've been too but its one i would recommend as a good all rounder that's local
AOB
Have a look at the map of all the parks we have reviewed and find some ones near you. HERE
If you know of any parks you think we should try out please let me know via the Facebook page HERE