A monumental fuck up on my part (wrong dates) Brought us into the loving bosoms of Oxlease play park. Its a Witney park and the 2nd one I've visited recently. The first being The Leys. Its not as big as the Leys but it sure is fun.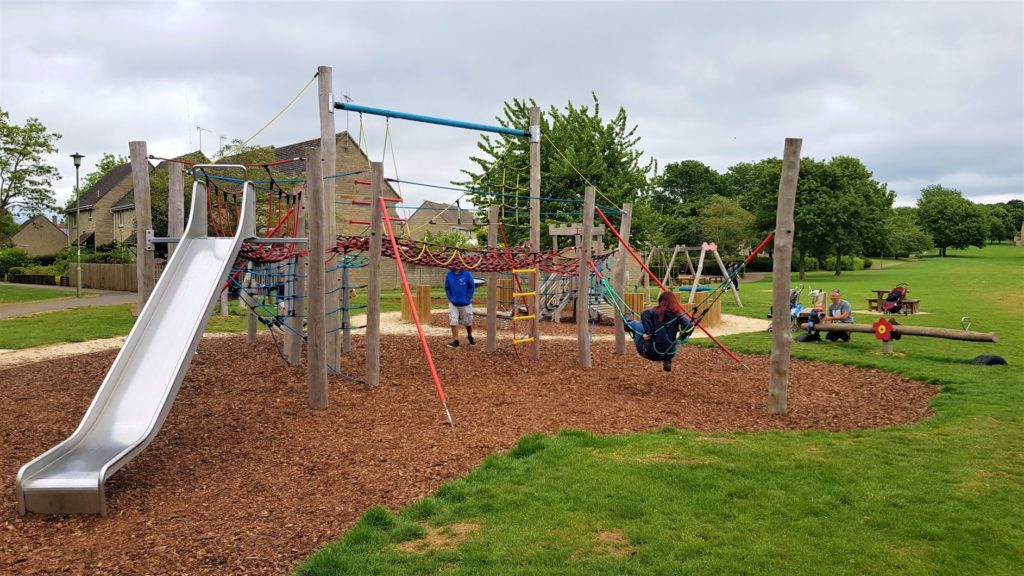 Oxlease Play Park
The only reason i came across this play park in Witney is because we we're visiting Cogges manor farm and we spotted it on the field opposite. Its one of those parks that you can tell its going to be pretty good from a distance.
I'm not really sure about parking but we parked in the Cogges manor main car park which is free and just a bit of a walk. I'd recommend using that too if you fancy visiting Oxlease play park.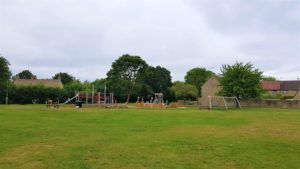 If you do visit take balls…not the scrotum kind (although don't leave them behind if you have any). I mean the Rugby and football kind. We had a Frisbee with us which was pretty handy too. The play park is at the end of a huge field and i mean huge. Its lovely, the boys and their friends had a great time running about in that as much as the play park.
Whats Oxlease play park like?
I'll start of with the one small flaw. Some people wont even see it as a flaw. Those people are probably the ones that don't have kids like Elliot that are a flight risk. Its not fenced in. That's it really my one small annoyance but I'm just being pedantic (necked a dictionary this morning). On the plus side its not near any busy roads.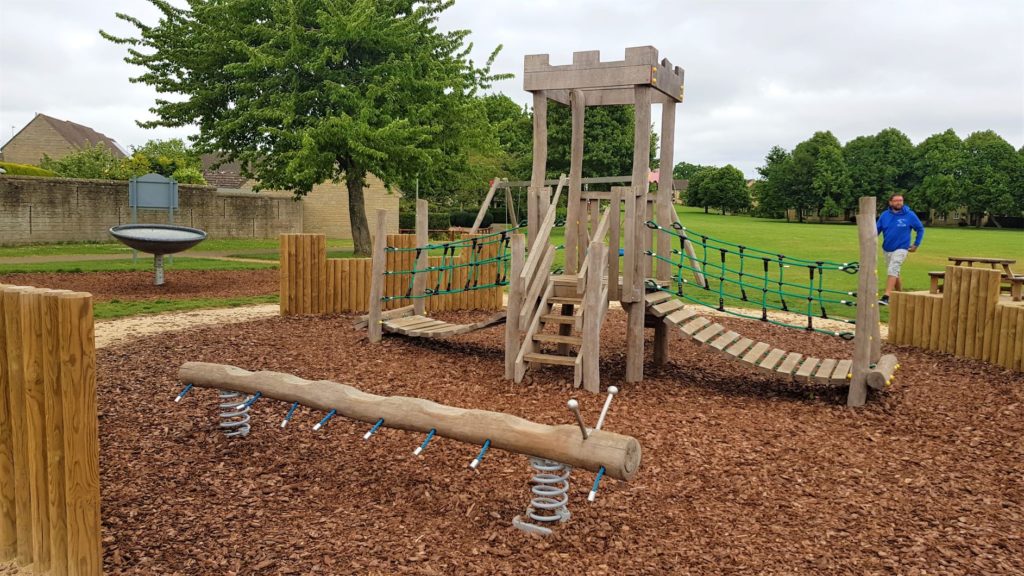 This does though mean that dogs can come and go as they please. Or at least that's what we witnessed. To be more specific i saw a gormless father and a son staring at their phone while their dog ran round. Not once did they look up from their phones and for nervous children that's not ideal.
Oxlease play park equipment for toddlers
The park is another corker for all ages. Theres a smaller frame for toddlers which was nice and new. This had Bridges, steps a slide and possibly the most unique springy face twatter to date. A huge caterpillar which can seat multiple kids at once.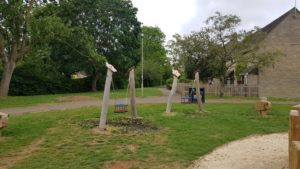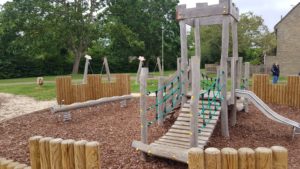 The toddler area is partially fenced in too and full of wood chip saftey flooring. The person who designed this area clearly knows toddlers face plant more than i do after a few gins.
Behind the toddler zone you'll see their baby swings. Pretty cute stand alone's but you wont get much height out of them much to Elliot's annoyance. He soon fucked off to the cargo net swing. Which i recently found out is called a witches hat……Apparently.
Whats there for the older kids?
I'm not sure if the person who designed the Oxlease play park is the same as the person who designed the Leys. If so I'd say they were into bondage.
The older kids climbing frame is again another structure made from mostly rope. Its pretty decent. I mean its no where near as good as the beast in the Leys but its still great and the older boys played on it really well.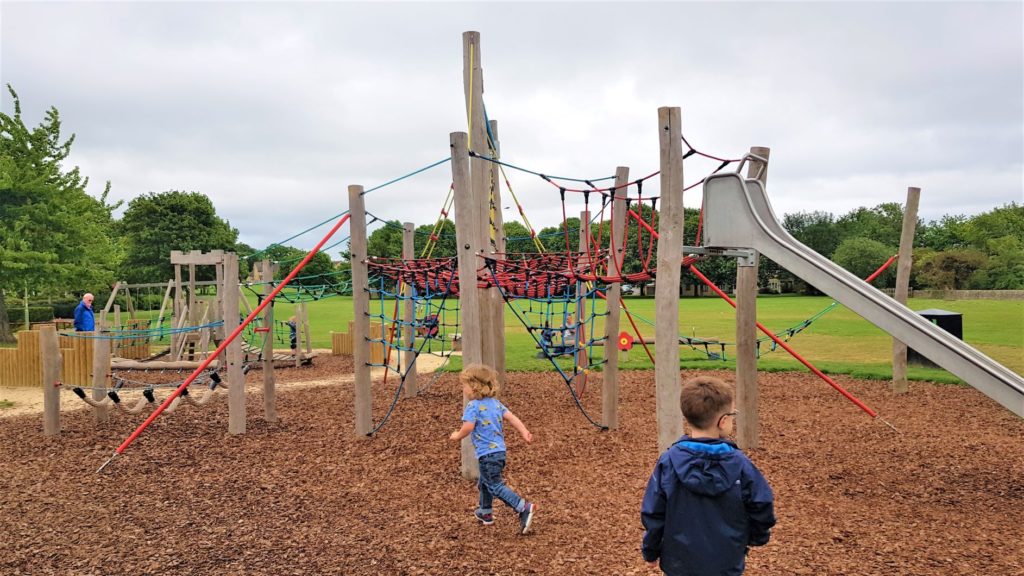 If they want to go on the slide they have to work for it though.
As soon as i clocked the cargo hammock i was off. Never seen one of these bad boys before. Gave it a go and fuck me it bloody hurt. The ropes were digging my flab and cutting off my circulation. Pretty sure one of the ropes went so far up my crack i could have called it a thong. (sorry kids). Whatever you do don't let anyone swing you while you're in it either. Impossible to get out and people will take photos. I looked more like a whale caught in fishing nets.
Anything Else?
As i mentioned earlier its a pretty decent area for ball games and maybe even kite flying (check for wires first)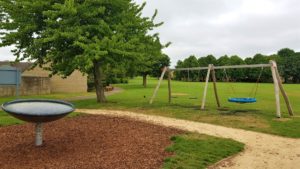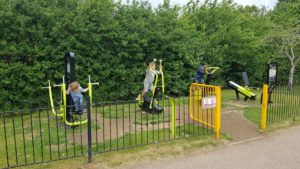 There are a few benches for picnics too and if your kids are happy playing then why not get your fat arse up and into their outdoor gym. Hahaha only kidding sit down and watch the kids try to use it. That's way more fun. You sit down and relax with a Bakewell tart.
They also have a normal seesaw, a cool spinny rocking roundabout and some swings for the older kids too.
Oxlease play park stats:
Distance from Bicester: 26 mins
Sat nav: Wadard's Meadow, Witney OX28 3YU Click to load sat nav
Wheelchair friendly: Yes but will have uneven surfaces
Equipment upkeep: 10/10
Cleanliness: 10/10
Facilities: No toilets in the park Cogges cafe opposite (No toilets though)
Age range: All ages
Safety: 7/10
Fun factor: 9/10
Dog friendly: I think so we saw a couple but they could just be rebels
Pushchair Friendly: yes but bumpy over the grass
Bikes and Scooters: Yes in certain areas near the park
Conclusion
Oxlease play park is really lovely. Yet another park to be envious of. However it's not one i will be visiting just for the park.
That being said i do love Cogges farm and i will be visiting there a fair bit when the weather permits. I cant imagine i would go to Cogges now without also visiting Oxlease play park now either.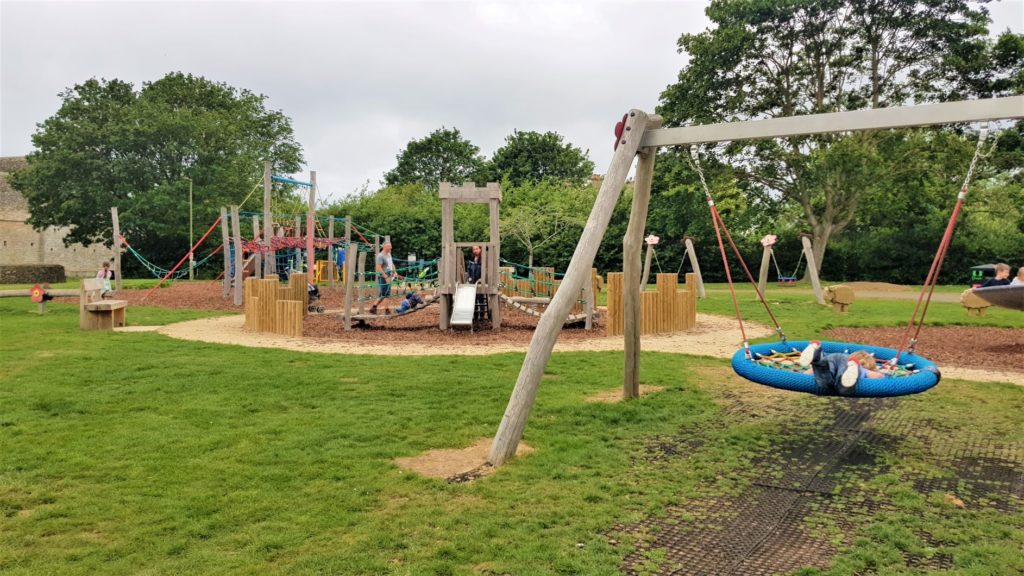 I would recommend the park to anyone looking for somewhere to go in the area. Its another great addition to a day out.
I think i need to investigate some of the Witney parks a bit more. Test out this bondage theory with the designer. Not that it matters because the parks seem pretty cool anyway. Are you another one of those mum's that's always typing into google search "playgrounds near me"?
AOB
Pop over to the Facebook page and have a gander at my other rants HERE
For more Oxfordshire play park's have a look at my map HERE