Free parks
Riverside Play Park | Stratford-Upon-Avon
Here's a blast from the past… ok not that far in the past but earlier this year. Myself and Elliot went to try out the Riverside play park | Stratford-Upon-Avon. Lucky for us it was a super sunny day too. Although I still wasn't prepared for it.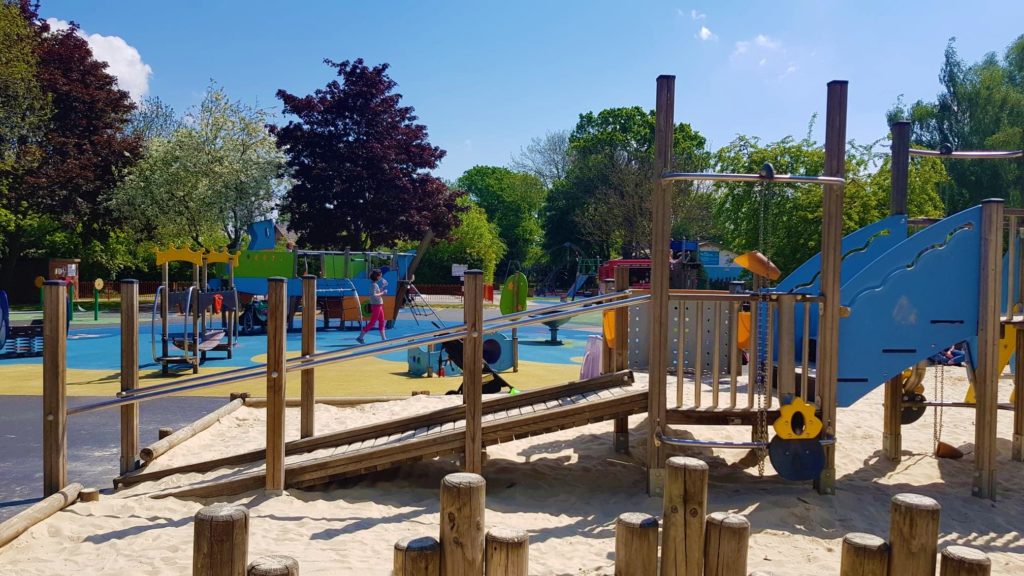 Riverside Play Park | Stratford-Upon-Avon
If any of you have been to the butterfly farm in Stratford before then you might have seen this bad boy. Its at the far end of the car park so kinda next door to it but you cant see it easily.
I really like this play park. Not only for its equipment but for its position too. Its right next to the river, Has parking (Pay & Display) and you can take a stroll into Stratford easily too. Oh I almost forgot TOILETS!!! this park has toilets!!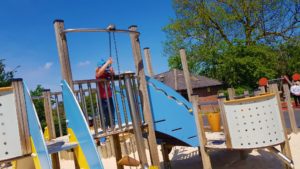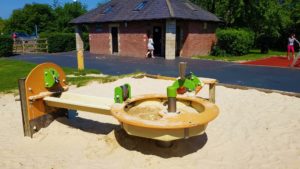 So if you're looking for a cheap day out then The riverside play park in Stratford-Upon-Avon is a great shout. Take some bread feed the swans (loads of them) oh and before you get on your high horses about feeding swans bread google it first (Bloody hippies).
Little tip take buckets & Spades and if you're visiting in the summer take a change of clothes. Not for the river but they also have a paddling pool open at certain times too. I can imagine it gets rammed though.
Whats At The Riverside Play Park | Stratford-Upon-Avon ?
The play park is pretty big and best of all its great for all ages. Its fully fenced in too with a few entrances. When I visited they even had a little food van (not cheap though) so you can feed the kids if you didn't bring a picnic.
As i mentioned earlier, Bring a bucket and spade. Lots of the play park is in a huge sand pit. Elliot loved it and spend the majority of his time in there nicking other kids buckets. We finally found an empty cup for him to play with (Hard times)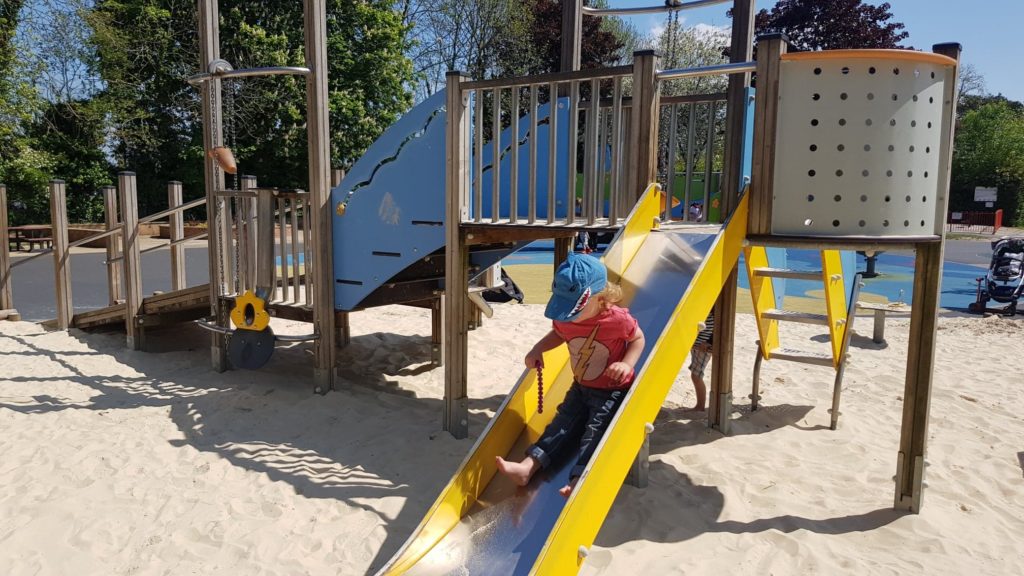 The sand pit area has its own frame in there with pulleys etc so the kids can move the sand up and then throw it below into the eyes of unsuspecting kids below. There was even a small water play area but it was broke when we visited and gave out noting stronger than a weak dribble. Still the kids flocked to stand there for 20 mins just to fill their buckets…. or in Elliot's case a disposable cup.
Couple of pros and cons of the sand pit area. There are some trees for shade next to it, a few benches and some lawn which is where I set up camp with our picnic. However the slides were metal one's and fuck me they get hot. Thigh melters as i call them. So if its sunny make sure you check the slides first.
Pirate Themed Play
Now i might be wrong but the whole play park seemed to have a sea/pirate theme. The flooring is that soft tarmac stuff. Great but still grazes the knees like a bitch when the kids fall over.
There's a big pirate ship frame in the middle of the play park with more thigh melting slides. Surrounding this you have a giant springy face twatter with a dolphin theme, a spinny cup thing and a diddy tunnel too.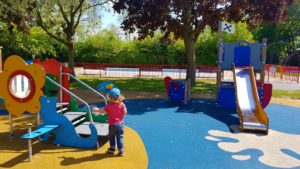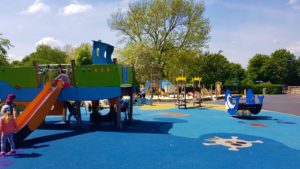 Towards the back next tot the pool (pools fenced off) is the toddler play area. Super cute and everything is dinky so it really is for the little ones that are just learning to walk. They even have cute little swings that are like the ones for older kids but small and low to the ground for when they fall off haha. Another hit with Elliot.
There's a little house, musical instruments and another bigger slide again. What i really loved though was the parent and child baby swings. Love these and they're like gold dust. There normally a queue for them too. Could argue that Elliot was too big but fuck it i stuffed him in anyway because I wanted a go too.
For The Older Kids
Depending on how old your kids are you might even be able to let them lose on the playing fields for a game of football. There is so much green space surrounding the play park.
Failing that up towards the back end of the play park is where you ll find the equipment for the older kids. Annoyingly this is all in shade. Well not annoying for the older kids but could have done with a bit more shade for the younger kids area.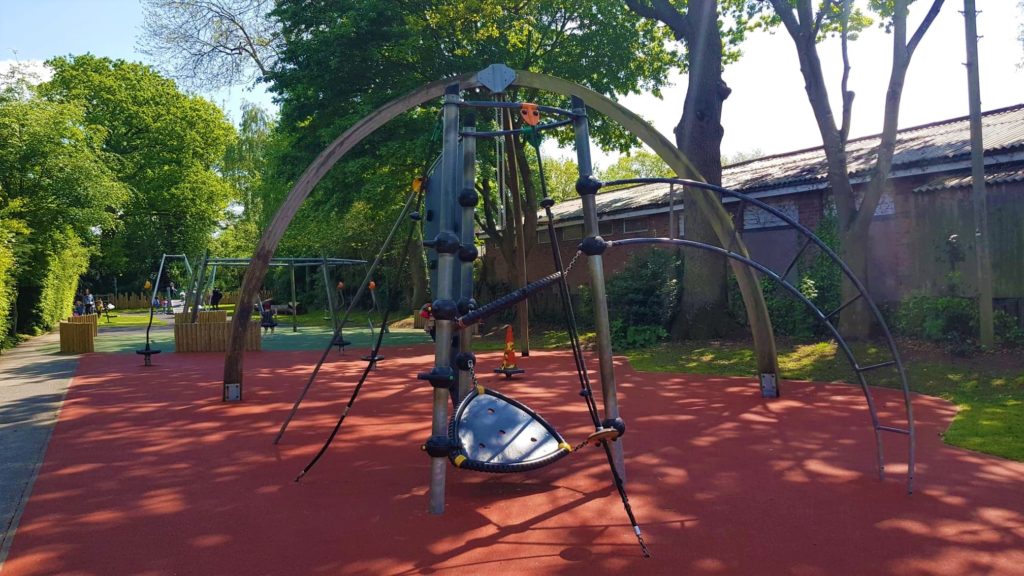 Up the back you'll find rotating tyre swings some weird looking climbing frame and a couple of other cool bits. Annoyingly i didn't get many photos of this area an my memory is a bit shit so i can really remember it all.
The zip wire is right up the back away from the little ones which is a great idea. Stops them getting smacked in the face as the older kids zip passed. I did see s couple of broken bit up the back here too. Highlighted by a big cone plonked on top. Maybe they'll have fixed them by now.
Riverside Play Park | Stratford-Upon-Avon Stats:
Distance from Bicester: 50 mins
Sat nav: The Recreation Ground Playground, Stratford-upon-Avon CV37 7PY Click to load sat nav
Wheelchair friendly: Yes
Equipment upkeep: 8/10
Cleanliness: 8/10
Facilities: Toilets, parking, food van and town withing walking distance
Age range: All ages
Safety: 9/10
Fun factor: 10/10
Dog friendly: No
Pushchair Friendly: Yes
Bikes and Scooters: Yes brilliant smooth paths
Public transport:You can get a train from Bicester North to Lemington Spa then jump on the X18 bus to Stratford-Upon-Avon get off at Mcdonalds (nom nom) and walk the rest. It'll take you around 1hr 30 great day out though mixed in with other activities.

Conclusion
We spent a good couple of hours playing in Riverside Play Park | Stratford-Upon-Avon. However its not a journey I would make for the play park alone. There is so much to do in the area though I'd always recommend this to anyone.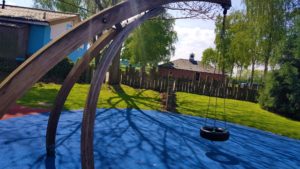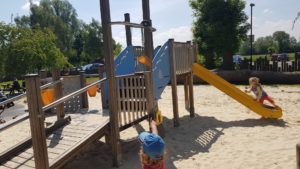 Stratford-Upon-Avon is a cracking day out and can be as cheap or expensive as you like. Its one of the best parks I've come across for toddlers. The parent, baby swing and the convenience of the toilets did it for me and I think the sand pit did it for Elliot.
AOB
I'm always on the lookout for new play parks to review so if you know of any good ones please do message me. Its easier to message me on the Facebook page HERE
If you'd like to check out more play parks near you then have a look at the Play Parks map HERE
What Else Is There To Do Close By: Butterfly farm , The Mad Museum, Hatton country world, Childrens play Village