Today saw the first bit of sunshine since the Easter holidays started, Hooray. We kicked the day off with a visit to Blenheim palace's forest school. We then ended the day in Adderbury and bugger me i didn't know how nice Adderbury was. The whole day today was totally free and the kids loved every min of it.
Lucy Placket Playing Field
We kicked it off with a visit to Adderbury play park aka Lucy Placket playing field. I'll be honest it was a bitch to find on the sat nav and the parking was a bit of a bitch. If you think people round where you live park like Knobs wait until you have a drive round Adderbury. One thing i will say though is wow the houses are bloody cute.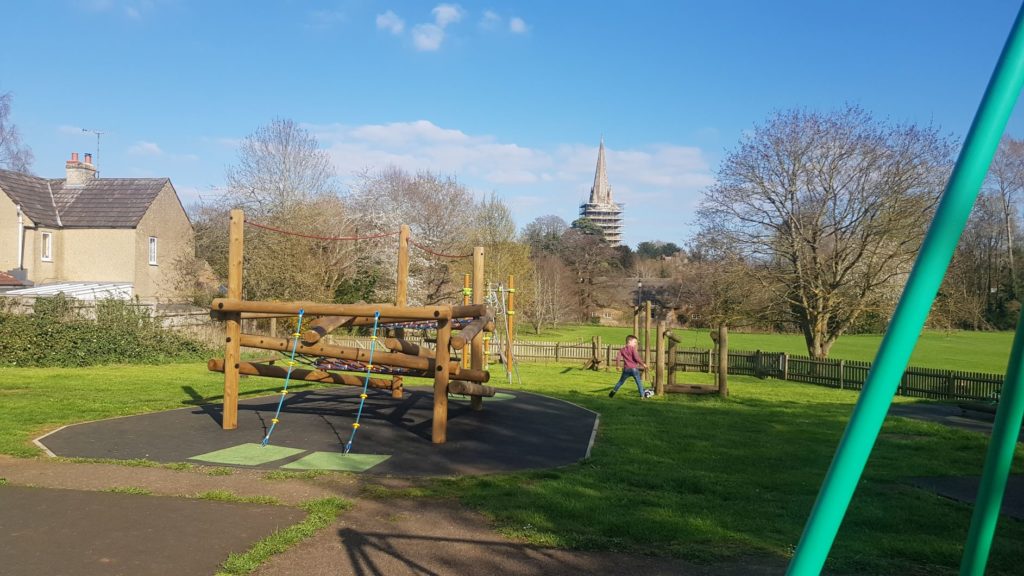 We parked along the road and walked down to the fields (Sat nav in the stats) so i had no idea what to expect…..Well let me tell you. It was shitting beautiful. Whether it was because the sun was shining or not i don't know but the back drop to that park is stunning with the church spire in the background and the bells ringing (I sound like a fucking hippy now).
The play park is in the corner of the field and its large with a beautiful sturdy fence. Perfect for those flighty toddlers that bolt it for that one nanosecond you turn away.
Kidnapping
I didn't get a great many decent photos of the Adderbury park because Elliot fell asleep in the car (after the dreaded 4pm. Fucked up bed time well and truly) I had to pries him out of the car seat, carry him the whole way through the quaint village of Adderbury screaming like a kidnapped child.
Believe me if i was going to kidnap a kid it'd be a nice calm quiet one and i'd be tempted to do a swap……not sure if that would land me in more trouble with the police or not? anyway the only thing that would get him out of his grump was to push him on the swing for around half hour. Everytime i stopped in an attempt to see if my other child was ok or to try and take a photo he threw a shit fit.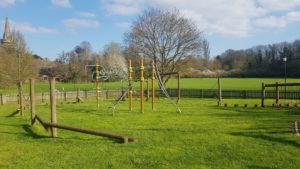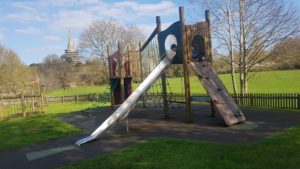 After half hour he'd settled down again and decided that he would try more of the equipment in the play park (Thank fuck for that. I have the upper body strength of a new born baby)
Both boys were trying to master the monkey bars but alas they have inherited their mothers upper body strength i just spoke about. What i did like about these monkey bars though were their height. They weren't too far from the ground so when the kids stack it their faces hurt less!
Best balance course
The play park has probably the best balance course I've come across in a local park . Its big, its doable and challenging at the same time. In the middle of it you'll see the older kids frame which to be honest i wouldn't be able to do it. The kids weren't fussed with it thankfully.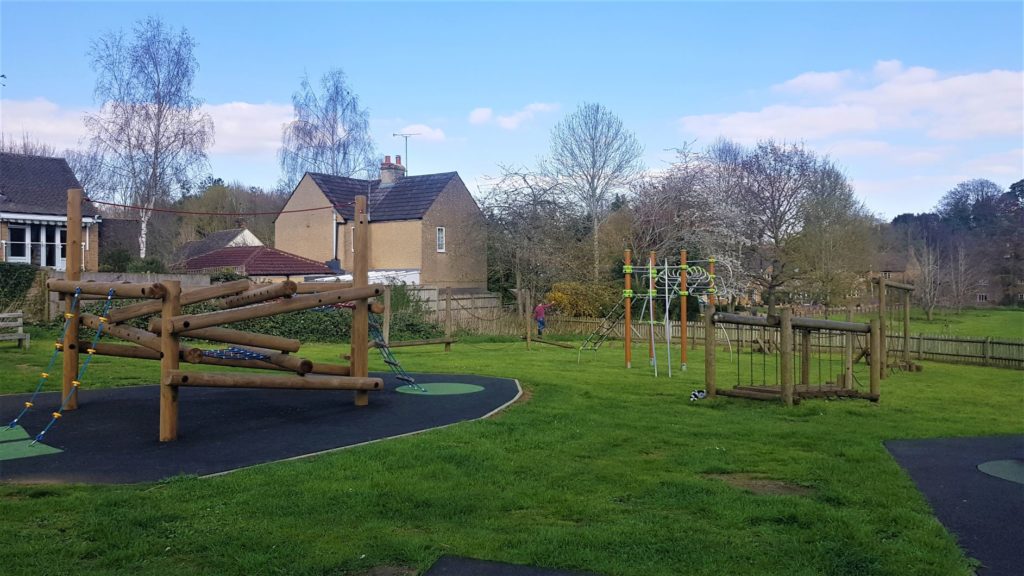 They have a double springy face twatter, 6 swings, a wood and net climbing frame, a small rock climbing frame and another larger kids frame with the bigger slide. The park was spotless and the grass was lovely and soft said Elliot (well in his own words). He did stack it a fair few times so I'll take his word for it.
More equipment
On the other side of the field the kids had spotted the zip wire and bucket swing so off they sot across the field for a few go's of the zip wire. I'm looking forward to the age where i don't have to run alongside Elliot so he doesn't face plant the floor when it jumps to a stop at the end. You'd think with all this running I'd be a lot less wobbly.
The bucket swing is cool and god knows what the gym equipment was for but the kids had a great time trying it out. Does anyone other thank kids actually ever use gym equipment in parks?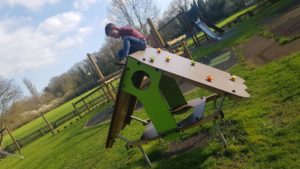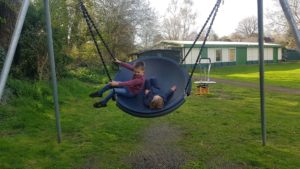 The zip wire and other bits are also next to a football/basketball cagey thing. God I'm on fire with all the technical terms tonight!
There is a huge mammoth football field in the middle too so if you do go there is plenty to do. While we were there we saw lots of young kids zooming up and down the path on their bikes and scooters. Its a lovely safe place for them to have a play so I'd suggest taking some wheels too.
Babbling brook
Just as we were about to leave we saw some kids walking out of a small path in the wooded area at the end of the field. Decided to go and have a look. At first i was a bit worried we were about to unearth a teenagers drug and orgy pit but it was actually a proper path so off we went.
The path led to a little bridge over a lovely little river. Again it was so pretty the house opposite was so cute too. The Boys decided they wanted to walk along the river throwing stones and leaves in. It was lovely! we passed a house with chickens in their garden and came across another bridge that went up to the church. We carried on and followed the river until we came to the road.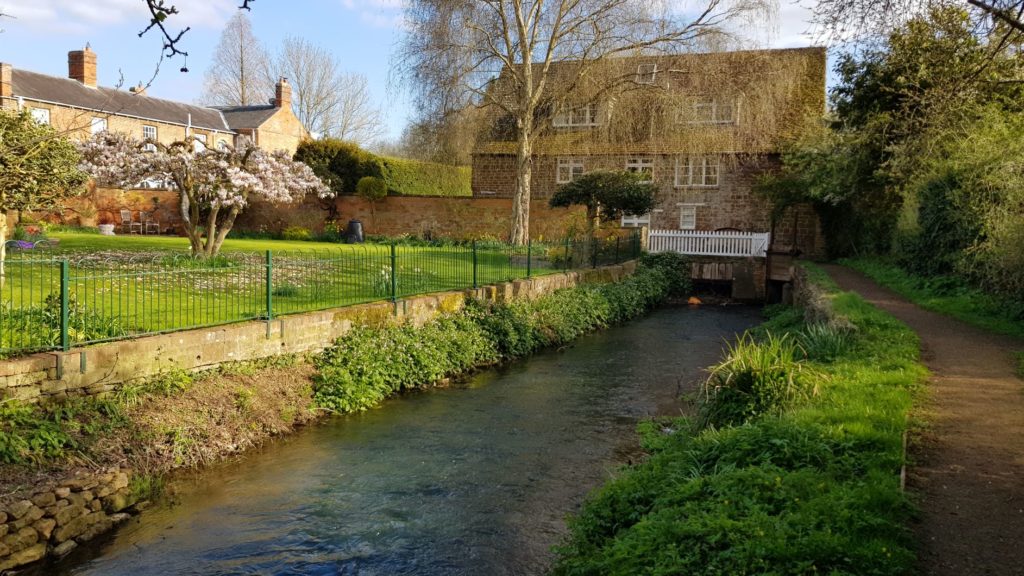 Turns out we'd done a short but very pretty little loop and we were on the same road that we parked the car just further up. This little walk was lovely in fact Clark called it beautiful!! so well worth doing this too.
It was now time to head to our next destination which is also in Adderbury………
Adderbury lakes!
I was going to put this in a separate blog but fuck it i honestly think you could make a day or afternoon/morning of it in Adderbury and its all for free too.
So if you've gone to one before the other and you plan to do both with small kids you'll need to drive as this one is over the busy road. That is unless there is another entrance closer (which i think there is but i don't know where)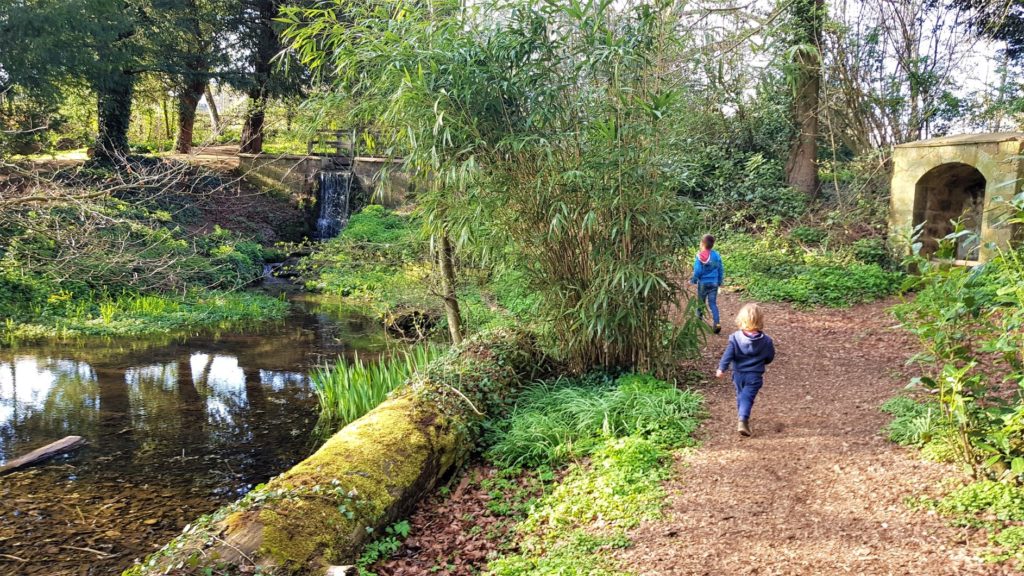 We parked roadside again and walked up behind the new houses. I knew where we were going because I've been here once before a few years ago. The kids wanted to have a look and i was trying to knacker out Elliot to counteract the nap fuck up on the way in the car.
Adderbury lakes aren't huge at all its a perfect walk for little legs and its absolutely stunning it set in woodlands that back onto some seriously rich big ass houses. on the right hand side over the fence you'll see deer in the fields too. Loads of them much to Elliot's delight as he ran towards them screaming "COW" at the top of his voice.
Snobby ducks
There are a few ducks in the lakes so it might be worth taking some bread (or duck food if your that way inclined) but if I'm being honest they looked a bit stuck up. Don't know why and i never thought id hear myself say that a duck looked like a snob but these feathery bastards did. Didn't even swim over with the slightest bit of interest. #offyoufuck
Anyway the kids had a lovely time throwing stones into the lakes from the little jetty's and walking round. Their favourite part was the waterfall though. Its pretty cool they sat on the bridge and raced leaves down over the top. Sounds cute but Clark was racing them to their deaths which took the cute edge off a bit.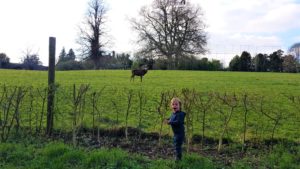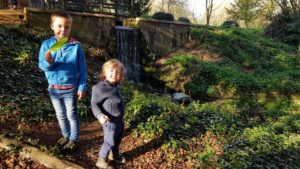 There are plenty of benches and seats the whole way around the lakes too for if anyone gets tired. Dogs are welcome around the lakes but must be kept on a lead. The lakes were very clean and well looked after so if you do go please lets keep it that way.
There was also a lovely small natural play area with logs for the boys to jump along too.
There isn't really a lot at the lakes well there is but i mean there isn't if you're looking for man made fun. Its just a stunning, simple child friendly walk it was absolutely perfect for us. We had the best afternoon and the boys even held hands as were were leaving!!! just goes to show they don't always argue…..just mostly.
Adderbury Stats:
Distance from Bicester: 30mins
Sat nav Park: Round Close Road, Adderbury, OX17 3EE Click to load sat nav
Sat nav Lakes: 22 Lake Walk, Adderbury, Banbury OX17 3PF Click to load sat nav
Wheelchair friendly: In parts but the lake might get a bit uneven and difficult.
Equipment upkeep: 10/10
Cleanliness: 10/10
Facilities: No toilets lots of tree to pee behind though
Age range: all ages but i can imagine teens wouldn't be too happy
Safety: 6/10 water side as always need to keep an eye
Fun factor: 10/10
Dog friendly: Not in the park but the lake is fine on a lead
Conclusion:
A totally free unexpected lovely afternoon out. It was so lovely we will without a doubt be doing it again.
Its not a big drive and its a perfect afternoon filler. There are plenty of pub in the area and I'm sure some of them will do great food too.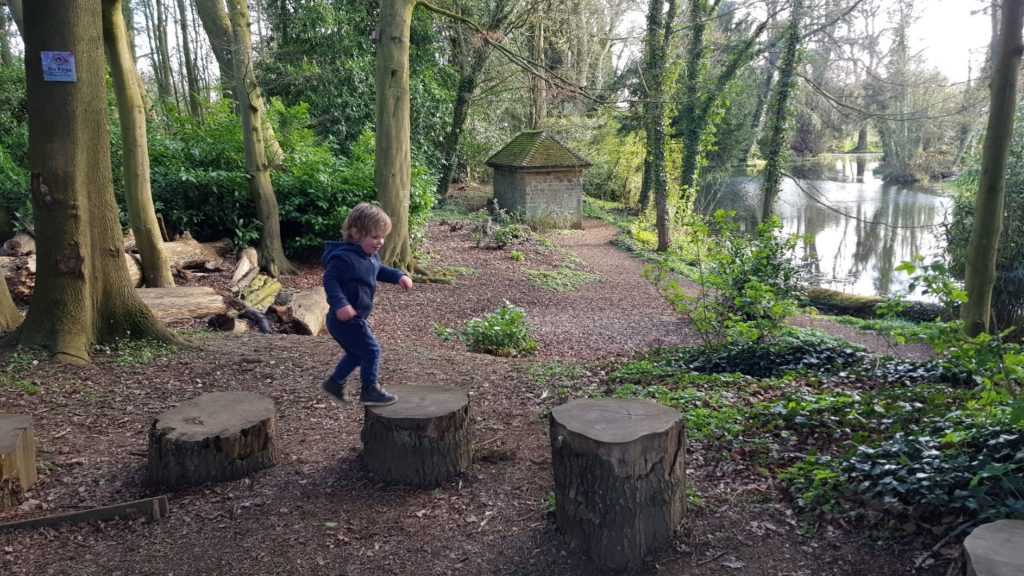 If i was rich I'd be moving to Adderbury to live in a cute little cottage and feed the snobby ducks.
I can honestly say that you should go to Adderbury for a visit you wont be disappointed and if you are its only cost you the petrol.
AOB
Adderbury lakes has its own Facebook page which you can check out HERE

I Also have my own Facebook page which you can follow HERE
Or if you'd like to see some of the other free parks I've reviewed then you can do so HERE