What a nice little surprise Weedon Play Park was on our journey home the other day. As usual my sat nav decided to take us a completely random route. This time however it paid off because we spotted this little Gem while driving through the village.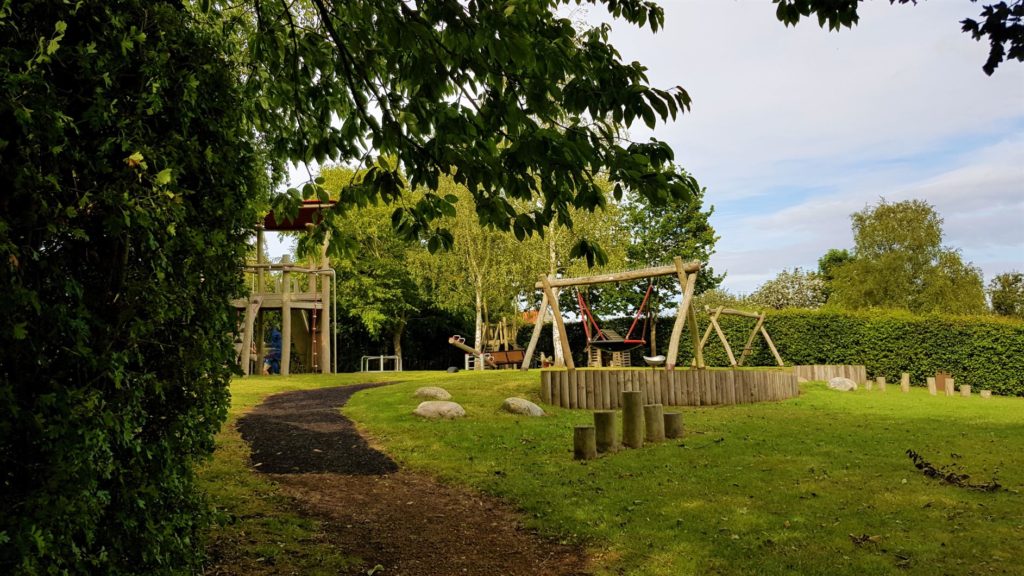 Weedon Play Park
As soon as i clapped eyes on it i knew we had to find somewhere to park and go and have a quick look. I found a safe spot not obstructing anyone's drives or the road on High Street (not actually a high street with shops but just the name of the road) Then we walked over.
Its raised up from the road on a bit of a hill/mound and its totally fenced in. You need to go through a little gate (High Street side) to gain access.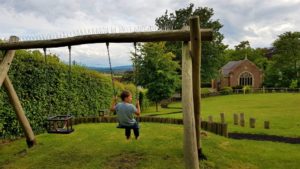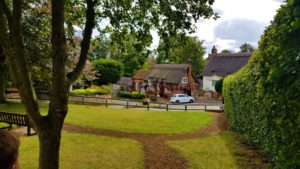 Its a lovely looking timber (mostly) framed park and it really doesn't look that old at all. Its clearly well looked after too. There were a group in there when we visited today too. Other than that it was so quiet. Even the roads weren't that busy.
There's a lovely looking pub opposite called the five Elms which i didn't have time to investigate. The whole village looks really lovely. There's even a lovely view from the play park too.
What Equipment Is There At Weedon Play Park?
Weedon play park is pretty well kitted out for all ages. This is pretty impressive considering the space isn't that big. Just goes to show how a well thought out plan works because they've really utilised the space to the max and given themselves space too.
There's what i would call the main frame, the one older kids. This has several sides to gain access up to a platform which is pretty high up if you ask me. They can rock climb up, Rope ladder up, rope climb up, pull yourself up or cargo net up. Then you can either slide down the slide or either of the fireman's poles.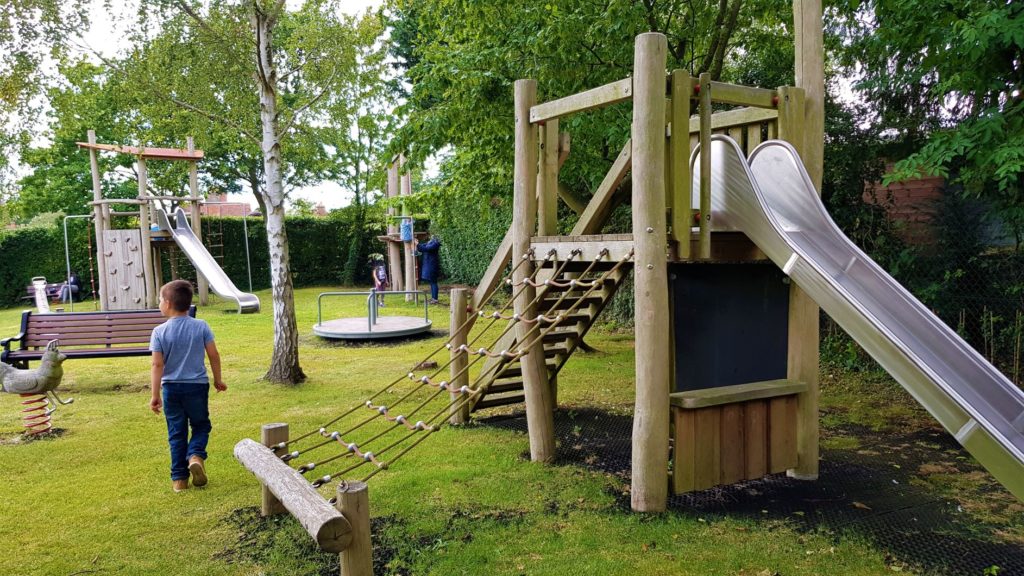 On the Opposite side of the park (not as far as it sounds) you have the toddler area. This has a springy face twatter in the shape of a chicken. A play house and the toddler frame which i believe is supposed to be a pirate ship. Slide down the slide after you cargo net up use the steps or the rock climbing wall. Just a simpler smaller version of the main frame.
Next up it the totally most unique frame I've ever seen in a play park. In fact I'm not entirely sure what the fuck it even is exactly. Please bear with me as i try and explain what i saw. It's definitely one for the older kids when i say older kids maybe even teenagers. Looks like a tight rope and not a low one either. There was a handle in the middle of the rope dangling from above but I've no idea how you'd get hold of it. I think it must move. Basically you need skill, massive balls and possibly a circus enthusiast to be able to use it. So cool though, i really want to see someone using it.
What Else Is There At The Park?
Ok so I've made a really shit job of explaining the 3 rd frame but once you see it you'll know what i mean. There's a couple of ways up it and 2 poles to slide down at either ends too.
There's also a Witches hat swing, baby swing and a normal swing so all ages of swingers (pun intended) are catered for.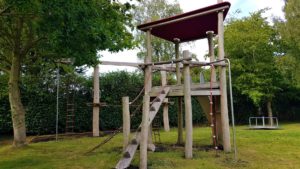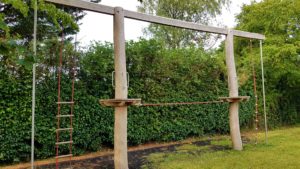 You'll find a cool double seated seesaw which I was practically bench pressing Clark up and down on for about 5 mins (i better be a size 10 in the morning after that workout). Then there are a couple of roundabouts too. 1 one person one and 1 larger one for a few kids.
There is a balance bit on the grass area which i would normally say it was good for ball games but in this case i wouldn't bother. Its on a hill and the road is below. You'll either lose your ball or your child. Perfect for picnics though.
Weedon Play Park Stats:
Distance from Bicester: 29 mins
Sat nav: Stockaway, Aylesbury HP22 4NL Click to load sat nav
Wheelchair friendly: Yes but use the entrance on Aston Abbots road
Equipment upkeep: 10/10
Cleanliness: 10/10
Facilities: No toilets or cafe but pub opposite
Age range: All ages
Safety: 7/10
Fun factor: 10/10
Dog friendly: No
Pushchair Friendly: Yes again use the entrance on Aston Abbots Road
Bikes and Scooters: Nope
Public transport: From Aylesbury jump on either the X60Max Or the X60 to Mk then jump off at New Road turn and walk to the park. Whole journey takes about 21 mins.
Conclusion
Weedon play park is a great little park with a great variety of well kept equipment for all ages. The village itself is lovely and i like the fact its close to a pub too. This gives me an excuse to go back and try it out when we have more time.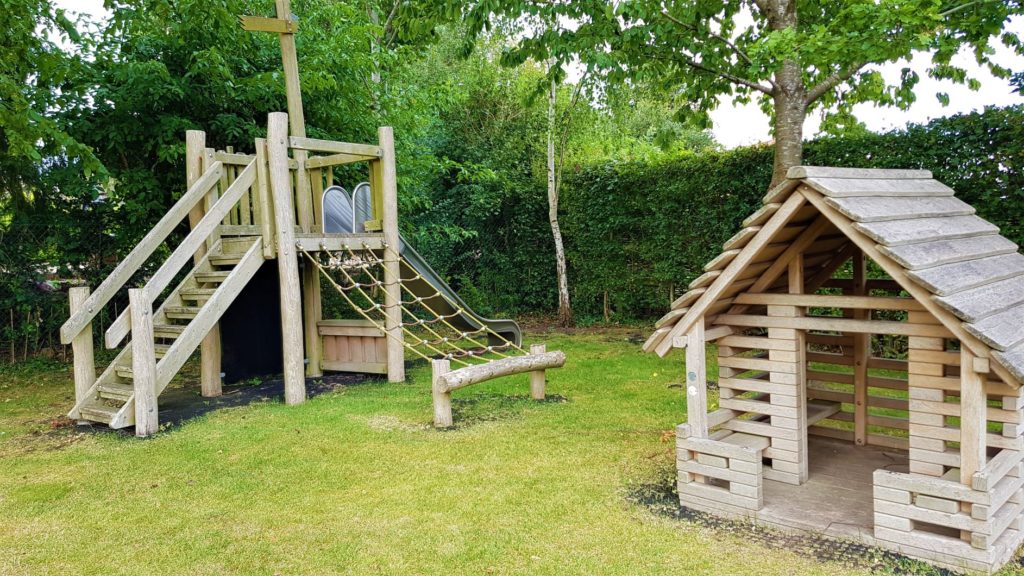 I'd definitely recommend it to anyone that lives close by. I'd even recommend it to anyone looking for something new and a bit quirky that wont mind around a 30 min drive.
I'm glad we stumbled across this lovely play park and because we're out towards Aylesbury a fair bit i can imagine that we will be back again. Maybe next time we'll have the small with us too.
AOB
I'm always on the lookout for new play parks to review so if you know of any good ones please do message me. Its easier to message me on the Facebook page HERE
If you'd like to check out more play parks near you then have a look at the Play Parks map HERE