Now that the sun was back out it meant that we could get our park on. Today's park of choice was Upton Play park and what a cracking play park it was. A few never before seen pieces of equipment. Shame Elliot was asleep the whole time. At least me and Clark had fun.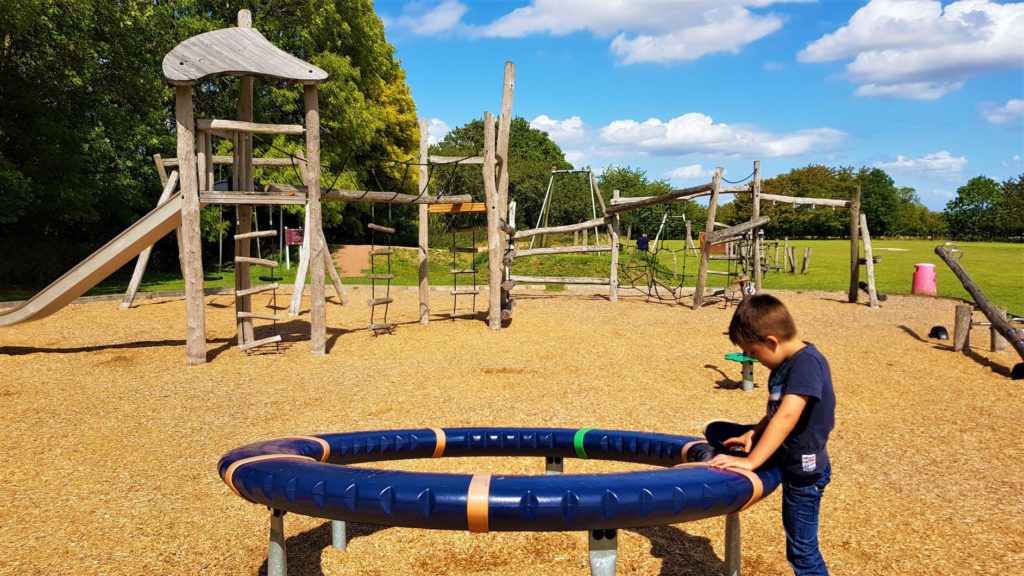 Upton Play Park
This is one for you Didcot and south Oxford lot. Bit of a mission for just the one park if you don't live close. Couple it up with a few more in the area, A picnic and you have yourself a free day out.
You'll be happy to know there's also a car park. So no need to faff about pissing off the locals because you want to park outside their houses. I know a few villages i wont bother visiting again after the residents were so rude. Although maybe i should go more and really wind them up haha.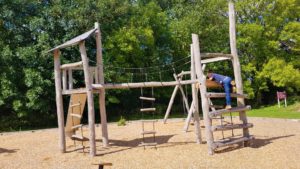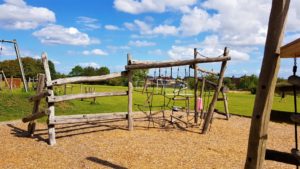 Right so the park is in fact 2 parks and a pump track (bmx track). The main park is a newer park and you'll see that as soon as you park up. The older play park which I assume is the original is in the back of the village hall. Lots of vintage equipment in there.
Its all set on a huge sports field too with some weird hybrid football and ruby goals. Pretty cool though so make sure you take balls (hehe) with you too.
Equipment In Upton Play Park
I'll kick it off with the main play area (the newer bit). Although its not fenced in it doesn't need to be. You'll know what i mean when you see it. It does have some lovely cushioning in the form of lots of wood chip. I thought it was a huge arse sandpit at first. Wood is great though. All the better for catching those falling bodies.
Now I'll be honest. I personally don't think this is a great park for younger kids i.e Toddlers. Apart from a couple of bits and a springy face twatter there's not a lot they can do solo. unless you have one of those toddlers that can scale walls like spiderman.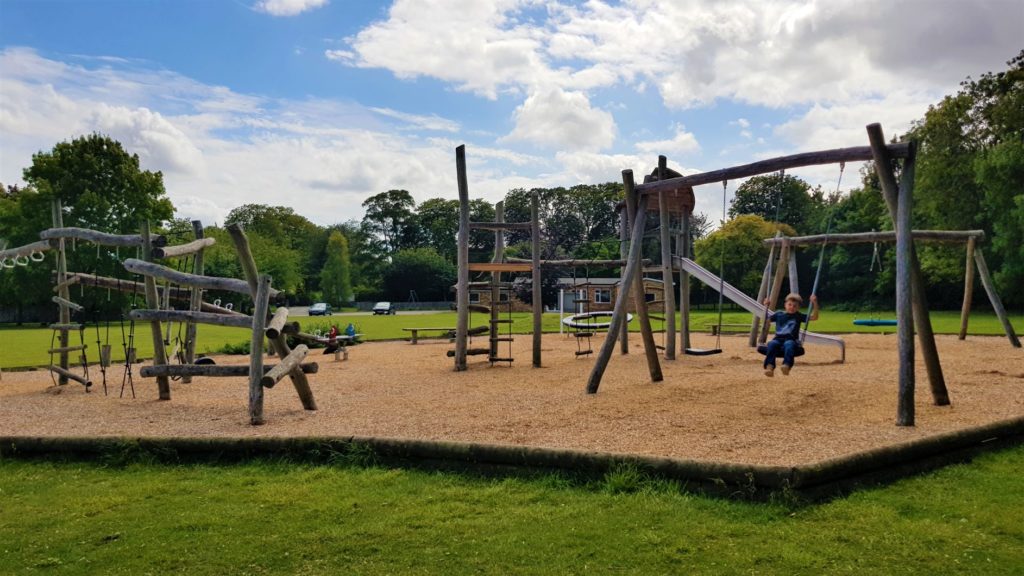 This park pretty much involves having to climb everything. Huge wooden climbing frames with ladders, cargo nets and rope bridges. Even Clark struggled with a few bits on there. Great fun though and I was glad Elliot was still asleep in the car (with daddy btw). I don't think it would have been as much fun trying to stop him from face planting the floor the whole time.
In this area you'll find 2 climbing frames one with the slide, 2 older kids swings, a seesaw, one of those spinny hoopy roundabout things. The best bit for me was the pendulum cargo net swing. I love these things the ones that spin and swing in all directions. Bonus that they normally take my weight and are big enough for my fat arse too. Perfect chill out time while the kids play if the parks quiet enough.
What Else Is There At Upton Play Park?
Next to the play park is the pump track for bikes or in Clark's case him and his cars. Obviously it probably best not to let the kids do this if its in use. Don't fancy having to explain why there's tyre marks on my kids face at A&E. We've not used tracks like these before I think we'll save it for when Clark's less clumsy….If that ever happens.
Now the zip wire is something i feel like i need to warn you about. Its fucking fast as shit. Doesn't look like much at all but it is. Clark went flying at the end I'm surprised he didn't end up with whip lash. He of course loved it and i must admit i had a go too. Luckily or unluckily whichever way you look at it. My weight slowed me down enough, Not quite grounded but not far off. So for safety reasons alone i feel like i should definitely not lose any weight.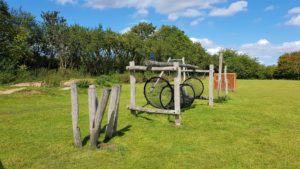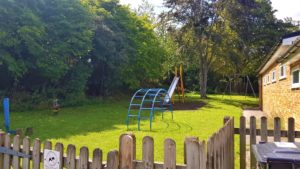 Alongside the zip wire is a really cool obstacle course which what looks like a landing net for a tunnel. It was pretty cool and we played time trails for that. Turns out I'm a lot slower than i thought. Maybe I should lay of the cakes a bit. I'd be fucked if I was running away from danger. Maybe i could throw snacks at them like missiles. I reckon a whole loaf of soreen could fuck anyone up with a decent head shot.
Fret not if you do have a toddler in tow because there is the original retro park i talked about earlier. Ok it may not be as pretty but as i'm sure you're aware by now. That toddlers literally give no fucks about anything other than where there next snacks coming from. So in here you'll find a slide, baby swings, climbing frames, balance beams, springy face twatters and a scary spinny circle thing.
Upton Play Park Stats:
Distance from Bicester: 40 mins
Sat nav: Station Rd, Upton, Didcot OX11 9HX Click to load sat nav
Wheelchair friendly: Yes
Equipment upkeep: 10/10
Cleanliness: 10/10
Facilities: Just a park. No toilets or cafe that I could see
Age range: Better for ages 4 and upward (my opinion)
Safety: 7/10
Fun factor: 10/10
Dog friendly: No
Pushchair Friendly: Yes
Bikes and Scooters: Yes.
Public transport: From Didcot jump on the 94 bus to Blewbury from parkway station stop R4 and get off at the Village hall it'll take about 20-25 mins.
Conclusion
Upton Play park is a great park for older kids. Take a ball and a picnic with some friends and you'll be set for the whole morning or afternoon. I wouldn't be surprised if you had the park to yourselves either.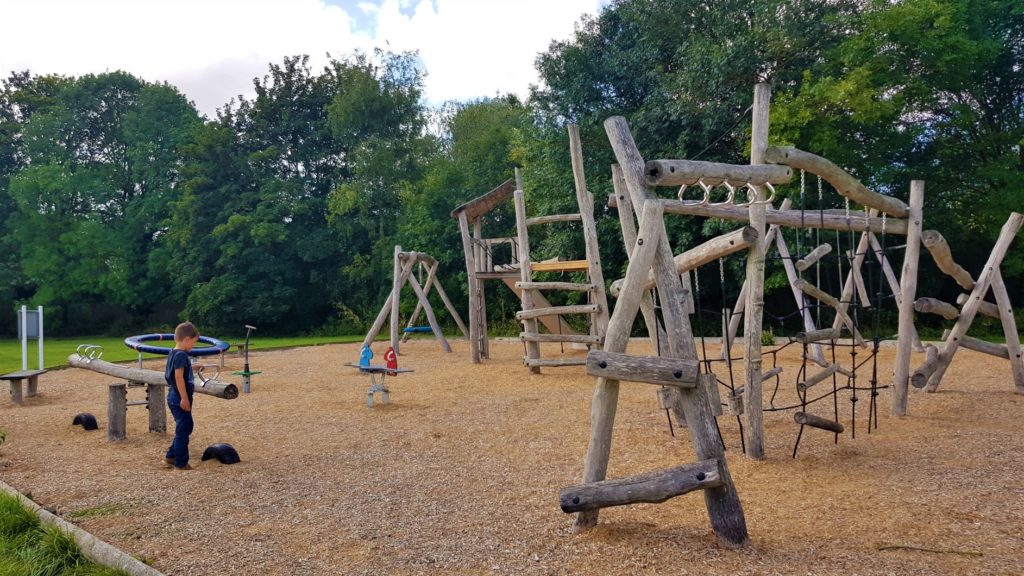 If we lived closer this would be a great one to take Clark to. I personally wouldn't take the youngest but if you do have younger ones then there is still enough to keep them happy.
If you live close by and you haven't been yet then I'd recommend you give it a go. There's a few other great parks close by too that you could pop into as well.
AOB
I'm always on the lookout for new play parks to review so if you know of any good ones please do message me. Its easier to message me on the Facebook page HERE
If you'd like to check out more play parks near you then have a look at the Play Parks map HERE