Sunday saw us celebrate Elliot's 3rd birthday. I don't think we could ever really have a birthday without visiting a play park so we decided to pop over to the brand new Wigginton play park.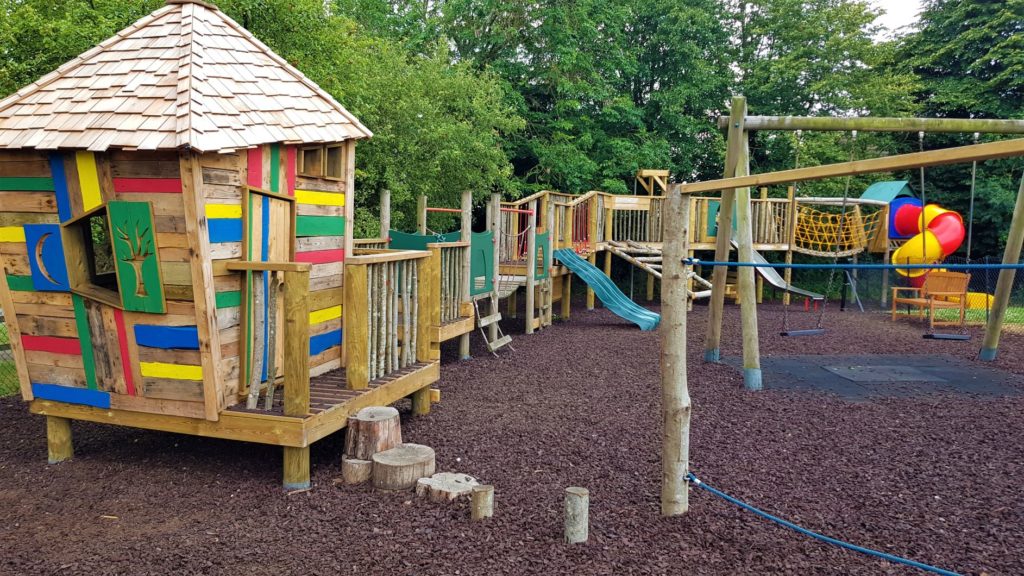 I wish we hadn't bothered. Not because we didn't love it because we absolutely loved it. Its because it made me jealous. I also know we would probably never visit it again either because for us its just too far.
Wigginton Play Park
For all you lucky buggers that live near by though you need to get your arse's over there. Its quite simply an all round fantastic play park. I really wish we lived closer. So if you're an Aylesbury or Tring dweller you're in luck. You could maybe even sneak over there if you're visiting Wendover woods or even Tring museum too.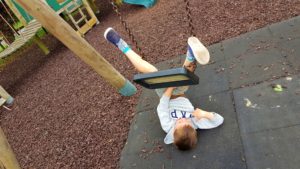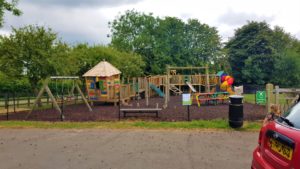 Once you get there though you'll be happy to know there's a lovely dedicated car park. This car park is also for the village shop…..and cafe. Oh yeah this bad boy has a cafe so I'm fairly certain it'll have a toilet too. We visited on a Sunday afternoon though which is when it shuts.
Whats At Wigginton Play Park?
There's a huge open space including a very well looked after sports field which looks perfect for ball games. A few of the local kids had also cycled over though i wouldn't say it was ideal for wheels specifically.
Over the other side of the field i could see trees and what looked like a path that went in between them. I didn't get a chance to have a proper look but there may be a small woods to explore too.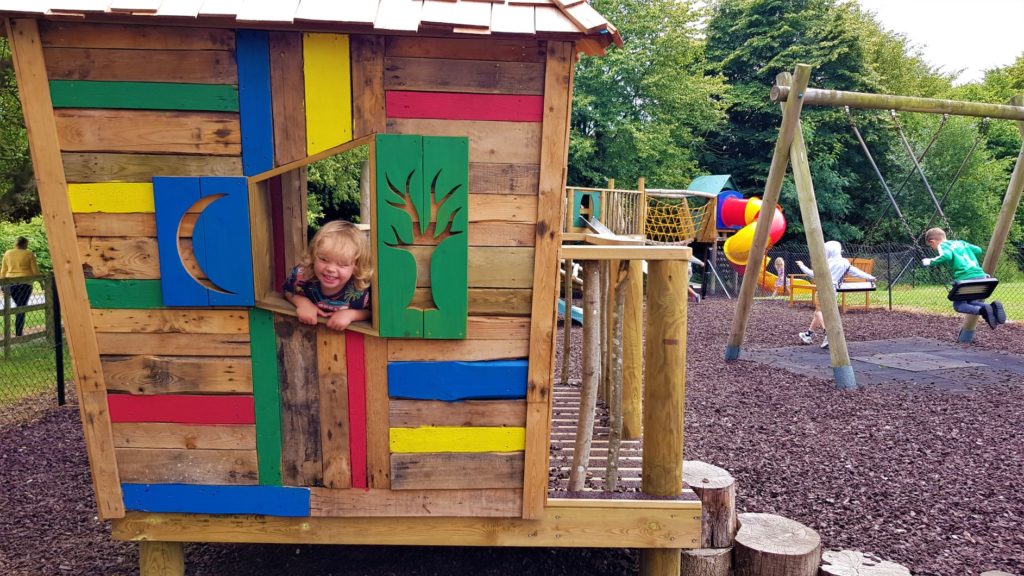 Wigginton play park is fully fenced in whoop and their safety flooring in my opinion is the best type of safety flooring you can get. It looks like wood chip but when you stand on it you realise its actually loads of rubber chipping. Amazing and super soft….well i still wouldn't want to fall from a great height onto it but you get my drift.
As i mentioned earlier its a brand spanking new play park. Maybe a week or 2 old and when we arrived there was only one other family in there. Lovely family they were too and Clark was soon playing hide and seek (badly) with them.
Equipment At Wigginton
Theres no denying that the park is a stunner. Its a head turner and super bright and just a happy looking place. My absolute favourite thing was the Caribbean looking beach hut/play house on the end. Just wow, Elliot was straight in there shouting out the windows at us.
Clark had run head first for the swing, and fell over head first, did a somersault and got tangled and stuck upside down. I couldn't help but take a photo before i helped him up again.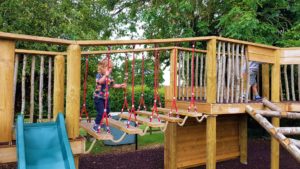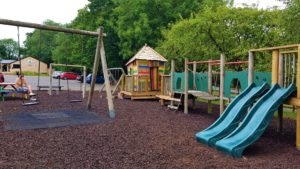 Apart from the swings Wigginton play park is one long play frame with all the equipment along it. Its a fab idea. You head into the hut one end, Navigate all the way to the other end and finish at the super cool tunnel spiral slide. There are plenty of places to hop on and off along the way though.
All together there are 4 slides to this beast. A double wavy slide, a single metal slide and the cool tunnel spiral slide.
Other Equipment
There are balance beams, Ladders up and down at both end and in the middle. A cool log climber, cargo net at the back and 3 different types of bridge all of which Elliot could easily navigate over.
There are a few areas that you would have to keep an eye on the smaller ones but i personally feel there is something for all ages at this park.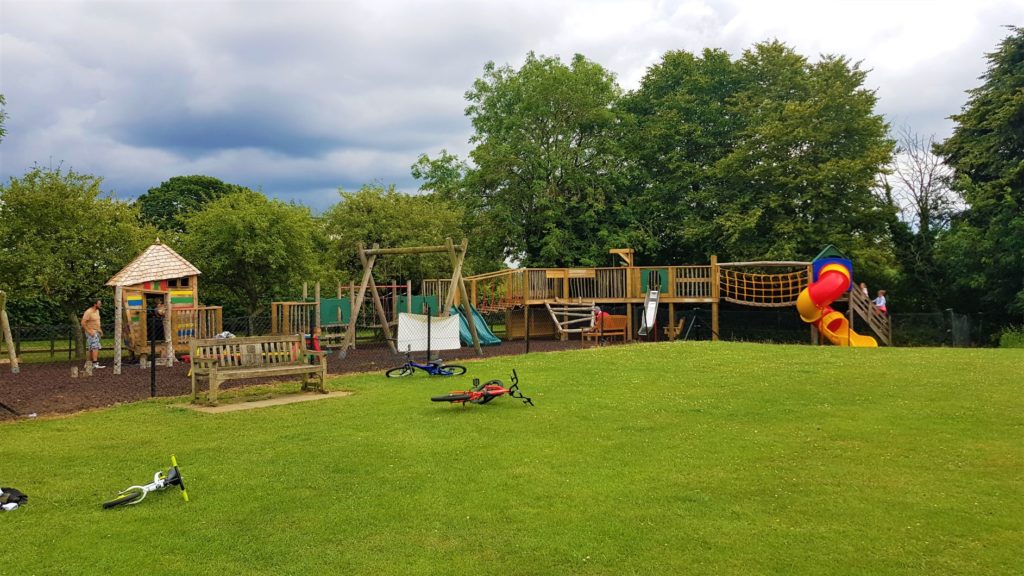 There were a few benches scattered inside and outside of the park too. So you can chill out and watch the kids have fun. Or catch up on Facebook on your phones.
On the other side of the cafe you will also find a nice set of outdoor gym equipment. Me I'd rather go in the cafe and have a slice of cake but i though i should mention it in case any of you fancied a work out.
Wigginton Play Park Stats:
Distance from Bicester: 45 mins
Sat nav: Wigginton Community Shop, Wigginton, Tring HP23 Click to load sat nav
Wheelchair friendly: Yes although not sure how easy it would be over the chipping
Equipment upkeep: 10/10
Cleanliness: 10/10
Facilities: Cafe, shop and i would assume toilets too when its open
Age range: All ages
Safety: 9/10
Fun factor: 10/10
Dog friendly: Yes but not inside the play park
Pushchair Friendly: Yes
Bikes and Scooters: I personally wouldn't.
Public transport: From Tring: Get the 397 Beech park bus from Market place and get off at the greyhound pub. The play park is next door. This is a 8 min bus journey.
Conclusion
Wigginton play park is bloody awesome. I'm so bloody jealous that we have nothing like this in Bicester. I wish we lived closer because i honestly think this would be my new favourite play park. Even though its so far away i still have to put it in my top 10 how could i not?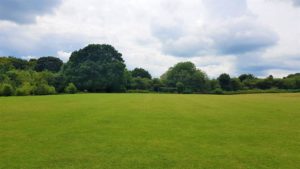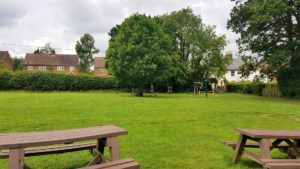 I would recommend anyone who can go should go. With so much in the area anyway you could easily do a few things and make a full day of it. I think we'd go again if we were visiting Tring musuem. I'd love to try out their cafe it looked nice.
There is also a pub right next door too called the greyhound so it might be worth popping in for a nosey and a sneaky Sambucca (drink responsibly though haha)
AOB
As always pleas do let me know of any where you think i should review. You can do this by contacting me on the family tickets face book page HERE
If you would like to see some of the other play parks we have reviewed check out the map HERE