Today we went to two parks Finmere Play Park and Tingewick Play Park.
Not Intentionally but because we go so bloody lost thanks to the directional skills of Sarah from Melody music and my sat nav. Fret not i shall lead you in the right direction….. I think.
My Sat Nav Hates Me
Is anyone else's in car sat nav a total dick? I swear mine gets kicks out of sending me to the arse end of nowhere. It took me ages to find Finmere play park which was the intended destination. We ended up at Tingewick Play park to start instead.
Tingewick Play park
There is no parking here that i could see specifically for the play park. We ended up parking in the small lay-by on the opposite side of the road. You'll see it, Its the ones with post hole bigger than my arse.
Managed to dodge the potholes without sinking the car and park.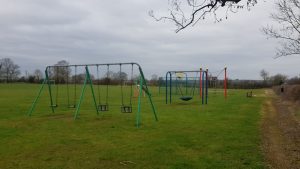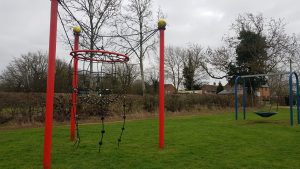 Tingewick play park is set in a sports field with plenty of running room. It might be a good one for the dogs too as i didn't see any signs saying no dogs allowed but i wouldn't trust my word completely.
Now ill be honest its not the best park we've been to. In fact i can think of a lot of other parks which are much better. However……
It was clean and it did the job for a short while. A perfectly small functional park for the Village its in. All I'm saying is that its not a destination park, a park i would recommend driving to solely for a day out there.
Equipment
The slide was good. Or at least it's probably good when its not been muddy. It was a bit slow because it was dirty and i didn't have anything on me to clean it with. A cool metal one with proper steps which i love. This makes it so much easier for the younger one's.
There were the swings for babies and older kids with a good old favourite cargo swing too. Was very tempted to crawl in and have a nap myself.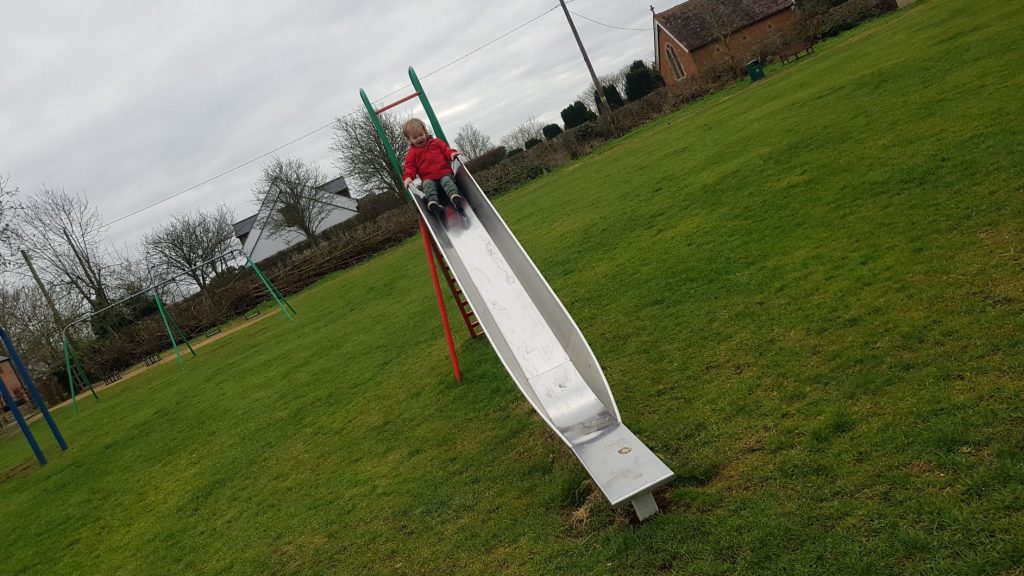 They did have something i hadn't seen before though and that was a weird cargo net bowl/cage/nest like thing. It looked pretty cool and although it was no good for toddlers i reckon it would be a great hit for the older kids.
They also had some basketball nets and goals. I would say the park is better suited for older kids that can hang out together somewhere without getting into too much trouble.
Elliot didn't even want to stay too long. We both got a little bored and i was determined to find this Finmere Play park anyway.
Hunting for Finmere Play Park
I spent the next 10 mins trying to decode the directions i was given for Finmere play park as well as hunting on google maps. Knew it wasn't far but if you type in Finmere village hall into google maps it 100% sends you to Tingewick play park.
Finally decided to fuck off trying to find the postcode and head to the green space on the map in Finmere.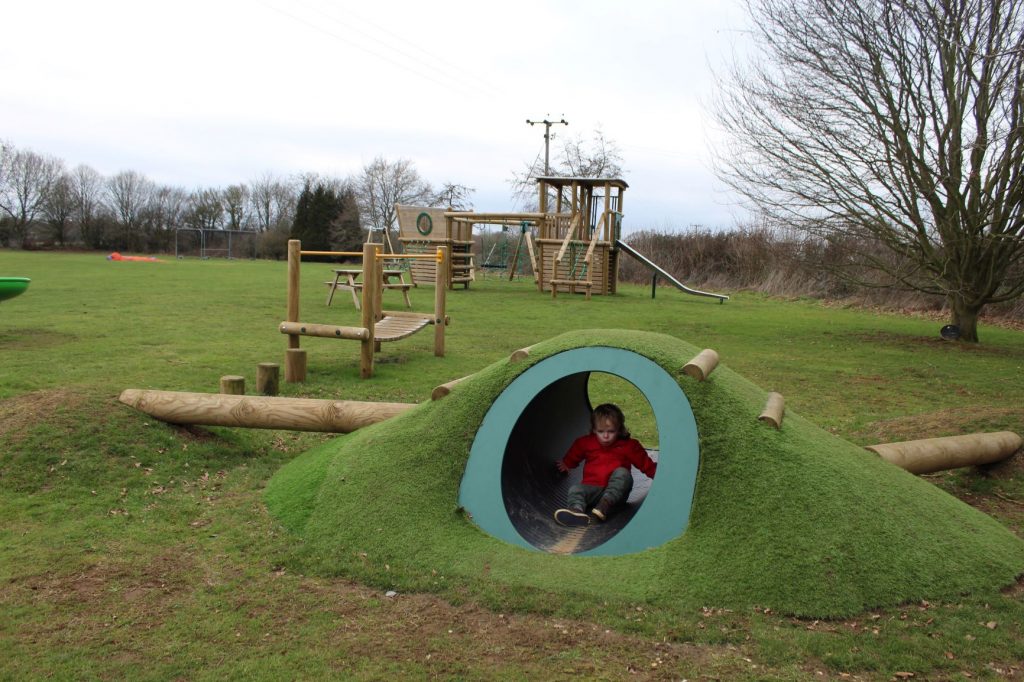 Hallelujah it bloody worked. Down some narrow roads and squeezing past some arsholes parked like idot's later. We came upon the Finmere community center or village hall.
Huge car park and a beautiful looking play park glistening in the distance like a beacon of light.
Ok i made it sound like its miles away from the car park. Its really not its more like a stone throw away haha.
So New And Pretty
Not only is the car park very nice and clean and gravely. The play area looks new. So either it is of Finmere really know how to look after their assets.
The first thing you'll see is the pirate ship frame. Well its the first thing Elliot saw. He face lit up.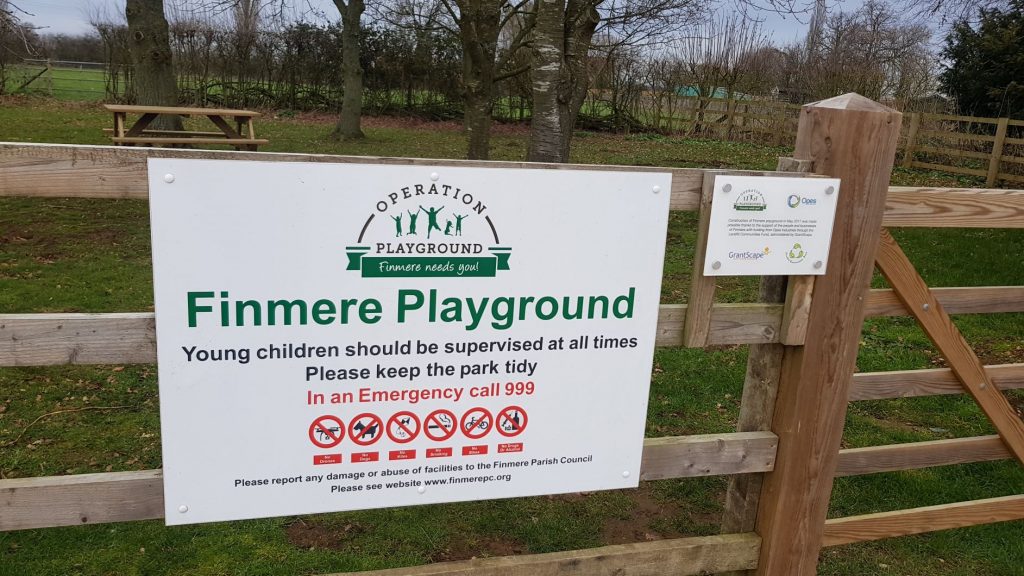 Although its all so close to the car park its all fenced in and shares its space with a huge playing field. Brilliant for ball games.
No kite flying allowed according to the signs. At first i thought they were being killjoys until i saw all the overhead wires. Do nit fly kites here you will likely die.
Finmere Play Parks Equipment
The tunnel in the mound for some reason reminds me of Telltubbie land. Its a great little balancing course perfect for little ones too. Elliot loves a good old balance. Although he still hasn't mastered the art of not face plating the floor just yet.
Follow the course and you will go over the wobbly bridge over the telly tubby mound (face grass which i love) and onto the stepping stones.
Next to the balance area you will find a green bucket spinner roundabout type thing too. Another favourite of Elliot's he loves being spun and attempting to walk dizzy. I can tell he's going to be an annoying drunk just like his Mummy.
The Pirate Ship
Now this bad boy is clearly the main feature for Finmere Play park and when you set your eyes on it you will see why.
Its magnificent. Even jack sparrow would be proud of this bad boy. Although i doubt he'd get very far in it. The things full of holes.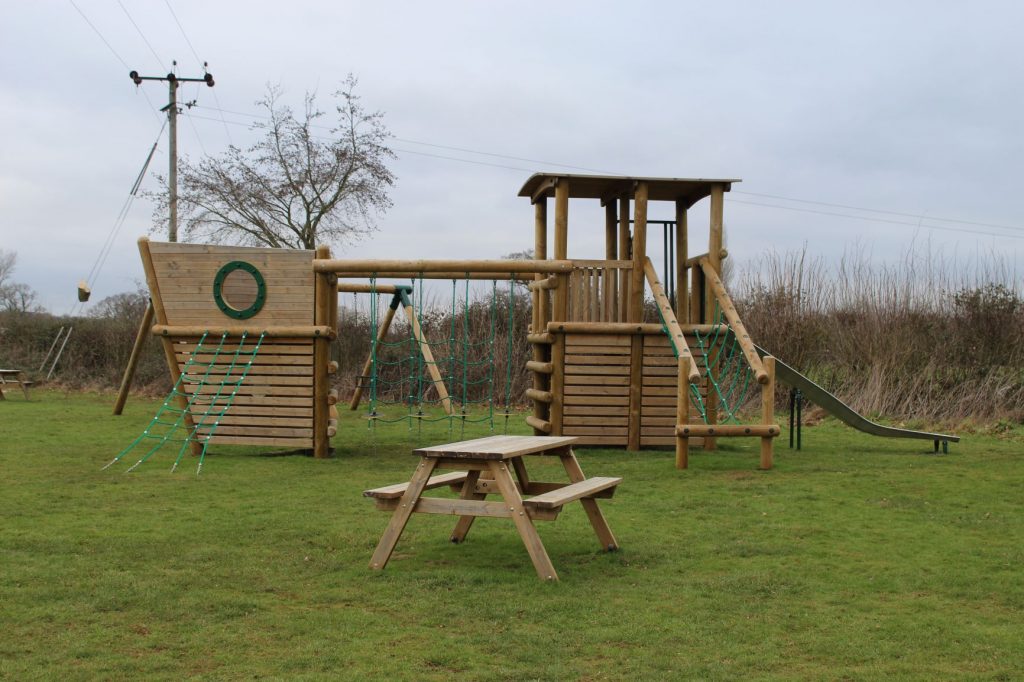 One thing i will say is that's its not very toddler friendly. You will need to help them up to the top which is a bit of a shame as this is the only slide in the park. This could be a good thing for those of you with pesky climbers that you want to keep close by while the bigger one's play.
That being said its cool. Cargo nets galore, ladders, bridges and some more balancing materials for the older ones.
Elliot particularly like going underneath and sticking his face against the Porthole (ships window to you none pirate folk)
More Equipment
Although the park isn't overly big its still got enough equipment to keep the kido's happy enough. They have the swings for all ages and yep another Cargo swing whoop.
They also have a zip wire. Every kids dream. Elliot has reached the age now where he's started to realised that if he doesn't hold on he will plummet to the ground below.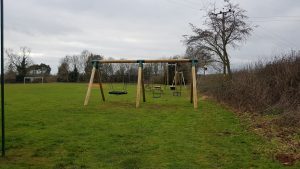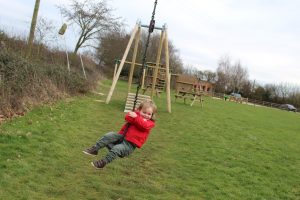 This is great news for me. It now mean i no longer have to run along holding him onto the zip wire approximately 37 times making sure he doesn't fall off. It kills me every time!
The one complaint that i did have about the zip wire though was the handle/wire. Its just metal chain. We're used to the rubber coated ones. Although thinking about it they probably don't last nearly as long as this one will.
So Much Poo
I did notice a lot a poo when i was walking around. Upon closer inspection though (no tasting took part in this inspection) i realised it wasn't dog poo. I couldn't tell you what type of poo it was because I'm no expert in faeces. Although after 2 kids I'm not far off.
I want to say sheep poo but it didn't look like the type of field to have sheep in. Although i'm no farming expert either. Definitely not human poo. There was loads of rabbit poo though.
Just be weary when you go and try to minimize the face planting.
Finmere Play Park Stats:
Distance from Bicester: 16mins
Sat nav: Elm House, Fulwell Rd, Finmere, Buckingham MK18 4AS this is the closest address to where the play area is. Do not put Finmere village hall into google maps it'll take to to Tingewick! Click address to load google maps navigation and you will see signs.
Wheelchair friendly: Yes
Equipment upkeep: 10/10
Cleanliness: 9/10 Unexplained poop
Facilities: 5/10 No Toilets close by. The village hall will be shut.
Age range: All ages but slightly better for 4yrs plus
Safety: 7/10 (common sense needed in places)
Fun factor: 10/10
Dog friendly: It says no dogs however i saw people walking their dogs in the field so maybe its ok for them in areas?
Conclusion
Its a really lovely park with lots of benches and spots for a picnic. It's out of the way enough that i would say you will likely get the whole park to yourself. So when it warms up take a few friends make a day of it and have a play park all to yourselves.
I would recommend Finmere play park to anyone (anyone with kids that is). Unfortunately i wouldn't recommend Tingewick play park at least not as a place to go out of your way to visit anyway. Could be a good one if you're in the area though and want to kill half an hour.
Thank you to Sarah for recommending it to me despite your dodgy directions haha.
I would also like to add that the play area is next door to the venue that the baby group Little Munchkins stay and play is held. So this could be a great way to Kick off your Monday mornings
AOB
If you would like to test out the Free play Park maps to find some more you can do so HERE

You can find some more information on the Baby group on Mondays held there HERE