On Sunday we finally managed to make it to a Trainmaster session. The Lovely Chloe who runs the group invited me a while back but something always came up. Despite the monsoon weather we managed to get to the group in Harwell and boy am I glad we did.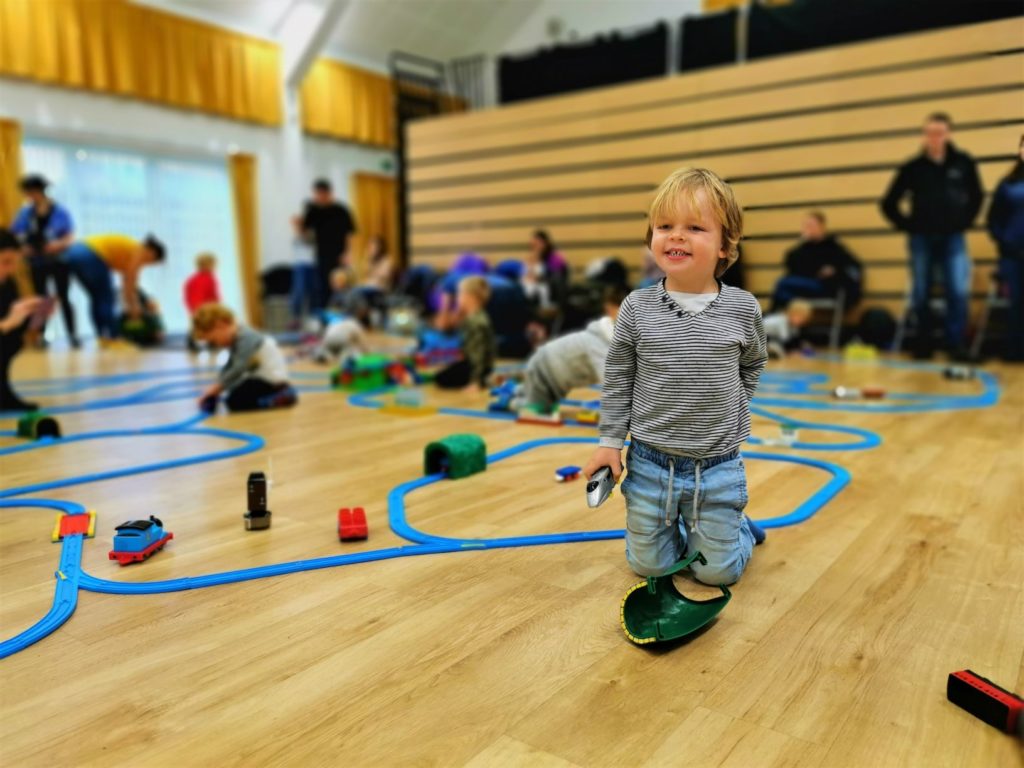 What Is Trainmaster?
Trainmaster play group is basically a big arse giant network of train track in the middle of a hall. There are battery trains, push along trains and even a section to build your own track too.
Not only is it a huge track but there are tunnels, craft sections, dress up sections, Ride on motorised trains and even a ride on train run.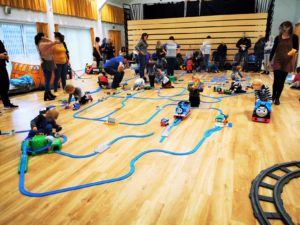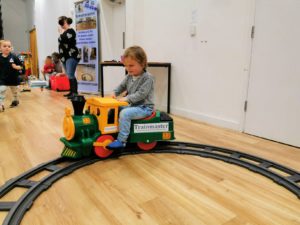 Basically if your kids like trains they'll love this group. Sod it even if your kids don't like trains they'll still love it.
I just wish there had been something like this around when Clark was at his peak train obsessed.
Trainmaster
I had planned to take Clark to the Trainmaster session but he has Rugby on Sundays so I decided to take a risk and take Diablo (aka Elliot) with me instead. Elliot has thus far show no interest in trains what so ever. He'd much rather stage a pretend drive by with his guns.
We rocked up late 1 because the weather was shite and 2 because I got lost. This made parking a bit tricky and in the end i had to resort to blocking a van in. Thankfully it turned out to be the Trainmaster van anyway.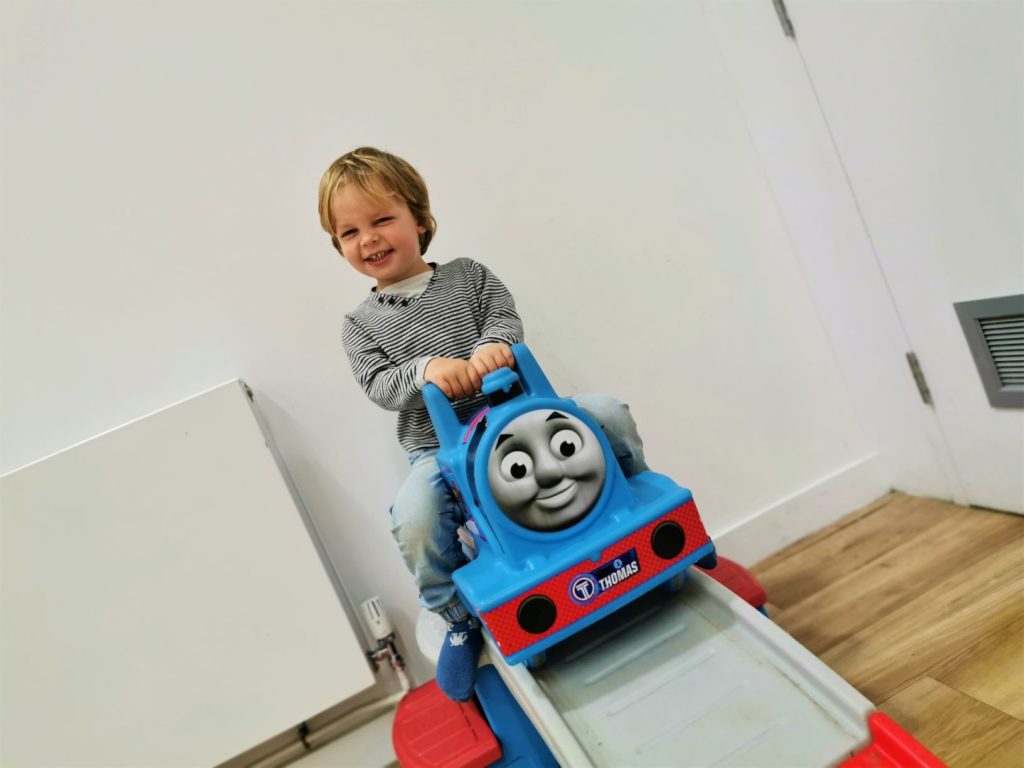 In we went and despite not need to take his shoes off Elliot was adamant he needed to take his off anyway. Ah well if he decided to get a bit kicky with another child at least it would hurt marginally less.
First impressions……Popular and you can see why. Chloe must have the patience of a saint to build that beast of a track. I lose my shit trying to make a toot toot track meet (Impossible btw). I'm more experienced with the wooden tracks but even so I wouldn't have been able to create anything nearly so impressive. Kids are lucky if they get a bridge in their giant circle haha.
What Is There To Do?
Elliot was massively impressed but the first thing he went on was the motorised t=ride on train. Cant say I blamed him it looked cool. I wanted a go but I know my arse would have made the train crumple like a leaf beneath the weight. For some reason Elliot had an inability to stay on the train. He kept on derailing, falling off and taking the train with him. Pretty funny to watch really.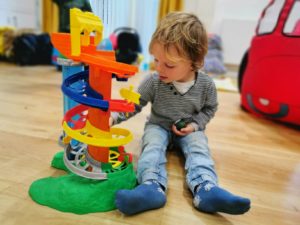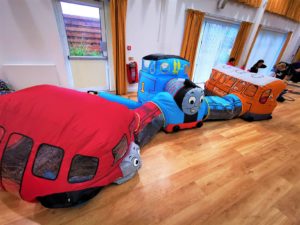 Next he was off to play with the tent tunnel thingy bob and a few of the toys flittering around. He still hadn't made it to the actual train track yet though. He was having fun though.
Then he saw the train slide ride on and that was him done for the next 20 mins. Luckily he was in a great mood and was sharing beautifully. This meant I could grab a cup of tea and have a chat.
Finally Playing With The Track
I finally managed to convince him to grab a train and have a play. He loved it especially the motorised trains. There were a lot of them. Sod changing the batteries in on those every time! Chloe told me it takes her about an hour to set the track up too she also has 3 boys!!!! i struggle with 2 so god knows how she copes with 3….Shit loads of gin maybe?
Elliot really got involved with playing the trains and its made me want to get out track out of the attic to see if he'll play at home. Although I doubt his big brother will let him get a look in. Sometimes I think that's half the problem.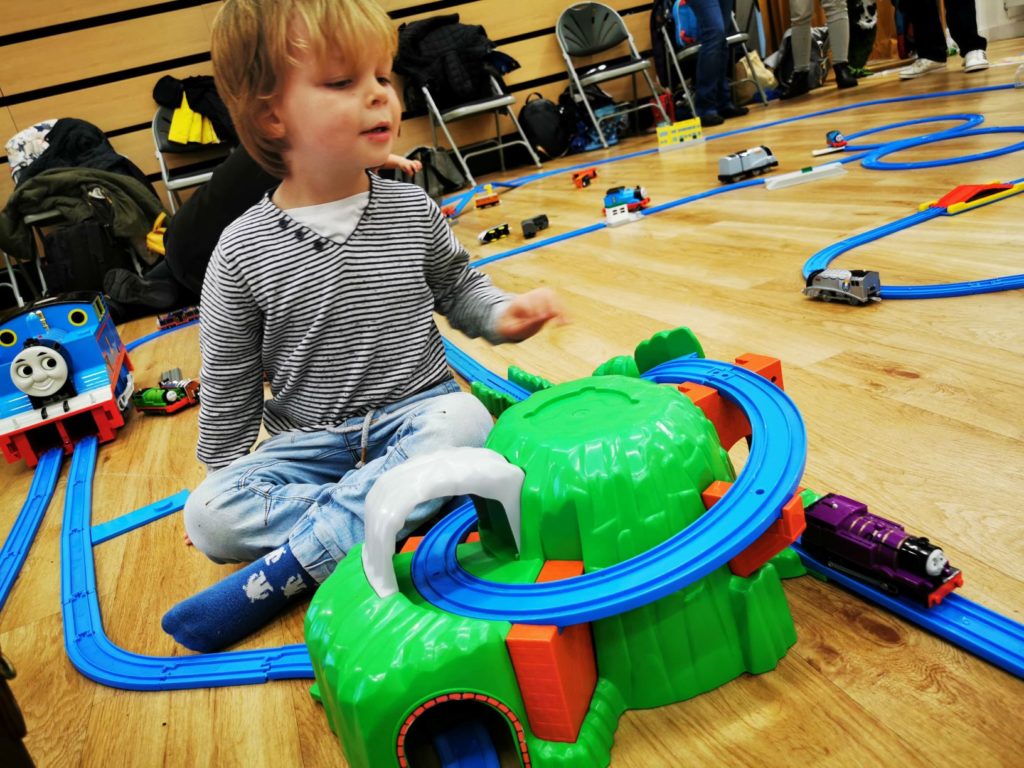 By now Elliot had spotted the dressing up corner and was no dressed as a dinosaur running around (very Jurassic park: The Lost World). I was impressed at the longevity of the track. Maybe I hadn't noticed but I didn't see it getting trashed at all. I did see a few accidents but the parents fixed it easily enough.
Another thing i noticed was the age range of the kids in there. You had some new walkers/toddlers all the way up to around 6 yrs old. I'm not saying older wouldn't enjoy it because they probably would depending on if the child likes trains or not.
Wrapping It Up
If you ever go to one of the Trackmaster play groups have a look at their sign advertising parties. Haha I didn't notice it until Chloe pointed it out. There's a giant train track cock on there. The photo she chose was of a track she'd made and unknowingly made into the shape of a dick. Now they're with her forever and printed for everyone to see. I did wonder what type of party it was.
We booked in for an early slot and had or at least would have had if I wasn't late a full hour. Honestly Elliot could have stayed longer. He did not want to leave when it came to pack up. This I see as a sing of a good time.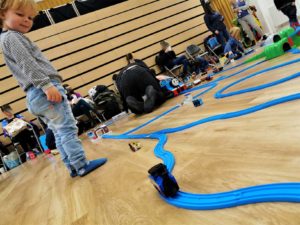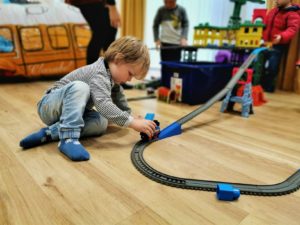 There are tea, coffee and free biscuits for the adults too which was much needed. Although I had to have real sugar as opposed to sweetners. If i put weight on at fat club this week I'm blaming Trainmaster (not the 5 biscuits, mars bars and cake)
The sessions are normally £6.50 for an hour but there are lots of options on the website. If you book more than one you get discount etc so have a look and see what there is . I've already booked Clark and Elliot onto the Christmas special and i think Clarks going to love it.
Trainmaster Stats: (Based on Harwell Group)
Distance from Bicester: 35mins
Sat nav: High St, Harwell, Didcot OX11 0EX Click to load sat nav
Wheelchair friendly: Yes
Equipment upkeep: 10/10
Cleanliness: 10/10
Facilities: Toilets, parking and refreshments
Age range: I'd say from walkers and up.
Safety: 9/10
Fun factor: 10/10
Dog friendly: No
Pushchair Friendly: Room to park prams
Bikes and Scooters: No
Public transport: From Didcot jump on either the 33, 98 or X32 and get off at Tyrrells close and walk 2 mins down the road. In total it'll take about 20 mins
Conclusion
Trainmaster has won both me and Elliot over. I was sceptical at first but once I saw how much fun he had I couldn't resist booking them in for the next available session.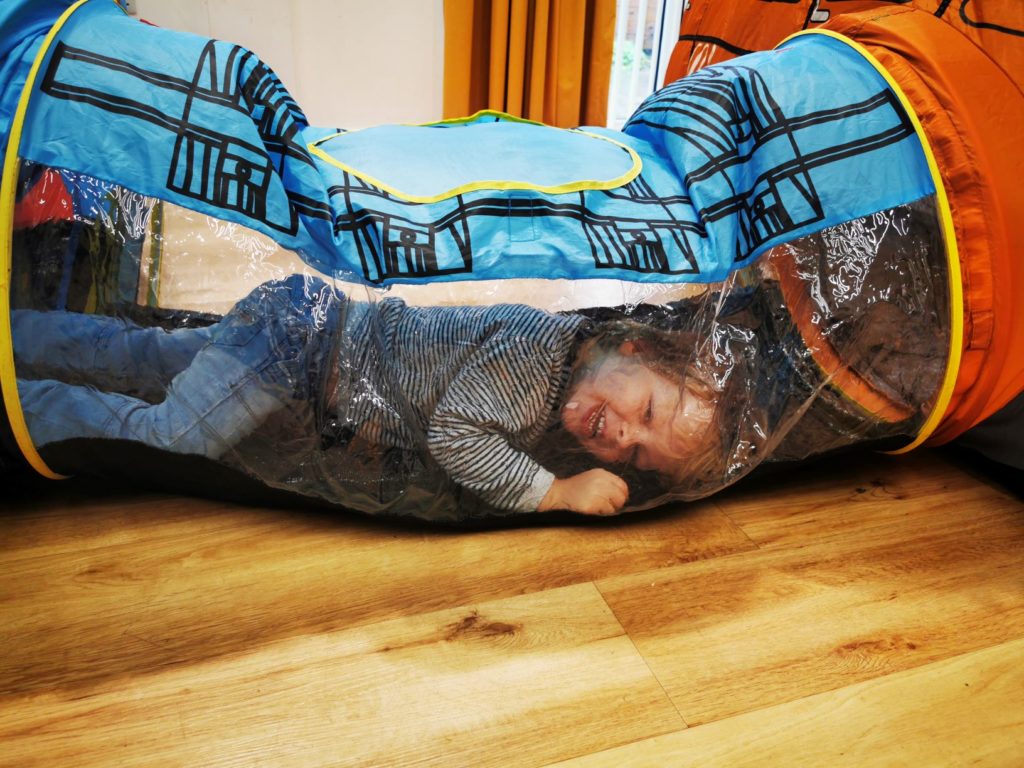 If you're able to get to one of the sessions hen give it a go i think you'd love them. Have a look on their website because there are loads of different venues. I managed to convince her to book a hall Nr Bicester to see how popular it is.
AOB
Have a look at the Trainmaster website HERE
For more idea for play groups then check out whats on HERE
If you're looking for something to do close by and its not pissing it down then Harwell has a really good play park have a look HERE