Ah Harwell Jubilee playground. What do I say about you?. Again we visited during the half term with the Eldest Clark and honestly. The park although good was slightly out shined by the smoking parents with their cans of koppaberg in the park.
Not only were they smoking, drinking and laying about like some kind of washed up scum from the sea. They weren't paying attention to their kids either. Meaning the little fuckers were just pissing off all the rest of the kids.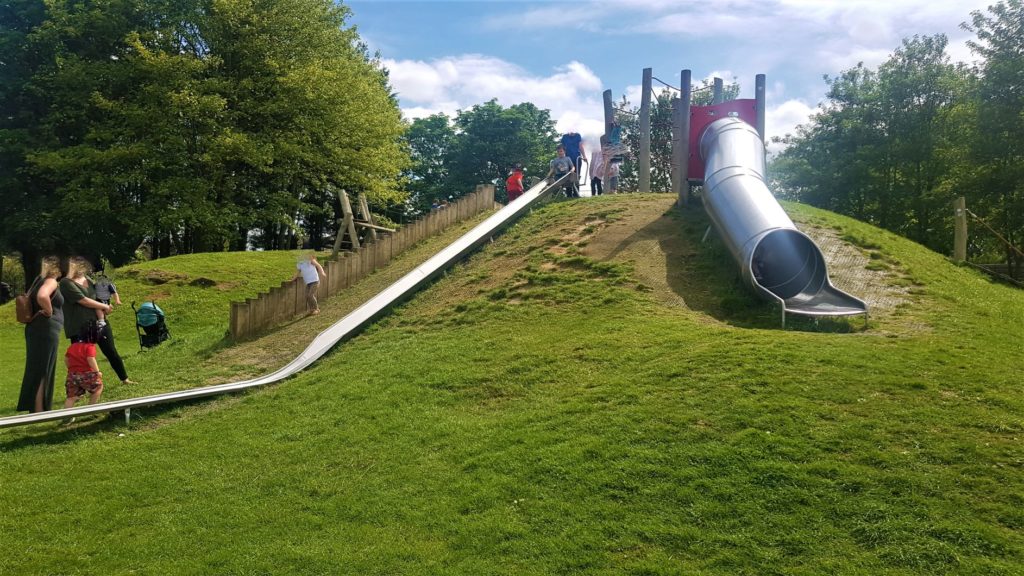 Now don't get me wrong I get it. Kids push us to drink sometimes/all of the time so I guess even that I could forgive but the smoking really gets my fucking back up. Even as an Ex smoker I would never smoke around Children.
Some of you may say why didn't I say anything. Well its like when you see a certain type of dog. There's just some you know not to approach because they'll likely rip your hand off. This group looked like they'd have put me in hospital (However the idea of a break from the kids was tempting)
Where Is Harwell Jubilee Playground?
Harwell is half way(ish) between Wantage and Didcot. I'm no expert on the area because I've not visited very often but I need to get over that way and find more parks.
I know I haven't painted the prettiest picture of this park so far but I'd like to say not all of the kids and parent in there were skank's it really was just that 1 group of them. So if this is your local and this doesn't happen often I apologise I'm just saying what I saw.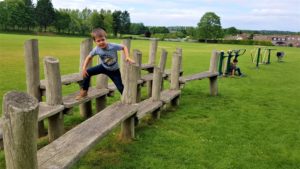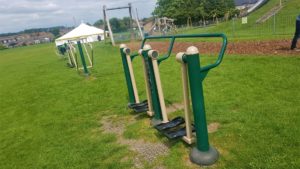 We parked on the side of the road to get to the playground and you'll be able to see the park from the roadside. Its set in a big field but the whole area is fenced off from the busy road so no need to worry too much.
In fact the play ground area was also fenced off again from the fields too. Double safety in mind.
Harwell Jubilee Playground
The play park itself looks fairly new and the equipment looked decent. Clark was excited anyway. There are a few bits on the outside of the playground. The likes of gym equipment that I never see adults using, just kids as an extension of the play area.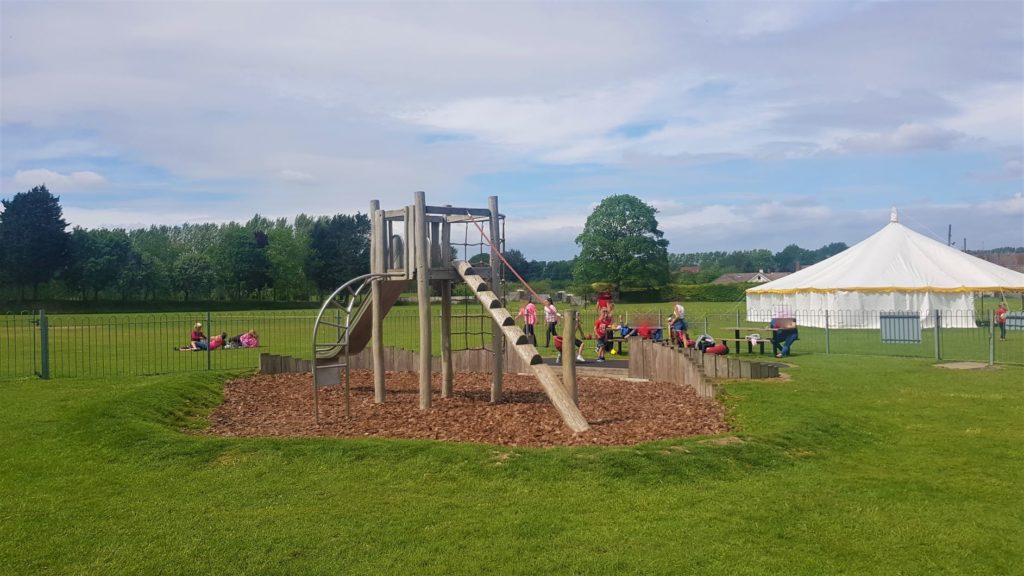 The main park is pretty cool and I think the main attraction was the slide or should I say slides. Now most of the kids were queuing nicely waiting to go down the big bugger. Unfortunately one of the skank's kids were refusing to move and just lay at the bottom. Fair play to the older kids waiting to slide they sat and waited patiently not wanting to hurt the kid.
Clark gave up and went on the tunnel slide which he said was too slow and full of chocolate. At least i hope it was chocolate. He did finally get a go of the slide and it was a good one. I can see why the kid didn't want to share.
What Equipment can you find at Harwell Jubilee Playground?
There is also a 3rd slide which is attached to a nice timber climbing frame too which was super fast. All the kids were gravitating towards the big mound in the middle though. This is where the slides were, a really cool swing bridge, some tunnels and a cargo rope climbing frame.
At the bottom of the mound on the far side you'll find the picnic benches, some springy face twatters and a saucer spinner too. This is where a lot of the other toddlers were hanging out.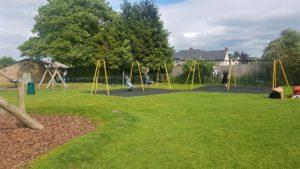 There is also a swing section with the usual 2 baby and 2 older kids swings.
However on the other side of the fence you will find the cargo net swing and a bigger version of the saucer roundabout for the older kids. I also like that the zip wire was outside the play park which is a perfect way to make sure no smaller kids run into the path of feet as they come flying past.
What else can you do at the park?
As i mentioned earlier its set along the side of a huge field. When we visited there were some marquee style tents erected (hehehe) but nothing was going on at the time.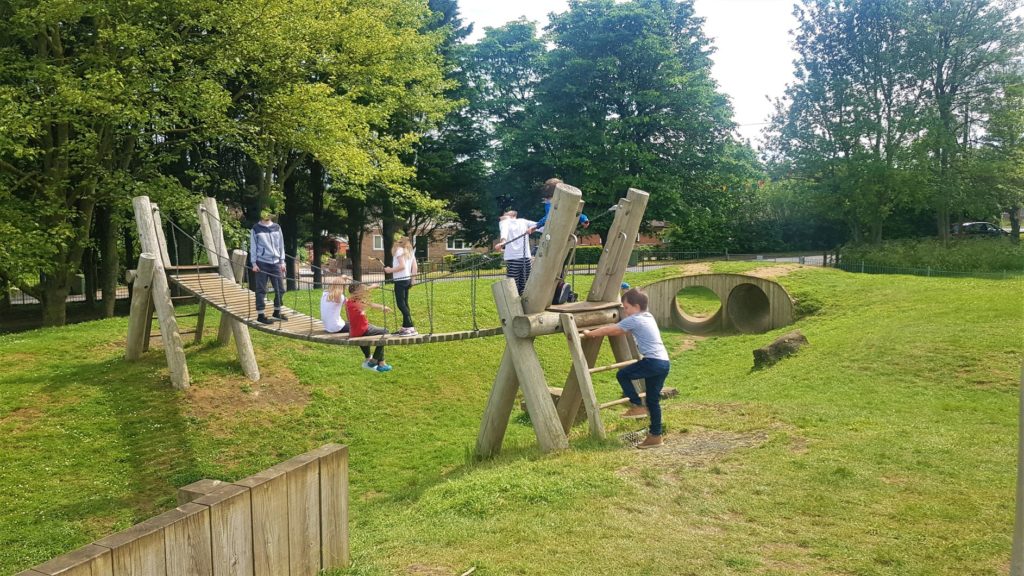 However there is plenty of space for ball games they even have goals. I couldn't see any overhead wires so maybe kite flying too.
We didn't stay long so we didn't have a proper scout of the area. We couldn't see toilets or a cafe anywhere but i could be wrong. Normally locals will write in the comment section if I've missed anything out.
Harwell Jubilee Playground stats:
Distance from Bicester: 34 mins
Sat nav: Harwell, Didcot OX11 0LJ Click to load sat nav
Wheelchair friendly: Yes
Equipment upkeep: 9/10
Cleanliness: 6/10
Facilities: None that i saw
Age range: all ages
Safety: 7/10
Fun factor: 9/10
Dog friendly: Yes but not inside the park fence
Pushchair Friendly: Yes mostly Grass
Bikes and Scooters: I wouldn't say so
Conclusion
It's such a difficult one because personally i wouldn't visit again and it wouldn't be at the top of my list of parks to recommend. That however is because of the skank's smoking and drinking in the park. It made me uncomfortable and for that reason we didn't stay long.
However if they weren't there and if the park was a lot quieter its a bloody cracking park that's well kitted out. If I was a local I could imagine spending a great deal of time in there letting the kids run round while i got pissed…. haha I'm Kidding.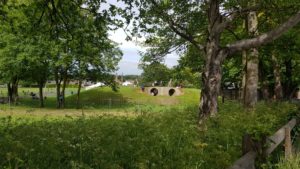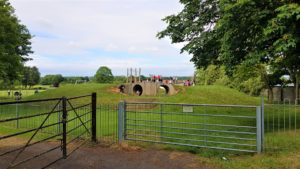 Maybe it was a one off and half term was just a bit too much for that group. I'd be interested to hear what other people thought of the park. Without biting my head of because I called some locals skank's.
They aren't in any of the photo's either I made sure of that in case they hunted me down and took a shit through my letter box or something.
AOB
If you know of any play parks you think I should review then pop me a message on the Facebook page HERE
For a list of all the other play parks I've reviewed then check them out HERE
Cooey Nikki how did the spelling go today?