If you like Lord of the rings, walking and stunning scenery then Dovedale is the place for you. There's no two ways about it. This has to be the best walk we've been on with the kids since they were born. Probably even before.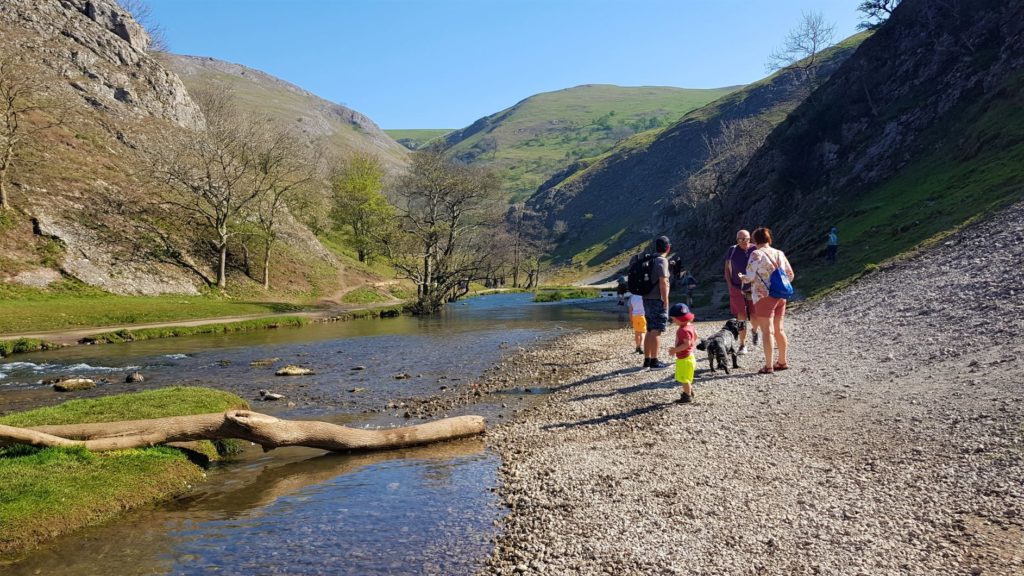 The one thing i would say though. If you don't like dogs then personally I wouldn't bother. Dovedale was teeming with them when we visited. Its a dog walkers paradise. To be fair to them though I don't think we say any abandoned turds on our walk.
Dovedale
If you're planning on visiting Dovedale get there early the car park fills up super quick. We went over the Easter half term and it was heaving. Even the road into the car park was a bitch. Its so narrow you'll need to pop your wing mirrors in so other cars can squeeze past. Its worth it don't worry.
The walk from the car park to the village of Milldale is 3 miles. I honestly didn't think the kids would make it but they proved me wrong and did the whole thing. Well one way with the promise of an ice cream at the end.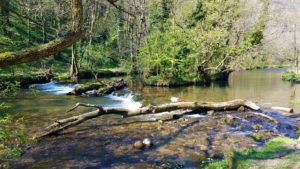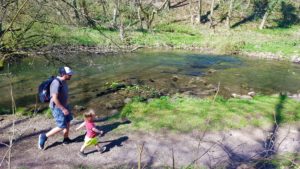 Take provisions i.e water because once you're on your way there are no ice cream vans or cafes on the way. You cant even order a domino's either because there is fuck all phone signal. Even when you get to the other end.
If you are taking the kids take a change of clothes they will get wet. Take a towel too so they can have a really good play. The boys had an amazing time in and out of the water all day. You can see why this place is such a popular spot.
Dovedale Stepping Stones
The stepping stones are probably the most popular thing in dovedale. When i say stepping stones i don't mean a couple of cute ones for the kids to hop over either. These buggers are huge ass stepping stones and they actually do get you over the river safely. The serve a purpose.
You can chose to avoid having to go over the stepping stones like we did. If you want to do this then head over the first bridge you come to and get on the right side. The reason we avoided the stepping stones was the queue. If you think the queue for stealth at Thorpe park is big. It ain't got shit on this.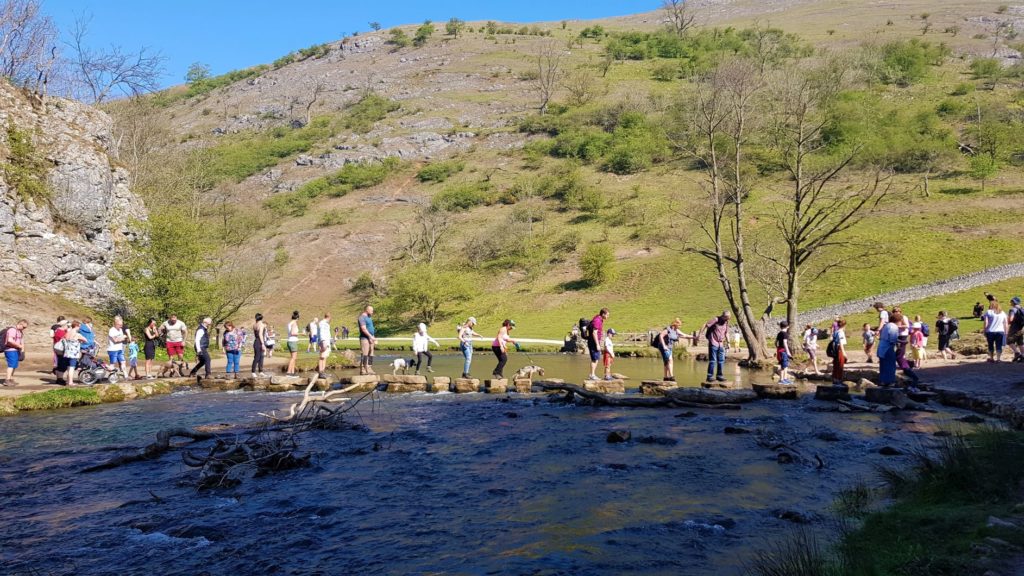 There was no way in hell i was going to start our walk with a huge queue. Nope we opted for the rocky side. I guess now would be a good time to mention that Dovedale is no good for pushchairs or wheelchairs. Its a shame but its just not possible (I don't think anyway)
If you do decide to avoid the stepping stones you'll still get to walk past them. We really want to go back so we can say we've done them. We'll have to pick a quieter time though. There are lots of rangers around the stepping stones in their land rovers driving through the water. The boys loved watching them.
Getting Our Walk On
There are so many different route options in the whole area but we as a family chose to stick to the river. The view are still amazing and there are some great features along the way. Today we had my parents with us and they know the area well.
The ravine is made from limestone. You'll come across loads of steps along the way. When you head over the steps take a closer look. They're full of fossils as my dad pointed them out. This kept the kids going because now they were on a fossil hunt too. You can even see them in the stepping stones.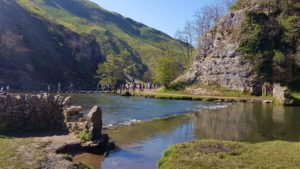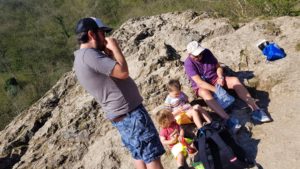 There are lots of little waterfalls along the way, logs to balance on and even trees to climb the boys were having a great time. having so much to do was one of the reasons they kept going. They wanted to see what was coming next.
Lovers leap was another great stop off. It was here we decided to stop for a spot of lunch (Picnic). It was a huge massive rock at the top of an accent. you can climb to the top and have a look at the views. Amazing…just keep the kids close. We didn't let ours to the very top.
Raynards Cave
At this point we had noticed that there were loads of caves but for us Raynards cave was the 1st one we could get up close to. The kids didn't fancy the steep climb but me and the husbeast tackled it.
Its bloody steep and slippy I nearly stacked it several times. I also nearly dies from the exercise too. I need to lay of the cake. Once you get up there though its bloody impressive. The cave is right at the very back and its framed by a stunning rock arch first. It really is cool. Never seen anything like it before.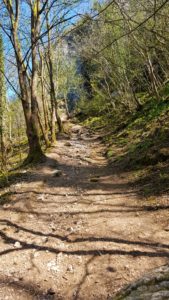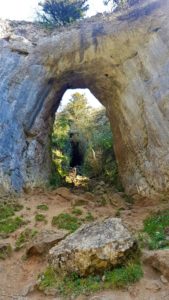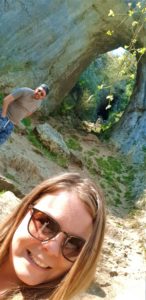 Just keep your eyes peeled for the track that goes off because its not very well signposted and if you don't have a map it could be easily missed. However the next caves you really cant miss if you're following the river route.
Its a bit of a walk to the next set of big caves. There are more things to see if you go off route like Thors cave but that is up hill and the kids wouldn't have made it. I'd have made them go if i thought Thor himself was in there though. Or at least Chris Hemsworth… I would do bad things to that man!
Ilam Rock
The next impressive area that we came across was Ilams rock. Now this is the area where I think it most reminds me of lord of the rings. Its a huge rock pinnacle and at the base there's a bridge to crossover too.
On the other side of the bridge is a hugeeee cave. Its a very low entrance and once you're in its pitch black and creepy as fuck. Take your phone in for the flash light.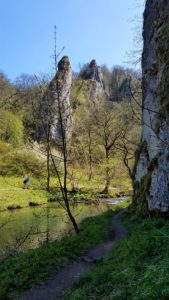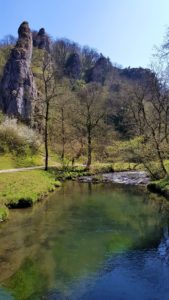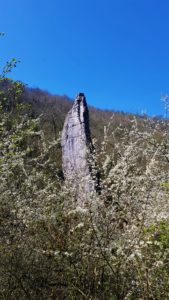 If you're lucky you'll get a lovely photo on the bridge. In this case we weren't we had some selfish twats that wouldn't move off the bridge so we could have a group photo. No word of a lie this couple was stood posing for over 30 mins in the middle of the bridge. Insta wankers probably.
Its also at this point that you could take an alternative route. However if you do this then you'll miss out on these bad boys. The Dovehole caves. personally I wouldn't want to skip these.
Dovehole Caves
Now these cave are probably even more impressive than Raynards cave. They're bloody massive and whats better. Easily accessible for the kids. They had a great time climbing up the rock faces. In and out of the caves having a good old mooch about.
They are slippy though too which is another reason you need to make sure you're no rocking up in your ballet pumps or crocs. You can slide down on your butts though as the boys found out.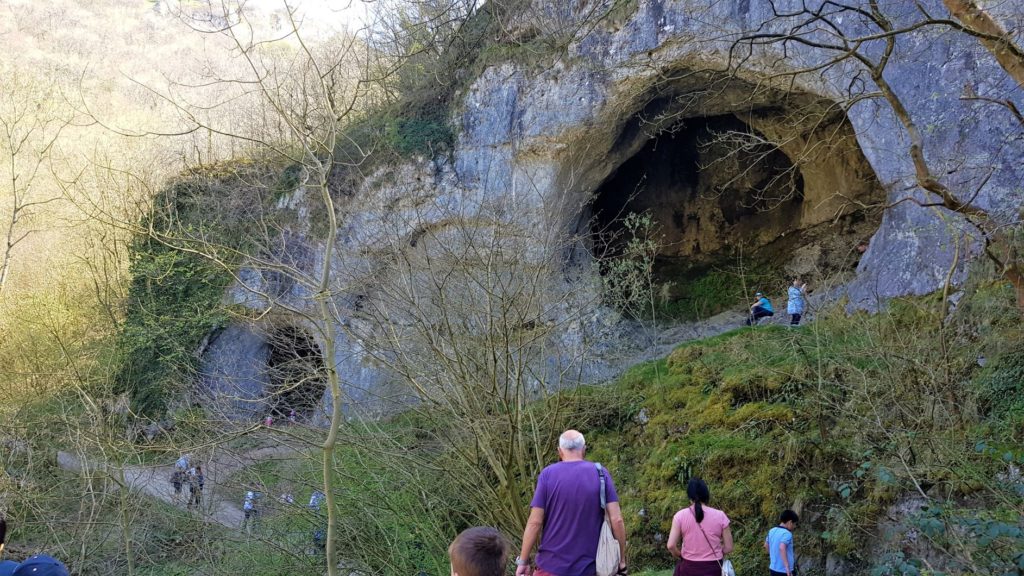 Along the route make sure you keep an eye out for the penny tree. There's a Huge log along the path and it has been filled with pennies where people have added their own over the years. It was pretty impressive and some of them were crazily old. Had to stop Elliot from trying to nick them too the little tea leaf. (Its just before the boardwalk walk btw)
after the Dovehole caves i would say is the homeward stretch… well not home but to the village anyway. Still a bit of a walk mind.
Milldale
The last stretch is where i would say that the boys were clearly shattered. We hadn't actually planned to make it this far with them. We just went with it which turned out not to be the brightest idea.
Milldale is a very pretty little village. There's still shit all phone signal but you will find a little shop selling ice creams and pasties. Be warned the queue was huge when we went but we'd promised the kids ice cream so queue we did.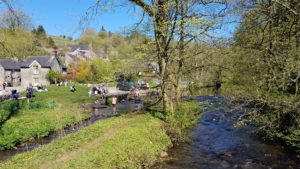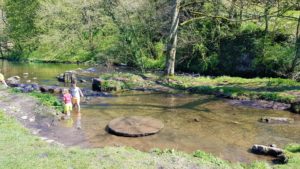 We filled the water up at the water station and had a toilet stop and then we sat down and discussed how the fuck we were going to get back because there was no way the boys would have made it.
The men would have to go back for the cars and then drive to us. Sounds easy right? wrong it took bloody ages. No amount of paddling in the stream would keep the boys happy for how long it took them. Whats worse is that we couldn't call for an update. No shitting phone signal. So just bear this in mind if you decided to take on a 3 mile hike with a 2 & 5 year old!
Dovedale stats:
Distance from Bicester: 2hr 9mins
Sat nav: Dovedale Car Park, Dovedale,, Ilam, Ashbourne DE6 2AY Click to load sat nav
Wheelchair friendly: No
Equipment upkeep:N/A
Cleanliness: 9/10
Facilities: Cafes and toilets both ends. Bugger all in the middle
Age range: confident walkers and up unless you take a sling
Safety: 7/10
Fun factor: 10/10
Dog friendly: Yes! doggy heaven
Pushchair Friendly: No
Bikes and Scooters: No
Public transport: Nope
Conclusion
Dovedale is absolutely magnificent. Its stunning and unique and totally worth the trip i would highly recommend it to anyone able to do so. I have been itching to go back ever since we visited the first time. I will probably try and ditch the kids at mum's though so we can do some of the other bits this time.
Apart from getting carried away and not realising the boys wouldn't make it back I was so very proud of them for walking for so long. 3 miles was impressive. They have never done it since in fact they cant even walk to school without moaning their legs are tired.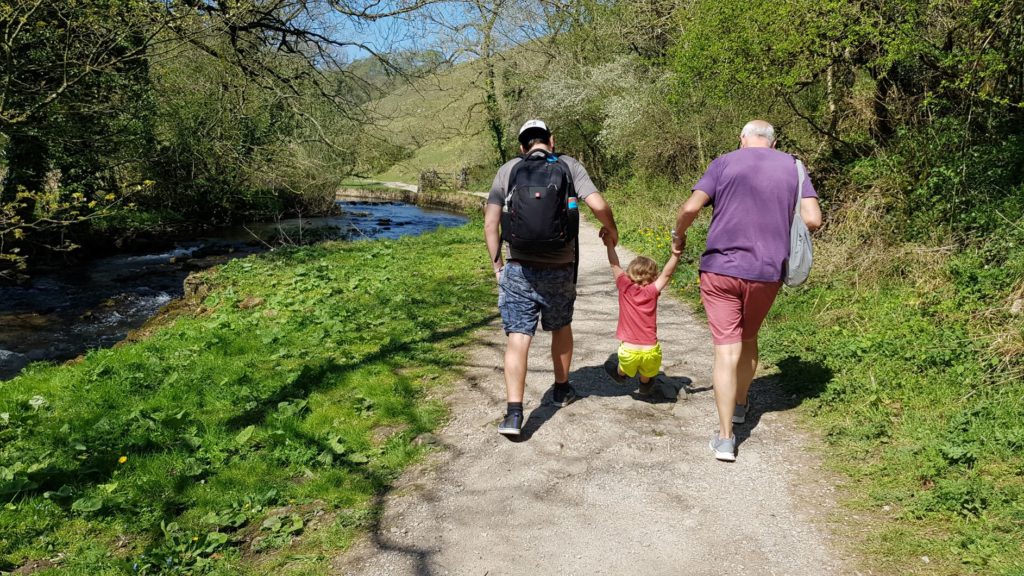 There area few things i would say to do before taking on the trek with kids and that's. Take good walking footwear. You will need change for the car park. Take food, snacks and plenty of water. Don't attempt it with a pushchair and even with baby in a carrier it'll be hard work. make sure you take a change of clothes and a towel too. You can park at Milldale end too and walk the other way.
We were lucky that my mum and dad knew how prepared we needed to be. Normally we're the type to wing it and fuck up so do research first. Your dog will love this walk too but please be aware of people who don't like dogs we saw loads of dogs off their leads in really busy areas and i'm sure it can be pretty unnerving.
AOB
You can find out more information on the National Trust website HERE
For more days out up North then have a look HERE