Now wait until you hear all about this bad boy. As if The Ice cream farm name alone wasn't enough to tempt you in. I mean a farm with ice cream Its going to be amazing right. Well its just that little bit more than amazing.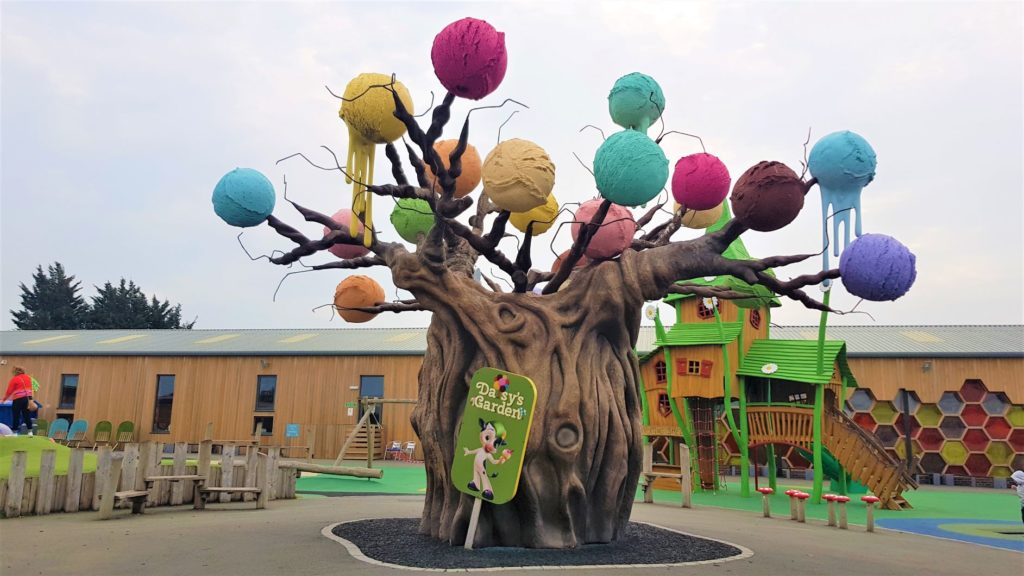 I'm pretty pissed that it isn't any closer however I know there's somewhere we can always visit with the boys when we visit my parents.
The Ice Cream Farm
So the Ice cream farm is in Cheshire. In the arse end of Cheshire too but that's great because you need a shed load of room to fit this "farm" In. You'll likely spend the whole day there and eat a shit load of ice cream too. Pretty much kids heaven. Oh and i forgot to mention….Its Free entry.
There is a catch though. If you wanted to do some of the attractions there you need to pay. So basically a bit like Wicksteed park only new and pretty. There are still things you can do for free though like the awesome play park and even having a walk round the farm. It really is great if you want to take the kids somewhere a few days before payday.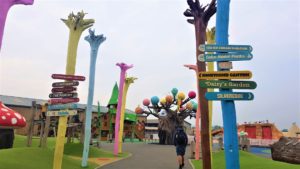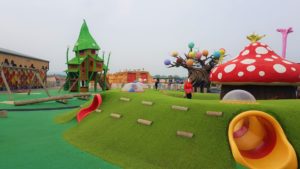 We rocked up pretty early so we could nab a decent parking spot. We arrived just before the place opened. There was loads of space plus they have overflow too. This place gets busy and you will see why.
When we got in we decided to buy the £30 play pass which gets you so many play on certain rides. For us it turned out to be perfect anyway. We even came home with not using it all so we can keep for next time.
The Ice Cream Farm Play Area
As soon as we walked through the door we were faced with what can only be described as the garden with the chocolate river from the film Charlie and the chocolate factory. We were in willy wonkas garden. The boys could hardly contain their excitement. They were off. Straight on the play area.
There were trampolines, balance beams, little mushroom houses, swings and even an awesome ice cream tree taking center stage. This was what the called Daisy's garden and this is free!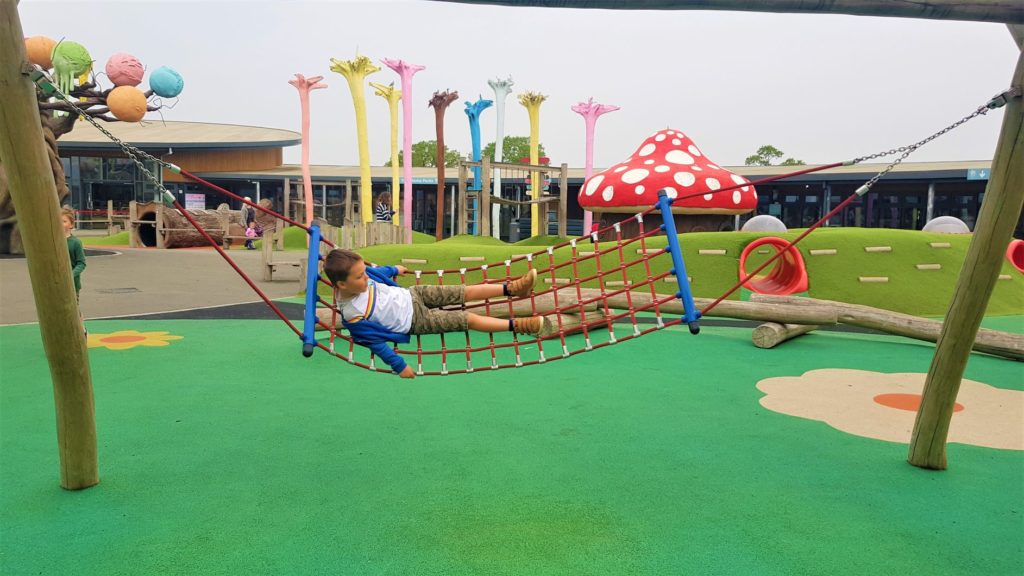 The boys really like the play frame. It reminded me of the Weasley's house from the Harry potter films. The green slide is bloody fast don't say I didn't warn you. Their play frame is pretty good for most ages but maybe a little trickier for small smalls.
Not to worry though because there's enough for everyone. The toadstool house has a series of tunnels next to it. It looks like something straight out of Teletubby land. Shame the sun couldn't be arsed to make an appearance today though.
The Attractions At The Ice Cream Farm
After a play in possibly one of the best play areas ever Clark decided he wanted to have a go at racing. We started off with Silvercone (great play on Silverstone). Thankfully Clark could drive Elliot around though because Elliot would have been too small.
These however are coin operated quad bikes and it'll cost you £1 per lap. The laps are pretty big though. Not sure why they weren't on the day pass tickets but we didn't mind paying £1. It could be a great way to treat the kids if you're not planning on buying a play pass too.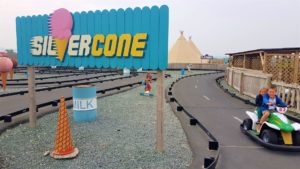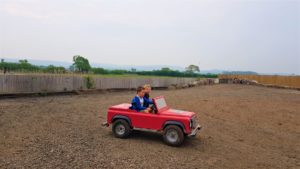 When we went there was an off road jeep attraction too Clark absolutely loved driving round his Little brother. I would say the only downside of that was that It still cost us 2 tokens from the play pass even though it was just the 1 car. Not that it matters as it seems like they may have Done away with it now anyway.
After racing and having their photos taken on the podium (Nice touch) It was time to move onto the next area. This was what i was looking forward to. We came prepared with a change of clothes and swimwear too. Honeycomb Canyon here we come!
Honeycomb Canyon
For me Honeycomb canyon is without doubt the best attraction at the ice cream farm. Its indoors so great for all weather too. Basically its a huge sand and water play. It is the dogs bollocks and I've never seen anything like it before.
If you don't have a play pass it'll cost you £4.50 and believe me it is 100% worth it. If you have a child under 1yr though its free (I would literally live here with my baby if I could). Play is limited to 1 hour during the weekend and school holidays though. I can see why i mean this place is the largest indoor sand and water play in Europe.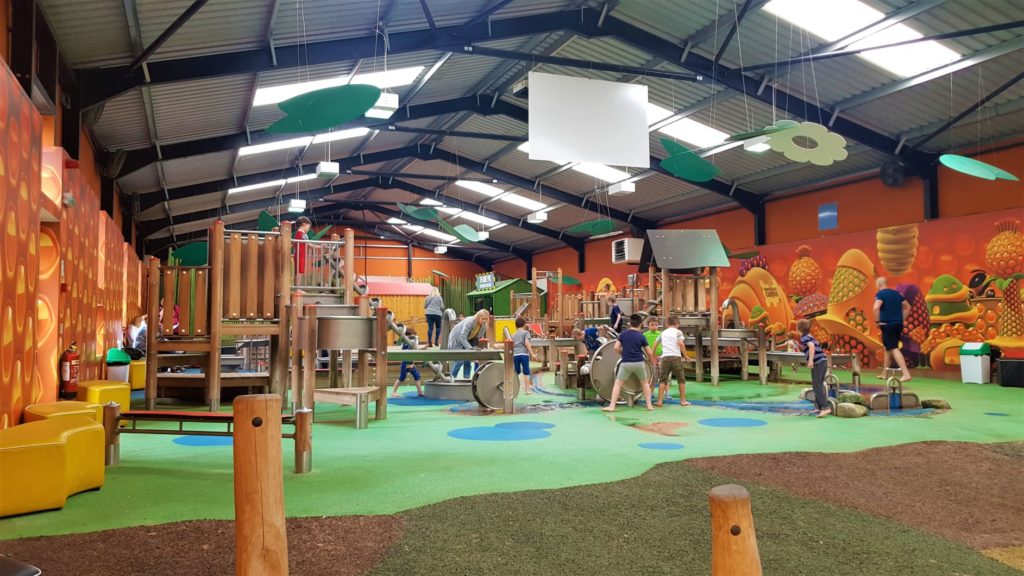 Its full to the brim of contraptions lots of different ways to move the sand and the water from dams to huge water wheels all of which the children control. It was amazing to see all of the kids working together too.
Me and the husbeast just sat and had a coffee from their coffee machines in there while the kids played. At the far end of the canyon there's a huge play area too. This is where a lot of the older kids seemed to congregate. There were kids climbing everything and that was fine because they were encouraged to do so.
What Next
Daddy and Clark snuck off to have a game of crazy golf while me and Elliot carried on playing. The crazy golf isn't crazy, Its fucking nuts. Its a huge ass cake with ice cream and a strawberry river. I hate crazy golf so i left them two to it.
The boys wanted to next pan for gems. It was pretty cute they give you a little bag to put the gems in. Personally I thought it was a waste of a play token but it was what the boys wanted to do so we just went with it.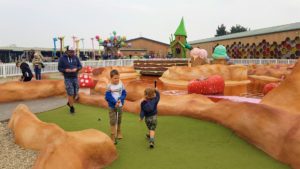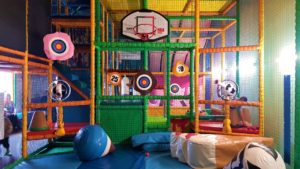 There was an indoor soft play too and although I hate these places normally I have to admit it was at least a good one. Reminded me of Sprouts play barn at Millet's. Very clean, new and loads to do including the ball cannons which i personally love. Theres something about blasting foam balls at kids heads that i love. Or as i like to call it Revenge!
We spent a good deal of time in the soft play too. Its right next to the Pantry which is their main food hall and the food did look pretty good too. However we took a picnic because we like to save money where we can. Regretted it though after seeing some of the food going out.
Still So Much More To Explore
When we visited Elliot was still very much into his naps and Elliot with no nap = Toddlergeddon. So we had to start thinking about heading off so the beast would sleep. Not before having an ice cream though. Shit me there is a shit load of choice too. Just have a look at the menu. It was awesome!!!
Throughout the farm there was an amazing attention to detail. It really is a fantasy wonderland. I love the fact that you can still visit and have a free day out if you just walk around the farm and use the play area. I'm not saying it'll be easy to spend no money though.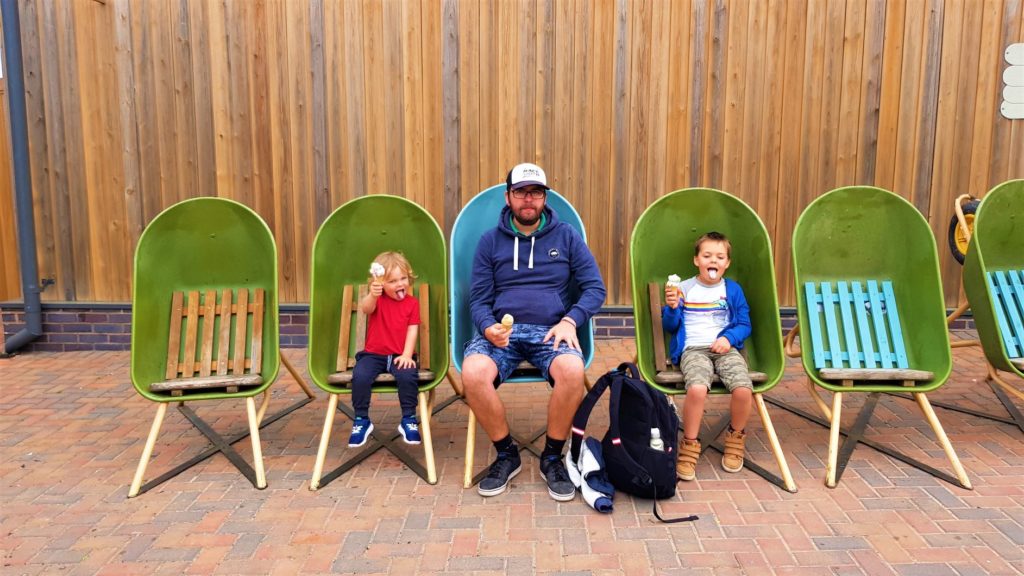 There was so much we didn't do too from the huge diggers to the tractor rides and the bouncy pillows. It was so hard to chose what to do which is why it was a great place to let the kids take the lead.
What i thought was really good too was the Loft which was an area for older kids to chill out in. They need to be a minimum of 7yrs old and its the equivalent of £4.50 for 30 mins play. Once in there though all the games are free. They have driving simulators, air hockey, drum machine and even saga rally. We didn't go in because the kids were too young but it does sound awesome.
The Ice Cream Farm Stats:
Distance from Bicester: 2hr 35mins
Sat nav: Drumlan Hall, Newton Ln, Cheshire, Chester CH3 9NE Click to load sat nav
Wheelchair friendly: Yes
Equipment upkeep:10/10
Cleanliness: 10/10
Facilities: Everything you will need
Age range: All ages
Safety: 9/10
Fun factor: 10/10
Dog friendly: No
Pushchair Friendly: Yes
Bikes and Scooters: No
Public transport: From Chester at the railway station jump on the 41 to the crossroads its about a 10 min walk from there
Conclusion
Without doubt the ice cream farm is an absolute awesome day out. Something for all ages and your kids will be talking about this place for ages. I know ours have anyway.
I really do wish they had something similar near where I live. Honestly I think I'd move in and claim squatters rights. This is one of the best days out we have had full stop. Its unique, imaginative and quirky as fuck.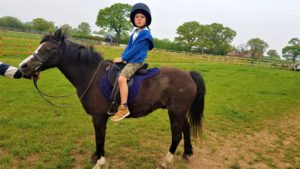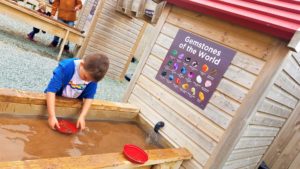 If you can go here then GO!!! if you haven't been already then GO!! Don't live anywhere near Chester? then book a holiday. I will plan your itinerary for you you will have fun and you wont get bored. Fuck it I'll even show you how to have more free fun.
I havent found any yet but I'm sure there are ways to find Cheshire ice cream farm discount vouchers somewhere. They do occasionally have sales and offers on so it is worth keeping an eye on their website and Facebook page.
AOB
If you would like more information then check out their website HERE
If you'd like to see some of my other days out then have a look at the map HERE