The Anderton boat lift. Sounds crap right? why the hell would you want to take your kids there? They'd be bored out of their minds. To be honest it sounded like the same shit my parents used to drag me around when i was younger.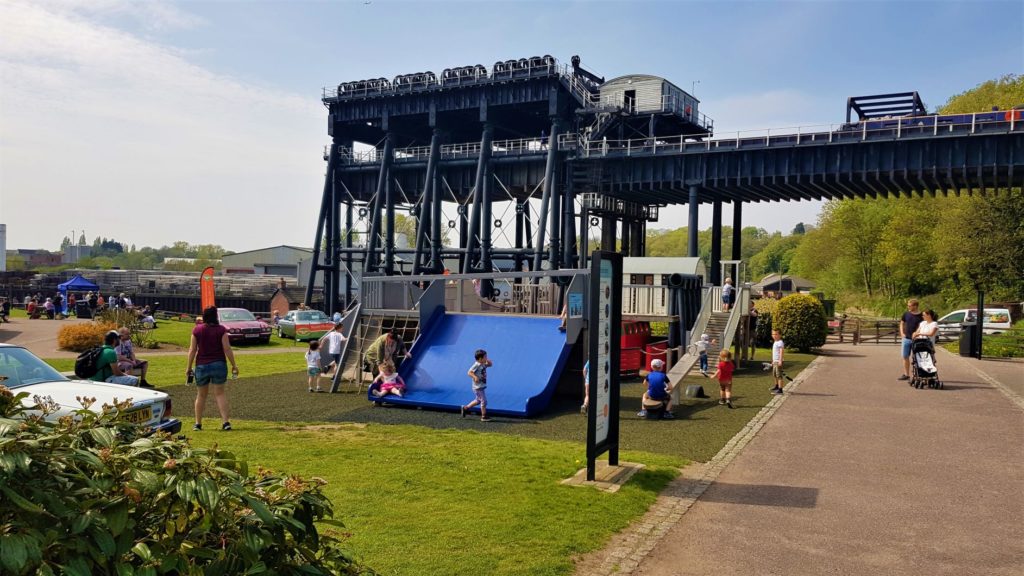 I couldn't have been more wrong though. This place is awesome. Me and the husbeast have never seen anything like it before. Maybe we live sheltered lives I don't know. If ever you're in this neck of the woods then you must take trip out here. With or without the kids.
The Anderton Boat Lift
The boat lift really is just that. Its a huge fuck off lift that lift boats and barges 50ft from the river weaver navigation to the Trent & mersey canal. Yes i know it sounds dull but honestly trust me when I say its really not. Have i lied to you yet?
There is so much to do in this area too including walks, nature reserves and sod it why not take the bikes too., Its perfect. Oh yeah I almost forgot to mention. ITS FREE! yep apart from parking (although when we visited it was free because the machines were broken)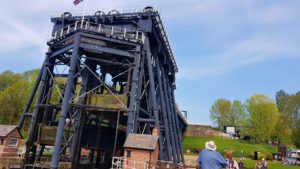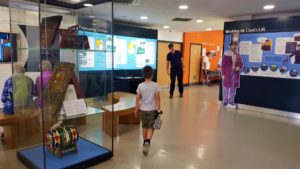 We parked up and walked along the canal to the visitor centre. You can get some decent views along the way too. Elliot was still potty training when we visited and would happily leg it with no fear of edges so do watch your kids near the drops and the waters edge.
once you're in the visitor centre then you'll start to realise just how child friendly they are. We went around Easter and there were lots of activities for the kids to take part in. Not only that the visitor centre has loads of interactive stations for the kids too. In fact I was shocked to see Clark taking an actual interest in something other than his tablet!
New Play Area At The Anderton Boat Lift
After a good mooch round inside the visitor centre (both floors) we decided to head outside to get a closer look at the lift itself. We have never been before nor did we know what was there so I was totally surprised when we clapped our eyes on the awesome brand new play area right next to the lift.
The boys were off in a shot and thankfully the whole play area was mostly safe a suitable for all ages meaning we could take a seat, grab a coffee and keep a close eye on the boys while they played.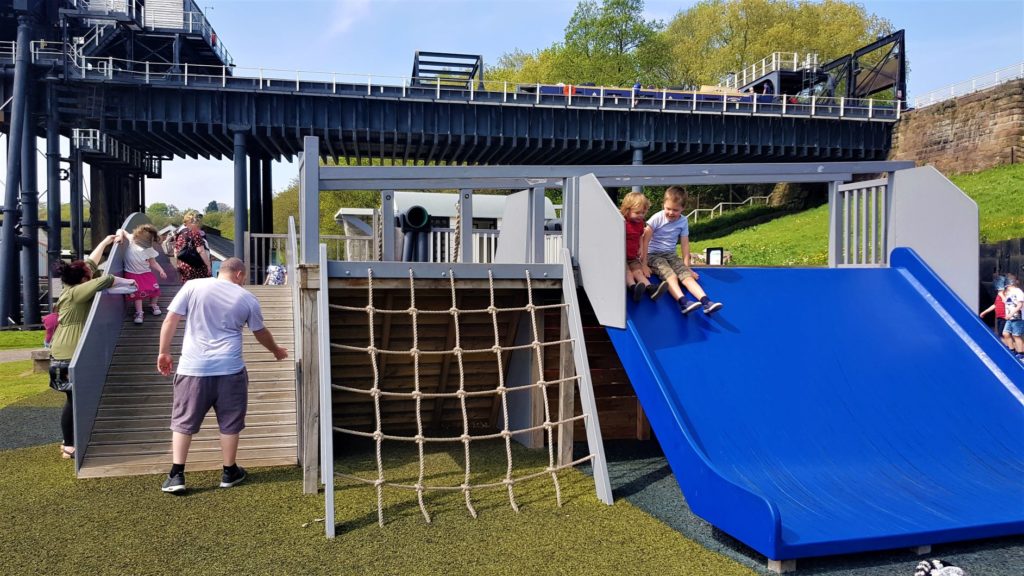 The play area was a boat themed play area of course. It had climbing walls, little dens, cargo nets, see saw and a huge wide slide. it was brilliant because we could watch the lift while the boys were playing.
Right next to the play area there were these really high black walls that looked like the hulls from old boats. Clark had spotted them too so he went over for a nose. When he realised what they were he squealed with delight and called Elliot over. It was a Maze!! By no means a difficult maze but a great one all the same and the boys played for ages. Just keep an eye on the smalls because there are a few exits and you wouldn't want them to wander off.
What Else Can You Do?
Apart for all the bits i mentioned above there is also the chance to pay for a boat trip up the lift. We hadn't really planned it in our day but its been noted down for our next visit. There's something about keeping Elliot confined with other humans in a small space that make my arse clench in fear. So until he sorts his shit out then we'll pass on the trip. It would be awesome to do one day though.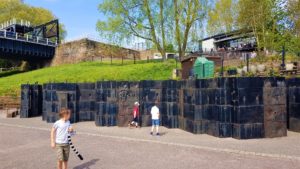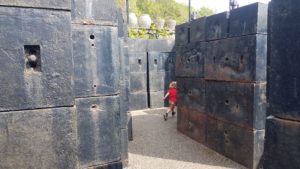 After a brief look at their website i noticed that you can also pay to do walking tours up the lift. Personally….fuck that. You'd need massive balls of steel to walk up that bugger. I don't have a fear for heights but that I would.
Heading Off To Explore
After a mammoth play we went back indoors to decorate some biscuits (Free activity). To my horror Elliot, despite being next to the toilet and being asked 10 seconds earlier had an accident. I don't think the cake decorating woman was impressed at all. It was like shes never seen a kid pee themselves before. To be fair I think she thought I was going to ask her to disinfect everything he'd touched haha. Don't be silly We came equip with disinfectant wipes (a handy tool for potty training)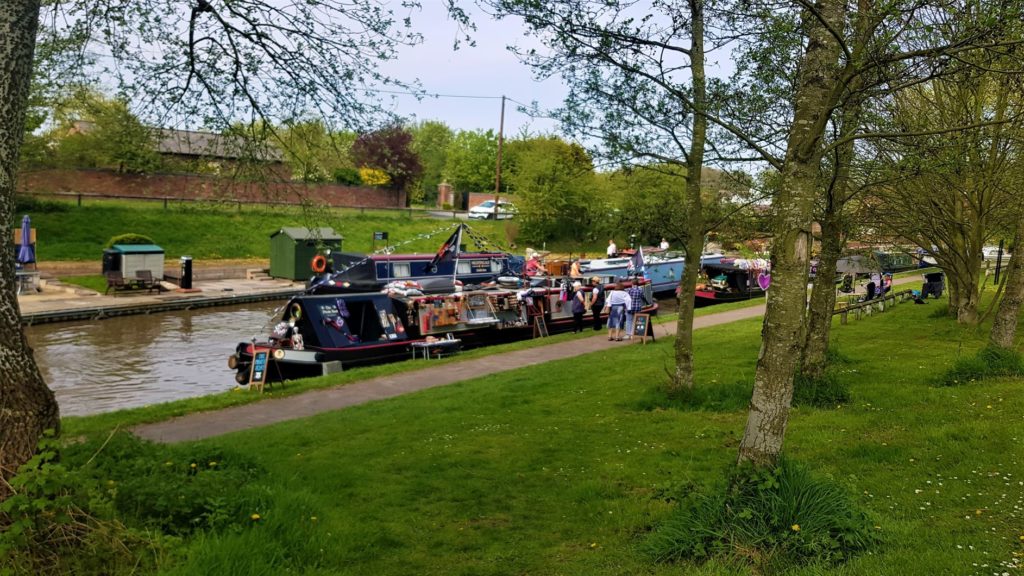 After the accident we decided to explore the area a bit more and went for a walk along the canal. All was going well. We even came across a lovely little floating market (totally excited about the prospect of getting my shop on). Next thing Elliot screaming. He'd tripped up and face planted the path outside the pirate boat shop. His knee was a mangled bloody mess bless him. Everyone was staring it was time to call it a day and head home. Not before the lovely lady in the pirate canal boat gave both the boys a pirate badge though. How kind we wont forget and we will be back.
The Anderton Boat Lift Stats:
Distance from Bicester: 2hr 37mins
Sat nav: Anderton Boat Lift, Lift Ln, Northwich CW9 6FW Click to load sat nav
Wheelchair friendly: Yes
Equipment upkeep:10/10
Cleanliness: 10/10
Facilities: Everything you will need
Age range: All ages
Safety: 8/10
Fun factor: 10/10
Dog friendly: No
Pushchair Friendly: Yes
Bikes and Scooters: No
Public transport: Regular buses to and from Northwich
Conclusion
As a family we absolutely loved our unexpected day out at the Anderton Boat Lift. It was fun, Educational and free. If you're ever in a position to visit here then I'd highly recommend you do so.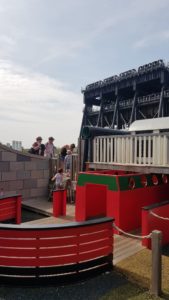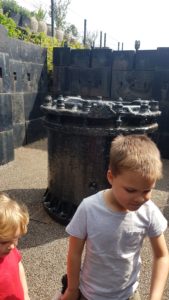 There's still so much more to explore in the area too so we cant wait to head back again. Maybe next time we'll try out the Anderton boat lift cafe or even the Moorings restaurant. You can take picnics too though there are several stunning spots.
AOB
If you'd like more details then you can see their website HERE
For more days out you can check the days out map HERE