woodlands
Cumnor Hurst
Woodlands and a play park
This weekend we went on a bit of an explore. We went looking for Cumnor Hurst for a bit of a woodland walk and a mooch about. The views from the top of the hill are pretty amazing too. even if it was absolutely peeing it down.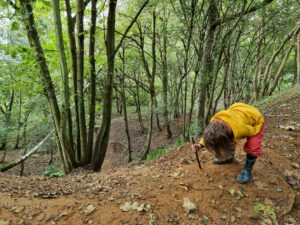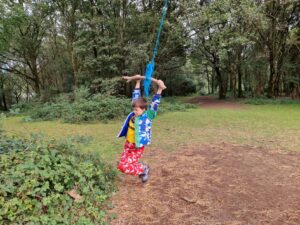 Cumnor Hurst
Main points:
Small woodlands
Dog friendly
Take waterproofs and wellies after rain
Free roaming cattle
Park responsibly as no car park
Typically we got lost in the woods and found some weird arse shovel chained up a tree. Like something straight out of a horror film. Not going to lie I was ready to throw the husbeast at the murderer and run!! (With the kids ofc I'm not a total monster)
We got out of the area with the soft soil and shovel and found what we were looking for Cumnor Hurst. A small but cool woodlands. It was lovely/eerie. Rope swings, dens and lots of climbing/ falling. So if you're looking for something that isn't too hard on the legs but you want to get out give this place a go.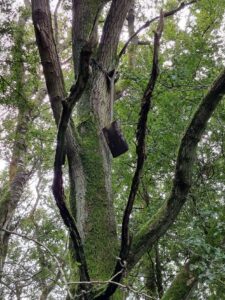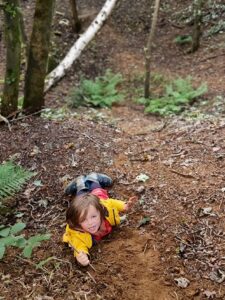 Play Park
Down by the new housing estate which is at the bottom of the hill over the gate with the warning signs about steep edges we came across a simple but pretty cool play park.
It was great for the boys ages with the climbing walls and the trapeze ropes. We must have played in there for around an hour and had the place to ourselves. It's not really great for small kids as there's bugger all for them in this park.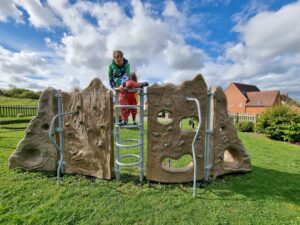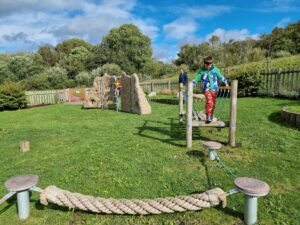 The path around the park was perfect for bikes and scooters though with a fair few hills for them to scoot down. I reckon it would be a good place for sledging too if you wanted. Although you'd be a bit buggered if you went to the woods afterwards. Although if your kids are anything like mine you'll end up carrying the bikes or scooters after 5 mins anyway.
Just wish Bicester would make a bit more effort with their play areas.
Cumnor Hurst stats:
Distance from Bicester:
27mins
Sat nav:
OX2 9PR Hurst lane
(walk up here but don't park here park nearby) Click to load sat nav
Wheelchair friendly:
No
Equipment upkeep:
Park was brand new 10/10
Cleanliness:
9/10
Facilities:
Nothing there i.e toilets, cafe or car park
Age range: All ages for woods id say 3/4 plus for the park
Safety: 5/10 keep and eye out for the steep hills
Fun factor: 9/10
Dog friendly: Yes
Pushchair Friendly: No
Bikes and Scooters: In areas
Value for money : FREE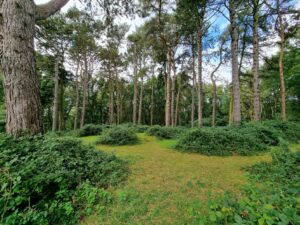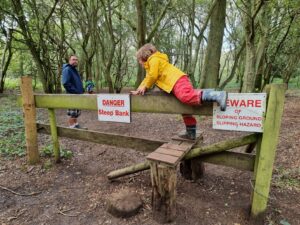 For a completely free day out it was really nice. Its wasn't too long a walk otherwise the kids would have moaned none stop. I think the discovery of the play area really helped too. Don't go expecting great things it really is just a walk. You need to make your own fun.