The White Lion Fewcott is a weird one. I want to love it and while i'm there i kind of do love it because the kids love it. If i'm going to be honest though, they really could give a bit more of a shit especially for kids.
That's not to say there isn't anything there because i would be talking out of my arse (and that's a big arse to talk out of)
Pirate ship
I will start off with the Pro's/pro. It would have to be the huge fuck off giant pirate ship in their garden. I don't mean so pissy mock up of a pirate ship like you see in play parks. Oh no this bad boy is pretty much the Black Pearl.
It wouldn't surprise me if this thing was sea worthy too. Luckily for us its in the back garden of The White Lion Inn.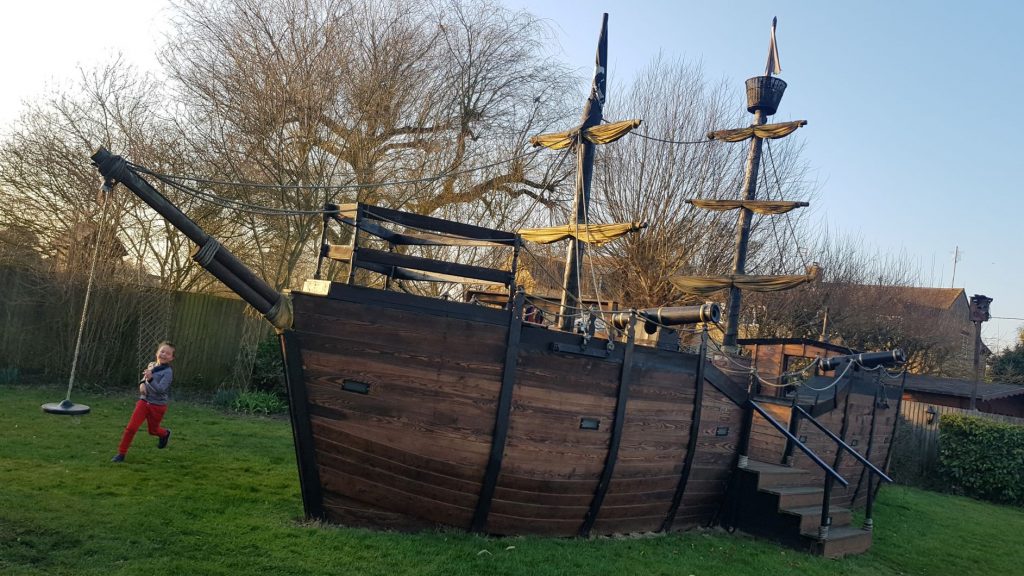 Your kids will love this thing. Its so easy for them to get into the role of pirate. There is a swing on the end (also 2 other separate swings too) 2 really fast slides, wobbly bridge and even a moving ship wheel.
We've been to the white lion Fewcott before around 2 years ago and sadly they no longer have the working buttons that made smoke come out the end of the cannons. That was awesome!
Lovely Garden
The back garden itself is lovely and clean with some great garden furniture. I could spend many an hour in this garden with the kids. Its lovely and enclosed with a view of the neighboring fields with the horses in. There is a little path at the end of the car park which you can access the fields and have a closer look at the horses which is great for the little ones.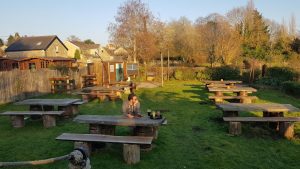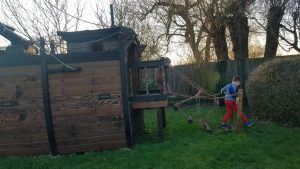 The pub itself is also a really lovely looking pub. Its big, Clean and modern with plenty of seating inside. It even had a pool table. The toilets are some of the nicest I've seen too. I couldn't even detect a hint of piss.
It all sounds amazing right. Texting your mates ready to plan the next summer pub visit?
Hold your tits love there is a downside.
THEY DON'T SERVE FOOD!!!!!!
Yep that's right they don't serve food. This totally blew me away the first time we visited. I thought maybe it was because they were new and they hadn't gotten around to sorting the kitchen out yet. Apparently not.
Its such a bloody shame. There aren't many pubs left these days that don't serve food let alone ones with play areas that amazing. I mean its ok if you live in the village but if they aren't offering food is it really worth the drive out just for a dink?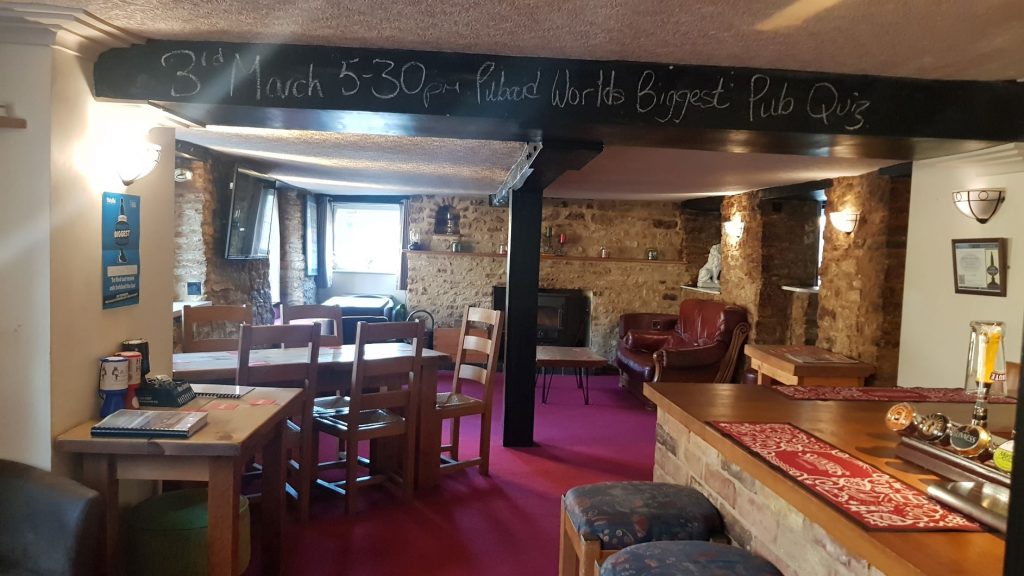 I mean we did but i guess were not everyone so you'd have to make that decision for yourself.
They do have some snacks behind the bar. A better choice than your usual pub with chocolates and sweets etc. However when i asked what kids drinks they had i was told "squash"
Yep the shitty squash that you put in the bottom of your cider of in your lager. Now ive worked in pubs for a lot of my life and i know how shit those cordials are. I find it hard to believe that a pub with the Black fucking Pearl in their back garden cant even provide a better choice of kids drinks.
So much potential
One min i think they want kids in then the next i get the impression that they hate people especially kids.
They have weird arse opening times too. They pretty much don't open before 4pm apart from Friday – Sunday and they don't open at all on a Tuesday.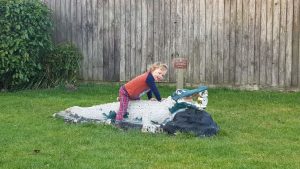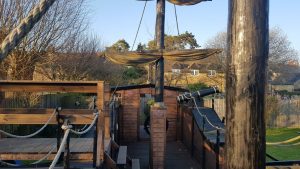 I really want to love it here and i don't want to slate it but its just too hard not too. I cant see why they cant put on some form of food. It's like they don't want the money or to put the effort in. The whole pub just seems like a total waste of potential.
That being said its only my opinion. I have no idea what they have/haven't tried. The staff member was nice and polite. After all its their pub to do with as they chose.
They have events on regularly and i remember they did have BBQ's throughout the summer.
White Lion Fewcott Stats:
Distance from Bicester: 13mins
Sat nav: White Lion Inn, Fritwell Rd, Bicester OX27 7NZ Click to load sat nav
Food quality: N/A
Value: 7/10
Venue: 10/10
Cleanliness: 10/10
Service: 8/10
Overall experience: 7/10
Food hygiene rating : N/A
Child Friendly: The huge pirate ship says yes.
Dog Friendly: Yes
Conclusion
I've tried to not slag off the White Lion Inn its just hard for me to hold back my disappointment. I can see so much potential. If this place did food I'd be shouting it from the roof tops. Instead Its more of a whistle from the lawn.
Would i recommend the White Lion Fewcott? hmmmmm…..Yeah why not. I can comfortably say your kids will adore the pirate ship play area. I know i did and so did the kids.
Yeah its not a full day out but if its sunny and you wanted to meet friends for a drink in the sun with the kids then this is probably the best place to do so locally. I'm not sure if they do hot drinks so you would need to double check that.
AOB
I tried to check out the white lion fewcott website but shit me I've no idea what the craps going on there. Just stick to their face book page HERE
For more Child friendly places to eat/ Drink then try out some of my reviews HERE