Sturdy's castle is a nice restaurant/bar/hotel between Kidlington and Banbury. You may have hear it being referred to as the Spud pub. Their amazing shit hot spuds are one of the main reasons we keep going back.
Lunch
This is the second time we've visited Sturdy's Castle for lunch in the last couple of weeks. Its quick, Normally pretty quiet, the service has always been spot on and the food is great. Our lunch has never been too pricey either.
We chose here today after a walk about. I had an incident where my arse has gotten too fat recently and my jeans just couldn't contain it any longer so totally gave in. I really do hate January.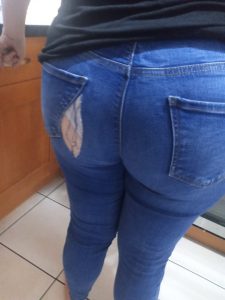 The weathers been crap the last 2 times we've been to Sturdy's Castle. We will 100% be going back. Maybe not for an evening meal as its a bit far for us to take the kids and we wouldn't taxi there on a night off. That's not to say it isn't nice in the evening because it's set up lovely.
Spud Pub
I'm going to talk a bit more about their spuds, Normally when you go for lunch the jacket potato selection is pretty shit. You wont get that here. I've never seen so many options for fillings outside SpudULike.
As I'm on fat club diet. Sorry way of life this is great for me. I've almost stopped going our for lunch because unless you like salad you're normally screwed for choice.
The Potatoes at Sturdy's Castle are flipping huge. I swear they must genetically modify those bastards. They're the size of a babies head. Not once have i managed to finish one.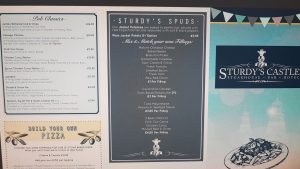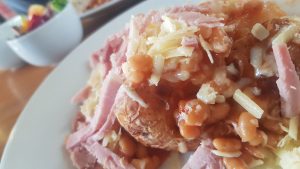 Plus side is they're so nice and soft i don't even need to add any butter. Not like when you order a jacket in spoons and it comes out solid in the middle. (We love spoons by the way just not a fan of their jackets)
I had the cheese, beans and ham monster, Go on a Monday and if you're lucky you'll get the gammon joint from the Sunday roast as the Ham option.
You pay for the toppings separately which is great as all mine are only £1 each. If i'm going to be honest i think there's a few toppings on the menu that take the piss. I.e £1 for sliced red onions and £4 for tuna may. Their GP must be through the roof.
Kids
If You have kids fear not, Sturdy's Castle have a childrens menu. If you go when the weathers less shit you can pop them in the park in their garden too. Its inside a double fence which is needed as its next to a busy road. The park looks like a really decent park. Its so hard to find good pub's/eateries with a decent play area.
Parkings should be ok. Their car park is a decent size. I can imaging it'd become a bit of a squeeze if its busy though.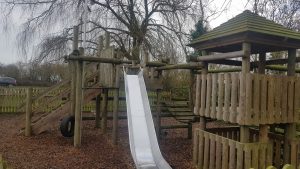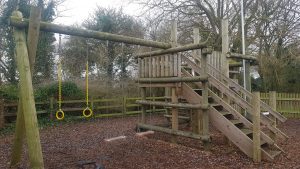 If you have a dog you'll be pleased to know that dogs are welcome in the rooms (Hotel stays) and in the bar area at Sturdy's Castle. If you didn't want table service you could always order in the bar anyway. Best to check and make sure its the same menu first though.
Sturdy's castle stats:
Distance from Bicester: 20mins
Sat nav: Banbury Rd, Kidlington OX5 3EP
Food quality: 10/10 we've only tried the Jackets though
Value: 7/10
Venue: 9/10
Cleanliness: 10/10
Service: 9/10
Overall experience: 10/10
Food hygiene rating 1-5 : 5 highest score.
Child Friendly: Children's menu and play area so yes
Dog Friendly: Yes in the bar area and some hotel rooms if staying.
Conclusion
Based on the Spuds alone we would recommend Sturdy's Castle to anyone looking for a good lunch. It's clean, Friendly, Fast and has great service with the added bonus of having the children's play area too.
Links:
Have a look at their website for yourself and have a nosy through their menu too. HERE
For more ideas of where to go for food have a look at some of my other reviews HERE