I have always seen photo's of Brill Windmill show up on the community chat groups. Friends have suggested it too. I never really thought it would be that interesting to be honest.
Isn't it the places you have the lowest expectations of that come up and slap you square in the face. Well Brill Windmill did just that for me. I had no idea how stunning the area was or how close it was either for that matter.
Shit start to the day
The day didn't really start off well. My computer had pissed me off so much i threw the screen against the wall (a momentary burst of anger. Not a frequent occurrence) That put me in a right shitter for the day. However the kids were getting on my tits so i knew we had to get them out of the house.
We had planned to go the a place in Thatchum. Rocked up to the A34. Nope no and no! Fuck that. Total gridlock. We spun the beast right round and had a rethink.
Crap Nav
We went to a park that was on my list but i'll review that another day. On the way back i noticed a sign for Brill. Popped into my head the recommendation from a friend so off we went. 1st off the sat nav sent us into the arse end of no where so we had to back track.
Then back on track we started to climb (not us but the car) This in itself was a shock because i thought Oxfordshire was as flat at Mel C's tits. Apparently not. Turns out Brill is Oxfordshires very own Etna. Minus the altitude sickness.
Lovely village
Even before we got the windmill the views were impressive. Brill itself is a lovely looking little village. Got round the row of houses and there standing erect and proud on top of the hill was Brill Windmill. I was instantly impressed. Even more impressed when i saw there was a pub too.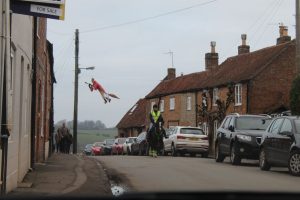 There's a small free car park which we found a space fairly easy. It's right on the main road through Brill so you wont miss it. We didn't have a huge walk as the time was getting on and we kinda wanted to try the pub first.
There were lots of dog walkers and human walkers around but nothing that ruined it by being too busy. The views are stunning and i was fairly shocked that you can walk right up to the windmill itself. The Kids and the husbeast even climbed the steps for a photo. Be aware of how steep the steps are though. Pretty dangerous for young kids to be going up alone.
After a good mooch around and helping loved up couples by taking photos for them (They got lost on the way to Bicester village apparently) We decided to check out the local. The Pheasent, Brill.
PUB!!!
What a lovely looking pub it is too. Its a bit of a mind fuck at first because you think its huge. Until you realise that the whole back wall is in fact one huge mirror. Is it bad that i was impressed with how clean it was? I can never get my mirrors that bloody clean.
The staff were really friendly. The customers looked decent not a bit like the pissy locals you get in Bicester wetherspoon's (Just like to add i love Bicester spoon's but all wetherspoon's have a group of old locals that sit in the corner stinking of piss)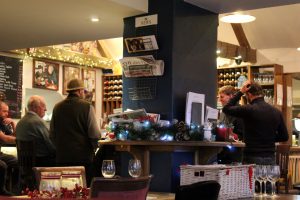 We just got a drink each and a couple of packets of posh crisps ( Not a quaver in sight). The menu looks pretty pricey but bloody good. Me and the Husbeast have decided to try it out minus kids one evening. For reviewing purposes of course. Now if you can get a seat by the window you can still see the windmill. You'd get a good view on their balcony and in their garden too which is also lovely. A great destination for summer i think.
Sunset
Drinks downed and off we went. Not before we had the pleasure of watching the sunset though. We picked a brilliant evening to visit the sky was on fire as the kids kept telling us. I managed to try out some more settings with my new camera. I'm still no Steve McCurry though.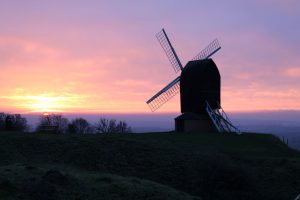 Brill windmill stats
Distance from Bicester: 18mins
Sat nav: South Hills, Brill, Aylesbury HP18 9TQ
Wheelchair friendly: Not really the grounds pretty uneven with some steep drops.
Cleanliness: 9/10
Facilities: 10/10 (If you use the pub)
Age range: All ages
Safety: 5/10 steep steps, Uneven ground and big drops. Keep the kids close
Fun factor: 10/10 ( probably more for adults though)
Dog friendly: Very much so!!
Brill windmill really surprised me in a good way. If you haven't been i would say you really should. If you can get there for a sunrise or a sunset i think you'll be as impressed as i was. We will be heading back on a Sunday too in the future as the open the windmill every Sunday 2pm to 5pm between Easter and the end of September (weather permitting)
This ended up being a great end to an otherwise pretty shit day. Maybe it can cheer yours up too.
AOB
For their website and more history on the place click HERE
For more of our favorite walks try my top 5 guide HERE
Have a gander through the photo's below.