Most of my regulars by now will know of my love for Limes Farm. So imagine how happy I was when we got invited to try out their first Limes Farm Enchanted Christmas.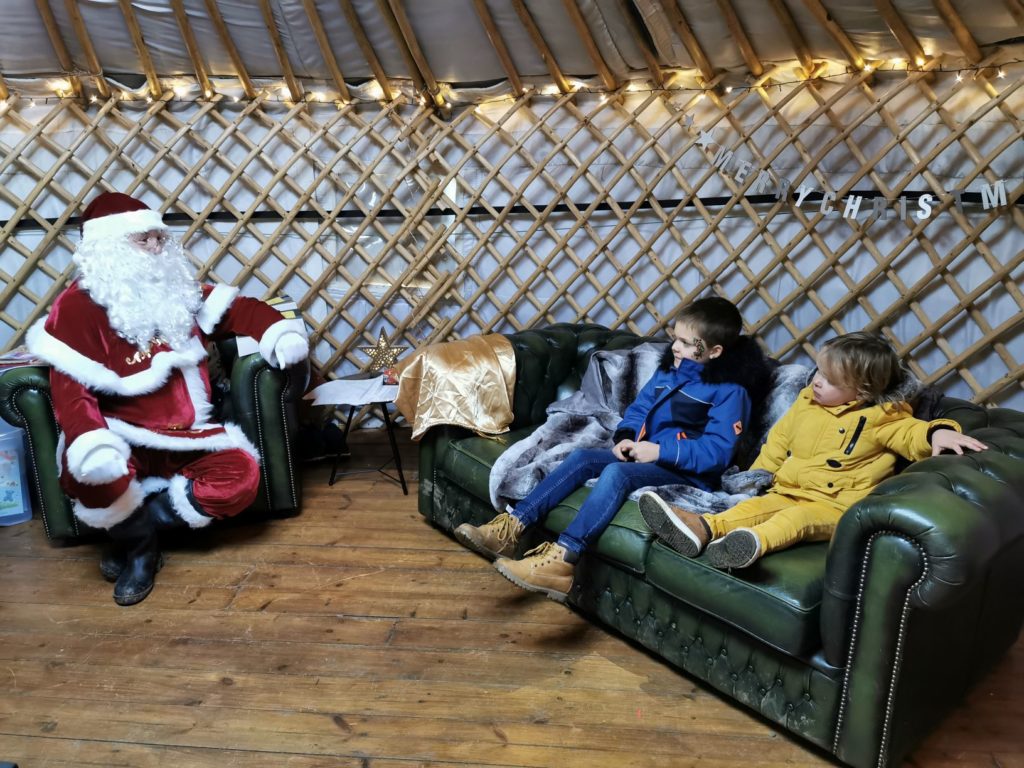 Limes Farm Enchanted Christmas
We only take the kids to see Father Christmas once a year. Whats the point in doing loads right? Well this Year Clark's seeing him twice once and Limes and then we have the Polar express next weekend. Elliot and daddy did green dragon last year and the husband thought it was shit. So I was kinda pinning all my hopes on limes being awesome.
Although I didn't pay for the tickets I'm writing the review like I have so you guys can go in with your eyes wide open.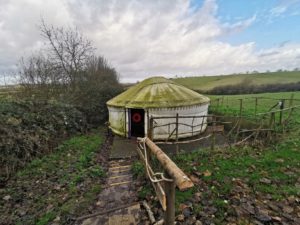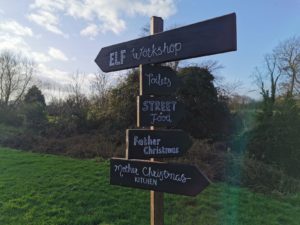 I could give you a load of background bollocks about what its supposed to be blah blah but i have a clod and I cant be arsed with the boring bits so i'll just talk you through it like you're with me. Which thankfully you're not otherwise you'll end up with man flu too.
Limes Farm Enchanted Christmas Walk though
We arrived around 10 mins before out allotted time. I chose 11am which gives either of us time to sort our shit out in case we were hanging from the night before. Lucky i did because the husbeast is a twat and went to watch the boxing the night before.
Keep your eyes peeled for the signs. They're there but not huge so if you're a squinter like me you'll end up lost haha. We went into a room which is where the experience begins. The boys got their faces glittered up by an elf. Clark loved it Elliot wanted it wiped off as soon as they were done (Typical). There's a Christmassy wall to have your photos taken against, an elf hunt and some colouring to do while you wait for the rest of the group to arrive.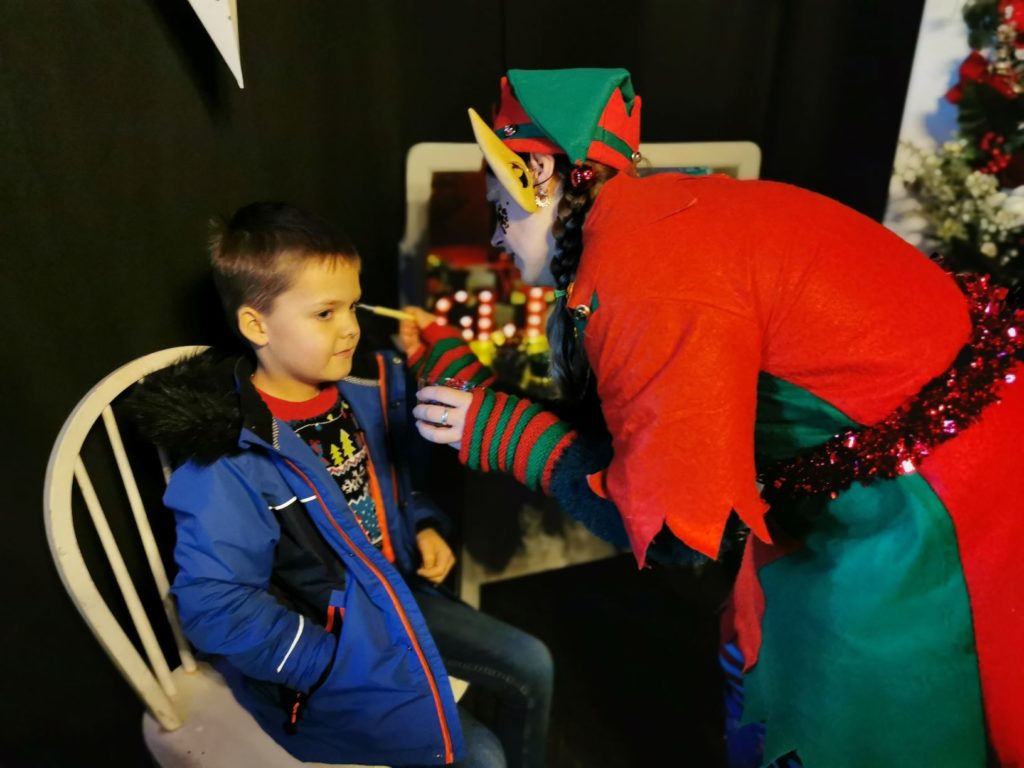 You can buy drinks and snacks from the bar in here. There's not a lot of seating in the room but thankfully we didn't have to wait long for the rest of our group to arrive. We had a fairly bigish group or at least it seemed fairly large because there were babies and prams too. I was starting to wonder if we'd all fit in the Yurts.
Limes Farm Enchanted Christmas Elves Workshop
Pit stop at the toilets before we headed down (no toilets at the bottom) and we started our Limes Farm Enchanted Christmas Journey. First stop. The Elves Workshop. Now I've never been in one of these Yurts before and from the outside i was thinking there's Shit all chance we're all fitting in there. Well bugger me the elf opened the door and it was like fucking Narnia. Bloody massive! Thank the baby Jesus for that. Thankfully it was warm and pretty indoors too. (must admit the waiting room didn't do a lot for me if I'm being honest)
The kids all took a seat (or should I say wobbly log) around the workbench in preparation of making a teddy. Clark's eye's lit up in excitement….Elliot looked like he wanted to fuck all this off and sit in the cafe with an ice cream. In his defence he also had a cold. No doubt so will everyone he came in contact with that day too now.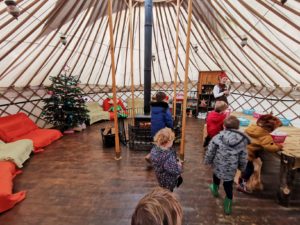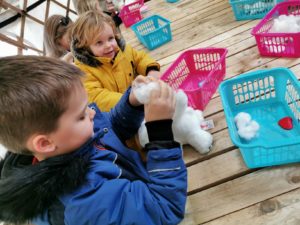 The stuffing of the bear was really cute all the kids seemed to enjoy it. They even made a wish and popped the heart into the bear. Clark nearly brought me to tears making the wish. He squeezed so tight and i heard him wish that it could be Christmas every day. I instantly started humming the song and thanking fuck it wasn't Christmas every day because i would be a fatter fuck and bankrupt.
Then the elf shoved all the teddies in a basket and took them away again. Eh? That's right, the kids don't get to keep the bears. Nope they have to buy the bears. If they want to buy the bears they wont be getting the ones they made either. This was my first Negative.
Meeting Mother Christmas
After the elf workshop the kids were ushered out to head over to the next Yurt to meet Mother Christmas. This Yurt was even more impressive than the last one. I was starting to think about booking a stay in the summer when all the Christmas shit is over and done with. Then my mind started to stray and it suddenly dawned on me that loads of couples had probably been shagging in these Yurts haha ffs.
Blocking the thought of random people shagging in a Yurt that your child's currently decorating a gingerbread man in (NOT AT THE SAME TIME) was pretty easy after getting distracted by the children asking Mother Christmas lots of Questions.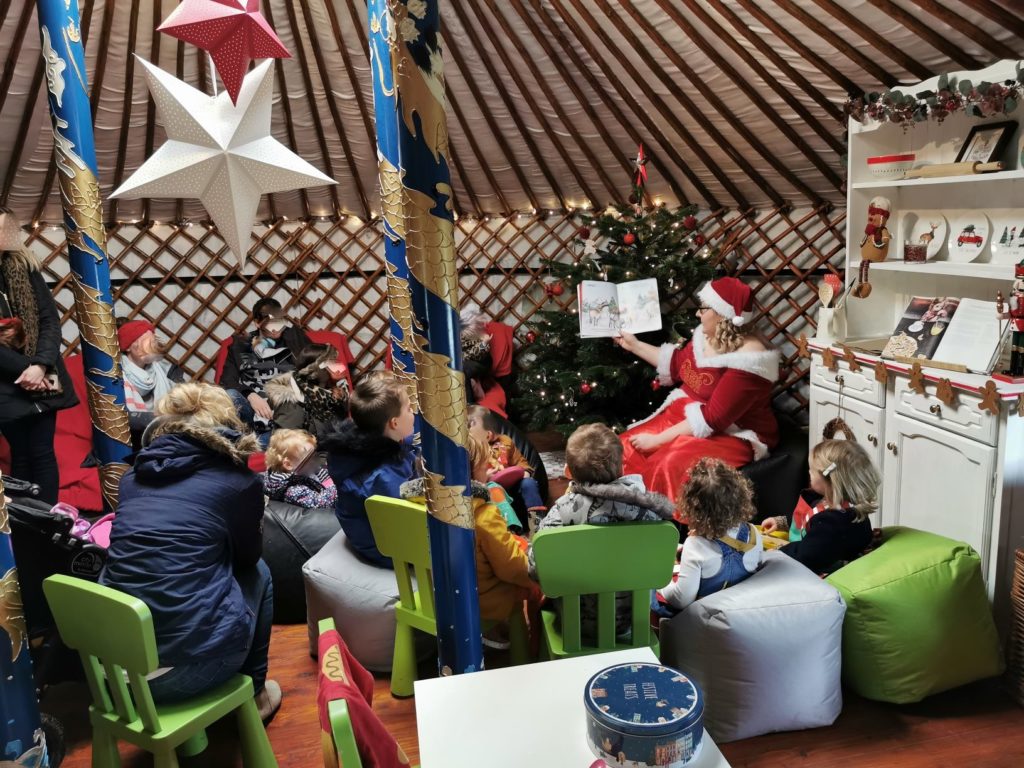 One child asked if the north pole had toilets, Another child asked if the north pole has tablets. My child? ARE THERE GUNS?!?!?!? What the actual fuck. My head retreated into my body like a fucking telescope as the whole Yurt went quiet. Thankfully Mother Chrostmas grabbed that awkward silence and sprinkled some Christmas spirit on it and said yes toy guns like Nerf guns etc. Phew she saved us and I could feel my arsehole relax again.
After the gingerbread decoration all the kids gathered around Mother Christmas on the beanbags while she read them a story. I was shocked at how all the children (Including my own) sat still. Whether it was the gingerbread men they were eating or the story I will never know but at least they were behaving. The adults we all given a teeny tiny ginger bread biscuit (savour it because that's all you'll get for free on your visit)
Street Food And A Post Office
After Mother Christmas it was time to head down for the final leg in Limes Farm Enchanted Christmas. At the beginning we were told what time we were going to see Santa. Our slot was 1.10pm. The time now was 12pm. Needless to say I was shitting it. It was cold, Windy and I 2 crazy arse kids to try and entertain for over an hour. My mood had suddenly dropped out of my arse.
At the bottom there's street food. Aka a gazebo with pizzas, drinks and snack while you wait. Not a lot of seating but i managed to grab a bench while the husband bought us a tea and the kids a drink. We personally didn't bother buying any pizza's so I cant comment on of they were nice or not. The wind at this point had picked up and i can at least now say I've been slapped in the face by a gazebo. Husbeast and kids found this very amusing.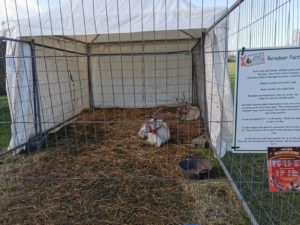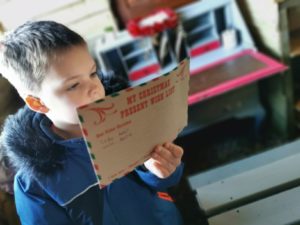 At the bottom there is a shed that has been turned into a post office for the kids to write their list's and make a wish to either put on the wishing tree in there or take home. I took 2 empty one home because the boys just wanted to run round like nutters instead.
There were 2 reindeer at the bottom next to the food gazebo. I cant say that i was impressed with their cage. I totally understand the need for a holding pen but it wasn't very pretty. It was just a few builders metal panels. Didn't make it look very festive anyway. The kids 100% didn't notice though and Elliot loved them.
Time To See The Hairy Guy And His Big Sack
Next thing I know our names were being called. It was our turn to see Santa I think maybe they could tell we wouldn't be able to keep the boys still for a whole hour. Either that or they were ahead of schedule I don't know. Either way I wasn't complaining. In we went.
The Yurt was huge and set out almost like an office with Santa at the back on his arm chair. He exchanged words with the boys and gave them each their gifts. Although his beard wasn't real he was still a nice Santa and Clark chatted well with him while Elliot looked like he was weighing him up to mug him.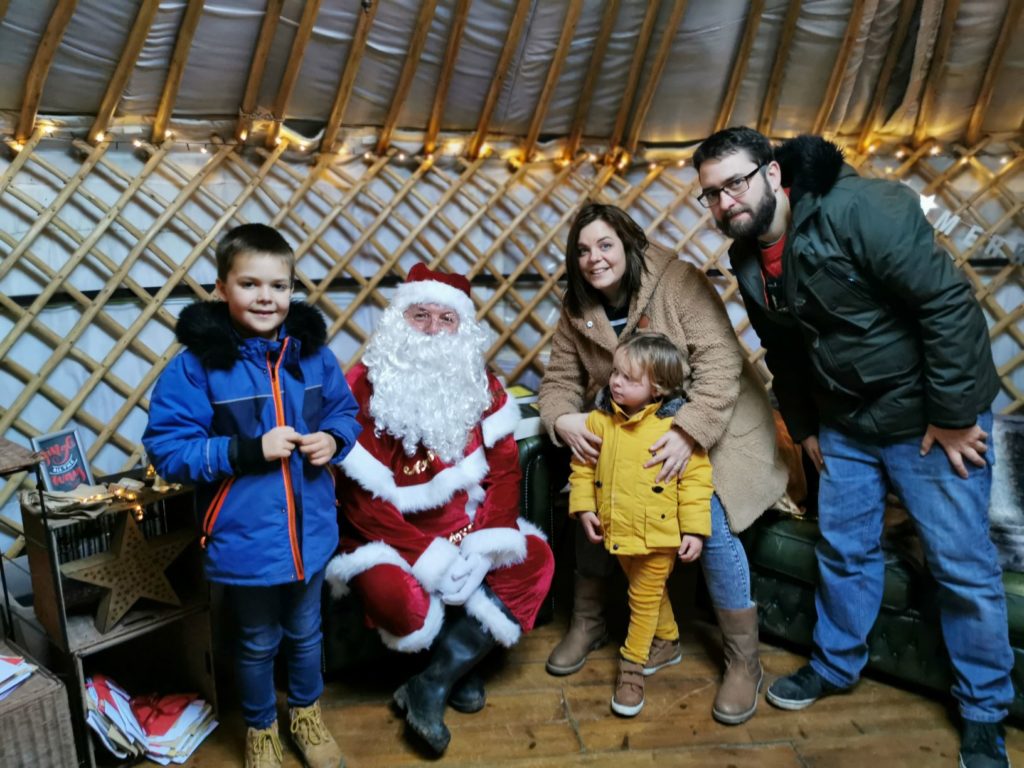 We all had our photo take by the elf that comes in with us nice touch (Just on your phones) and then we left. The kids were buzzing and Clark especially had an amazing time.
We were given 2 teddies which we would have bought anyway because Clark was begging for it ever since he'd made it. I still cant help being pissed that it wasn't the one's they'd made themselves in the workshop. I also think that the teddies should be given free with the ticket price even if it means adding that cost on to the tickets. This will save any embarrassment of parents having to say no to their kids.
Pro's And Cons
Now this is where I'll be honest and at times brutally. I have taken into account that this is there first ever year so everyone is still earning. Hopefully with enough feedback and constructive criticism next year will be bigger and better.
I'll kick off with the con's.
My biggest pet hate was the teddy. It should be free and it should be the one they make in the elf workshop. It would be nice for them to take the teddy around the rest of the experience with them.
Parent's and under 1's should not have to pay £5 each. Or if adults do at least give them a free hot drink or glitter up their faces. Do something because otherwise you're just paying to walk round yurts in the freezing cold.
The street food area was pretty naff
The reindeer enclosure could have done with being a bit more friendly looking.
Outside the Yurts could have been more festive and even given a bit of a clean (overly picky maybe)
like they do with the Easter hunts make a Christmas hunt along the walk through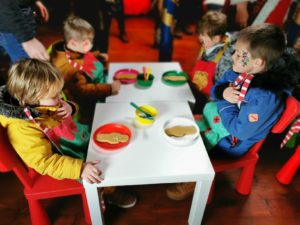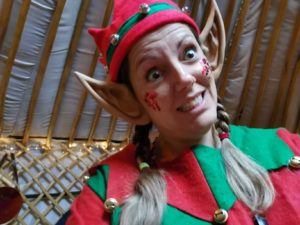 Pro's
The staff were all super lovely and friendly
Inside the Yurts were really lovely
The Book gifts from Santa were decent books not shitty ones from Poundland
The whole experience wasn't too long or dragged out.
We weren't rushed during our time with Santa.
It's different to anything we've done before.
Looking back its pretty 50/50. I did speak to a couple of other parents I bumped into while we were there and they absolutely loved it. I would love to hear other peoples experiences too.
Conclusion
Bottom line is the kids loved Limes Farm Enchanted Christmas and that's what they've set out out achieve. However I'm a strong believer that if you want people to come back then you need to look after the adults to. This is the area I believe they seriously lacked in. It may not have even been mentioned if the parents were free but when you charge an adult you have to be prepared to do something for them.
I really hope they do it again next year and fine tune everything. They need to make the whole area a bit more festive and polish off the rough edges. It was a great first attempt and they should be proud of what they've achieved so far.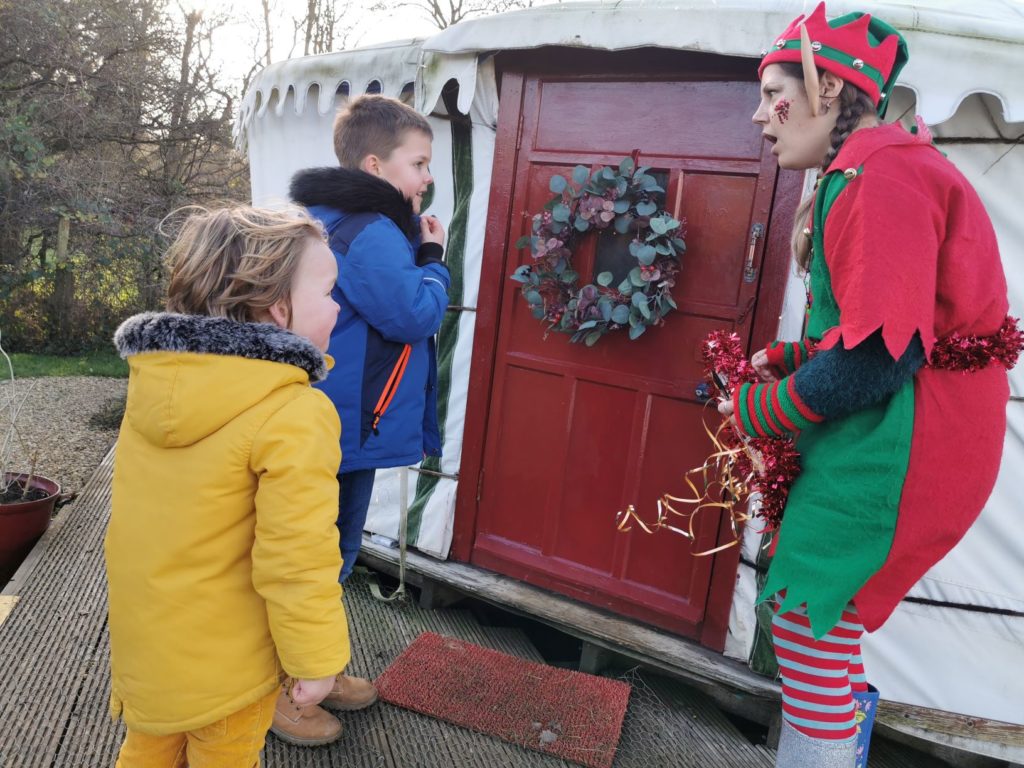 Then it comes down to would we go back? Kids say yes me and the Husbeast say no. Well unless next year it gets changed up a bit anyway.
I love limes farm and its great that they've put this on. However its not the best nor is it value for money yet. I understand these things aren't cheap but when you have so much competition out their you've got to pull out all the stops. I don't think any child would have a bad time though and I think next year will be even better.
AOB
To have a look at prices and book your own tickets you can have a look at their website HERE
If you'd like to see my review of the cafe and treasure hunt then have a gander HERE