After the massive success of The Polar express in Telford it seemed like a no brainer to go again. Only this time we nabbed some tickets for the Polar express Birmingham. It was closer so we wouldn't have to faff about changing trains etc and we'd be home in time for bed. So here you have it The Polar Express Birmingham Review 2019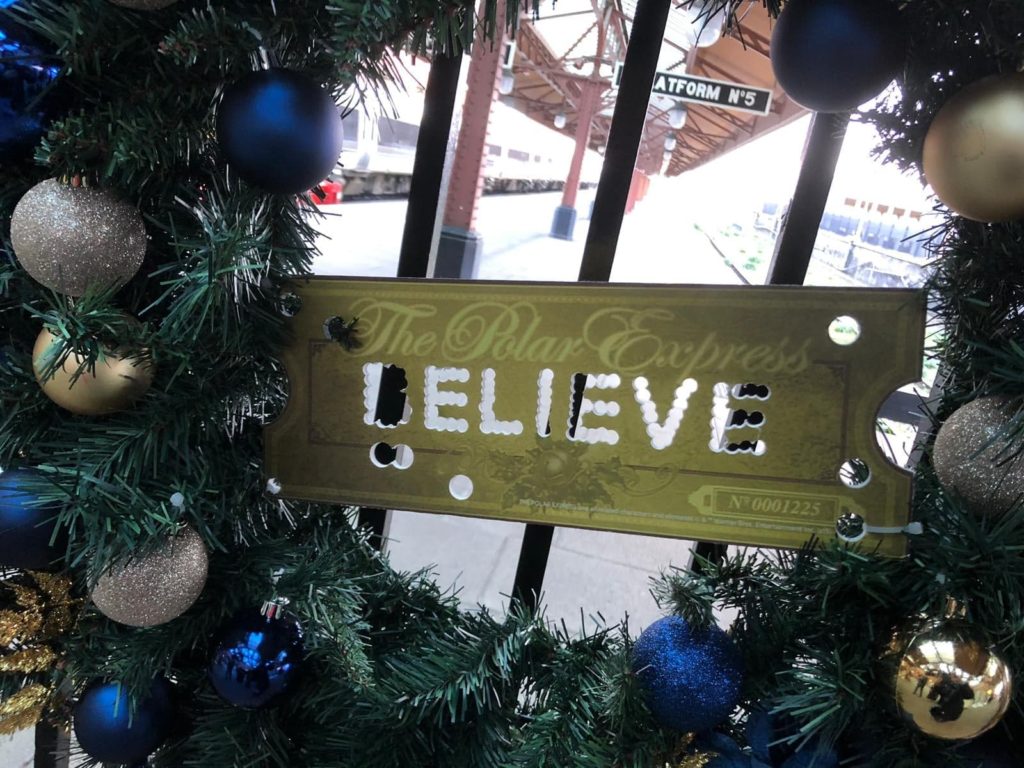 The Polar Express Birmingham
As lots of you will know tickets for the polar express go on sale in summer at some point. They sell out quick too. Thankfully I have a very organised friend with a son that also has a love for trains.
At about £50 a ticket its not cheap either. The difference between Telford and Birmingham is that the Birmingham is all one set price…..the most expensive. Telford you have a choice and could spend less and not have the merchandise.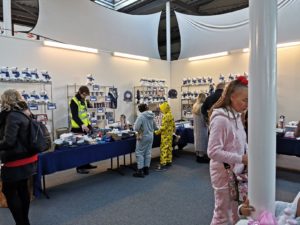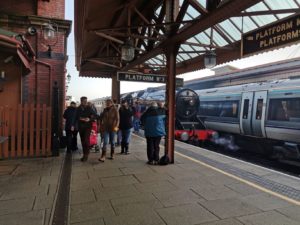 I've seen already a fair few people have been to the Birmingham Polar Express and loved it. That's brilliant and i'm sure loads more will enjoy it too……if you haven't been to the Telford one the previous year that is.
Without a shadow of a doubt The Polar Express Telford pisses all over the Birmingham Polar express. Its completely impossible for me to not do a comparison. I honestly thought it was going to be the same/similar to last year. Basically I was wrong. Even the kids noticed the difference.
Telford Vs Birmingham Polar Express
We arrived into Birmingham moor street (We travelled by train) and headed to pizza express for lunch with the boys first. That's when I got a bit more information and realised that we'd be boarding the polar express at Birmingham moor street later again.
I probably should have realised then that it wasn't going to have the same magic as Telford……There was next to no decorations. A few posters and a wreath. Lunch done and we headed back to moor street. I perked up a bit when they directed us to the holding area for the polar express. I thought this was where the magic would begin. Wrong it was a room with a couple of trees and a few bits of merchandise in a shop.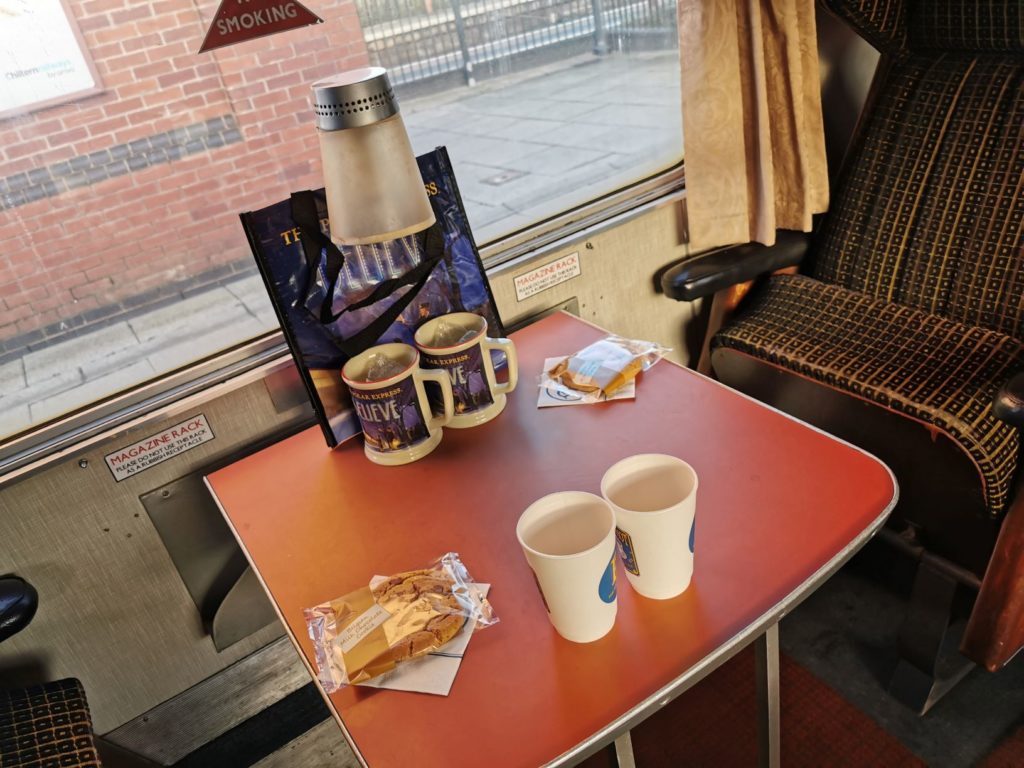 Last year the boys had a model railway village to watch. There were food stalls a gazebo with entertainment all while we waited. Birmingham gave us a queue to stand in while the polar express arrived and the previous passengers got off. Nothing to stop the general public from walking over and having a look, taking photos etc.
In Telford we had the whole station to ourselves. We all waited on the platform where a big screen with the film was showing opposite, Music playing and then as if that wasn't magical enough they made it snow. The boys were soooooo excited. Then the polar express made its grand entrance, we all boarded and from that moment we we're transported into the film.
On The Polar Express Birmingham
Finally found our carriage, Took us a while because they don't do their a,b,c's in order haha. The one thing I will say though is that once we boarded the carriage it looked lovely. Each table had their own set of mugs, cookies, bags and a takeaway cup for the hot chocolate later on. The carriage itself looked in better condition than the Polar Express Telford.
Once we were all sorted a lady came over and introduced herself as the chef that'll be looking after us for our journey……..that was the last we ever saw of her again. Haha. We were entertained by chefs for this journey they did a couple of dances and a couple of songs.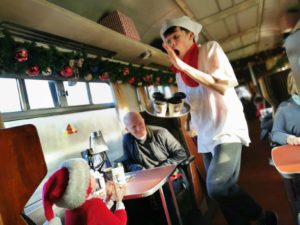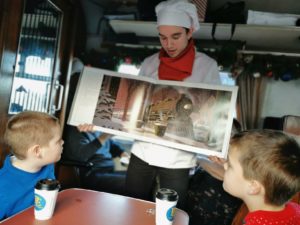 They were good with both the boys and when they read the story they let the boys have a turn each of turning the page. There's no doubt that the staff were fantastic and they did their job well. The train was chugging along nicely and then it came to a halt and stayed there for some time until it was time to head back again. Bit shit really.
There were so many gaps in the entertainment for the Polar Express Birmingham which in Telford there were none. They were singing, dancing, talking for the whole time. The adults were having as much of a good time as the kids. This year there were a lot of spaces to fill. They did try to fill it with a fucking saxophone attempting to play the tune. In all honestly it sounded like she'd only picked up a saxophone a week earlier. It was cringe worthy.
Santa On The Polar Express
Now it was time for Santa (it had come round really quick, almost rushed) Last year we saw Santa outside the train waiting to come on. Along with a village made out to be like the north pole. Here you get to city the city of Birmingham and it high rises.
Santa looked a bit shit tbh. Just looked like a pub regular who drinks John smiths after john smiths. He did have a real beard even if it was only grey. To be fair he was really nice and chatty.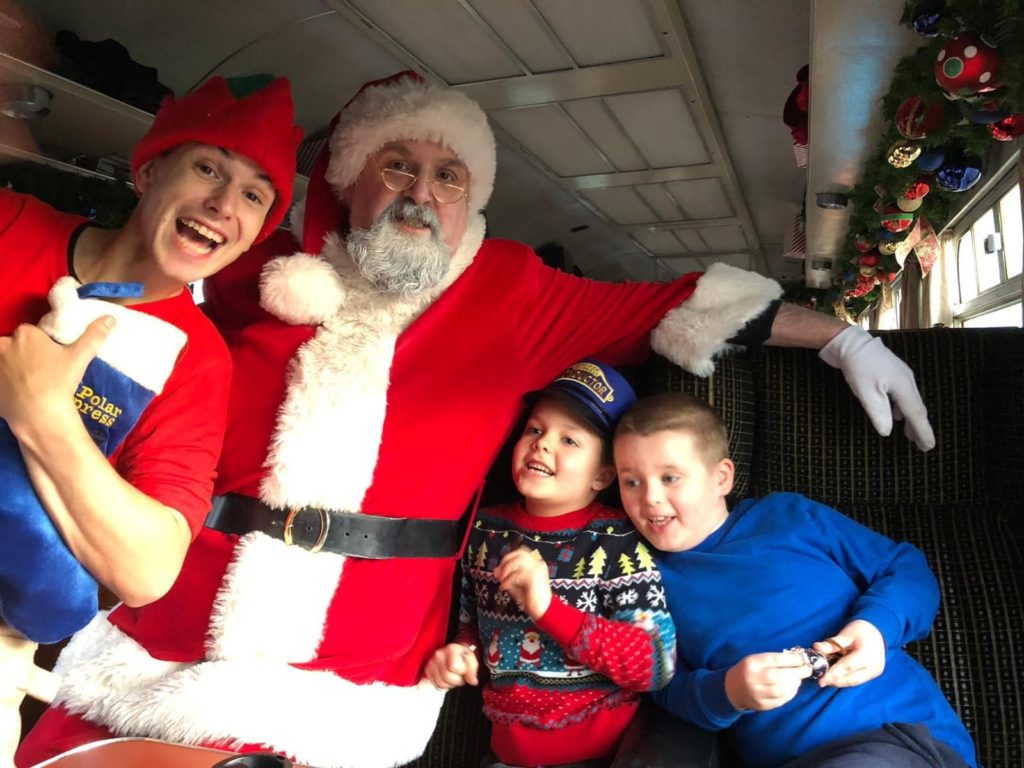 Santa handed out the bells. We have last years on the tree they're lovely and have the yea on them. I was looking forward to having the 2019 ones……Wrong again. They have Obviously tried to save more money and not bothered with engraving the year on this year. Even the engraving of the polar express was in a poorer quality.
Then it was time to head back so the train started moving again and the conductor who we hardly saw came and stamped the tickets. I know I sound petty but even the stamping of the tickets were better in Telford as they did the initials. The conductor was rubbish in comparison. In Telford each carriage had their own conductor. Birmingham seemed to have just the one for the whole train.
Final Stop Before Home
The train pulled in and we all jumped off. Had a couple of photos then literally ran for our train home. Shit all magical ending like last year.
I cant help comparing the two. Last year afterwards they had set up buckets with fake snowballs for the children to have snowball fights. There was so much to do afterwards in Telford too. Birmingham just seemed like a cattle show. Slapped us on our arse on the way past and showed us on our way so they could herd the next lot on.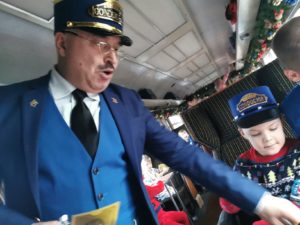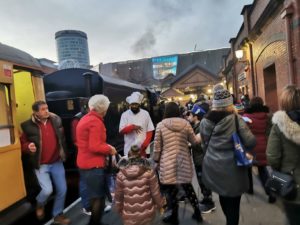 We asked the boys which one they preferred. I was expecting Clark to say this year because he always goes with the present and hardly the past. However they both without even thinking about it said the Telford one was better. I can completely agree with them too.
Conclusion
I cant hide my disappointment about the Polar Express Birmingham. Its really hard to tell if i'd have been this disappointed if we hadn't been to the Telford one first. Birmingham had some big shoes to fill and they failed pretty spectacularly.
Last year even I walked of the bloody train believing. This year I walked off wondering if we'd make the next train home so we wouldn't have to piss about in the station any longer than we had to in the cold.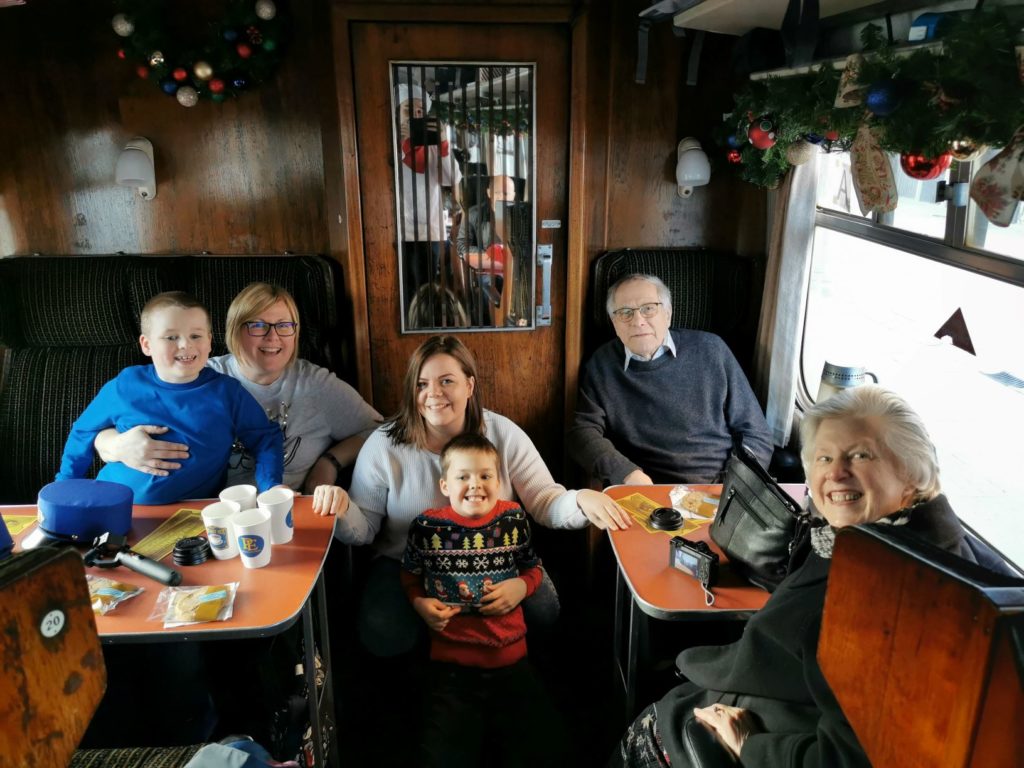 It wasn't worth the money at all. I would tell anyone that asks to just not bother with the Birmingham Polar express. Save your money or if you can go to Telford. Its bigger, its better and its cheaper too if you want it to be.
We still had a great day mostly because we were with friends and I couldn't ever insult the chefs on our carriage because they did such a good job with what they were given so thank you for that. Maybe my expectations are too high these days but so far every Christmas experience has been a bit shit. Its becoming too much about the money and less and less about the magic.
AOB
Have a look at my review of The Polar Express Telford HERE
For more information about the Birmingham one then you can see their website HERE