Well what can i say about this. Honestly has to be the highlight of the festive season so far. Apart from Christmas day itself, i doubt anything will knock The Polar Express off the top spot.
It was a long old day to get here. The tickets were booked back in April by a friend for the one in Telford. It was supposed to be a big family affair for them. Then i muscled in, stole her huband's tickets and made sure me and Clark gate crashed. To be honest her Husbands a moody git he probably would have moaned the whole time anyway. I did him a favour.
From the crack of dawn Clark was a bundle of pure energy that didn't falter until we finally got home at 9.30 pm, 6 trains later. Little tip there's a polar express in Birmingham. In all fairness i heard that one wasn't as good as the Telford one as it was their first year though i could be wrong.
Amazing staff
We got there about an hour early. The staff from the off were absolutely fantastic. I could not fault a single thing at all. That in itself is a bloody Christmas Miracle.
As we were so early one of the staff ushered us out of the sight of the earlier train so that it didn't ruin the surprise for the kids when it was our turn. They put us in the big tent which you're supposed to go to after the Polar Express. This worked out really well for us as we didn't have time at the end to have a look round.
Once the train before us had left he showed us up to the main area to wait for our train. This area was full of food, drinks and even entertainment. we were so thankful of the shelter. The weather was absolutely shit and cold too. It's so much colder up North.
Model railway
The best bit in this area for Clark and his Friend was the model railway. They spent pretty much the whole 45 min wait just in that room. It was brilliant, the staff manning the model railway were so good with them. Answering their 100's of questions. Turns out he had lots of grand kids so was used to it.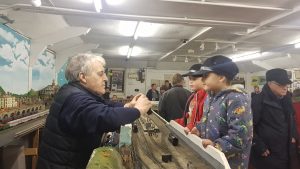 We then got told to head down to the station. Clark was ready to burst. If i could somehow bottle up that child's energy i reckon i could put the Mexican drug lords out of business.
We showed the tickets and were told which section of the station to stand on. Luckily ours was under shelter because it was pissing it down.
They then put the film on a big screen opposite. This wasn't too easy to see as we still had a bit of day light left. Could still hear it all though.
The Polar Express
Then the Polar express music started and the snow started to fall. Me being the right knob that i am thought it was real snow. It took Clark to point out that it was in fact bubbles. In my defense it was cold enough to snow. I thought i was going to lose my toes to frost bite at one point.
Then we saw it the crowd went wild. The smoke started billowing upward in the distance. It was the arrival of the Polar Express. The kids were mesmerized and crazily excited. I'll admit so was i the whole set up was pure magic. Seeing their faces made me shed a tear. Here was me thinking that my tear ducts had dried up from lack of use. Nope the polar Express ended that drought.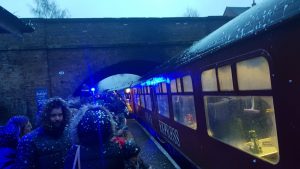 We headed onto the train and it was like walking into the set. It was lovely, The staff were in their roles from the off and never broke out of it the whole time. Chefs were amazing with the kids and got them even more excited.
We'd paid for premium tickets so had mugs waiting for us when we got on. Pretty cool mugs too and for once it wasn't just the kids that got the gift, we all did.
The Polar Express had started, Music was playing and everyone was dancing. My favourite part was the Hot chocolate song and dance. They gave us each a hot chocolate and a cookie.
The Conductor
The Conductor was brilliant he had me in stitches and nicknamed me cleavage. I stupidly wore a slightly revealing top. He had a cracking view every time he came past. I've made him sound like a bit of a sex pest. He really wasn't. He could tell after a while that we were the type of people who wouldn't get offended by a joke. I noticed he was different with every single table which made it very personable.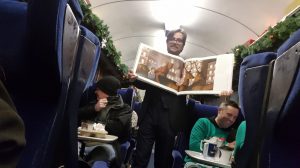 When the Conductor came for our tickets he stamped the boys initials into them. They were so chuffed. What i really loved was that he did it for the adults too.
Clark and his friend spent a good amount of their time watching the show and using the window wipers to defog the windows. We had to steal the one off the opposite table to stop them squabbling over who's turn it was next. If only i'd know wiping a window would bring so much joy. I could have saved my self some money at Christmas and bought him a window cleaning kit. Happy child, Clean windows = Happy mum.
North Pole
Along a section of the line they had decorated some of the outside to look like the north pole with Santa waiting etc. Santa boarded the train and made his way down with his helpers. Taking his time to talk to each child and give them a bell. This was no shitty cheap bell. It was a polar express 2018 decent quality bell. The boys were made up in their engine driver hats.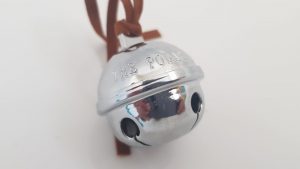 I haven't waffled on too long about what goes on in the Polar Express you can see it all for yourself how excited the boys were in the video. It also leaves a Little bit of mystery if you decide to do it next year. Or if you have tickets for this year.
Conclusion
I would whole heartedly recommend the Polar Express experience for any child that loves trains and the film. It is 100% magical and the staff at Telford Steam railway have really done themselves proud. We will be going again next year, I want another bell. Maybe i'll be really brave and take Elliot next time too. We might even give the Birmingham one a try.
I loved how they involved the adults as much as they involved the children too. So many places forget about us oldies. I know its all about the kids but a happy parent is a happy child when it comes to things like these.
Links:
Have a look at their website and make a note of it for next year. CLICK ME
If you're still looking for ideas this Christmas Check out some more ideas HERE
Video and photos:
If you'd like to see the video please do so here: https://youtu.be/JNQ0fDZaJTc
Feel free to have a nosy through some Photos too. The older couple in the photos are Clark's Friends grandparents who came along too. Poor things i'm pretty sure Clark broke them. At one point they looked at me with shock and ask me if Clark ever stopped……….That would be a NO.