Another treat for Clark was another day out just the two of us. On the list for today was Mead Open Farm. Its going to be a bit of a mixed bag so brace yourself for some honesty.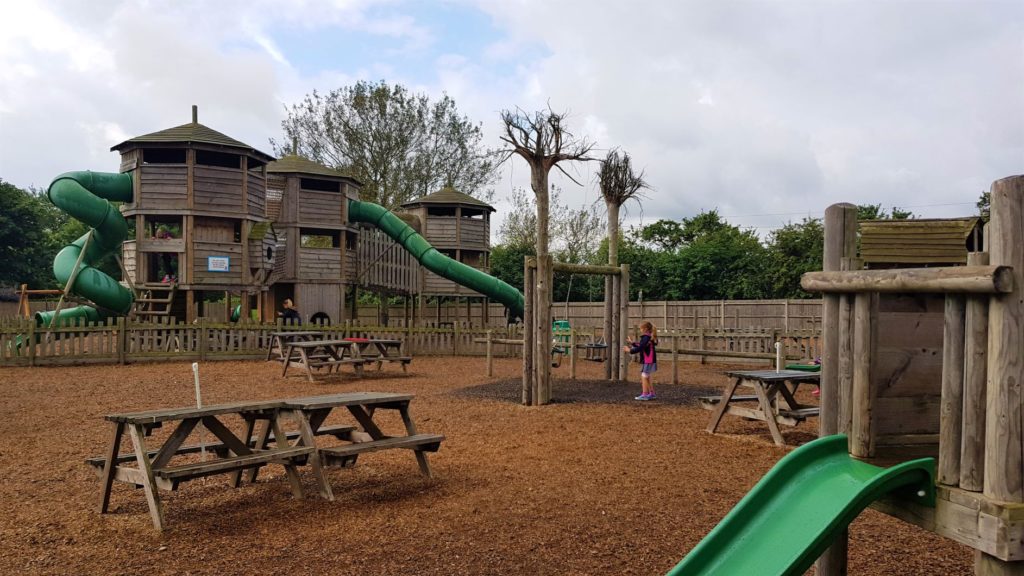 Mead Open Farm
Its a fairly easy drive to get to Mead Open Farm and once you get there you'll hopefully like us have no issue with parking. Judging by the size of the car park though this place must get busy. So it was fairly lucky we got there not long after opening.
Another bonus today was there was no queue which was lucky because i was bursting for a pee. There we were stood waiting in the small queue and then i saw the admission prices. Now maybe you might not think its expensive but shit the bed i bloody did. It just cost me shy of £30 to get me and 1 child in. This better be bloody worth it especially after visiting west lodge farm park last week and getting 2 adults and 2 kids in for the same price.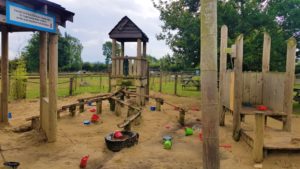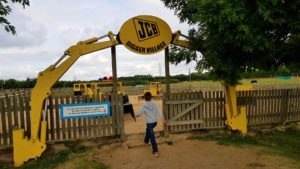 Clark wasn't interested in feeding the animals today so i guess we at least saved on that cost. As we were paying there were a couple of members of staff joking around with the kids. They were in costume and it was all part of their summer of fun. Great touch especially if there's a queue because we all know kids and queues don't mix well.
We headed in and Clark was instantly excited. Don't blame him really because as soon as i clapped my eyes on the outdoor play area the sting of £30 a few mins earlier was fading (still there though)
What We Got Up To At Mead Open Farm
Thankfully Clark was in a mood for investigating before making up his mind what he wanted to do first. So off we went through the farm buildings (ignoring all the animals) to see what we could find.
Surprise surprise he found the Go karts. Unfortunately they didn't open until 11 am which was fine we didn't have long to wait. However this did mean that i had to endure 2 games of Crazy golf (thankfully free of charge). Not going to lie i hate crazy golf but Clark loves it and today was about making him happy (and me miserable so it would seem.)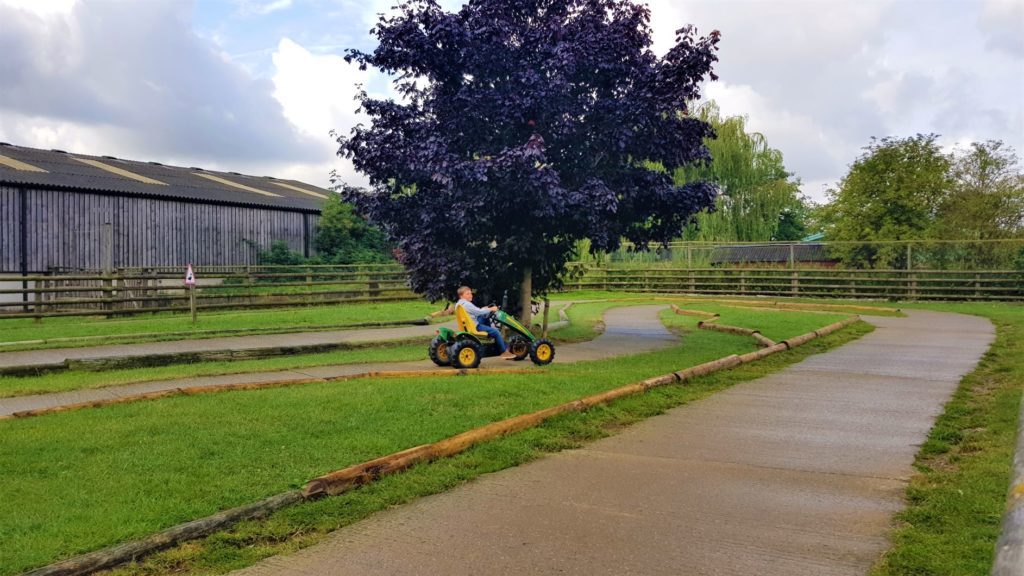 After what seemed like an eternity in hell (wasn't that bad really) it was time to head over to the Go karts. There is a minimum height requirement as with a few other bits too but luckily he meets all of them because he's lanky…..Does not get that from me who has more of a resemblance of a Shetland Pony.
Clark lovessss go karts. In fact i could probably have left him there all day riding round in circles cutting people up and ramming other road users off the road. Ok so he may not get his height from me but it sounds like hes inherited my driving skills. They've nicknamed me the bin tipper down my road. I guess its a good way to make the neighbors collect their bins faster though.
More Activities At The Farm
Normally when we enter farm parks we're given a map but not today so we were kinda going around a bit bind. Normally i do my research before visiting somewhere but not today. I should have though because looking back now i realised we've missed out something Clark would have loved.
Directly opposite the Go Karts are the high ropes. At first i dismissed them because i really didn't want to fork out even more money than i already had. Yep I'm still bitter despite whats on offer.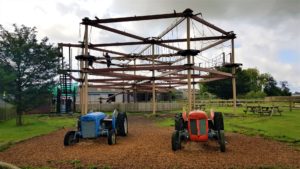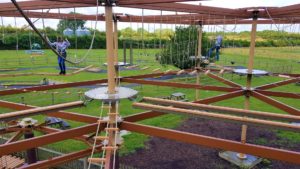 I managed to drag Clark off the go karts and head over to the high ropes. Now Clark's tall enough to go up on his own. Thankfully he wouldn't go up on his own and dragged me up with him. There was a moment when i was worried that the harness wouldn't fit my fat arse as the poor young lads were strapping me in. After we were all strapped up off we went.
Let me tell you now. I feel sorry for the person using the harness after me. I swear i soiled myself. Its not called the high ropes for no reason. Its fucking scary and i had to pretend i wasn't shitting myself for the sake of Clark. Didn't work we got over one area ok then he was halfway through the 2nd section and he froze and started crying.
Near Death Experience
FUCKKKK i couldn't bloody reach him it was on a wobbly plank and if i stood on it he'd have gone flying. So now i had to try and calm him down and coax him off without falling. While I'm doing this some other kid behind me starts panicking so now i have to help out 2 kids. The whole time while hugging a post for stability.
My talking worked, Clark was on the move again the other kid had to wait. Yeah he was younger but blood comes first right. Got Clark on the post and now onto helping out the other kid. At this point his dad had arrived to try and help.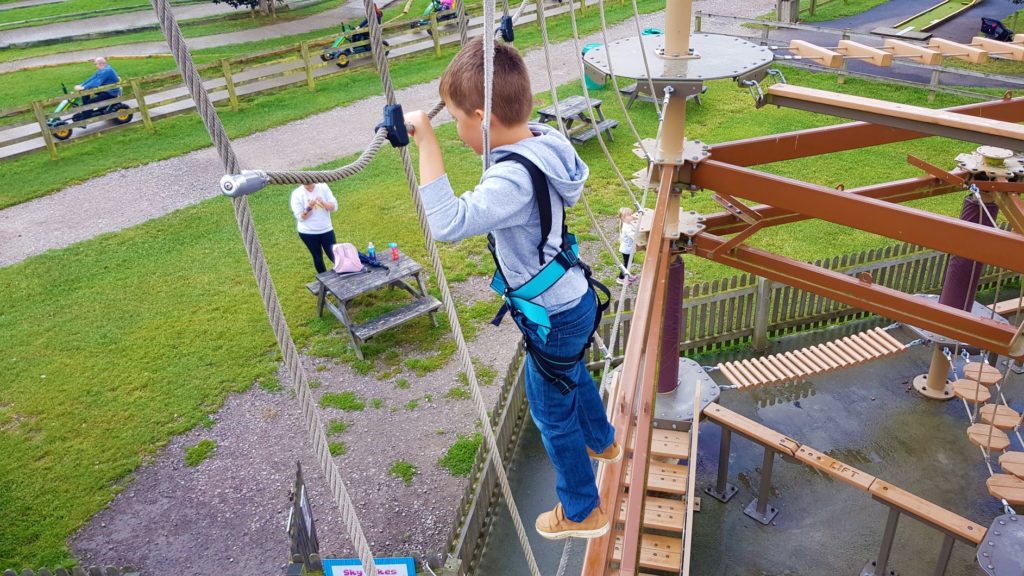 Got the new kid over and now all 3 of us were stuck on 1 podium hugging the fuck out of it and not looking down. Had to navigate the harnesses round the rails and it was like a game of Crystal maze. Thankfully i loved the crystal maze and had us untangled in no time.
Managed to get all 3 of us off without dying and back down the steps. I think its safe to say Clark (and myself) aren't ready to be those active mother and son duos yet. we'll stick to go Karts and Cakes until he's a bit older. Pretty sure I've Traumatized Clark for life now anyways!
The Animals At Mead Open Farm
Like with most farm parks they tend to have farm animals and mead open farm is no different. Apart from maybe the way they're kept. They have a shit load of goats and a shit load of sheep too. The ones we saw were all in huge pens as opposed to several smaller ones.
Saw the bottle feeding of the lambs and it looked like carnage we avoided that like the plague and headed to the pigs. Now the pigs place is pretty cool. You head up and see them from a height looking down. You can even feed them from a tiny tractor that you wheel along and it tips the food in. Might start doing that with my kids too.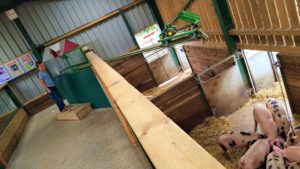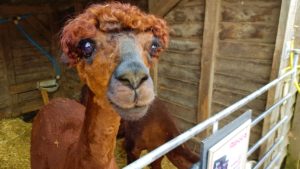 The bit Clark liked the most was the pet barn with the rabbit petting. He really wants a rabbit but our cat Panthro would either eat it or shag it so its a no for now. By the bunny barn is the Alpaca and i loveeedddd feeding these. They're the most friendly ones we've come across yet and one of them was the spitting image of Mick Hucknall.
They have the usual outdoor paddocks that you can walk round too but Clark was in no way interested in walking and i couldn't really be arsed with the argument about it either so i just looked from a bench near the Go Karts that he was on AGAIN.
More Outdoor Fun
There really is loads to do for the kids outside. You'll find the usual bouncy pillows, one for under 5's and one for over. There's a rock climbing wall by the high ropes (we gave that one a miss after the trauma of the high ropes).
There are tractor rides also included in the ticket price. These run at set times however Clark wasn't really up for a tractor ride and chose to have another game of crazy golf instead (Losing the will about now). There is also a cool sand play area with water play too so take some spare clothes.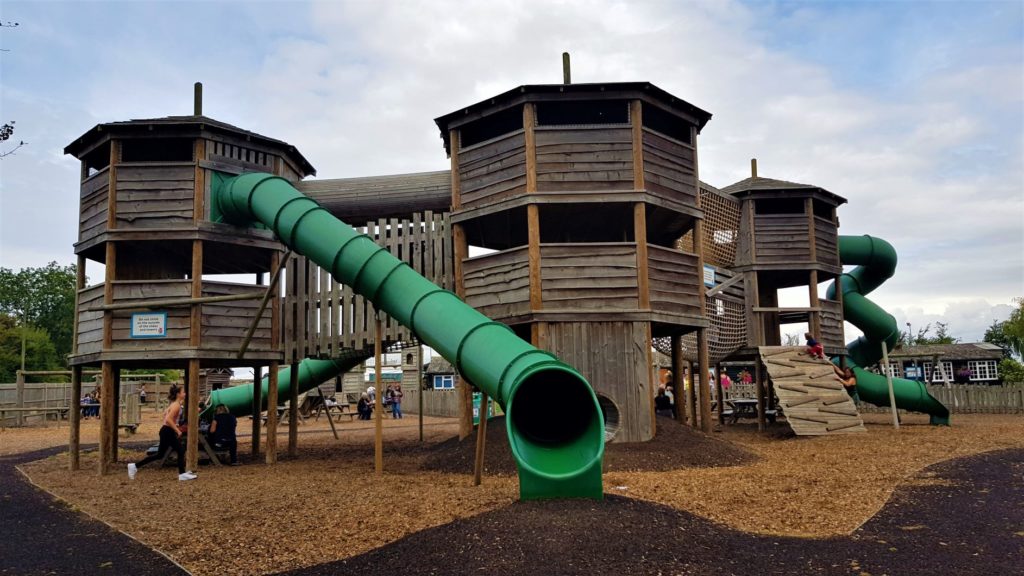 Next up is the outdoor play park. Now the baby is a beast and Clark loved it. He soon found a friend to run round like a nutter with and i sat down and chilled out for a bit. The play area has an older section and a younger section with slides coming out of every orifice. There's a fair amount sheltered too for when the weathers a bit shit.
Right next to the outdoor play park you will find the go Karts for the younger kids. Surprise, suprise this is where Clark wanted to spend most of his time. Unlike the bigger Karts this one wasn't manned. A few of them were broken and its down to the parents to try and make sure the kids share. As usual not all parents can be arsed so it was a bit of a ball ache.
Soft Play
Like with a lot of farm parks these days. They tend to have soft plays. Erghh now i hate soft plays but they are a great addition to anywhere in case of the weather. Now the boys are a bit older its less stressful too because i can generally sit on my fat arse and listen out for their screams of pain.
The soft play in Mead Open Farm is pretty cool. Loads of slides including those shit scary drop slide ones and a super fast wavy slide that i swear i got whiplash from. What even better is that the slides are manned by a member of staff at the top.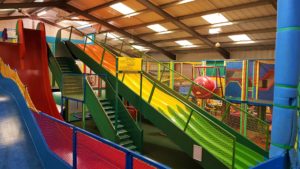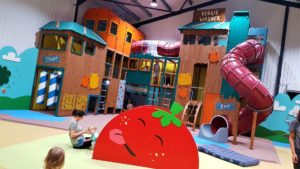 There are several areas for all ages and they do seem to be a good enough distance apart to stop younger ones from straying into the main area which i though was good.
My favourite area indoors was the play park bit. It looked fairly new in comparison to the rest but it was great. With magnetic ball runs (shame no balls though) and even a little role play pumpkin house which was super cute. Elliot would have loved this area the most I think.
Cafe
Now i'm still a bit miffed off at the entry cost and i'd packed a picnic. However you cant eat your picnic in the cafe which is where the soft play is. I decided to busy some lunch instead…..Stupid idea!
£4 for a bloody chicken Cesar wrap (a pre made one in a packet) the tea was that posh shit so they can just overcharge too when a Tetley's would have done the job. The cafe is totally overpriced. There's no 2 ways about it yes if you're a member then you get 10% off but its not worth me being a member. The cost of the food had pissed me right off and i think it was around then that i decided that we wouldn't visit Mead open farm again.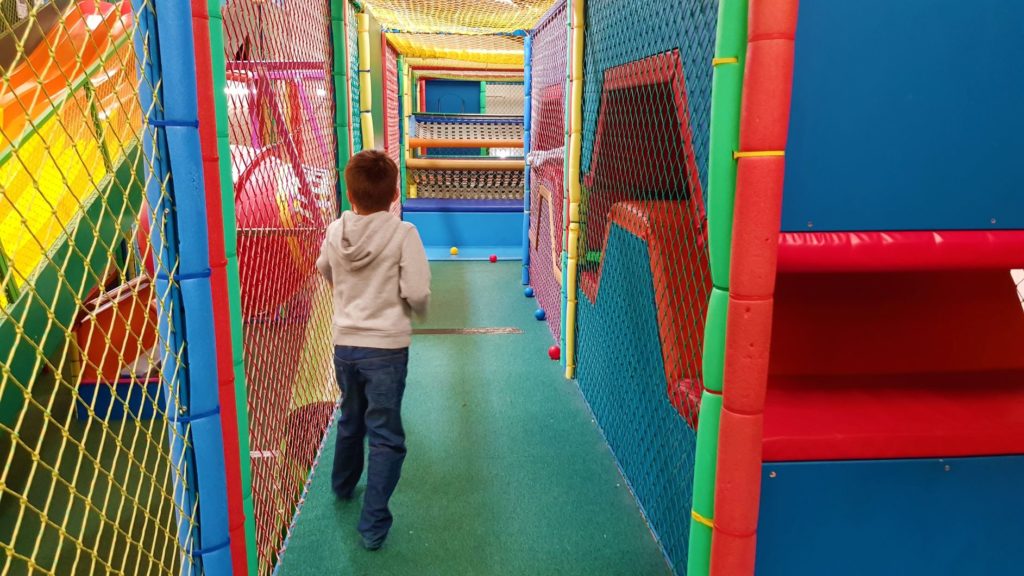 There were loads of tables and seating however as you would expect. Around lunch time it can get busy. I did like how the different aged areas all seemed to have their own section to sit at.
Yes although the food was expensive there was a decent amount on offer. Little tip though. Don't bother with the honeycomb tiffin it was shit. Trust me I'm an expert cake eater.
Bit Pissed Off
I don't think it helped that the week before we'd visited west lodge for half the price but with double the people. It did get me thinking can the cost of a day overshadow how good you think a place is? My answer was yes and Mead open Farm is a prime example of that. That's not to say the kids wont enjoy it though.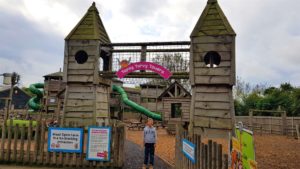 Yes they had lots of activities, Yes they staff actors and the even had a foam party at 4pm which i really wanted to stay for but after being there for hours on end doing the same things i couldn't bring myself to stay any longer.
Instead we headed home and i bribed Clark out with the promise of a new teddy fro the gift shop. Thank fuck it was only £3.50 though because i was seriously starting to lose my shit.
Mead Open Farm Stats:
Distance from Bicester: 50 mins
Sat nav: Stanbridge Rd, Billington, Leighton Buzzard LU7 9JH Click to load sat nav
Wheelchair friendly: Yes
Equipment upkeep:8/10
Cleanliness: 9/10
Facilities: Everything you need.
Age range: All ages
Safety: 8/10
Fun factor: 10/10
Dog friendly: No
Pushchair Friendly: Yes
Bikes and Scooters: No
Public transport: Not that i could see. The nearest bus stop is a 25 min walk away.
Conclusion
There is absolutely no denying that mead open farm is brilliant for the kids and they are very well kitted out for all ages. However I personally just cant get over the cost. Yes there are ways to save money. I.e Booking online in advance, becoming a member and I'm sure there are other ways too but it just didn't cut it for me.
Yes they have a few unique activities like the high ropes and the climbing wall but other than that did it really stand out from other farms? Personally I didn't think it did.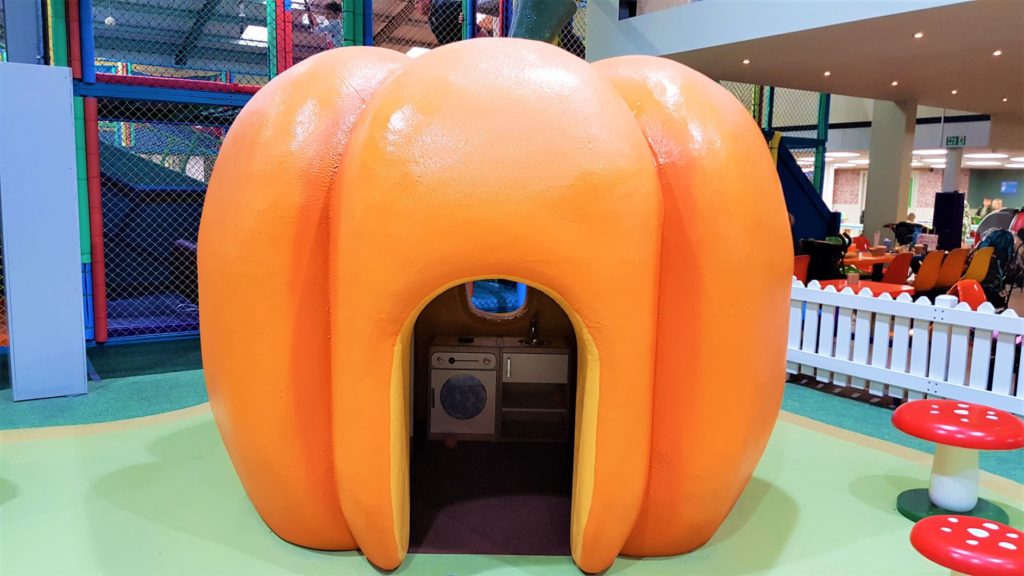 Maybe if we lived a lot closer and had no other choice and we had a membership then yes. But unfortunately the cost ruined it for me and we personally wont be visiting again . I have no doubt in my mind that if you took your kids they would love it and i guess if money is no object then mead will be perfect for you.
For now I'll stick to cheaper and my favourite farm park thanks.
AOB
If you would like to check out some other farm par reviews click HERE
If you'd like to check out Mead open Farm's website you can do so HERE