I know Flip out Aylesbury has been open a while now but basically I'm busy aka lazy. So took the kids Last Thursday straight after school.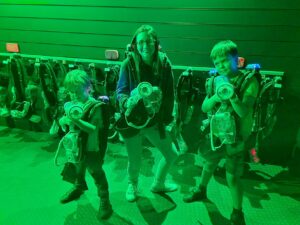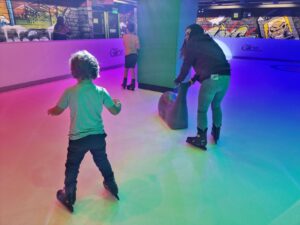 Flip Out Aylesbury
Oh my shit were they excited to go to a trampoline park after school. So imagine their surprise that when we got to flip out Aylesbury there were NO FUCKING TRAMPOLINES!!! Elliot's whole body physically dropped in disappointment (inside I was a bit relieved because that shits knackering) ah well never mind lets see what this flip out with no actual flipping is all about.
Laser tag. The boys loved it, it was a blast and we had the place to ourselves. I'm on about the whole of flip out to ourselves by the way not just laser tag. So if you fancied finding a quiet time straight after school might be your best bet.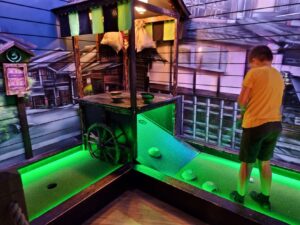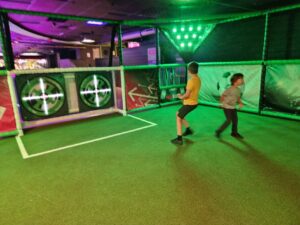 What can you find at flip out Aylesbury?
That's about as far as my excitement went if I'm going to be honest (which is what I normally am) the rest was a bit underwhelming. So here's a list of what you can find:
*Ice rink that wasn't actually ice and none skatable
*Crazy golf wasn't bad to be fair but I hate golf
*Indoor football (could do that for free in the park)
*Bumper cars (not bad but don't get very long)
*Ninja/softplay downstairs was ok but I've seen better for cheaper
*Food was naff
*Service was ungodly slow considering we were the only people in there.
*Staff were nice and helpful in their defence.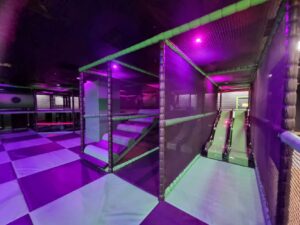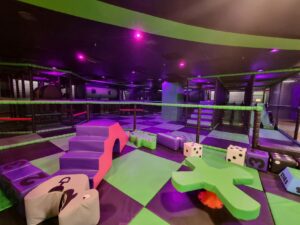 Now these are my points while visiting an empty venue which is cheaper than a ram packed Venue on a weekend or half term. That place will be sheer hell when it's busy. Sod queueing for whatever activity you wanted to. What's even worse is the price. If I wanted to visit on the weekend it would have cost our family (2 adults and 2 kids). £70! Shit the hell right off. There is no way in hell that place is worth that money.
Flip Out Aylesbury Stats:
Distance from Bicester:
35mins
Sat nav: Exchange Street Car Park, 5 Exchange St, Aylesbury HP20 1QY
Click to load sat nav
Wheelchair friendly:
For access yes
Cleanliness:
7/10
Facilities:
No car park so have to use local and walk, cafe toilets
Age range:
All ages
Safety:
6/10
Fun factor:
10/10 for kids 3/10 for adults
Dog friendly:
No
Pushchair Friendly:
Yes
Bikes and Scooters:
No
Value for money :
Bloody rip off in my opinion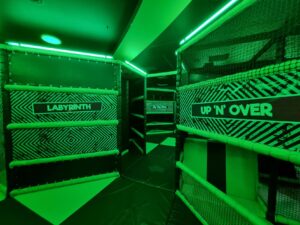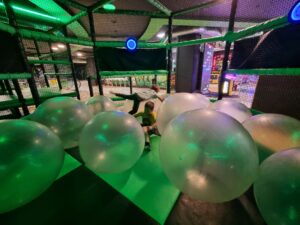 Conclusion
I don't really know what else to say. I was very underwhelmed but what we did take from it is that the kids love laser tag!! I'd much rather pay and visit one of those.
In their defence it's for kids not adults and the kids loved it. However I'm one of those parents that unless you impress me I won't be taking the kids back for that price. I do take the kids to places they like even if I don't but they're normally a shit load cheaper.