Over the weekend we decided to take the kids to Rush trampoline park in \High Wycombe. Seems like a bit of a mission right? wrong. Straight down the M40 and left (basically anyway).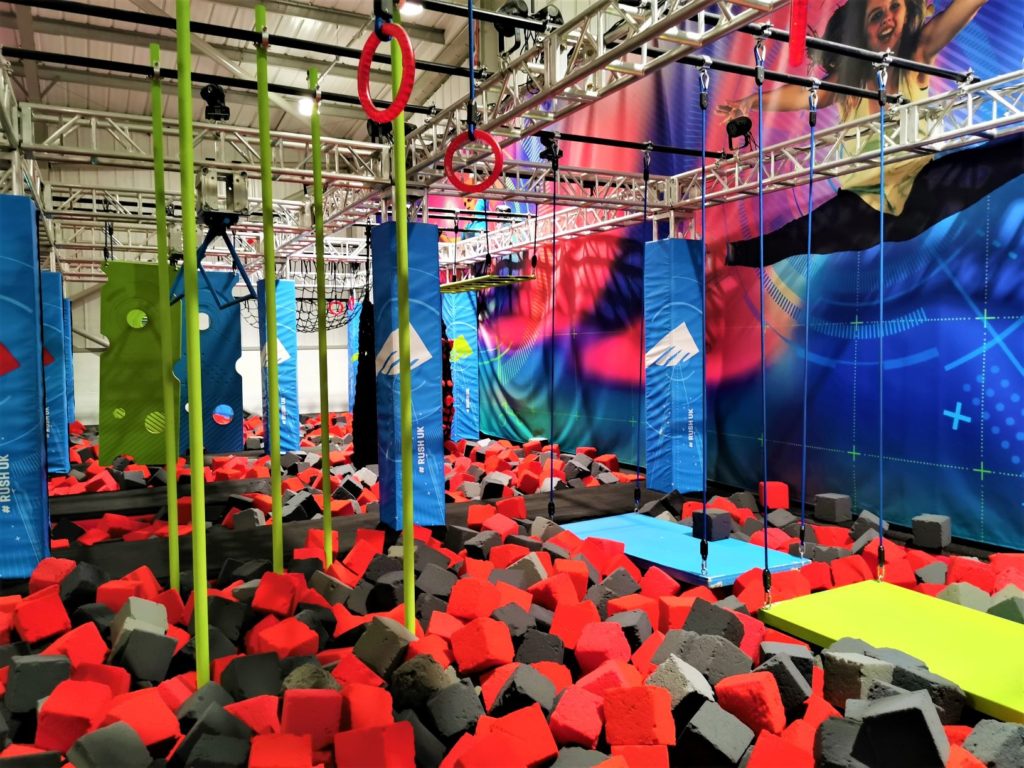 If you have a crap nav like mine it'll probably send you into the wrong side of the industrial estate. So keep an eye out for the world's smallest fucking sign along the road with the word Rush on it.
Rush Trampoline park
We visited on a Saturday and opted for the toddler session which was 9-10 am. Early start for us then. We got there early enough and got a good parking spot. Which is more than can be said for the absolute moose knuckle that parked next to us as we found on the way out.
I'll hit you where it hurts now. It ain't cheap….unless you're loaded or me (gifted tickets for a review). We got the Toddler Jump and play which was £17.50 this is basically jump for 1 hour then head over to their soft play (Ruby & Reds) for another session. By this point you will need gin. You could just go for the jump but its only £1.50 less. Do both and wear though little fuckers out.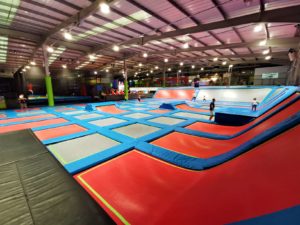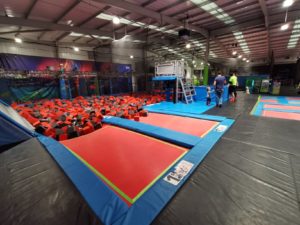 From the moment we walked in the staff were really nice (Not just to me) They actually all seemed to enjoy their job which in itself was a nice change from the usual moody gits in other trampoline parks. Guy at the soft play entrance looked like he was losing/lost the will. To be fair I don't blame him! #fuckthat.
We got socked up. Awesome Christmas ones which will come in handy at mum's over Christmas. I swear to fuck she mops her floor with KY Jelly!!. We put our stuff in the free lockers. Sounds great right? good luck trying to get in and out of them haha its like the bloody crystal maze trying to open those buggers.
Getting our Jump On At Rush Trampoline park
We all sat down and watched their safety briefing video. Its a huge upgrade to the stick man video they show you at the trampoline park near me. We all got excited looking at all the different things to do. Was starting to look more like ninja warrior than a trampoline park.
Video over Clark & Elliot super excited ran off to find a particular bit they saw on the video……Not there. Ha in fact the video was a bit misleading but they soon forgot because there was still fuck load of other things to do.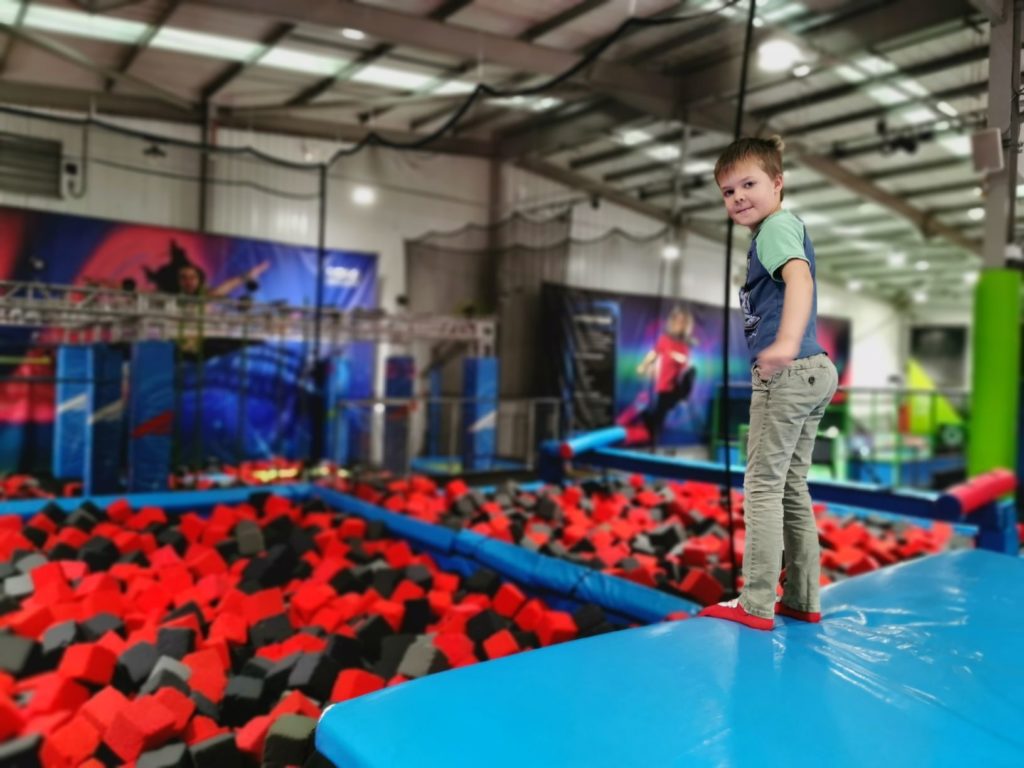 There's the big bounce court (not sure if that's what its called but meh) However the boys were more interested in the foam pits at the back. You can bounce into the pits from a few different heights. My two obviously went from the highest and loved it. I had a go of the lower one and instantly regretted it. Trying to get out of those foam pits is like not easy.
The boys were waiting nicely along with every other child and then some absolute cock womble of a woman in her fucking active gear (Twat) decided to push in and place her child in front of the jump zone. Words fail me for absolute bimboic knobs like her (probably owner of the car who parked next to us). She genuinely had zero awareness of her surroundings. Even her husband was trying to explain how she was being a twat. I did manage to stop Elliot from doing the people's elbow on the kid though thankfully.
What Else Is There To Do?
We left old saggy tits and her kid in her active wear and tried out some of the other areas. There was a fitness session going on in one of the areas (I can understand those wearing active wear). It looked really tiring apart from the end where they all had a lay down. That bit i could have done.
Next to the fitness class was the dodge ball zone. We spent ages in here its awesome. The balls were the right amount of soft/saggy and getting slapped in the face by them wasn't too painful. I like to call this extreme T-bagging (ok bit weird especially as the kids are there)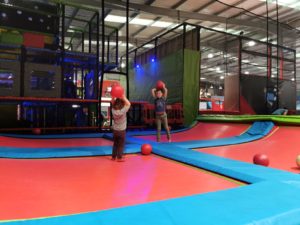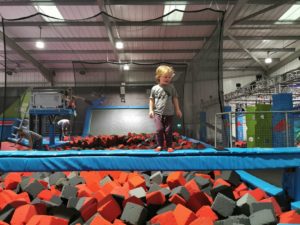 Anyway if you're pissed off with your husband, wife, kids or whoever you visit with take them in here and vent that anger. Elliot took a fair few shots to the face for being a sleep thieving turd & a general douche. Husband took a few of my hard balls to his face too (he loved it) Basically we all had a great time with the head shots.
Clark at this point had fucked his ankle up while on the trampoline. No ones fault but while we were in the main trampoline court he landed funny and twisted his ankle (its always one of mine). Staff did come over and offer help but we were good.
More Stuff
Up at the back is where you will find the ninja warrior style bits. There's not a lot that the toddlers are really able to do. Didn't stop them from trying though. To be honest i couldn't have done half the stuff either. It involves monkey bars and I've got the upper body strength of a Jellyfish.
The kids absolutely loved it though along with the basket ball net next to it. There was a brand new football court too which actually looked really cool. The kids really wanted to have a go but it was shut. We will have to try it out next time.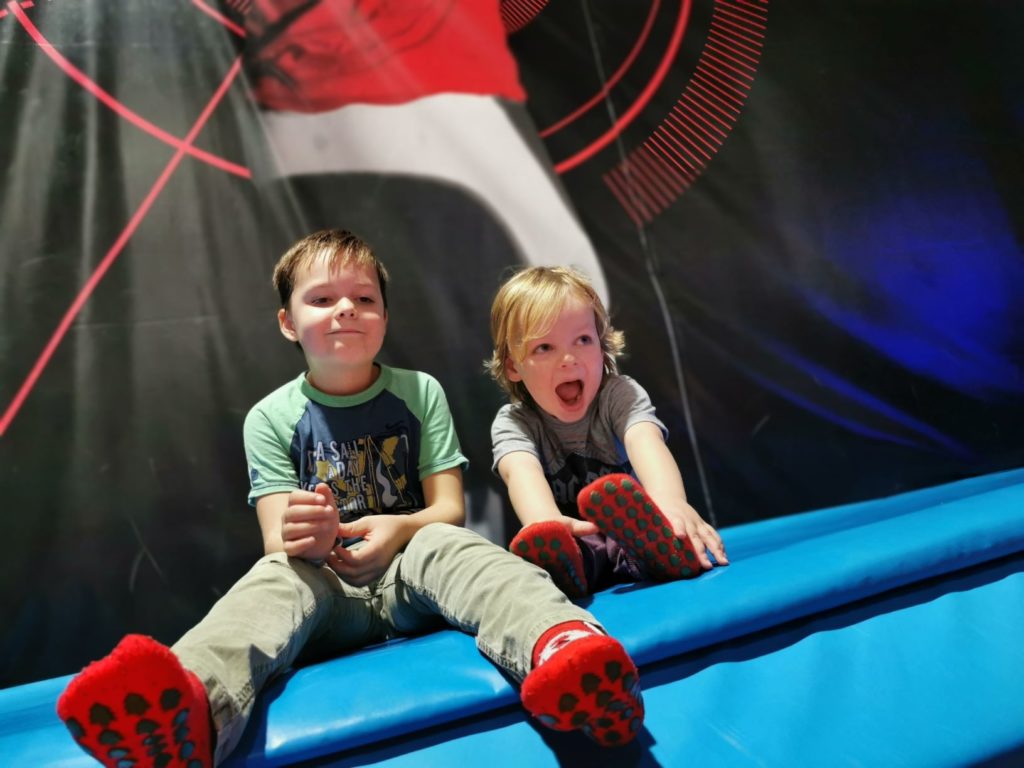 The hour was nearly up and Clark's ankle had started to play up a bit so we headed over to the ruby and reds soft play for a sit down and a snack. Elliot's done the soft play before and loved it. Clark really liked it too but couldn't really play too much because the pain was really starting to kick in now so we had to cut out visit short.
Not before we headed over to Crush though. Its a dessert parlour with a huge row of slush puppies. The kids we're probably equally as excited about this as they were the actual trampoline park. The lady in here was sooooo nice and chatty too. The boys had a slush puppy each and some cool american sweets. In hindsight I think this is what prevented them from sleeping in the car on the way back. They were both buzzing their tits off.
Rush Trampoline park stats:
Distance from Bicester: 36 mins
Sat nav: Lexmark House, Cressex Business Park, Coronation Rd, High Wycombe HP12 3TZ Click to load sat nav
Wheelchair friendly: Yes for access
Equipment upkeep: 10/10
Cleanliness: 10/10
Facilities: Everything you need
Age range: All ages
Safety: 7/10
Fun factor: 10/10
Dog friendly: No
Pushchair Friendly: yes but not on the trampolines (Bet that woman would have tried though)
Bikes and Scooters: No
Public transport: From Bicester jump on the train to High Wycombe, Head to castle street bus stop W and catch the 8 P&R cressex connect to coronation road and then walk the rest. Takes just under an hour
Conclusion
Clark was genuinely gutted that we had to leave Rush Trampoline park. His actual words were "This is the best trampoline park ever". There is no tow ways about it. The place was awesome. I only really have one other trampoline park to compare it to.
Despite it being more expensive than rebound and further away (Rebound is within walking distance fore us) Me and the husbeast both agreed we'd much rather visit here. Don't get me wrong it wont be a weekly occurrence more of a treat.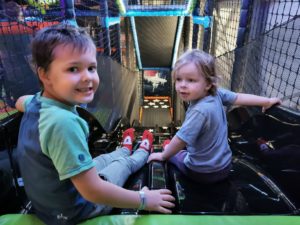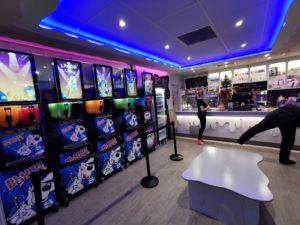 The staff and the facilities were really good. You could tell that by how popular it was. There were birthday parties left right and centre coming and going the whole time we were there. The cafe above serves alcohol too (Husbeast noticed that one). If you have older kids you can go and chill up the top and keep an eye on them while they bounce.
Yes the tickets were gifted but I've been honest. I'm not one to mince my words even if I have been gifted tickets (Paradise wildlife park is a prime example of that). We will 100% be going back again with the boys and hopefully this time Clark wont fuck his ankle up.
AOB
Have a look at their website HERE still not the best website but its a dam sight better than Rebounds haha.
If you'd like to read the soft play review you can do so HERE (not gifted)