When I first read the email with the title we want to stick you in a tube….. I thought I was being invited to some kind of kinky party. It was mixture of disappointment followed by excitement and a bit of a shit myself moment when I realised it was something totally different. So of course I said yes when I realised they meant indoor sky diving at iFly Milton Keynes.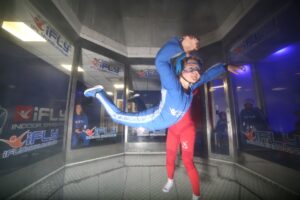 iFly Milton Keynes
Its an amazing experience
Children as young as 3 can take part
Loads more to do in the area
The photos they take are worth it
Its not cheap but groupon do deals
Wear laced shoes!
We rocked up last night after school on day and apart from me being a twat and not taking laced shoes it went smoothly. Smooth is a rarity in this family let me tell you.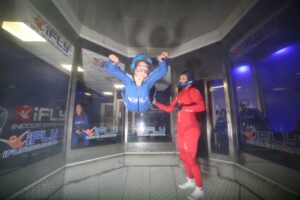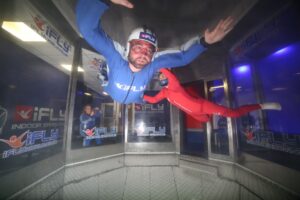 Getting ready for iFly Milton keynes
Everything you need for you indoor skydive the will provide so just dress comfortable and wear your big knickers in case you soil yourself.
I was first up it was loud and the wind was fast…. To be fair it had to be fast to lift my arse of the ground. I caught a glimpse of myself in the reflection. This was a stark reminder that I needed to lay off the cake and that all elasticity was long gone from my face. In fact my face looked like your hands do when you use a Dyson hand dryer in a restroom. Zoom in on some of the photos of my face. I reckon i missed my calling as a model haha. My oversized overalls were now skin tight I resembled a shit wrapped in clingfilm with a face like a melting welly.
Clark had one go but he wasn't keen which to be honest we were shocked he even gave it a go. Elliot on the other hand fucking loved it. He loved it so much I cracked a joke and asked him if he was ready to jump out of a plane once we were done. Straight faced and determined he said yep……kicked the fuck off when he realised we weren't actually going to jump out of a plane the absolute Nut sack.
Husbeast loved it too. Him and Elliot are already planning their return and I'll keep Clark company in the arcades or the café below.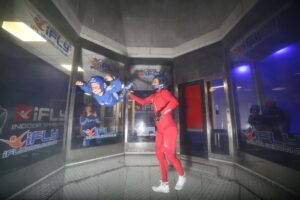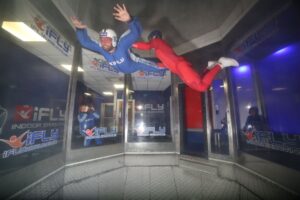 Good for a Treat
So it's not cheap not point in fluffing it up. It's pricey but in my honest opinion worth it. It gets cheaper if you go more than once. You can sometimes find deals on groupon. The video and photo packages weren't bad though
The staff were amazing especially Eddy our instructor. She was so patient with us and all the instructors were egging Elliot on and applauding him which he loved. We've all got a certificate now too whoop.
If you're thinking of a treat I shit you not this is awesome what's not to like? Sky diving minus the sky and the risk of dying.
It's only in Mk and you can pop to the café after or before and watch all the snowboarders too. Be warned there's a dessert parlour next door, restaurants, a VR centre and a big bloody arcade too!! Like a minefield getting out. Oh and parking only cost us a quid (free after 6pm)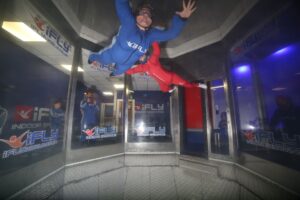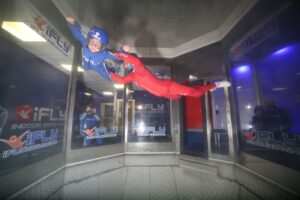 iFly Milton Keynes stats:
Distance from Bicester:
38mins
Sat nav: iFLY Indoor Skydiving, 602 Marlborough Gate, Milton Keynes MK9 3XS
Click to load sat nav
Wheelchair friendly:
Yes
Equipment upkeep:
9/10
Cleanliness:
10/10
Facilities:
Everything you need
Age range:
Age 3 plus
Safety:
Safer than jumping out of a plane
Fun factor:
10/10
Dog friendly:
No
Pushchair Friendly:
No
Bikes and Scooters:
No
Value for money :
££ Expensive but worth it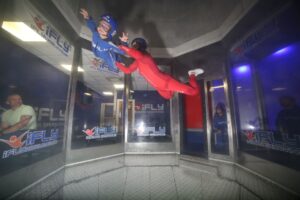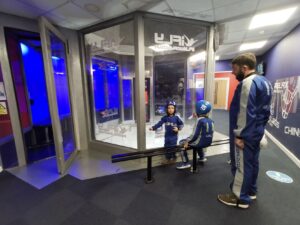 Conclusion
You're not going to find anything so crazy like this so close to Oxfordshire. I mean who doesn't want to shove their toddler in a massive wind tunnel to drown out their moaning at the very least. All jokes aside what an experience iFly Milton Keynes is.