So here we have another beaut of a museum that's perfect for kids. Not only is Milton Keynes museum awesome for kids its cheap. Its cheap because you pay once and you get in for the rest of the year for free.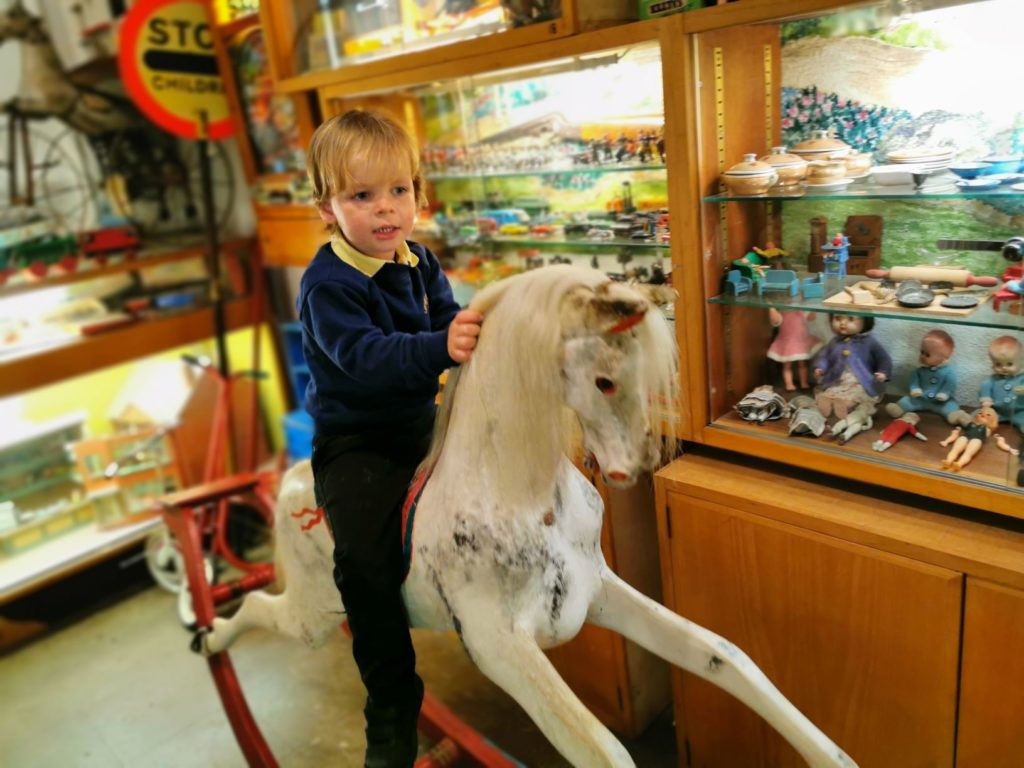 I've been finding a few of these annual pass gems recently that I'm going to do a best of list for you all.
Milton Keynes Museum
We decided to head over to Milton Keynes museum after nursery. I had a bit of mum guilt for adding an extra afternoon onto Elliot's childcare. Mostly because I need to get stuff done but also because he was being a bit of an arsehole lately and I needed a break.
It was around a 40 min drive which would have been easy if my sat nav hadn't taken us through Buckingham. Traffic there was awful. Elliot thankfully slept on the way (probably because he was up at 5am). When we arrived there was plenty of parking they have overflows for the busy periods too.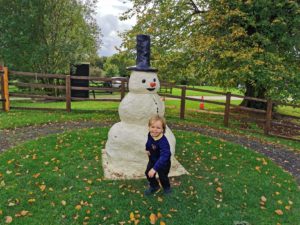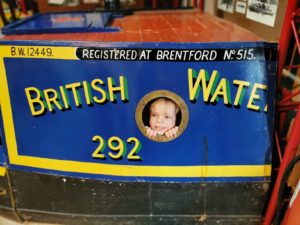 We headed in and unfortunately we got stuck behind 3 blokes paying that wanted to chat about everything. As well as the lady being new. This meant i was stuck in a bloody gift shop with ricks and trinkets and Elliot running round playing with everything. I HATE GIFT SHOPS AND ENTRANCES IN THE SAME PLACE!!!!
I soon gave up telling Elliot not to touch everything we had already been stood in the queue for 15 mins and i was all out of argument. Thankfully he didn't break anything and we finally got through 23 mins later (Yes i actually timed it). At least I've learnt not to visit during busy times at least.
Lovely Staff At Milton Keynes Museum
When you head in there's a table with maps and trails on for the kids. We didn't bother with the trails today. Will save that for when we have Clark with us. We just wanted to explore today.
The lovely gentleman tried to explain where to go. Elliot couldn't give 2 shits and just wanted to bugger off (So did I). He wanted a go of the old jukebox and luckily i had 20p on me. Music started and the guy tried to dance with Elliot (Bad idea) he wasn't impressed. Then he asked Elliot if he could dance with me.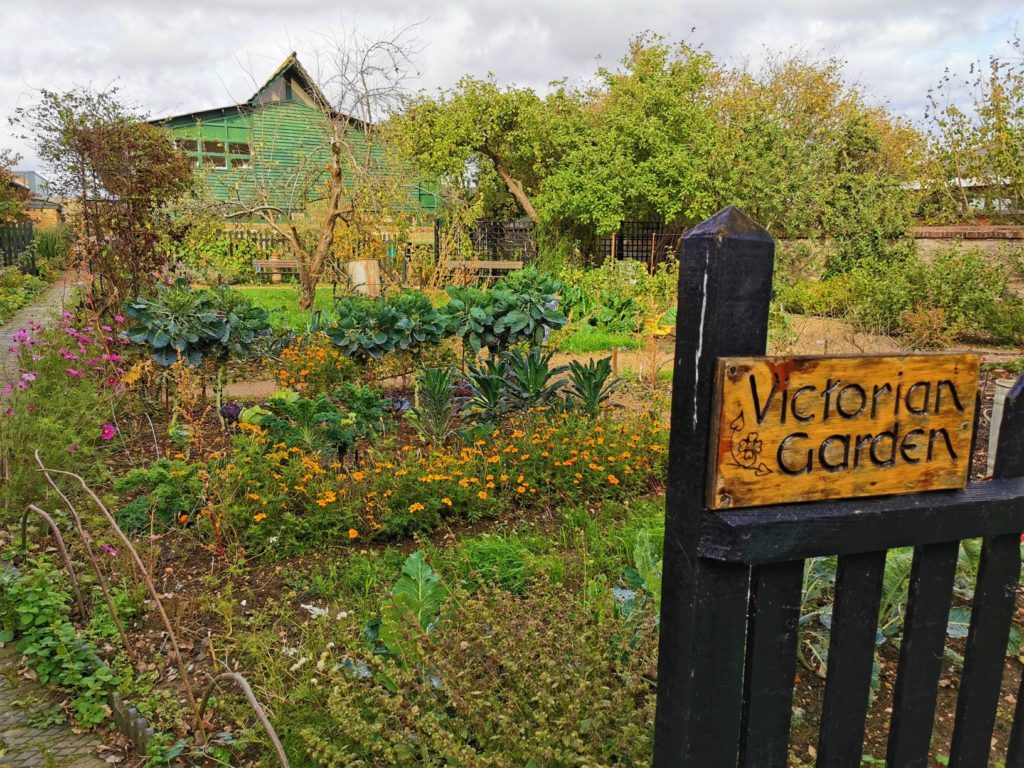 Never before have I tried to use telekinesis on my child but he must of hear me repeating "if you throw me under the bus you wont get any sweets" Thank fuck for that because he held my hand and said no. I love this kid I don't do dancing alone never mind with a stranger.
Off we went into the museum hugging a snowman on the way. First off we headed into the Victorian garden. It was so lovely with lots of fruit and veg growing. The type of garden I would love if I could grow anything more extravagant that bloody vine weeds an brambles.
Whats In The Museum?
When we went inside we entered through the side door and this led us into the toy room. Great place for us to start. It was very nostalgic especially when Elliot clocked the spud gun. I used to love those things the metal ones were great. Much better than the crappy plastic ones you can get.
Nearly everything in this room you could touch. Anything you couldn't touch/play with was either behind glass or had a sign on it. It was fab. Elliot had a ride on a dodgy trike. Creepy as hell and just reminded me of the shining but he had fun.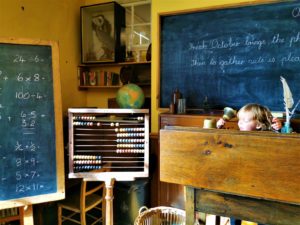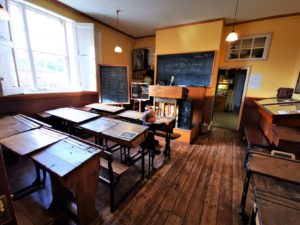 In the next room there was an old fashioned classroom lay out. I sat at a desk while Elliot played teacher up the front and basically shouted at me. Really took me back to my own school days of getting shouted at for talking too much.
There was a room all about recycling which in hindsight was really out of place because of the theme of the house but it was a good room with a few bits to play in. The next room was my favourite though.
The Music Room
We headed down the the rooms at the front of the house next and as we walked in there were 2 members of staff. While they were really helpful and nice Elliot just wasn't in the mood to listen to anyone and was feeling a little shy. We backed up and went into the music room which was stunning.
Unfortunately one of the members of staff had followed us and all he wanted to do was to try and get Elliot to listen to him. Half the time I struggle myself so how this guy was going to achieve it I don't know. Were much more into exploring things for ourselves and asking questions rather than being spoon fed information.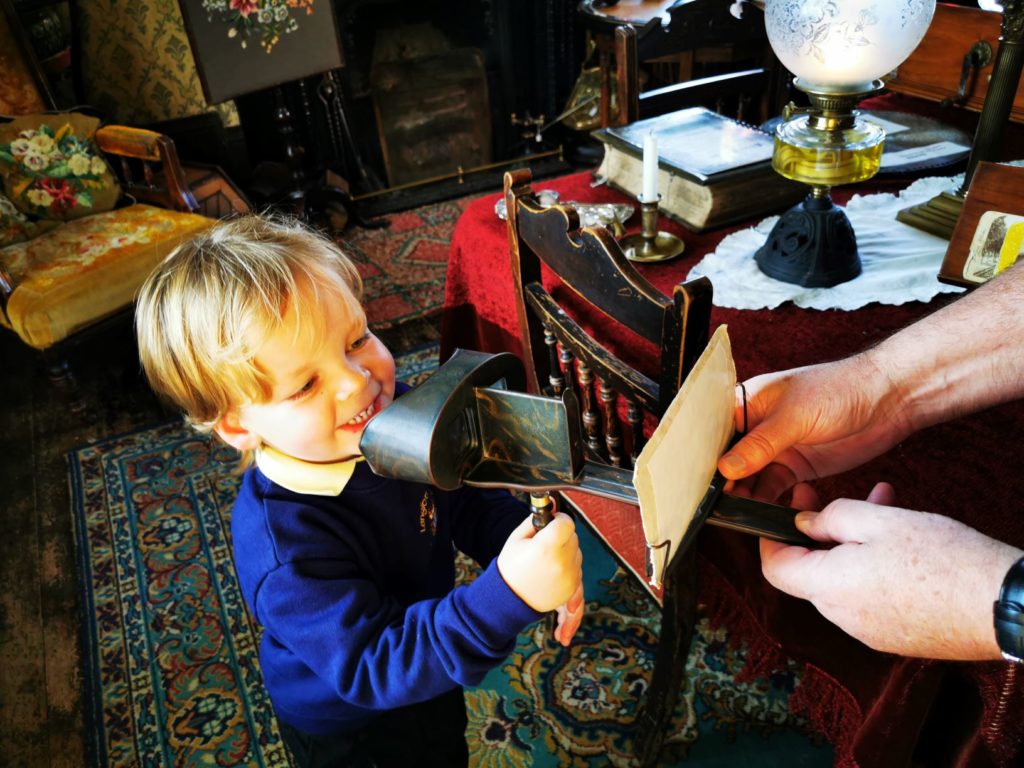 He was lovely though and did manage to get Elliot to at least look at him. I'm sure he thought he was rude but he'd just come from nursery and genuinely couldn't be arsed with small talk. Like us adults are when we come home from work I suppose.
Apart from being a little too forceful to follow his lead the guy was nice and we had a lovely time on the Pianola (Piano that plays itself when you push the pedals) I really want one of these at home now hahaha.
Exploring More Of The Museum
At this point a school group had walked into the room so we saw this as out cue to lead and move onto the next room. As we went to go into the other room there was a teacher in there with a smaller group and she shut the door on us hahaha. We didn't get into the other room but will head back to check it out another time.
Next up we headed over to the kitchen. There was again another member of staff ready to pounce on poor Elliot to try and get him involved hahaha. Bless it they just don't get that all kids are different. This lady was a lot more laid back though and gave us a bit of space to have a nosy around.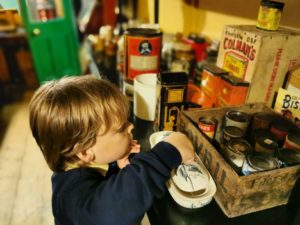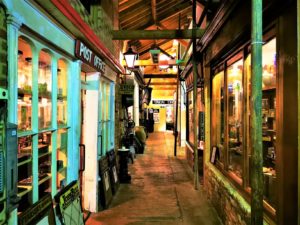 We then moved onto the high street. Now this was seriously cool. An amazing Victorian high street indoors it was fab. From a pub to a cobblers right up to a butchers and all of the shops we could go in and have a look around, open draws, use tills etc Elliot loved it. Had a pretend pint too.
Elliot's favourite bit was the post office though. Why? well that's because there was real old fashioned pick and mix in there which you can buy. I always remember going with my granddad to the shop and buying a quarter of pear drops. Could've done this hear too but I didn't because I'm in fat club. Elliot however picked to have a quarter of jelly beans. It was a lovely touch and Elliot was even happier now (mum guilt was disappearing)
Communications and Transportation
When we walked into the phone/communications room i could tell straight away we were in toddler heaven. Buttons, knobs (the useful kind) switches and dials you name it they have it in this room. Whats even better? they can touch them all! they can make phone calls across the room too.
We spent ages in this room even trying our hand at Morse code. I think I even managed to send a message to god and ask my child to sleep past 5am. Now I'm not the religious type but this morning he slept until 7am……coincidence? We had a fun time making all the novelty phones ring too. My favourite was the Chameleon. I thinks its time we brought back the house phone (does anyone other than old people still have them now?)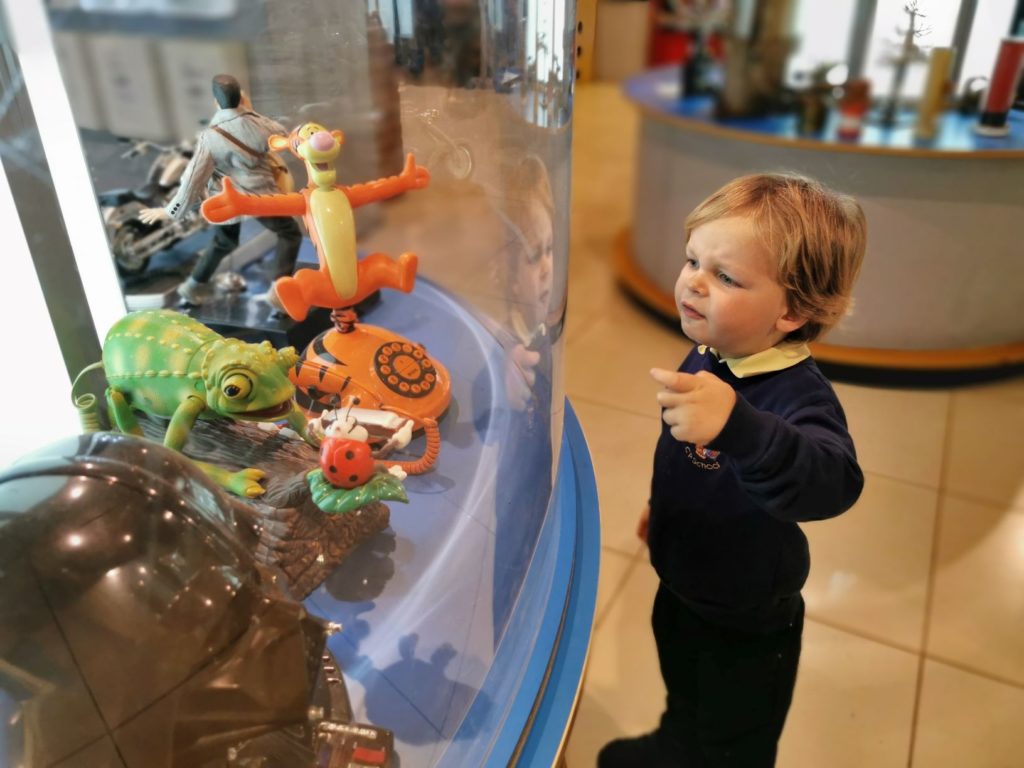 After what felt like ages in the communications room we headed to the transport room. Its a smallish room in comparison to the other spaces but they've rammed it with as much as they physically can.
Not going to lie it wasn't my favourite space but they had more ride on's including an awesome vintage fire engine. Again the kids are invited to have a good ride around and they didn't seem worried about kids getting in the way either.
Wrapping Up Our Visit
After the transport room we headed over for a walk near the new building it was closed so i'm not really sure what they do in there or if it was another entrance for when they use the overflow?
I've missed out loads because frankly I'm waffling on enough as it is. They did have a small play area with a slide and a couple of swings. There's plenty of room for a run about in the field with the concrete cows.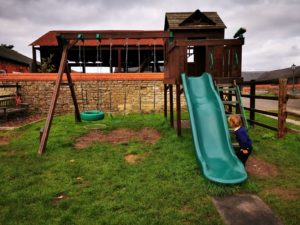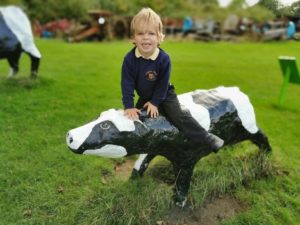 The cafe looked good as we walked passed but we didn't buy anything so if you go in and its crap you cant blame me for that at least.
I did promise Elliot he could have a rock so we headed back to the gift shop for him to spend half hour picking out not a rock but a cannon pencil sharpner. The gift shop seemed fairly reasonable and he was such a good boy…..who am I kidding the mum guilt was still there and I was trying to buy a clear conscious.
Milton Keynes Museum Stats:
Distance from Bicester: 37 mins
Sat nav: McConnell Dr, Wolverton, Milton Keynes MK12 5EL Click to load sat nav
Wheelchair friendly: Yes
Equipment upkeep: 8/10 few broken pieces of equipment
Cleanliness: 10/10
Facilities: Toilets, parking and cafe
Age range: Ages 3+
Safety: 9/10
Fun factor: 10/10
Dog friendly: No
Pushchair Friendly: yes
Bikes and Scooters: No
Public transport: From Bicester jump on the X5 bus and get off at Brook furlong. Get off at central station and jump on the number 6 to Wolverton (catch this at stop Z3) and get off at Stacey Bushes Local Centre. The museum is a few min walk away. It'll take about 1hr 15mins .
Conclusion
Even though it was only a quick visit to the Milton Keynes Museum and we missed out loads (the air raid especially) we had loads of fun. Elliot had a whale of a time and asked when we were going to come back with Clark.
Its a absolutely fantastic museum. I've been warned to avoid in the half term because apparently its mental busy. Today the only people we bumped into were the 2 school groups briefly and the staff. It was lovely hahaha.
I have also been told that their Christmas time is lovely and also included in the annual ticket. I know we will be back. We will need to buy more tickets for Clark and Chris though. I only paid £10 for myself as under 5s are free and it'll work out cheaper to pay separately rather than buy a family ticket.
Its not open on Mondays and Tuesdays so do make sure you check before you go along. That's a bitch of journey for it to be shut once you get there. I would highly recommend this museum to anyone. Its like a mini version of the milestones museum. I'd even be as bold to say that its gone into my top 10 museums to visit with the kids now too.
AOB
Have a look at their website for more information and ticket costs HERE
For more indoor days and museums check the map HERE
Near By: Willen Lake, Redhouse park