As an adult with young children I don't know why I did it. However I still did and today's visit to The Sea Life Centre Birmingham was shrouded in a cloud of hungoverness. Made worse by being totally unprepared resulting in being screwed over.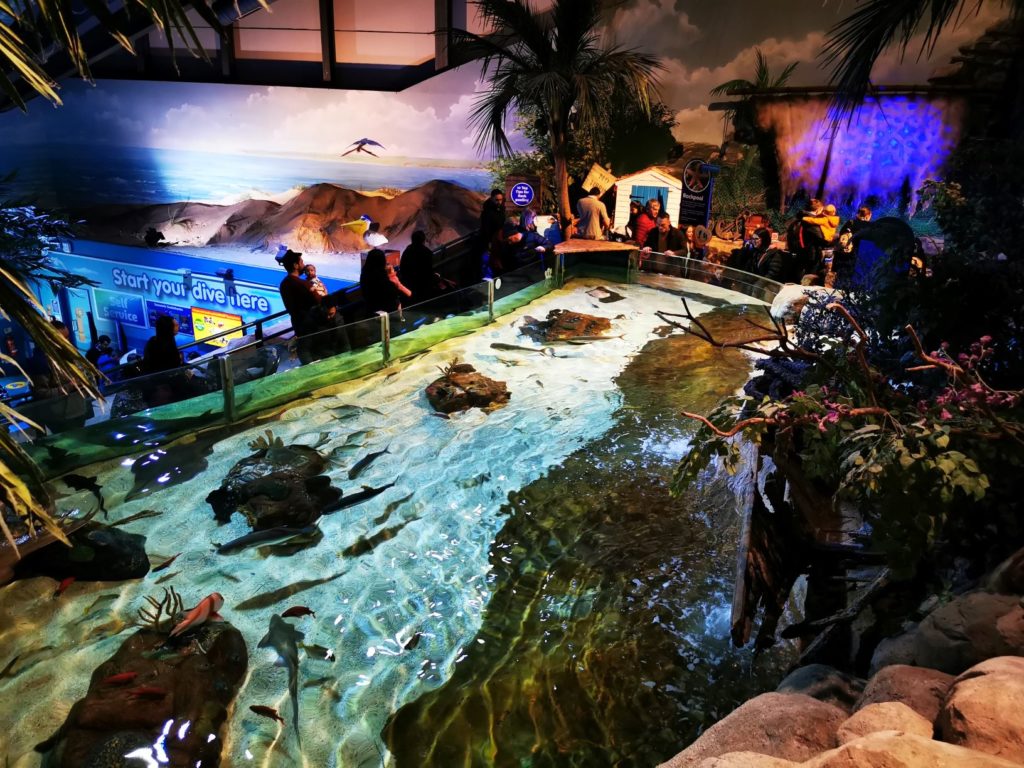 Sea Life Centre Birmingham
Armed with a gin headache off we fucked to the sea life centre in a confined car with 2 overexcited kids. The husbeast was driving so I tried to get a quick nap in. No chance! We found a car park right next to the sea life centre Birmingham. Which was just as well because it was sodding freezing and I'd forgotten my shitting coat!
We got in there after a quick photo with the giant Lego giraffe. The Lego discovery is a stones throw away by the way. You can pay to have a joint ticket to visit both.
So the queue wasn't too big at all. We go to the counter and said 2 adults and 2 kids. Then she hit us with the price…..£87.80!!!! WHAT THE ACTUAL FUCK. We both tried to do that un phased look. The same as the look you give when its your round in the most expensive bar yet. You hand your card over while slightly cross eyed and nearly dying inside.
We are those people we mocked in the queue for Legoland and Thorpe park. Who actually pays full price. US!! we do we're those idiots that didn't check for 241 vouchers first and now we've learnt our lesson. Yes we got a free voucher to revisit but I don't want that. Just make your tickets half the price. For the love of god!!
What Is The Sea Life Centre Birmingham Like?
Our phrase as we walked round was "this better be worth it" can you blame us? Anyway the kids were straight away so happy and in heaven. They were running from one place to the next. Clark was super happy to see the penguins, They're his favourite.
The issue we had was trying to slow them down. We've had this issue before in Aquariums. Where they just run through so quickly we're done super quickly and spent a crap load for the privileged. They're constantly on the look out for the next thing. Is there something better around the corner?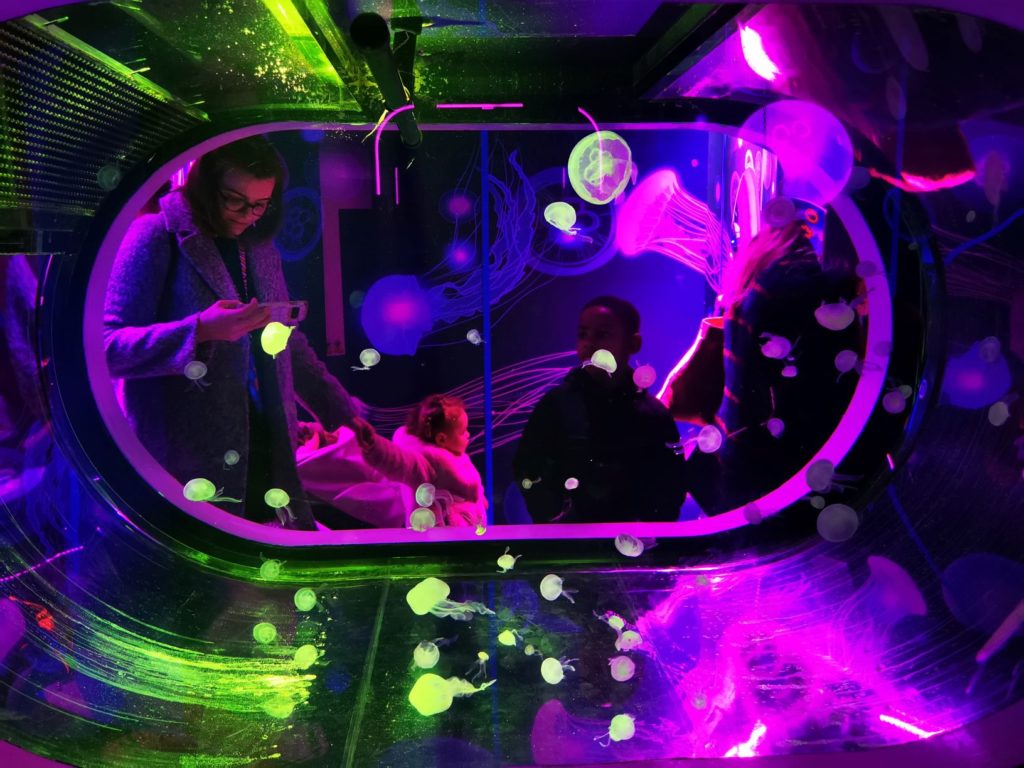 To be fair to the sea life centre Birmingham. They probably know this which is why they've rammed so much in there. From interactive displays, tunnels, 4D cinema and even soft play.
The 4D cinema was a perfect length of time. 12 mins of a fish cartoon and the kids enjoyed it and even sat through it without moaning. If you do visit make sure you check this out. Although sitting on a vibrating chair then having water suddenly squirt in your face did make me crack a few joke with the husbeast.
Its All About The Tunnel
Thankfully the sea life centre wasn't overly busy so we got to see most things. Well when the kids let us.
Luckily I'd dressed Elliot in bright colours because the lighting is shit….well not shit but how its supposed to be for the fish. However if you've got a runner then you best keep your eyes peeled. I spent half of y time trying to look in the tanks then remembering i had a child and running off to find him.
The tunnel was awesome, busy but awesome. I don't think I'll ever get bored of walking through these. In fact i was even more impressed that this tunnel had a glass floor too. That was a first for me. Thankfully the boys had slowed enough to watch the sharks and Elliot's favourite, the sea turtle.
After the tunnel we realised we'd walked into the mouth of hell. Soft play!! why? who the shit thought oh i know lets shove a soft play at the end of a fucking aquarium. Not only was it annoying but its shit too. The kids still wanted to go in but thankfully bribed them out, bypassed the shop (because shit off if they think we're spending any more) and off we went in search of a McDonalds for a McFlurry. We'd had our picnic in the aquarium. There's enough seating around so make sure you take snacks.
Sea Life Centre Birmingham Stats:
Distance from Bicester: 1hr 15mins
Sat nav: The Water's Edge, Brindley Pl, Birmingham B1 2HL Click to load sat nav
Wheelchair friendly: Yes
Equipment upkeep: 10/10
Cleanliness: 10/10
Facilities: everything you need
Age range: All ages
Safety: 9/10 The tunnel might cave in on us. Think Aquaman and angry shark
Fun factor: 10/10
Dog friendly: No
Pushchair Friendly: yes
Bikes and Scooters: No
Conclusion
There's no denying that Sea life Centre Birmingham is an awesome place. However its not £90 worth of awesome especially if your kids peg round it like mine. Don't do a me get a 241 voucher to ease the pain.
Me and the Husbeast have decided to revisit…without the kids. No fucks given. I want to enjoy looking at the pretty fish without them and probably go for a quiet meal afterwards. Sod it i might go to McDonalds and leave the packaging in the car to really rub it in their faces.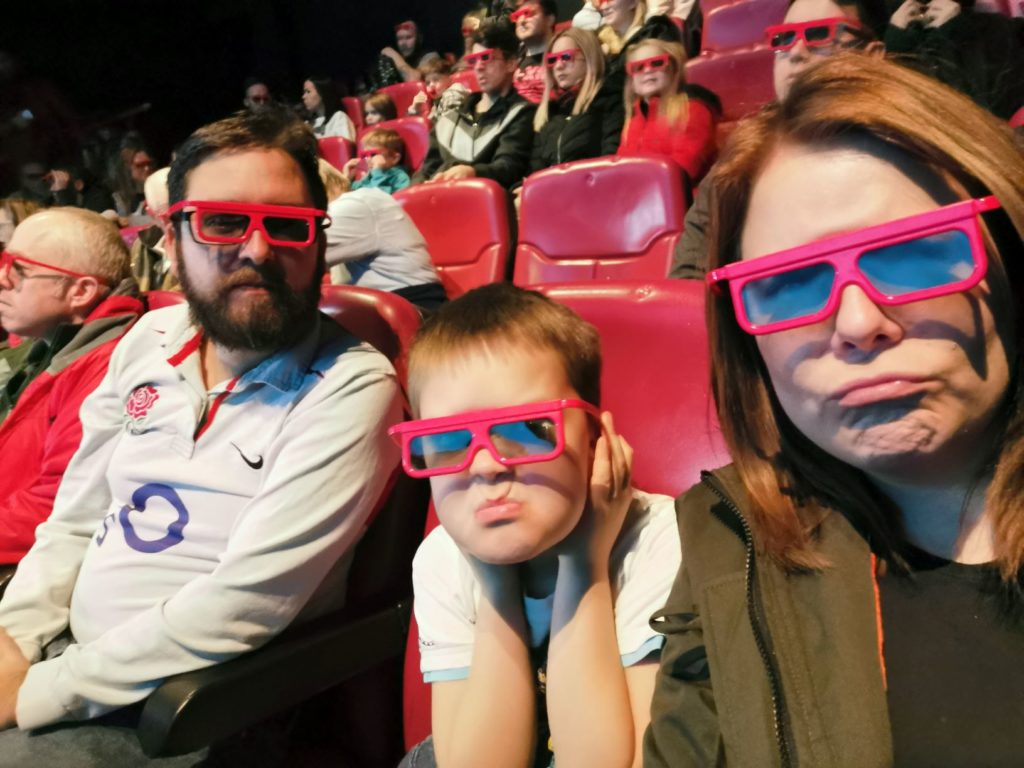 My lessons of the weekend are don't drink before a day out with the kids. Even if you think you're sober it'll still hurt. Make sure you scour for vouchers so you don't have to fake the happy expression like we did.
I personally wont be heading back to any Aquariums with the kids any time soon. They have the attention span of something that belongs in an aquarium rather than someone visiting one. However I can't not recommend this place either!
AOB
For more information then check out their website HERE
If you'd like to see more reviews like this check out my other reviews HERE