So despite having one child riddled with chicken pox. I decided to leave him at home with the husbeast and take the none pox riddled one to Winchester Science Centre & Planetarium. Boy am I glad we did we both had a great time.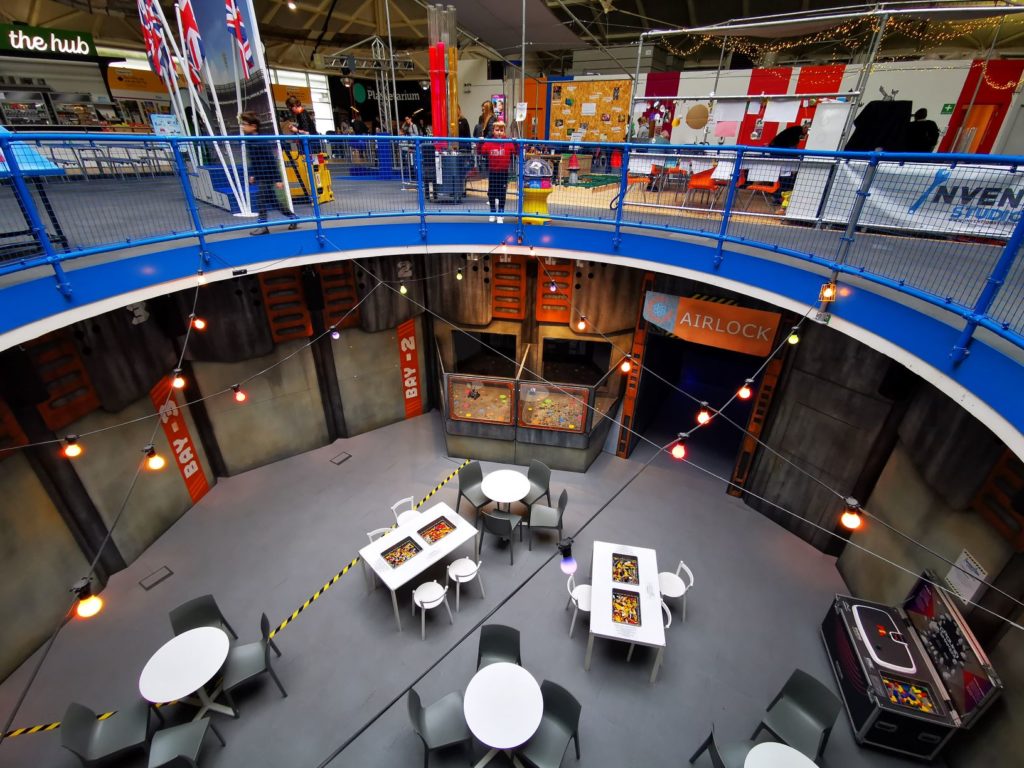 Winchester Science Centre & Planetarium
Firstly its a bit further than my usual 1 hour mark but not by much especially if you put your foot down a bit. Its also a piece of piss to get there…. at least it was for me anyway. Literally straight down the A34 for what seemed like an eternity and then turn left. Who needs sat nav when you have directions like those hey.
We would have booked in advance but the pox stopped that and we weren't planning on going. However if you're planning a visit do book in advance as you can save yourself a fair whack of up to 25% off. Its not hugely expensive anyway but soon tots up if you have a big family.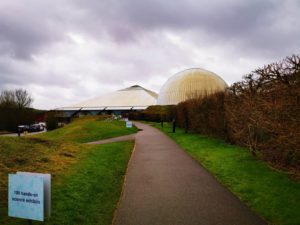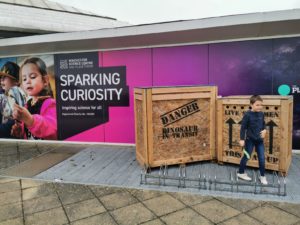 There's an on site car park which is where we parked and it costs £2 for the day. Takes card too and we had no issues with finding a space. I like to find one in groups of 3s to reduce the chance of crashing into a parked car on either side of me.
I'll admit first impressions from the outside weren't great. Looked a bit rough if I'm honest. Looked like it needed a good scrub. It was busy though and a fair few families heading in which I took as a good sign.
What We Did At Winchester Science Centre
There wasn't much of a queue at all when we arrived which was lucky because I was dying for a pee. I slacked on the pelvic floor muscles after child birth. Paying for it now that's for sure.
We booked onto a planetarium show which was an extra £3.50 (Totally worth it in my opinion) and we also booked onto the free science show too. Make sure you book on as all the kids in the room seemed to really enjoy the show. Me too and I also learnt something new.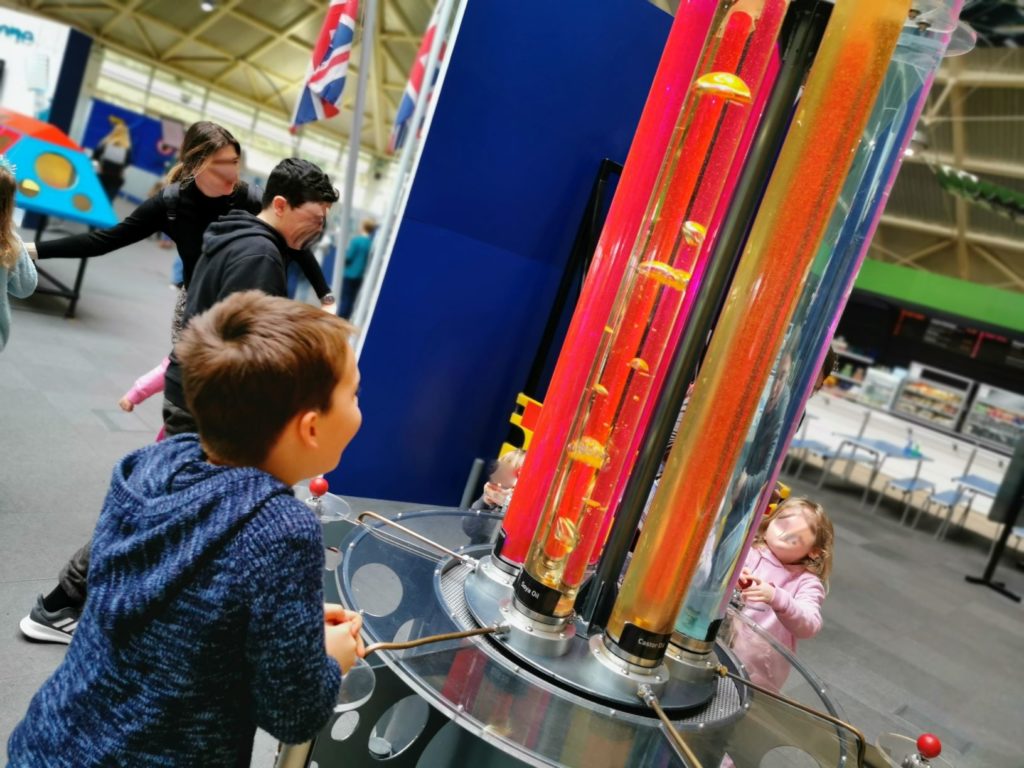 Toilet stop done and we were off. Little note that there were coat racks to hang your coats up if you wanted. We didn't bother taking them in as 90% is inside anyway.
Clark was off in a shot so much choice he didn't know where to begin. We had a little play about upstairs on a few of the displays before we heard the final call for the free science show we'd booked on. Queue our first run. Thankfully we got there just in time and bagged a spot on the soft mats at the front.
Free Science Show
At first I was worried that Clark wouldn't sit still. He doesn't have the best attention span especially when there's a soft play just outside the room that he was itching to play on. However he surprised me and sat through the whole thing. It wasn't too long at all.
The lady running the show was great. She involved the kids, made the parents laugh all the time while educating the kids about Microbes. Clark's favourite bit was when she set fire to her hand. Probably my favourite bit too haha.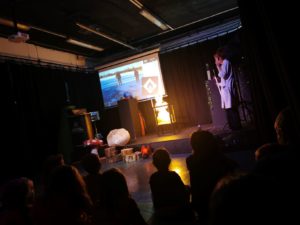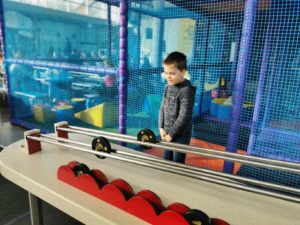 After the show was done he wanted to go in the soft play. Thankfully it was for under 6's only. He was a bit gutted but looking at it he would have been bored after 5 mins anyway it really was better for younger kids.
In true Clark Style he started to moan it was hungry. So i though sod it and went a bit early for lunch in the cafe. Decent food, Decent price, nothing fancy did the job. Lots of spots for picnics too though if you wanted to keep costs down.
The Planetarium Show
After lunch it was time for the planetarium show. We chose the flight through the universe which was a live show for 30 mins. It was great not that i have anything to compare it to yet but we enjoyed it.
The seats are soooo comfortable why the shit all cinemas aren't like this I don't know. Lean them back shove the screen higher and you don't need to worry about some lanky bastard sat in front of you.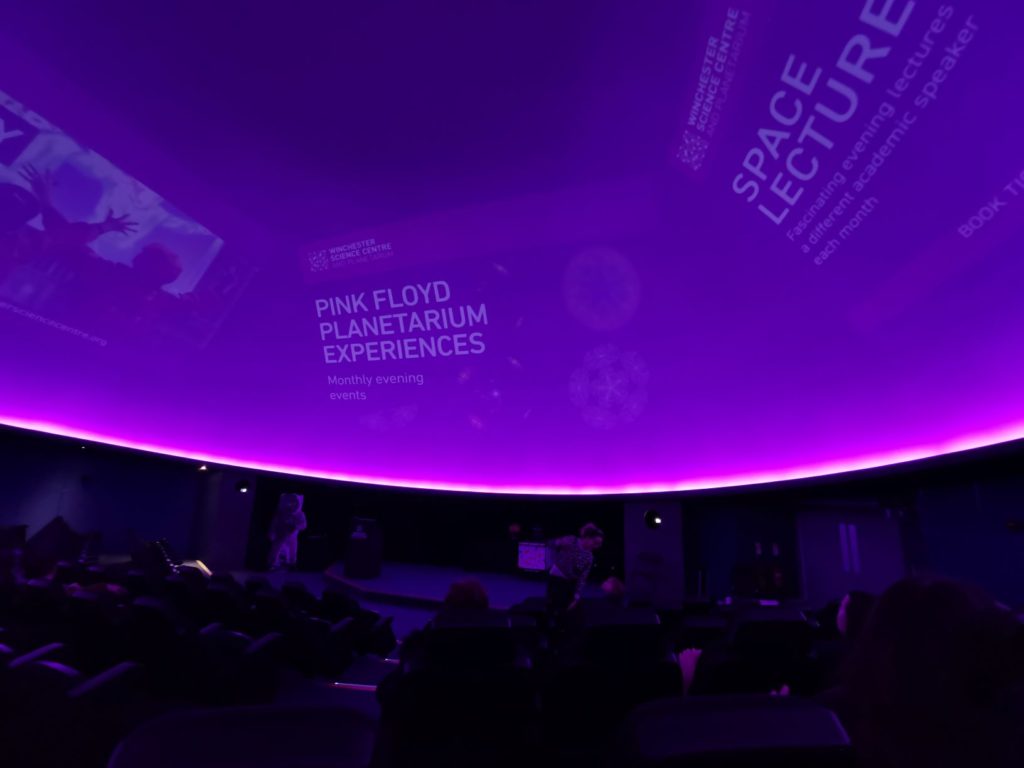 The show was brilliant. Clark was asking loads of questions and genuinely seemed fascinated with it all. It was all explained very well too and again didn't go on for too long. Not sure how Elliot would have lasted but I guess we'll check that out next time we go.
Once the show was over it was time to really get our hands on the all the displays. Its a big room over 2 floors so basically a shit loads to do. I was in no rush home to chicken pox boy either so we took our sweet time with it.
Hands On At Winchester Science Centre
Downstairs is more of a space theme. Its a bit dark so my photos are a bit shit. Loads of hands on experiments. Me and Clark loved the building area. Loads of Mecanno but we liked building our own building and putting them through the earthquake test. Ok maybe we did put it at the highest speed and shove our heads on it for fun.
Downstairs is where the soft play is, the science shows and then there's also a huge sandpit for digging up dinosaur bones too. There's a theme of the dinosaur that roars (Its a book fyi). Right next to a little coffee shack too so sit down and watch the kids get sand in their cracks.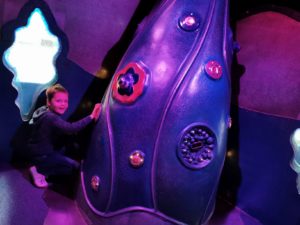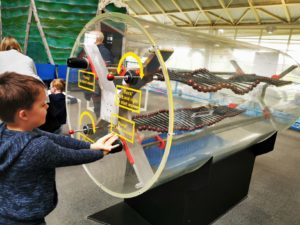 The upstairs is even bigger or at least there are even more things for the kids to do. From running races, trying out a wheelchair, light walls you name it they probably have it here. When we visited everything was working or at least everything we tried anyway.
I particularly loved the craft area where Clark made his very own Small pox. Weirdly it was so cute. They have loads of these teddies of microbes and we picked the small pox and made our own. I was a tad excited to buy some from the gift shop so I was gutted when it turned out they didn't sell them.
What Else Is There At Winchester Science Centre?
I really can't be bothered to list all of the experiments just know that there's a shit load for the kids to get on with.
We went outside and tried out the play area. Its nothing spectacular its basically one long obstacle course with kids getting in each others way because they all start at different ends.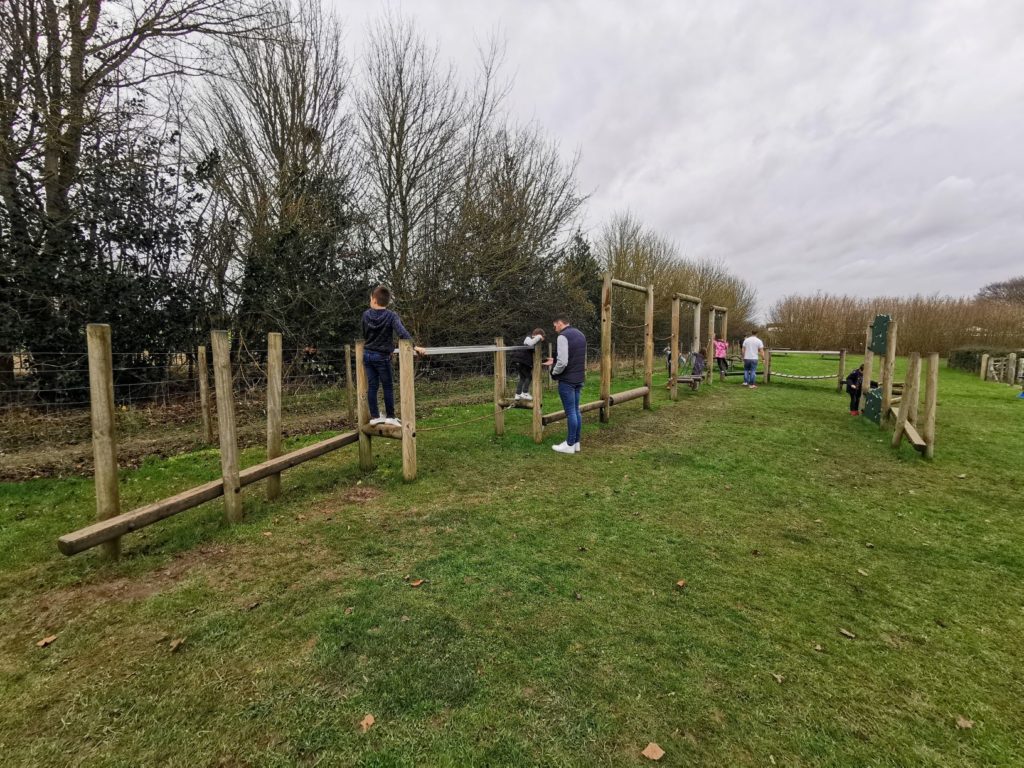 There 's a small wooded area with a butterfly trail. Again nothing to write home about and maybe better suited for the smaller kids.
The shop isn't too bad really there is a good choice at a range of different prices. I bought Elliot a torch out of guilt and Clark got some slime egg thing. Was still gutted about not being able to buy the teddies they'd used in the shows though.
Winchester Science Centre Stats:
Distance from Bicester: 1hr 10mins
Sat nav: Telegraph Way, Winchester SO21 1HZ Click to load sat nav
Wheelchair friendly: Yes
Equipment upkeep: 7/10
Cleanliness: 8/10
Facilities: everything you need
Age range: I'd say from 3yrs plus
Safety: 8/10
Fun factor: 10/10
Dog friendly: No
Pushchair Friendly: yes
Bikes and Scooters: No
Conclusion
Myself and Clark had a brilliant day out at Winchester Science centre and planetarium. We will without doubt be heading back with Elliot in the summer for another fun packed day.
If you book in advance its cheap. You really can spend a whole day here too and really get your moneys worth. Next time i'll take a picnic to keep costs down too.
Yes there are areas which could do with a freshen up but there is also a great mix of new areas too. All of the equipment was working when we visited which was a surprised considering how much of a beating they must all take.
In my opinion its not great for young kids. If I had kids under 3 I personally wouldn't bother. That's not to say there aren't a few thing for them. I'd take them if you have an older sibling and you'll be fine but not worth the journey alone with them. Other than that Get your arses over there asap. If you wanted a science museum for younger kids then try The Look out discovery centre which is perfect for them
AOB
Have a look at their website HERE and don't forget to book in advance for cheaper tickets.
For more ideas for days out near you check the map out HERE