So after a disastrous start to the half term thanks to chicken pox. We managed to all get out of the house as a family on the Friday. I'd found a Facebook advert talking about the Discover Children's Story centre in London. I booked some tickets and away we went.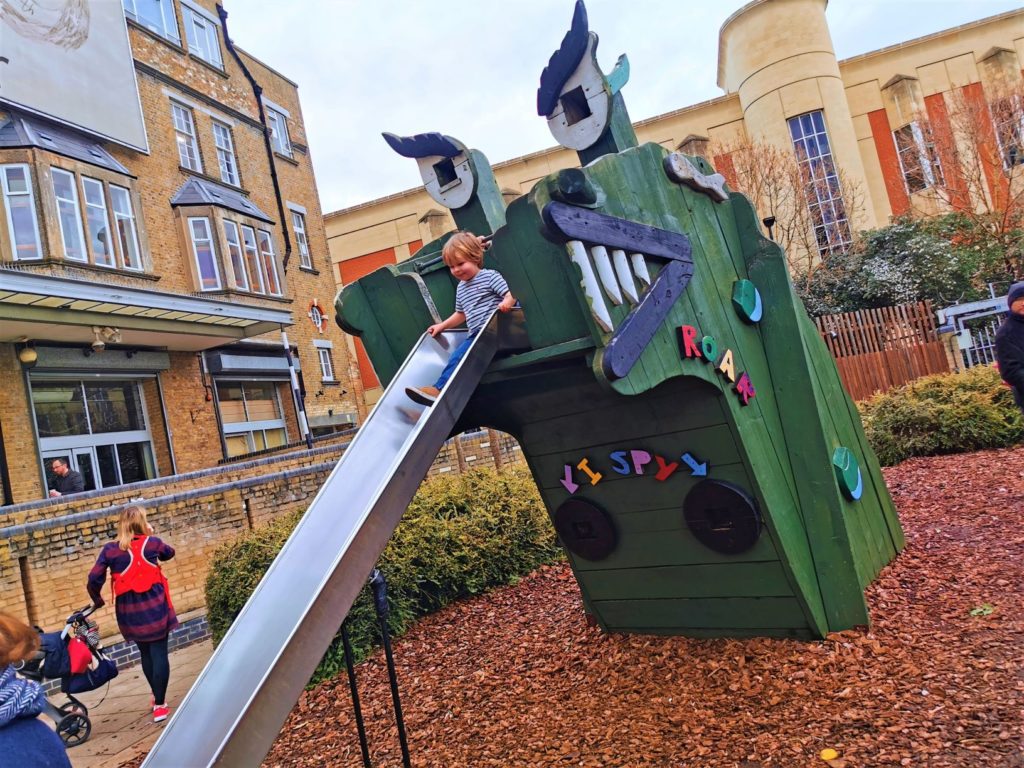 Discover Children's Story Centre
I'll admit I'd never heard of the children's story before but it looked right up our street. The tickets weren't overly expensive either. I planned to make a big day of it too Clark loves London (I hate it myself). Thankfully we didn't need to cancel (If your kids have chicken pox give them a head and shoulders bath!)
There I am making plans and boom fucking tube strike!!! For fuck sake could anything else possibly go wrong this half term. After a lot of googling we just decided to drive in the end. Even if we managed to get round the strikes knowing our luck we'd get stuck on the way home in the London Friday rush hour commute.
This way the kids were strapped in and couldn't piss about on any trains. Clark was gutted to be missing a train journey. We bribed him happy again because that's how we roll. Anything to make the whinging stop!
We parked up at the Westfield shopping centre which was in Stratford and a 10 min walk from the Discover Children's Story Centre. Worked out pretty well as we decided to have some lunch first. Little tip the maps are shite we walked round for what seemed like an eternity trying to find the shitting restaurant!
Finding The Discover Children's Story Centre
After a cracking lunch in Ask we headed back to the bloody map to try and find our way out to children's story centre. I had booked us tickets for an extra exhibition at 2 pm so we needed to make sure we weren't late.
I racked off the maps and used good old google maps. It wasn't far at all and The boys got to see shit loads of trains on the way much to Clark's Excitement. We found it pretty easily after that and the walk wasn't too far at all. Thankfully the parking wasn't too bad either it was £7.50 in the end for us.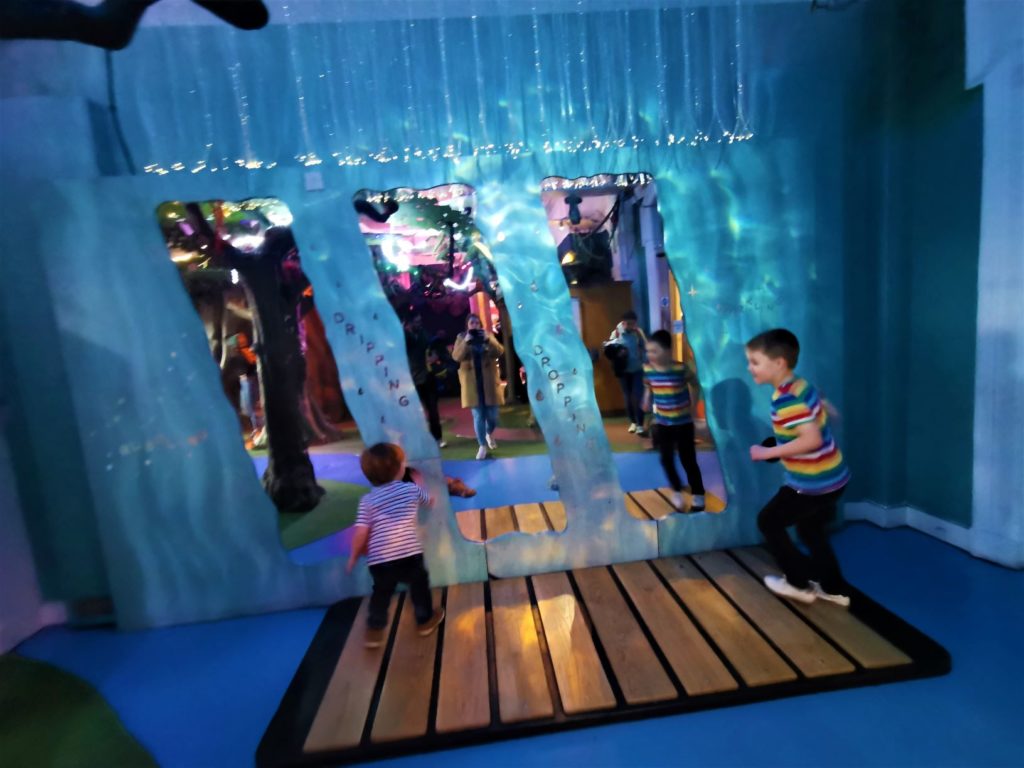 We headed into the story centre and first impressions were that thankfully it wasn't too busy. We signed in and got our wrist bands. I had a nose about and saw there were lockers for you belongings and a buggy park too . Thank god they don't have prams in there otherwise it'd have been absolute carnage!
Time to head into Discover Children's story centre. As soon as the doors opened it was pretty clear that in fact it wasn't quiet. It looked like utter shitting chaos. Mine and the husbands shoulders slumped and the kids eyes popped out of their overly large heads (Take after their dad)
What was The Discover Children's Story Centre Like?
There's no doubt that the story centre looks amazing. Its like a child's imagination come to life. The First floor was like a forest but with lots of different sections. Pretty much everything in sight was interactive your kids will be in heaven.
Although it was busy it was manageable. It could have been worse, we could have been queuing at Legoland in the rain. There are tunnels, nooks, cranny's, buttons, lights you name it they have it. If your child likes crafts, they have it. Spoon forest….sound random as shit but look amazing and the kids can decorate their own and add it to the forest.
The boys then pegged it up the stairs to discover even more. As you have the forest below you have the sky above. Lots of aircraft, clouds and sensory areas up here. Best of all the slide. The boys found it easier to have a run round up here and play.
There was pretty varied age in the story museum. There was a really lovely cloud area however it seemed to be the area where a large group of mums and their babies had adopted so this rendered nearly the whole area unusable.
Outside And Fairy Tales
Without a shadow of doubt the boys favourite area was the outside area. I cant say I blame them either. They love being outside and Clark had trees to climb and slides to slide. Elliot was running round like a nutter trying to chase his brother. It was small but great.
It was nearly time for our timed slot. I didn't really know what to expect but we headed downstairs and waited. There's a lot of tables downstairs outside the Fairy Tale area for picnics as well as a lot more lockers for belongings.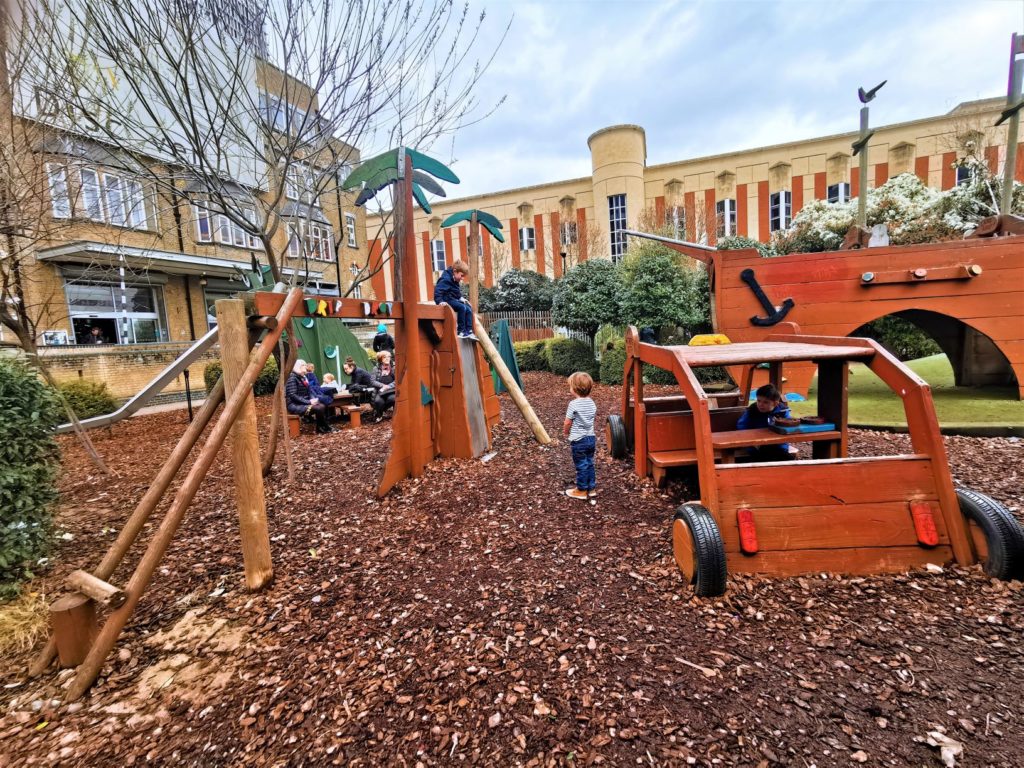 When we entered we we were seated in what appeared to be the 3 bears house. It was super cute and the boys sat and listened to the whole story before heading into Fairy Tale Land.
The lady telling the story was fantastic and kept most of the children's attention. There were a lot of younger children in there too and once one starts crying they all go. Some twat of a woman decided to stand in front of Elliot half way and despite him loudly say "mummy i cant see" she stayed put.
Fairy Tale Land
Fairy Tale land was the area i was most impressed with. Although it was extra it wasn't expensive at all It was an Extra £2 and totally worth it. I like how they limit the numbers so you could escape the hustle and bustle of the upstairs.
In Fairy Tale Land the children will recognise more of the stories. Its super cute and the kids can dress up as one of the 3 bears of even the big bad wolf. Elliot was in heaven he loved the troll bridge and the 3 billy goats.
Clark liked it at first however once he'd been round a couple of times he was pretty bored so i'd say it's probably best for the younger children or maybe calmer quieter children.
It did attract a few idiotic parents who would just let their babies crawl around the floor unsupervised that wondered why their child was crying as an older child ran past and crushed their fingers. You cant teach common sense I guess.
Discover Children's Story Centre Stats:
Distance from Bicester: 1hr 49mins
Sat nav: 383-387 High St, London E15 4QZ Click to load sat nav
Wheelchair friendly: Yes
Equipment upkeep: 10/10
Cleanliness: 6/10
Facilities: everything you need
Age range: says up to age of around 11/12 but you know your own child
Safety: 4/10 based on the access and ease of escape
Fun factor: 9/10
Dog friendly: No
Pushchair Friendly: Pushchairs to be kept in the buggy parks
Bikes and Scooters: No
Conclusion
Right so after the Fairy Tale session we decided to head out to beat the traffic home. I'm not going to in brief tell you why i also thought it could have been a lot better. My husband pretty much didn't like it from the start. Hes a grumpy shit though he did however make some good points (For once)
The whole of Discover Children's Story Museum didn't feel very secure. In fact we were pretty uneasy the whole time. There were kids running round everywhere which is fine. Mine were too. However thee were so many different exits and entrances it would have been easy to lose your child. In fact it happened while we were in there. Some woman frantically looking for her child. Basically don't take your eyes off your younger kids.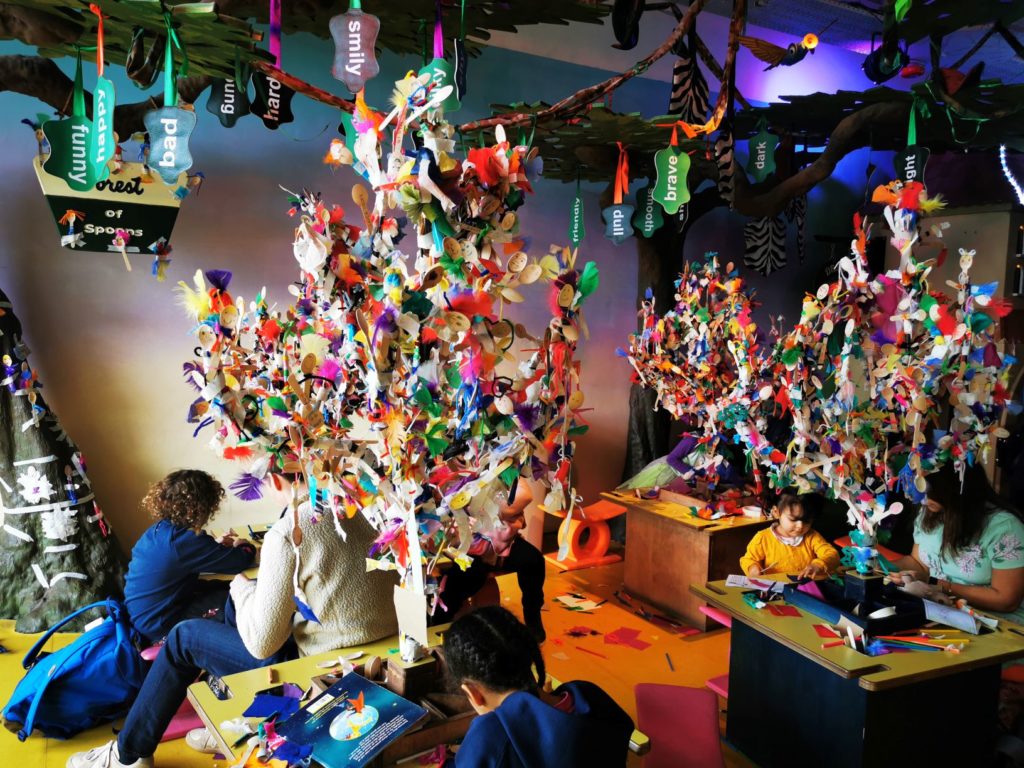 Unlike lots of other children's venues The story centre doesn't have a secure entrance and exit. In fact if you have a runner with a bit of strength they could quiet easily make it outside onto a busy street/road.
Throughout our visit we didn't see any member of staff clean up don't get me wrong it would probably have been like trying to mop up a lake but still the place was a mess. However apart from that I couldn't fault the staff they were so lovely and friendly and super engaging with the kids. Would we go again? Nope very much doubt it. If we lived in London they i'd visit lots but I don't think its worth the visit to London alone. We'd have rather visited one of the other London museums.
AOB
If you'd like more information on the Discover children's story museum have a look at their website HERE
For more indoor days out check the map HERE