There's something about the name River & Rowing museum that had put me off from visiting before. It just sounds bloody boring right? well unless you're into rivers and rowing that is. I honestly thought it was going to be crap for the kids. Turns out I was wrong.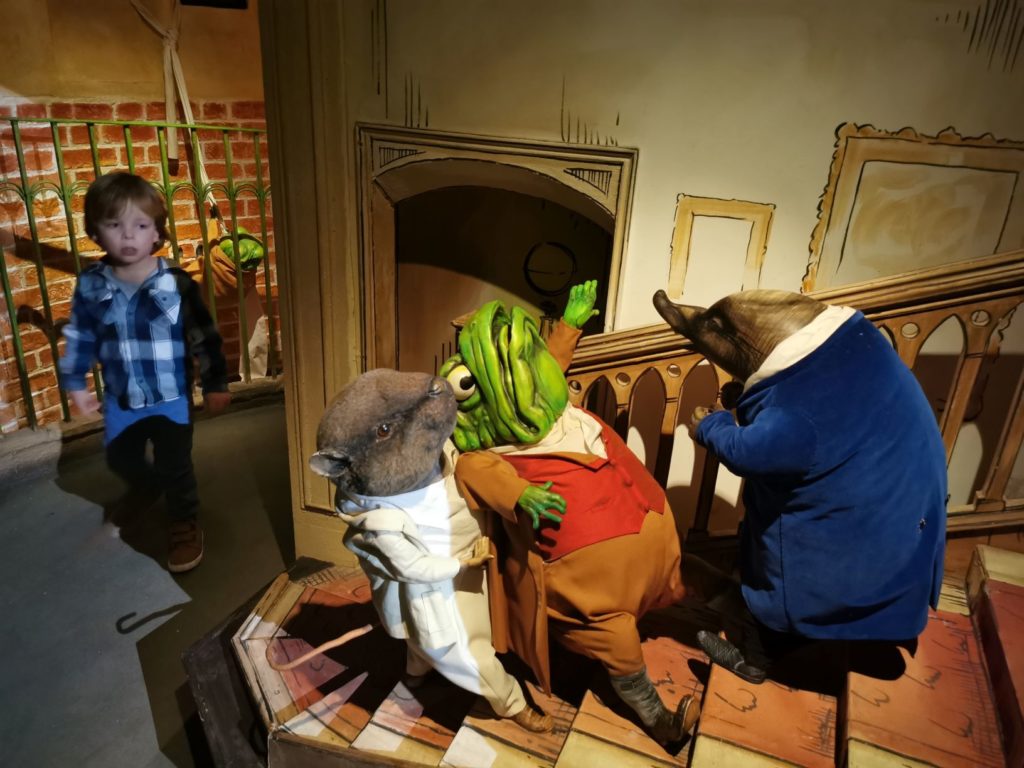 River & Rowing Museum
When I saw a free family ticket available on free cycle at first i was shocked that it wasn't free. Next i gave it a while first to see if anyone needed them more. No one commented so i bagged them whoop. Saved us a pretty penny too which is very much needed after the Christmas blow out (Mostly on cheese).
In case you didn't know The River & Rowing museum is in Henley-on-Thames and its right by the river too. Now don't go to Henley when the regatta is on because we made that mistake once and fuck me it was absolute carnage. We didn't stop….well we did but in traffic until we managed to get the hell back out again.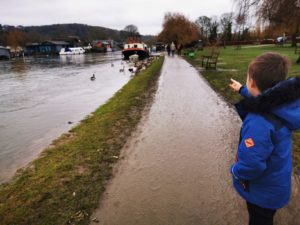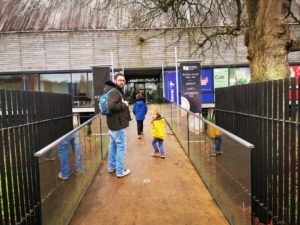 You'll be pleased to know there is parking. You'll be pissed to know how bloody expensive it is though. £7 for 4 hours!!! have a look around you might be able to find somewhere cheaper. This one was right on the river front between the museum and the play parks.
The kids had a great time walking along the river front. It was pretty flooded in places and the geese were in foul moods and attacked the kids at every opportunity. Was pretty funny really. The kids have never been bitten by a goose before but Clark was attacked by a chicken once. That was eventful ha!
River & Rowing Museum For Kids
We literally had no idea what to expect when we turned up. Like the lazy arse that I am I didn't do any research before we turned up. Well apart from double checking that it was open. First impressions? I was impressed despite the lady on the admissions acting like she was still a bit tipsy from all the Christmas Port.
So downstairs is where we started and ended up doing it again because the kids loved it so much. The wind in the willows exhibition is amazing. Now i'm not going to lie my kids have never heard of the story (Bad mum) But that in no way detracts from the fun they had. Its quite simply amazing, Quirky, cute and brilliant. No corner was left plain. Every nook an cranny had a story had its own little scene. So even though the kids hadn't heard of wind in the willows by the time we'd left after visiting it twice it sure seemed like they knew a lot more than when they went in.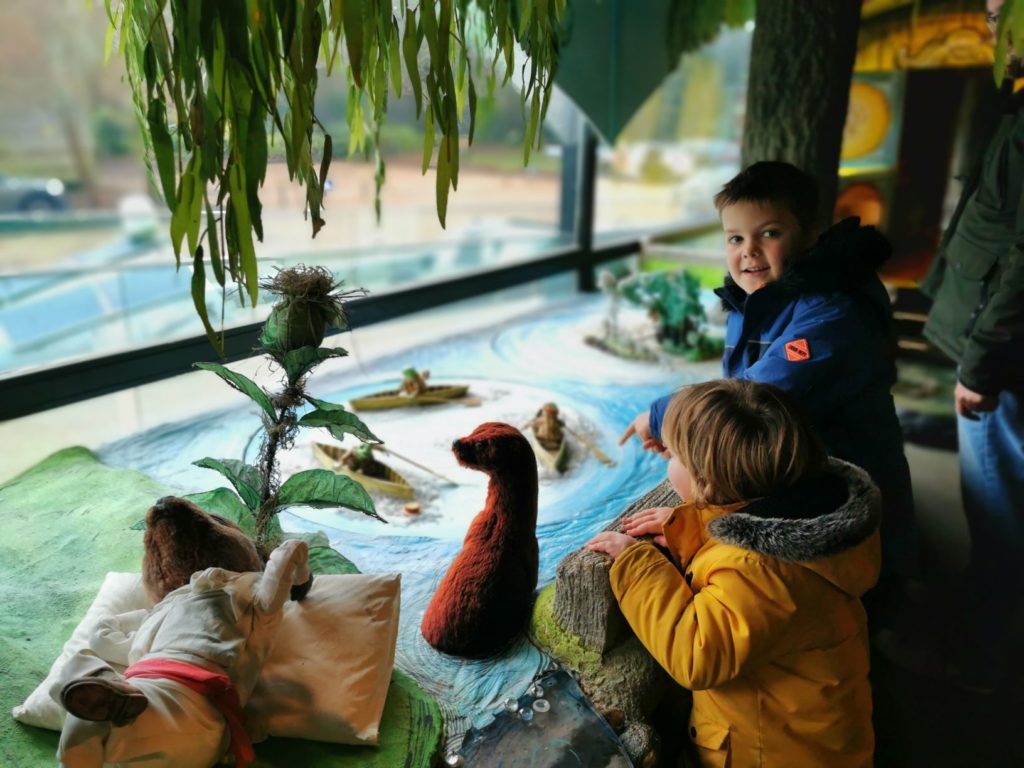 If that wasn't enough opposite the wind in the willows exhibit they had the snowman & the dog exhibition too. Husbeast got a bit of a semi on here he totally loves this film. Its not going to be there forever though but it was lovely and Christmassy for the boys and lots of interactive parts.
Downstairs is where you'll also find the shop and the cafe. The cafe was rammed when we visited but we didn't eat there. We had planned to go to zizi's but that too was rammo so we ended up in the good old trusty spoons which in hindsight was one of the better wetherspoon's we've been to (trust me that's a lot)
Upstairs At The River & Rowing museum
Upstairs is more about the rivers and the rowing so this is when the real educational bits kick in. Not that this makes it any less fun at all In fact the whole place is perfect for kids. They can literally touch everything, roam about, open draws, press buttons so basically they can do everything here we tell therm not to do at home.
Upstairs there's a huge area dedicated solely for kids play and exploration. From a play kitchen to a puppet theatre, book corner and so much more. The boys had a great time playing and had the whole area to themselves after a while.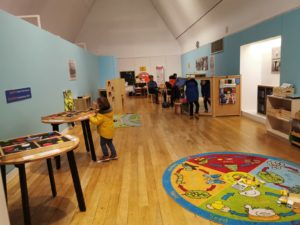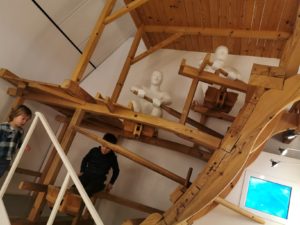 We really liked the rowing room where the ceiling was full of boats and the kids even got to try out a rowing machine. I didn't bother oh no fuck that the only exercise i'm doing until January the 1st is walking as little as possible. pah who am I kidding I wont be exercising after the 1st either haha.
There was so much for the kids upstairs so they had a good mooch round up there too. There's also a pretty good view of the river as well. If look look carefully you can see swans and geese chasing toddlers that get too close hahaha.
River & Rowing Museum Stats:
Distance from Bicester: 45 mins
Sat nav: Mill Meadows, Henley-on-Thames RG9 1BF Click to load sat nav
Wheelchair friendly: Yes
Equipment upkeep: 10/10
Cleanliness: 10/10
Facilities: Toilets, cafe and parking
Age range: all ages
Safety: 9/10
Fun factor: 10/10
Dog friendly: No
Pushchair Friendly: yes
Bikes and Scooters: No
Conclusion
In basic terms The River & Rowing museum was great. The boys loved it and we loved it too. We didn't spend hours in there but i reckon you could spend a decent amount of time in there if you wanted to.
We had a great day there coupled up with a walk along the river, lunch and a play in their parks so you can spend a whole day in the area it was lovely and we will be doing it again.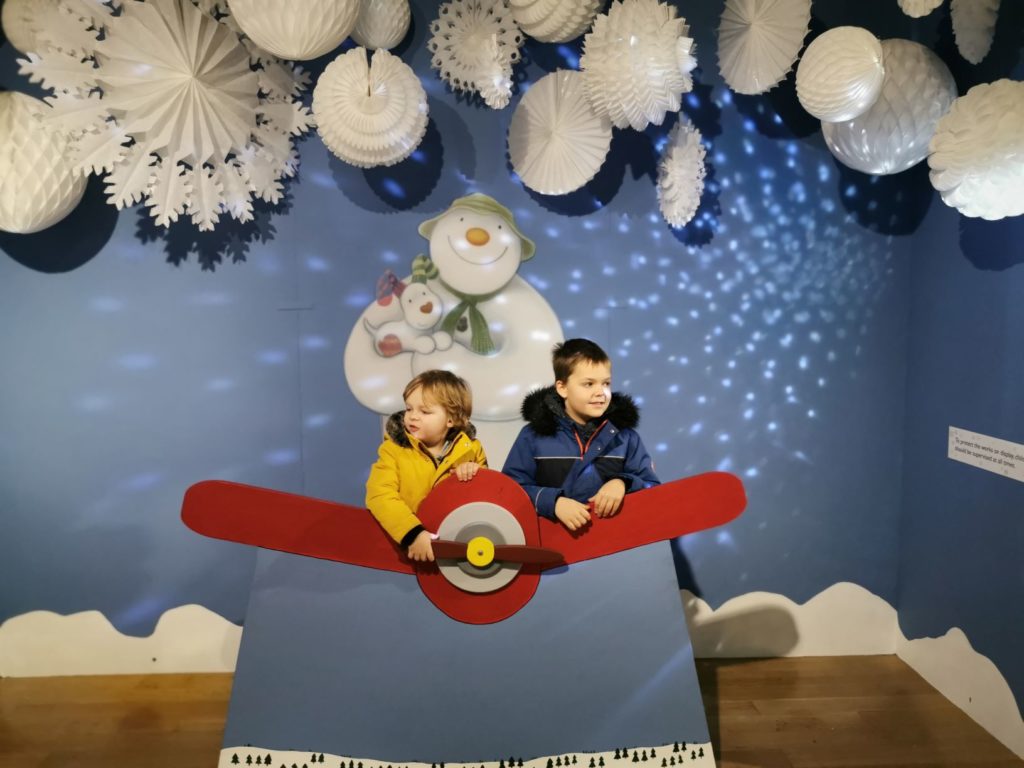 BUT!!! and there is a but and one that i cant ignore even if we got in for free. I was shocked about the price of the entry to the museum. In fact i was shocked that they even charged at all. I guess its because closer to home we're spoilt for choice with free museums. I know the cost would have put me off especially with a large family and for those without a lot of money, which really is a shame.
However they do have a yearly pass option which if we lived closer i'd 100% be looking at getting for us all because it really is a great interactive museum for kids. If you can get over the cost (Adult £9 Child £6) then you really should get your butts down there.
AOB
If you'd like a bit more information on the River & Rowing museum then check their website out HERE
For more museums for kids then check out this guide HERE