I like many other parents out there loath soft plays aka giant incubators for germs. However I again like many others understand the necessity of the bastards. My kids would probably sacrifice me for a day at soft play too. So when I took them to 360 Play in Milton Keynes for the first time they reacted how i'd react if i'd won the lottery.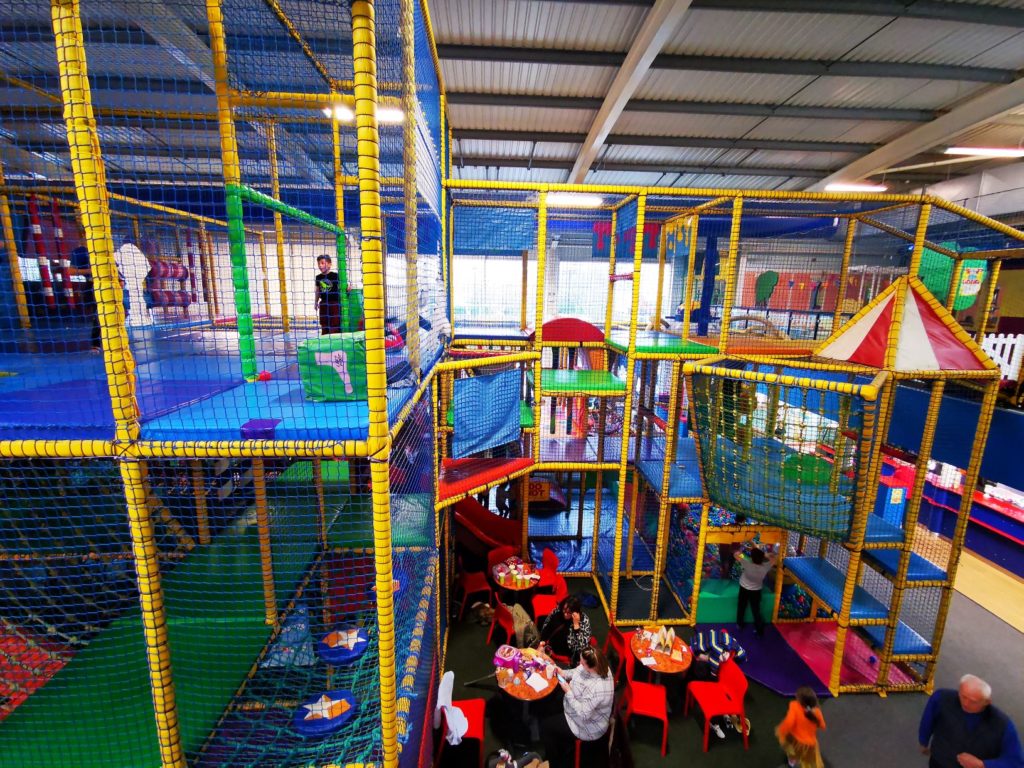 360 Play Milton Keynes
I had the great Idea to visit 360 play MK on the Monday that the Milton Keynes kids went back to school…….me and every other parent in a 1 hour radius apparently had the same idea. It was fricking mental.
Upon arriving the car park was full. Which to be honest doesn't mean a lot because the car park is pretty tiny for the size of the place. I did manage to catch someone leaving thankfully (or not whichever way you see it).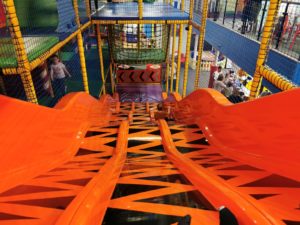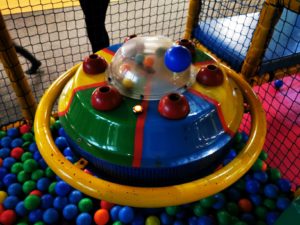 The queue was pretty big and moving crazily slow. Turns out 360 play Milton keynes weren't expecting it to be busy so were very understaffed. So that combined with a stupid membership system (Aka money grabbing fuckers system) a load of new members to sign up (Myself included) = pissed off staff and a rude skank mouthing off to the already pissed off staff. I was feeling myself starting to regret this massively.
Luckily we got through pretty quick once another member of staff joined in. She was fast, efficient and really friendly. In fact despite clearly being overrun i personally found all the staff to be really nice. Fuck knows hows after 2 hrs in that place i was ready to jump off the wavy slides head first.
Whats 360 Play Milton Keynes Like?
After being bent over and massively screwed by the cost to get in the bloody place we bolted for the only empty table left. Just about beat the rude skank there too. mwahhaha. Kids were already throwing of their coats and shoes. Seconds later and they were off.
Elliots now at an age where he can fend for himself (mostly) Plus he has Clark with him today and they had each other back. Meaning I could order a tea and chill the hell out while the boys went nuts.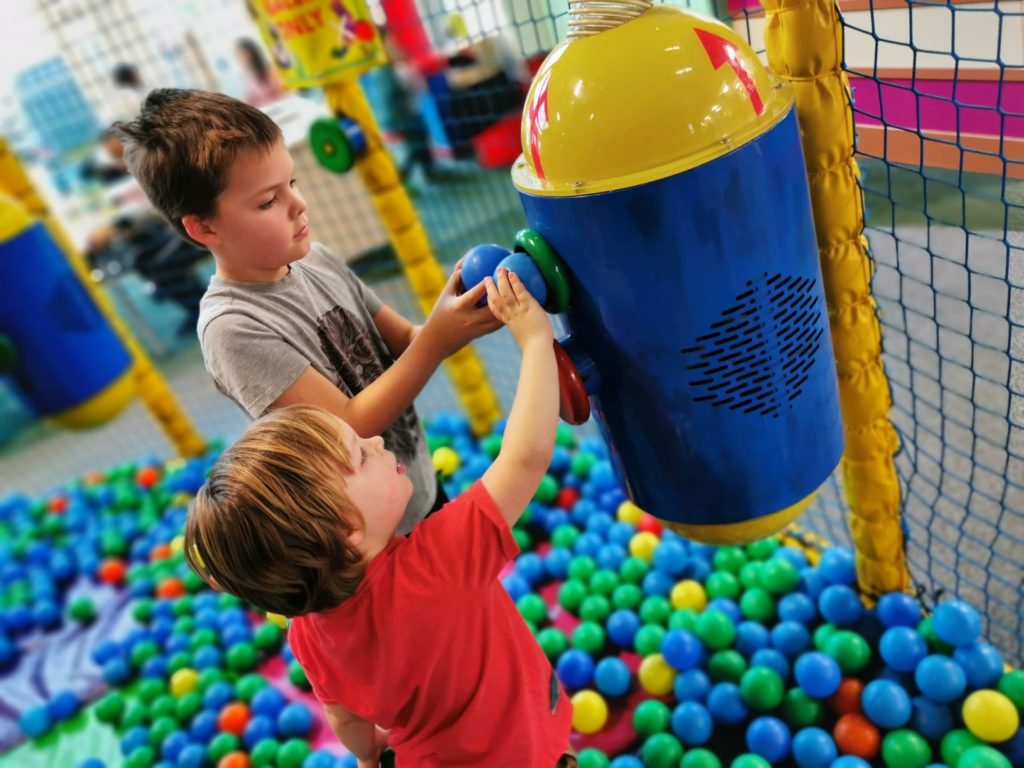 The main attraction is in the centre of the room. Its a beast of a structure and the kids loved it. Its definitely not one for toddlers to go at alone. Though there are different areas for different ages Elliot 3.5 yrs managed it all fine though.
In the main soft play they have pretty much everything your kids will want. I cant really be arsed to list it all but they had slides big ones and smaller ones (bloody fast i nearly took a kids out that decide to walk past as i flew down). There are ball pits gross germ holes but the kids love them. Ball sucky things and ball shooty things (ball drop broken though). That plus all the usual soft play bits.
What Makes 360 Play Mk Different From The Rest?
Now for the even cooler bits. Downstairs (yes there's an upstairs too). There's a go kart track and a carousel both of which are included in the cost of entry. 1st up was the go kart track. Clark was itching to have a go.
We didn't have to queue too long and Elliot was amendment to go on one himself to do the driving. Luckily he was just about tall enough to do so. Unfortunately he could drive for shit. He was so bad both me and the member of staff were shouting turn, turn at the top of our voices. Alas it was too late. To his pure delight he'd caused a massive pile up. It was total gridlock and no one could get past him. They had to stop the session and sort him out. I was cringing and hoping no one else would notice he belonged to me.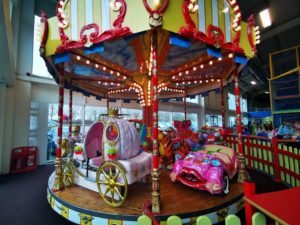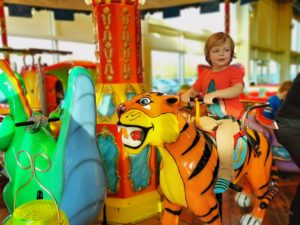 Clark wanted another go and so did Elliot. I could see the terror in the guys face at the though of Elliot going on again. Luckily I managed to convince him to go on the carousel instead. We had to wait a little while due to staff shortages but after giving a 2 year old the stink eye and scaring him for hitting Elliot (parent did nothing) we were on and Elliot loved the tiger. Clark even managed to squeeze on last min too after his 3rd go on the go karts.
The Play Village
Now I mentioned earlier that 360 play MK has an upstairs. Well not only are the toilets up there (bit of a ball ache not massively) but they have a play village. Oh yeah maybe one of my favouritest things to watch the kids play in.
Unfortunately for me (Bicester) we have fuck all like it near by. so it's either The Riverside Hub (lovvvvve this place) or the play village in Warwick (always fully booked). At least now we can add this one to the list too. Its pretty cool and different from the rest to.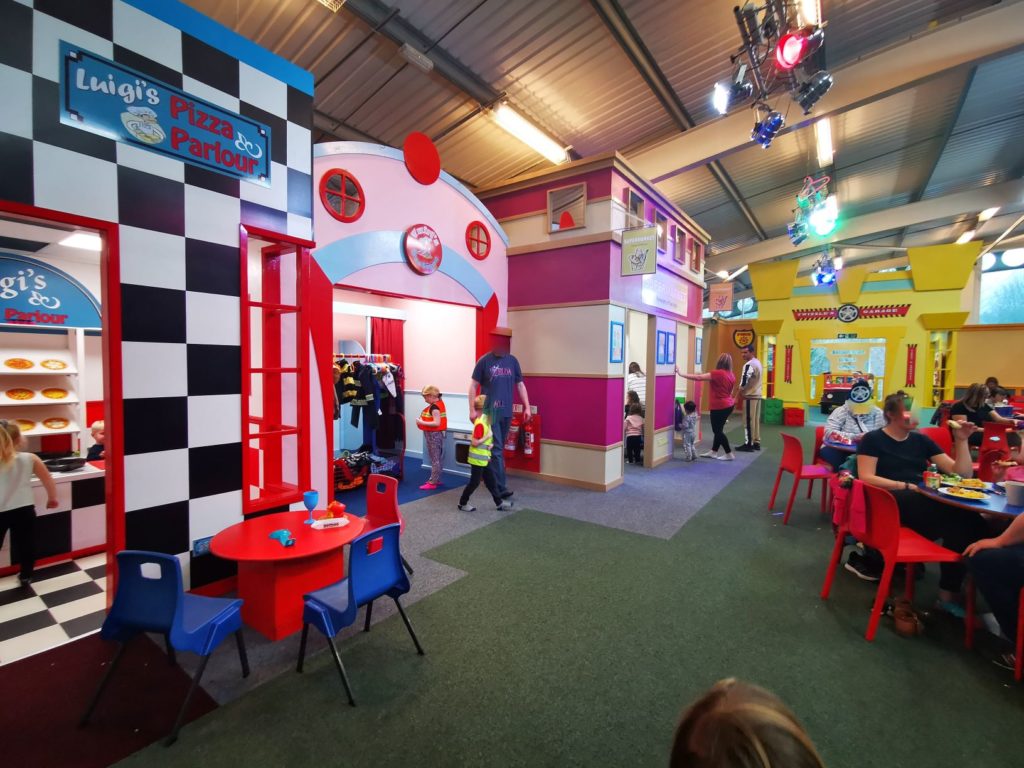 There's the usual supermarket, theatre/dress up (Out of all the dress up Clark picked a fucking snail!) there's a pizza parlour, a fire station and engine, a mechanics, vets, builders area including Duplo bits and loads more quirky little bits. The kids and myself probably loved this area the best.
Kids were in the supermarket. Elliot was shopping and Clark was the shop keeper. As I stood watching a little girl tapped me and pointed to her nose. There was an ungodly amount of snot. No chance in hell I was helping plus all i had was a felt lettuce in my hand. I told her to go and get her adult. Then the little rotter wiped her nose on her hand (while still maintaining eye contact) and wiped the snot all over the till Clark was playing on!!!! Nope, nope and nope that's enough for today. No more play for us. Grabbed Elliot and told Clark to back out and not touch anything. Bribed them with a choc ice and off we fucked before I Borked all over the already snot laden till.
360 Play Milton Keynes Stats:
Distance from Bicester: 35 mins
Sat nav: 27 Roebuck Way, Knowlhill, Milton Keynes MK5 8HL Click to load sat nav
Wheelchair friendly: Yes
Equipment upkeep: 7/10
Cleanliness: 7/10 (not awful & could be down to staff shortage)
Facilities: Everything you need
Age range: Up to early teens? not really sure when kids stop playing at soft play
Safety: 8/10
Fun factor: 10/10
Dog friendly: No
Pushchair Friendly: yes
Bikes and Scooters: No
Conclusion
The boys had the best time at 360 Play Milton Keynes the other day. Despite them being over run and understaffed I personally though they did ace. The staff were friendly, always on their feet tidying and running food etc.
Weirdly its not the cheapest nor is it the newest, best kept or even the biggest soft play we've visited we still really liked it. There were a few little shits running riot and picking on other kids. You can normally pick out their parents sat in the corner ignoring the fact that their kids had a shit in their nappy despite the smell because she's too busy on her phone. (yes i'm judging don't kid yourself you don't do it too) . However despite all that we would revisit.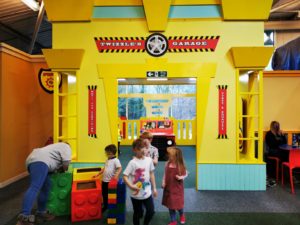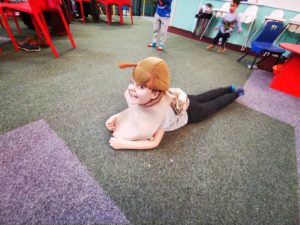 The food was cheap (in my opinion) and the kids ate it all. We had no time limit when we visited whether this is the same on weekends I don't know. We spent around 3 hrs in there but honestly you could easily spend the day in there if you like.
Parking was a bit of a pain but there's probably other places to park nearby. Its basically a mini slightly rough version of the Riverside hub. I genuinely liked it and i would recommend it to anyone looking for a soft play that's a bit different.
AOB
For more information and too see how much you're about to spend (Fuck load if you're new) Then have a look at their website HERE
For more ideas of indoor activities and soft play then have a look HERE