Over the weekend we decided to take a bit of shelter from the rain and try out a museum that we haven't visited yet. The bucks county museum has been on my list for a while. Mostly because I've been wanting to visit the Roald Dahl childrens gallery which shares the same site.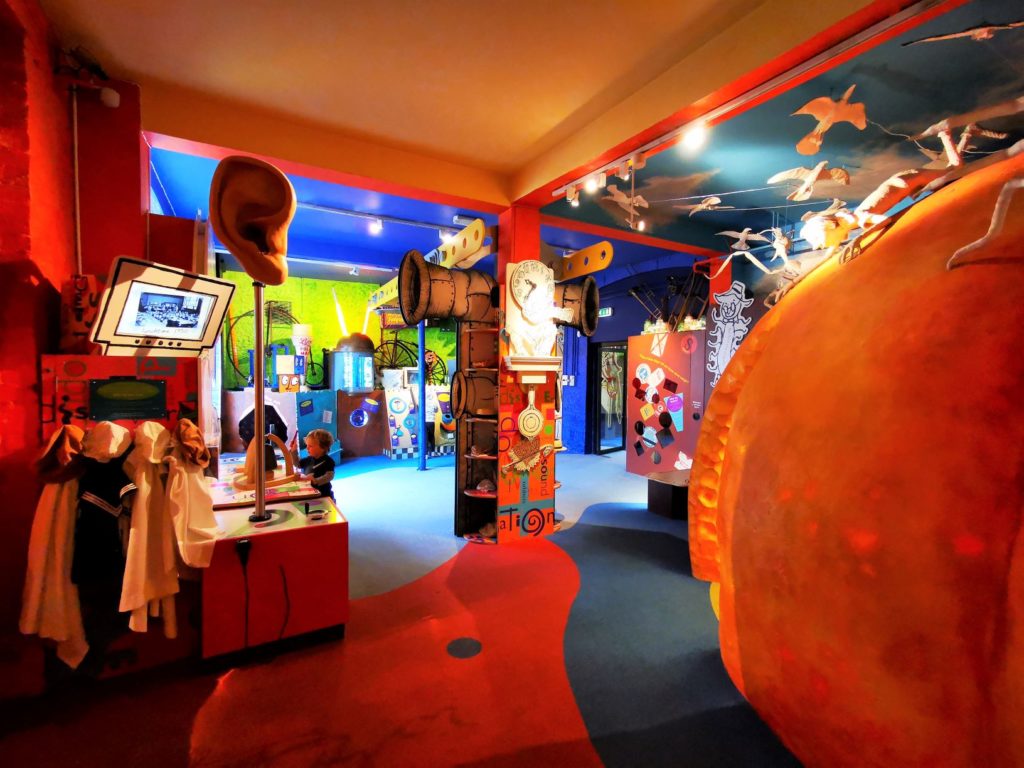 Although we visited the bucks county museum I'm only going to review the Roald Dahl childrens gallery on this post.
The Roald Dahl Childrens Gallery
I'll hit you with the bad news first. You have to drive into the centre of Aylesbury and there isn't a dedicated car park for the gallery. However I managed to do it, I didn't kill any of us and i managed to use my first ever multi storey car park since i learnt to drive a year ago (Bicester Sainsbury's doesn't count)
There's loads of choice for parking but we ended up in the Friarscroft car park. It was practically empty and only cost us £3 for the whole day. Most people used the Friars square multi storey though which is busier, more expensive but closer and dryer if its pissing it down.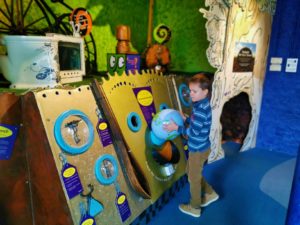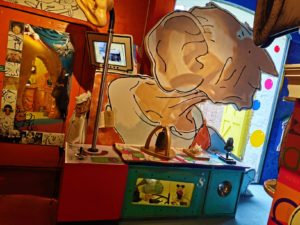 We had a bit of a walk, not much but it didn't matter anyway because the kids were watching the trains go by as we walked and we got to walk over a big bridge (Simple things hey)
It took us a little while to find the museum because were shit with directions and we don't know the area very well. Next time I'll use the sat nav on my phone. We finally found an entrance opposite a fresh fruit and veg shop (Looked really good too).
Exploring The Roald Dahl Childrens Gallery
You will need to head to the bucks county museum reception to purchase your tickets for the gallery. It cost all 4 of us £22 which looking back I wish we had taken them up on the yearly pass for £35 which allows up to 8 people in.
With our tickets in hand off we trotter to find the gallery. You need to show your ticket to get in and as soon as you're in its like being transported to the inside of Roald Dahl's head. Crazy, Eccentric and amazingly cool. The kids were buzzing with excitement.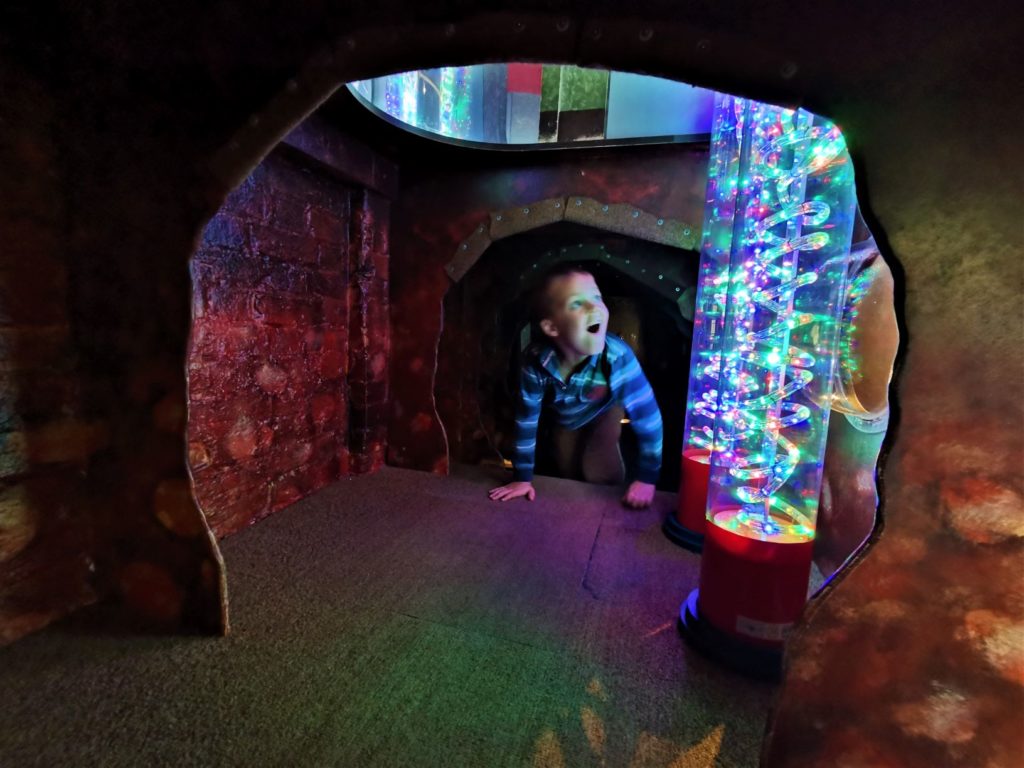 We dumped our coats on the coat racks and off they went into the room downstairs. It was amazingly cool and I think I enjoyed it just as much as they did. The colours and lights alone are enough to keep even little babies entertained.
When we arrived we were the only family in there along with 1 more. The gallery is small but they more than make up for it with packing in as many interactive parts as possible. Your kids wont even need to know/ Like Roald Dahl to enjoy this place.
Play Play Play
Clark was off into Fantastic Foxes tunnel. It was even wide enough to fit my arse in. Once inside there are lots of little windows with animals, facts and fun things to do. It leads to the Invention machine where they can look out to their parents.
Elliot at this point was at the giant music making machine where you stick a tube into a hole (Sounds dodgy) and then press the foot pump to make different musical sounds. Really cool however not as cool as the voice changer.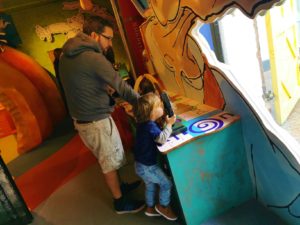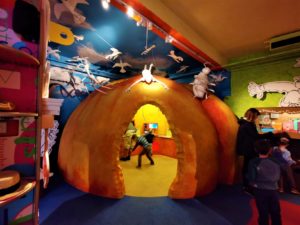 This was the biggest hit with both boys. 4 buttons 4 different changes to their voices and by the end of it like with most things that make noise i wanted to rip it out and throw it away. If the thing had batteries i'd have been there taking them out and saying its broken (We all do that with noisy toys right?)
IN the corner of this room is a giant peach. In this peach (James and the giant peach fyi) there are again lots more interactive bits like microscopes with bugs to look at, Facts on the walls and even draws to look at more bits.
The Chill Out Room
Thankfully the museum was quiet because we went to see what the chill out room was and it was full of books, beanbags and a TV in the corner. They even had a Chokey!!! couldn't go in but it was really cool (Matilda is my favourite Roald Dahl story).
The boys of course saw the bean bags and instead of sitting quietly and reading a book they launched themselves at them and starting their own mosh pit without the music. Boys really are a handful….or at least mine are.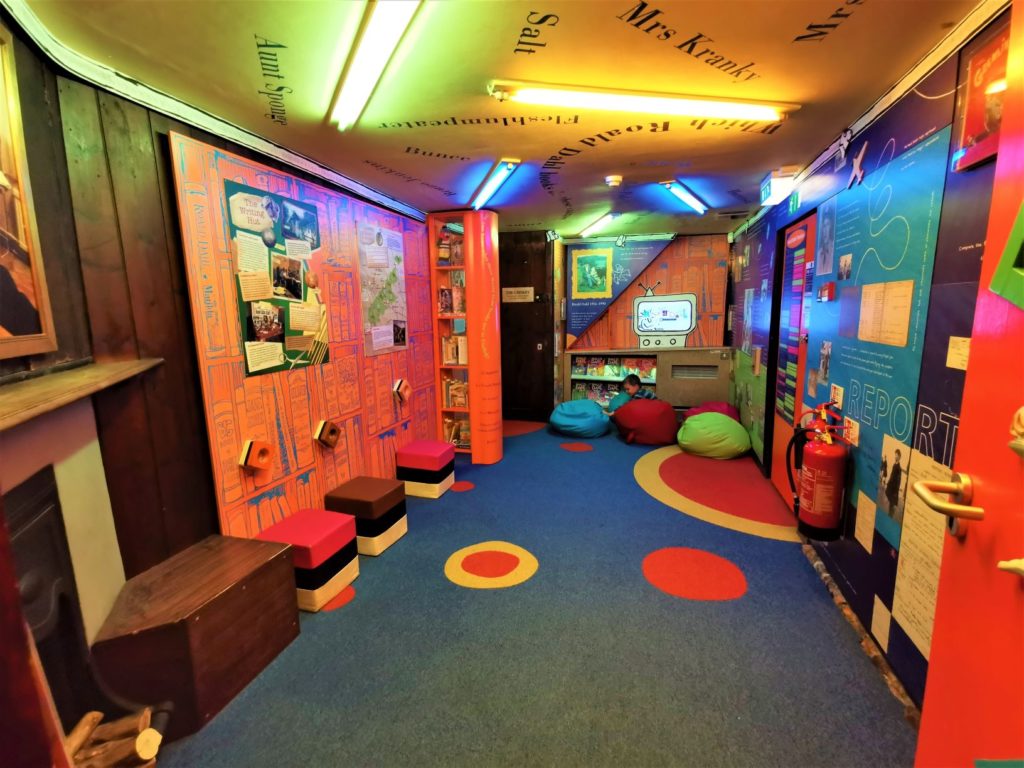 We managed to break up the pit and the other family had walked in at this point. Me and Elliot were trying to figure out what the little holes were on the walls. I tried looking into them (Saw fuck all) Elliot tried talking into them (did fuck all). Then the lady from the other family put her ear to them. Insert palm to face here hahaha These things are dotted all over the museum and if you put your ear up to them they're all telling a different story!
There is so much for the kids to do downstairs. From a giant moving ear, Dress up, music stations and hidey holes. I really cant fit it all in. We spent ages downstairs and probably could have spent even longer. However we wanted to check out the upstairs…..
The Glass Elevator
To get to the next room you have to head upstairs. To can walk up of you can go in the glass elevator. The glass elevator was really cool. They've kitted it out so that it even looks like it (Willy Wonka fyi). Its just another amazing quirky touch to add to the magic of this place.
The upstairs room again is as quirky as the downstairs room. Only upstairs they focus more on movement and light. There's a huge green screen for the kids to dance in front of to see what they look like on the TV.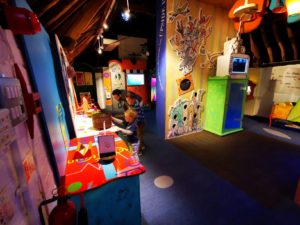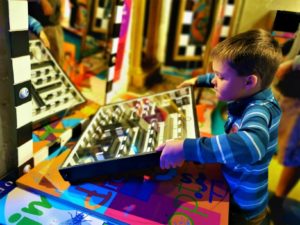 From shadow puppets, mirrors of all shapes and sizes, Motion reels and even a huge light room that catches shadows the kids again were in sensory heaven. I don't think there was anything in the gallery that they couldn't touch.
After more playing both upstairs and downstairs we decided to head off for some lunch. On our way out we noticed what looked like an area like a theatre in the foyer. Maybe they put on events or do story telling. Maybe we will find out next time we visit.
The Roald Dahl Childrens Gallery Stats:
Distance from Bicester: 30 mins
Sat nav: Church St, Aylesbury HP20 2QP Click to load sat nav (HERE for car park)
Wheelchair friendly: Yes
Equipment upkeep: 9/10 (photo machine upstairs broken)
Cleanliness: 10/10
Facilities: Toilets, and cafe in the bucks museum
Age range: all ages
Safety: 9/10
Fun factor: 10/10
Dog friendly: No
Pushchair Friendly: yes
Bikes and Scooters: No
Public transport: From Haddenham & Thame parkway station jump on the 280 to Aylesbury, get off at Frirage road and walk a couple of mins and you're there. Its about a 20 min bus journey. Coming from Bicester get the train from Bicester North.
Conclusion
Me and the boys absolutely loved The Roald Dahl Childrens Gallery. Yes its small but it more than makes up for it in quality, quirkiness and fun.
My husband debated value for money and while £22 is a bit pricey for the size I don't regret it. My only regret is not buying the annual ticket for an extra £13 which admits up to 8 people.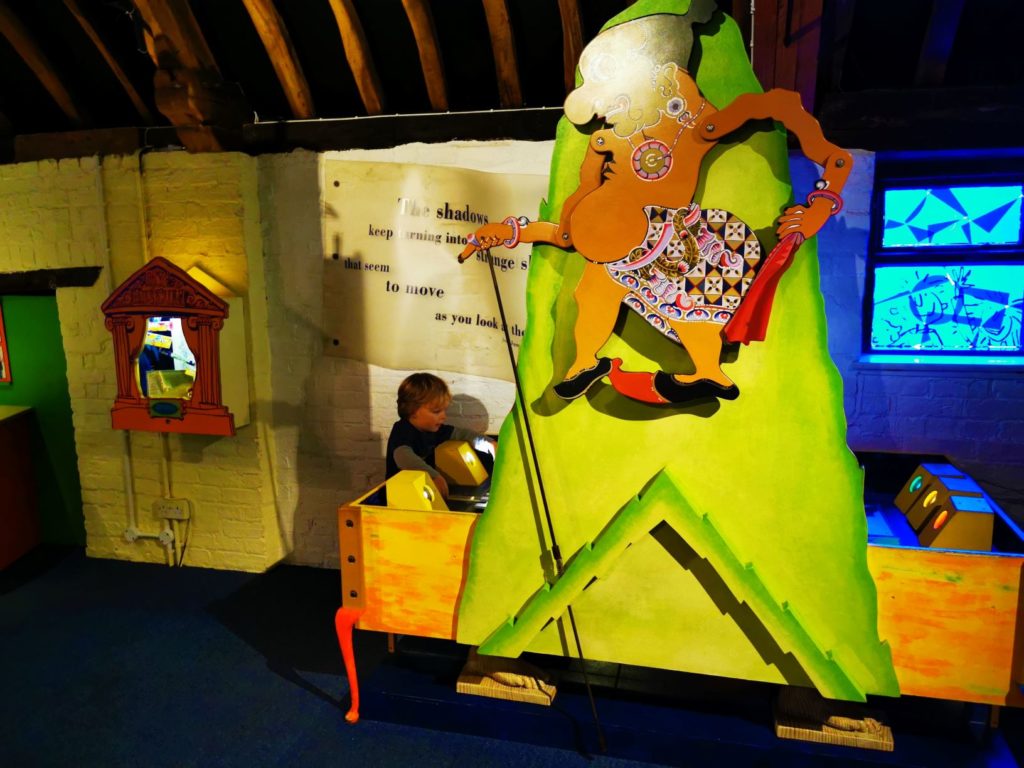 We will 100% be going back. Its a shame it's only open on Saturdays. However they do open more often during the school holidays. I would recommend this gallery to anyone.
Teamed up with free entry to the bucks county museum you can have a great day with the kids. Great shelter from the crappy British weather. They do have a nice little garden area to run around if it is sunny though.
AOB
For more information and opening times check out their website HERE
For more indoor fun check out the map HERE
What Else Is There To In The Area: Aston Clinton Park, Wendover woods, Tiggywinkles,