We were gifted a family ticket for the brand new Silverstone Experience That opened October half term. Its pretty different to our usual haunts. Not a single ball pit or slide in sight. To be frank I know a grand total of shit all about Silverstone and racing too.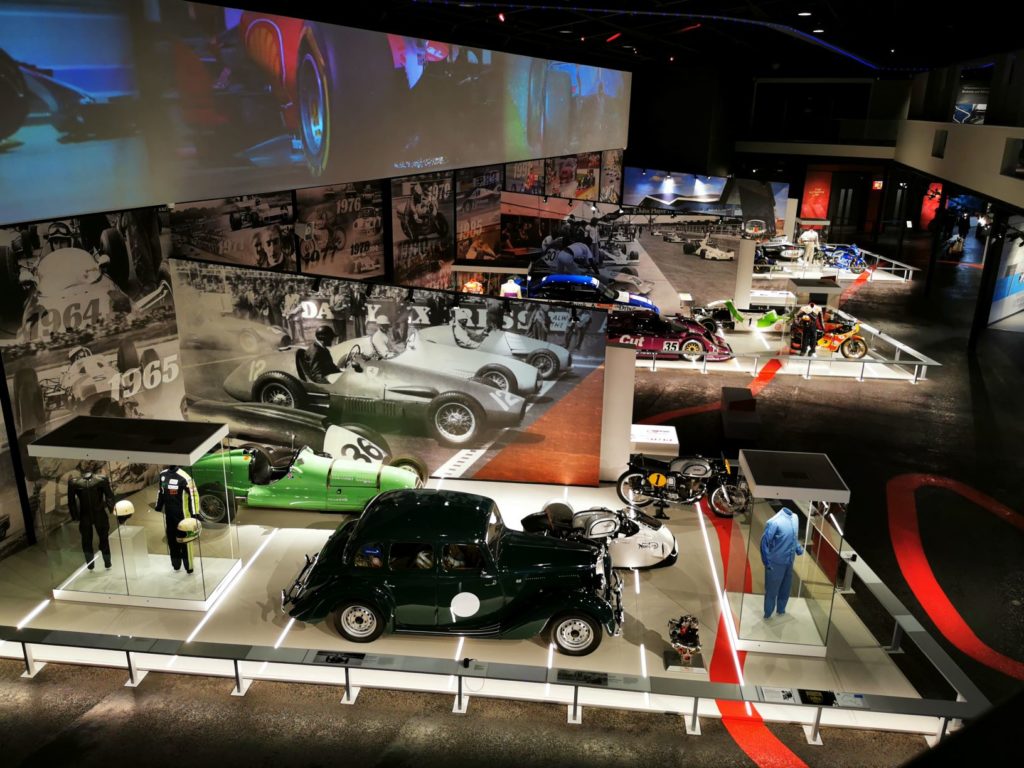 The Silverstone Experience
First off let me explain what the Silverstone Experience is in my terms. They themselves call it a "brand new immersive visitor attraction". I call it a huge arse museum for motor loves. Don't get me wrong its wayyyyy more swanky than your typical transport museum. You'd bloody hope so after spending £20m (that's a shit load of cakeage right there)
Despite me knowing pretty much bugger all about motor racing I felt it was my duty to be the guinea pig and tell you all what I thought……..In my own special way that is.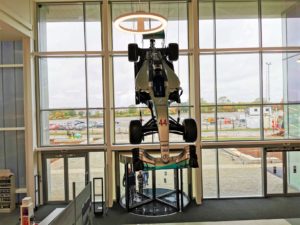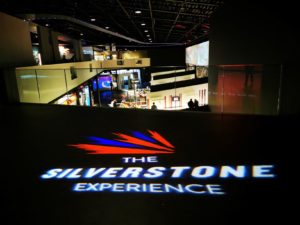 Let me set the scene : It was absolutely pissing it down not that it mattered too much as luckily everything was indoors anyway. Clark and Elliot had pretty much argued the whole way in the car. Elliot was on top douche bag form and we were trying to bribe them to be nice with the promise of a McDonalds afterwards.
As soon as we parked in their giant car park and got out of the car you could hear the race cars going round the track. There was an endurance race on (not busy though). This instantly got the kids attention (Thank Fuck)
Lets Get Immersed In The Silverstone Experience
Once we arrived we headed over to the reception to grab our tickets. If you're thinking of going then pre book your tickets as it works out a lot cheaper. Under 5s are free and a Family Ticket is £57 (2 adults & 2 Kids). Its no where near as expensive as I thought it was going to be either. Great value if Motor racing is your thing.
In the foyer is a huge suspended F1 car which the boys were in awe of. Elliot was off and running round like a lunatic. Normally we can hide away and pretend that he isn't ours. We go for the stare, shake our heads and pretend we're looking for his parents trick. Fuck all chance of that today literally the only people in their other than staff when we arrived. His screeching echoed in the foyer like a siren.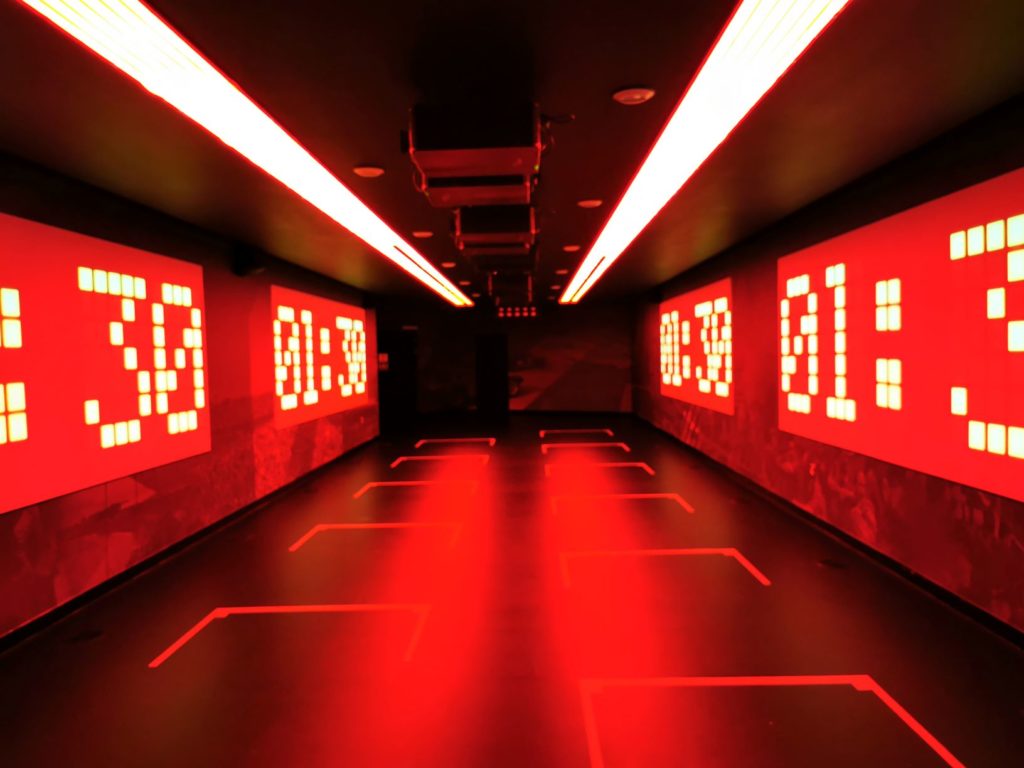 We headed upstairs to begin our journey. Not before a quick pit stop (see what I did there haha) in the huge window to watch the cars racing round. Wasn't the best view but you could just make out the tops of the cars and the spray from the rain.
1st up was "The Grid" this is pretty cool its like a giant cinema but in the shape of a starting grid. The whole room was lit up red and had a countdown on the screens. I could see how this could shit a few people up but there is a route to avoid this if you prefer.
The Grid
Thankfully we had the grid to ourselves and the boys were racing up and down the room. That is until it was about to begin. Another family (older kids) had now joined in and they shut the door behind us. The show was about to begin.
The show is a journey through 70 yrs of motor racing history. For me and the husbeast it was pretty cool and interesting. For a 3 & 6 year old it possibly felt like the show actually went on for 70 yrs. Little tip, take the kids to the toilet first.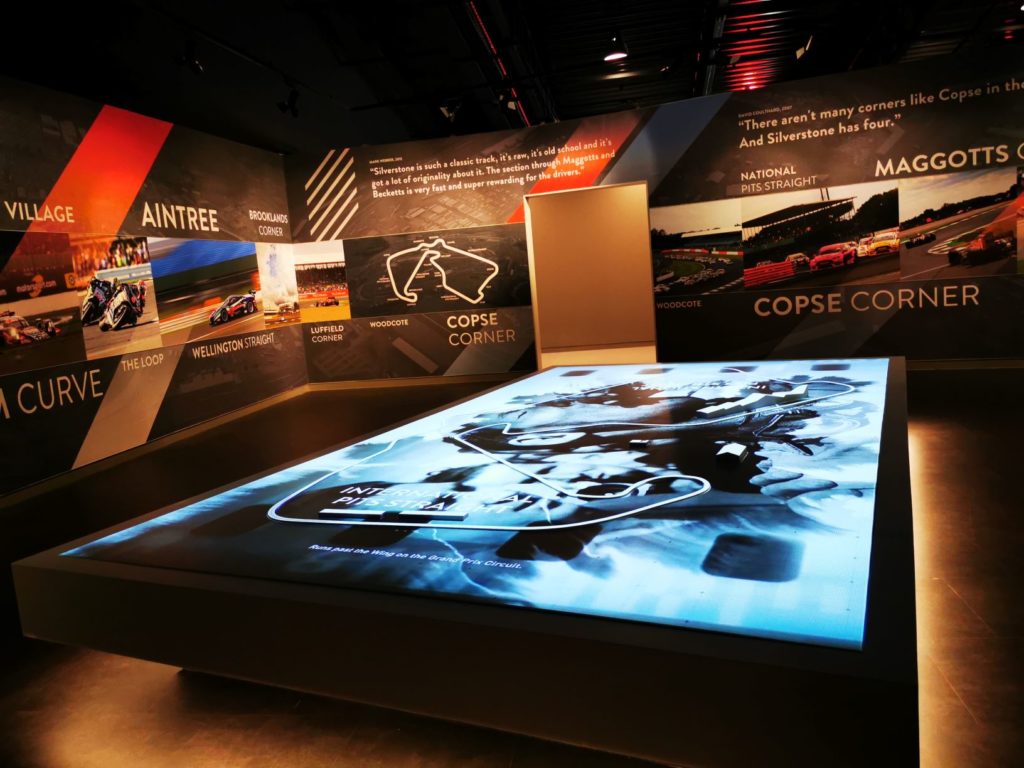 It was all very flashy and impressive though and when the doors opened on the other side we were faced with the view of everything race like. I can imagine real motor racing fans would have goose pimples right about now. Kind of like when I walked round the corner to see Gringotts during the Harry potter studio tour.
Basically it got the wow factor and nailed it. The kids were buzzing with excitement and were ready to explore.
Exploring The Silverstone Experience
The kids rushed past the "boring bit" i.e the information actually about the whole place and managed to find a more suitable area for kids their age.
They'd found a little play house in the wall which was a tunnel that went into a church. Inside there were lots of interactive bits for the kids. Outside was a huge interactive pond on the floor for them to play a game and jump on the Lilly pads.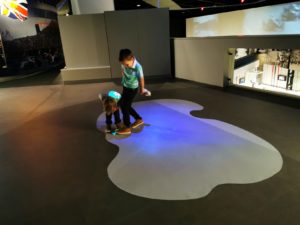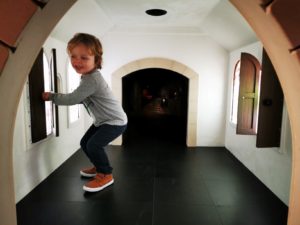 Great area for them to play in while the adults have a read of all the informative bits….at least the husbeast did while i made sure the kids didn't kill each other playing too rough. It was one of those days where Elliot was like a bomb waiting to go off with another tantrum so we all had to tread carefully.
When we moved on we started to realise just how interactive the place really was. Its got a great ratio of adult to kids activities to keep most families entertained. That being said you don't even need to take the kids. In fact i can guarantee it would probably have been easier/ more enjoyable if we'd have ditched the kids all together.
RAF Silverstone
Talk about every day being a school day. I had no idea that Silverstone used to be an airfield. The experience is actually inside a restored Hanger which was built in 1943 and was home to the wellington bomber command unit.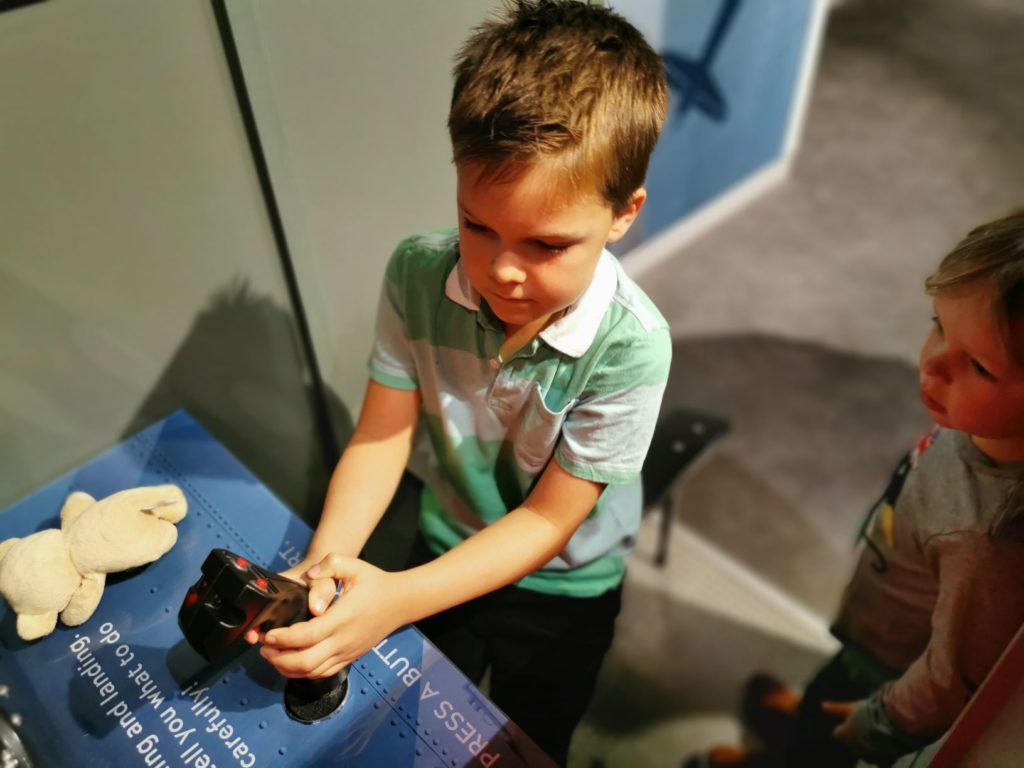 Cue the kids next bit of fun. They got to pretend to fly the aeroplane which Clark was doing really well with. Then we hear an loud exited squeal from Elliot "GUN". That child will find a gun anywhere (worried parent over here). Boy was it a big gun too and the game was to try and shoot down the barrage balloons. Not bloody easy let me tell you. We were all pretty shit.
There's Always A Pub
Elliot's trick is sniffing out guns. My trick is sniffing out pubs. Unfortunately this pub was just a replica. Shame because I needed a gin.
The kids got to play the Silverstone board game while me and the husbeast did some more reading before heading off to look at some of the cars.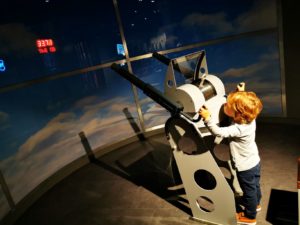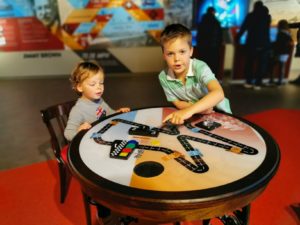 There's a replica car from the very first Grand Prix race which you can sit in which makes for an ok photo. Or at least would have if our kids were tall enough to see over the wheel anyway. Hahaha its bloody huge. I struggle to park my car without crashing and i have sensors. I'd had trashed that beast within seconds. Don't think it had an air bag either and definitely no boot space.
It was time to head down to have a look at these cars. I think this is what Clark was most excited about anyway. He's moving on from trains to fast cars. He's at the stage of thinking every car with a spoiler is cool. If only he knew!
Pitt Stop
The first thing we came across downstairs was the interactive area where you can race to change a wheel (not a real wheel) but that was really good fun racing each other to see who could do it quicker. Those machines are heavy too.
Elliot of course soon spotted us and thought they were guns. To be fair to him they did look like guns. He couldn't reach the display and got pretty frustrated so resorted to shooting the cars instead (Lord help us all)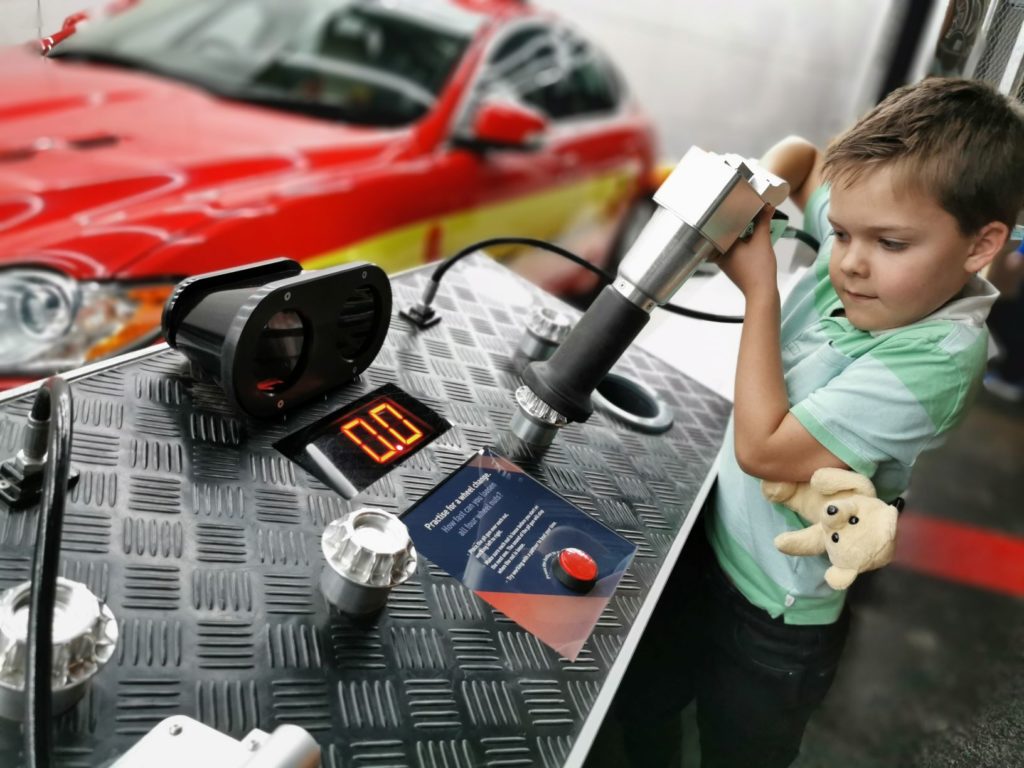 There were flags for the kids to wave about while racing, quizzes for them to do which Clark surprisingly enjoyed doing. Elliot liked randomly pushing the buttons even more so if it pissed off his brother.
I personally thought the most impressive area was the Tech lab. There were so many stations with experiments that taught us about aerodynamics, engines, wheels and more. Again Clark took a real interest with all of these bits in particular the difference in the accelerator pedals in a normal car compared to a F1 car.
Nearing The Finish Line
There were loads of really cool exhibits containing loads of racing memorabilia including race helmets from Michael Schumacher and Damon Hill along with loads of other bits. I feel a bit bad that it was all lost on someone like me. Again someone with a real love for the sport would appreciate it all a lot more.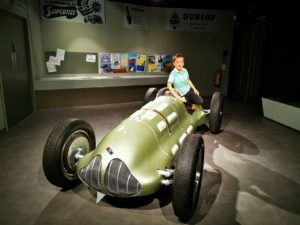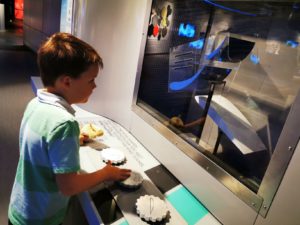 Right now I was stopping the kids from twatting each other over their heads with the giant inflatables by the podium. It was pretty funny watching them play dress up too.
It was however time for us to head into the ultimate lap. Aka the end of the experience or at least the museum part of it anyway.
The Ultimate Lap
Weirdly i was speaking to my husband about the Experience so far and wondering why they hadn't put in a simulator of something similar. Well walking into here soon shut me up.
First off you head into a room and they have another show. The whole time I was waiting for us to all to be driven off round a lap in the car. Went on for some time and then we realised it was never going to happen. Screen went off, was about to moan then the screen goes up and behind it is a door into a cinema room!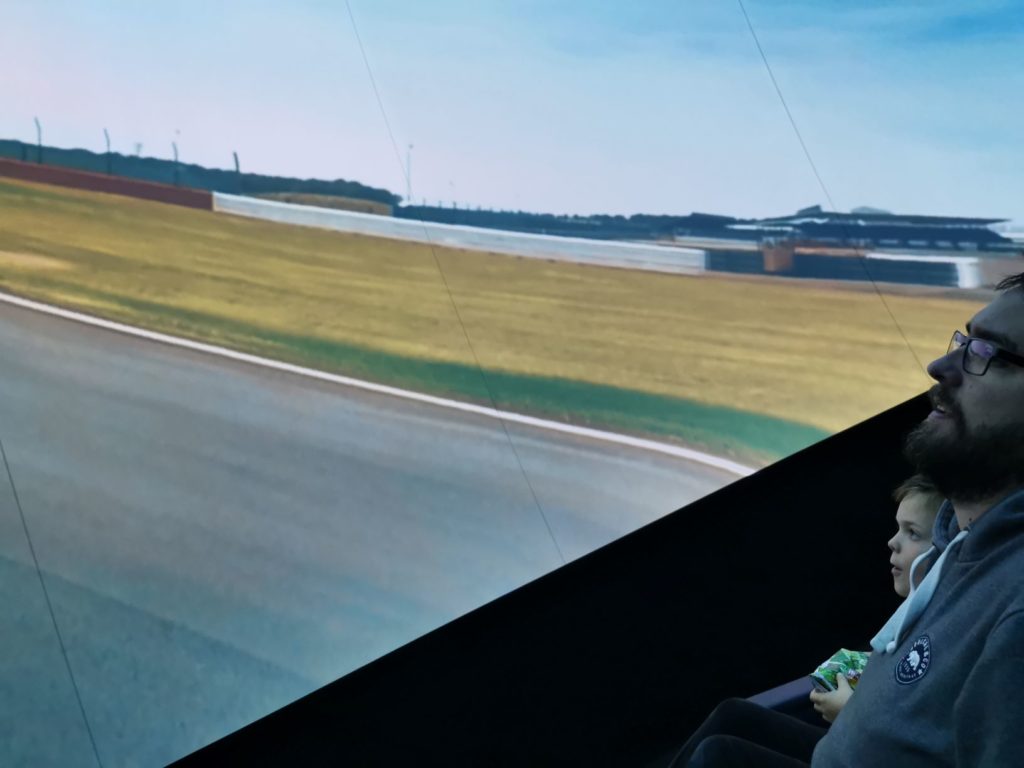 Things just got interesting. It was a special effects cinema with the screen being a half dome thing. We were the only ones in there so we got front row seats. The seats lay you back. Poor Elliot couldn't sit in them. Was pretty funny to watch though because he kept trying and the seat kept closing on him and his legs ended up in the air every time. In the end he sat on my lap.
Murray walker commentated the lap along with other famous racing commentators in the cinema and the boys loved it (so did I really). Its a show of one full lap of Silverstone combining 16 Iconic Silverstone moments. (couldn't name a single one) The graphics were pretty naff to be honest but the show was really good and made for a great finale.
Food And Home
After navigating the kids out of the cinema we decided to head to the cafe. The cafe had a decent selection of food including kids lunch boxes, sandwiches and a few hot food bits. I just decided to grab a couple of portions of chips. As with most cafe's in these places it wasn't cheap. The chip though were bloody lovely.
The view for the cafe Is pretty cool too and we saw that the race was still going despite the monsoon. We decide to brave it and head out for a nosy.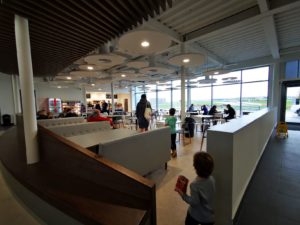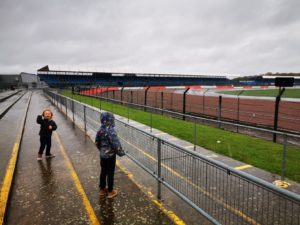 There is a heritage track trail where you can stand at the start line of the first ever British Grand Prix. We just headed over to the stands to see the cars. I'm not normally a wimp when it comes to rain but it was just too much. We had a look and it was pretty awesome. I just with the weather was better because I can imagine the boys would have loved watching the cars. However it was time to head home… via the gift shop.
We'd done fairly well at keeping Elliot mood under some form of control. That all went to shit in the gift shop though. You cant escape the gift shop. You have to walk through it to get out. Which is a damn sight better than having to walk through the ones at the entrances. However it did result in an epic melt down, me losing my shit and eventually carrying/dragging a screaming toddler out of The Silverstone Experience into the rain with no coat on.
The Silverstone Experience Stats:
Distance from Bicester: 26 mins
Sat nav: Silverstone circuit, Towcester NN12 Click to load sat nav
Wheelchair friendly: Yes
Equipment upkeep: 10/10 all brand new Oct 2019
Cleanliness: 10/10
Facilities: Everything you need
Age range: All ages but for me personally I'd say from ages 6/7 plus
Safety: 10/10
Fun factor: 8/10
Dog friendly: No
Pushchair Friendly: yes
Bikes and Scooters: No
Public transport:Not easily that I could see
Conclusion
If you have a love for Motor racing then there's no doubt that you will have a love for The Silverstone Experience. Its Rammed full of top of the range interactive stations and they really have done well to cater for both adults and kids.
BUT and there it is. There is a but at least for us anyway and I do like to be honest about our personal experience. I personally wouldn't go back . At least not until the kids are a bit older. If they had a love for Motor racing then yes we probably would. However they're at the stage of still finding poo funny so its not really something for us.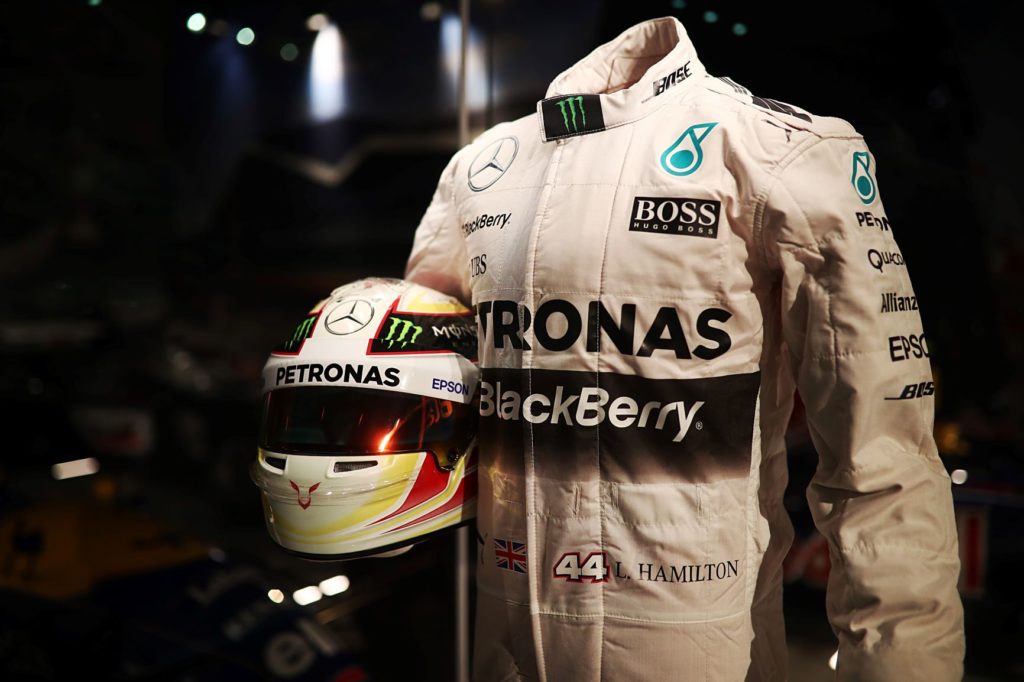 That's not to say it wasn't impressive because it really was. It wasn't my favourite day out by any means. Each and every member of staff we came across were super lovely, helpful and friendly. There were loads of staff too and they all did a great job of making it a smooth running day.
I wouldn't recommend taking young kids here unless you have well behaved ones or if you yourself really wanted to see the experience. If you do have a love for racing you 100% need to visit here as soon as you can.
AOB
Click HERE for more information on The Silverstone Experience website.
For more rainy day activities near you check out the map HERE