I always forget that we have bowling on our doorstep…. Ok not literally on our doorstep. Bicester bowl is so central that its even within walking distance. I'm not saying that we walked there but I'm saying we could have. If you haven't been before its towards the back of the leisure centre by the football pitches.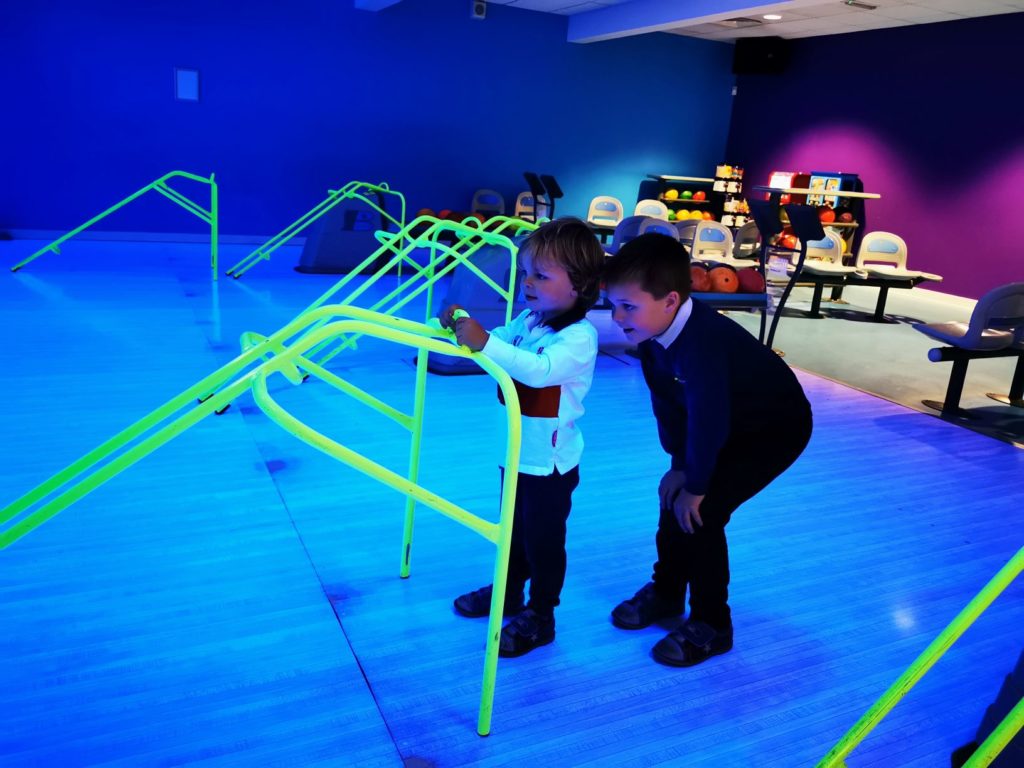 Bicester Bowl
We've been promising the kids all week that if they're good we would take them bowling. When i say kids i mean Clark. Elliot didn't have a clue what the hell we were going on about but sensed the excitement so went along with it too.
So Friday came and we booked us all in. Not because the kids had been good. If anything they'd been bigger shits than usual but like with everything we caved to their whining. We couldn't face being indoors with them if we'd said no.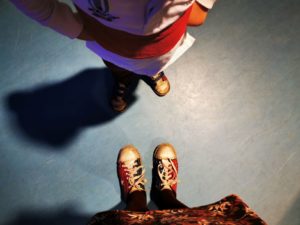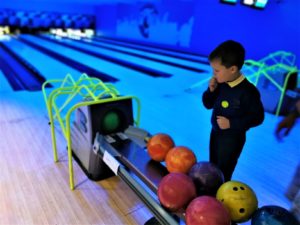 Husband sat this one out because of his still knackered arm so it was down to me. Let me tell you now. I bloody hate bowling all varieties always have always will. Still i tool one for the team.
We rocked up having booked earlier. We went for only the one game to save my sanity and to stop the risk of killing someone. It was pretty cheap too. Think it was around £12 for the 3 of us. Husband came along for moral support too. (Fuck having the kids solo in a bowling alley)
Whats Bicester Bowl Like?
When we arrived we were the only people there. Thank god! Its not huge like some of the bigger bowling alleys out there I think they have 6 lanes in total. It does still have a cafe, seating and just the right amount of arcade machines to grab your child's attention to add to the moaning for more things. I understand they're placed there for the sole reason to making money but for the love of god I wish they fucking wouldn't for the sake of my sanity.
We arrived and got our shoes swapped. Took us a while to find the kids correct sizes but we go there in the end. I will say now though that those bowling shoes have seen much better days. I wouldn't even donate those buggers they're knackered. In fact I was scared of catching foot rot (like knob rot only on your feet)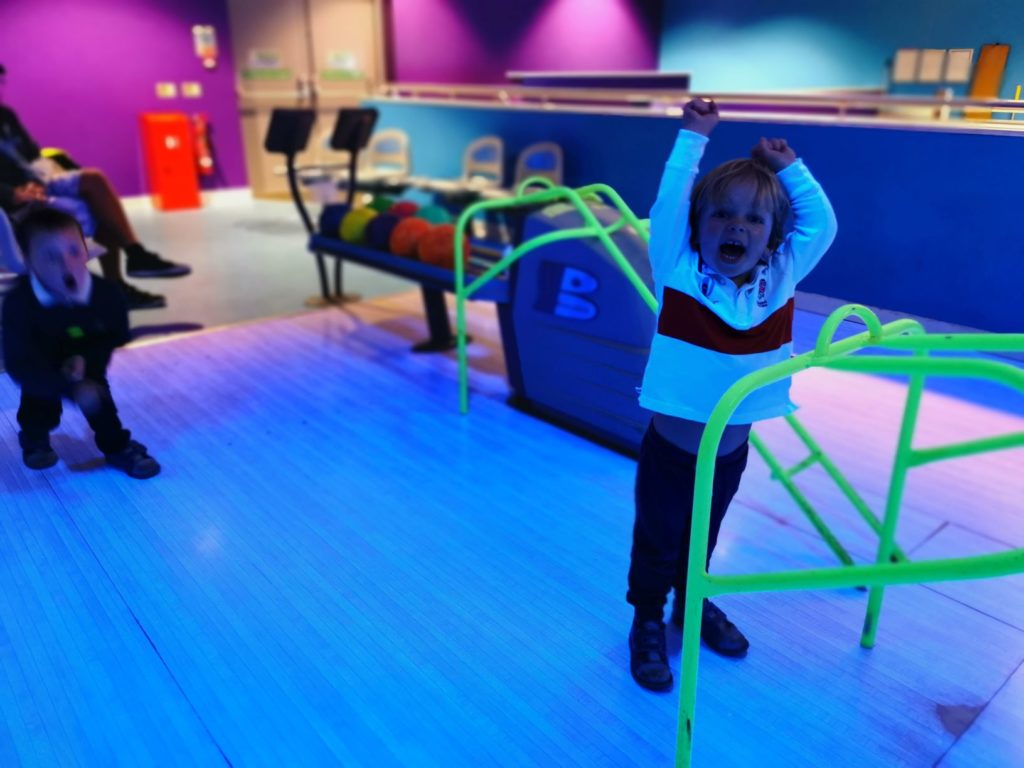 we had the bumpers up for all of us well because I didn't know they're motorised theses days so they can go up and down depending on the player. To be fair i needed them up anyway… did I mention I hate bowling?
UV lights and balls Elliot was in heaven (made it sound like a gay rave haven't I). After reigning him in and setting some ground rules (that he will inevitably ignore and do what he wants anyway) we were off.
Actual Bowling
I was as predicted, shite but in all fairness to the kids they loved it and mostly behaved. They used the bowling aids to start with and Clark even had a go without them towards the end.
I was impressed with Elliots strength. He wanted to carry the balls on his own and he would scream if i tired to help him. Fair play to him he didn't break his foot doing so either. He did look like a contestant form the worlds strongest man though when they're doing the giant stone carrying.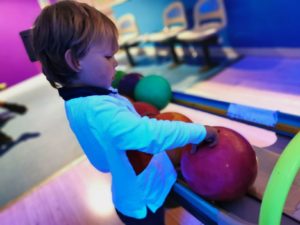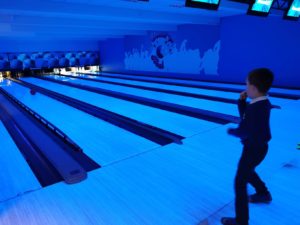 Clark managed to spanner one of the balls so badly he wedged it between the bumpers and the lane. We had to call someone over to help but they did it quickly and we all had a good laugh.
A few more people had turned up at this point and then we had to try and stop Elliot from getting in the way of next doors players. There is a lot less room in Bicester bowl than usual bigger ones but actually I kind of like how small it is. Its a lot calmer anyway.
Bicester Bowl Stats:
Distance from Bicester: 0 mins
Sat nav: Queens Ave, Bicester OX26 2NR Click to load sat nav
Wheelchair friendly: Yes
Equipment upkeep: 7/10 (manky shoes)
Cleanliness: 9/10
Facilities: Toilets, parking and cafe
Age range: Ages 3+
Safety: 9/10
Fun factor: 10/10
Dog friendly: No
Pushchair Friendly: yes
Bikes and Scooters: No
Public transport: walkable from Bicester Town centre
Conclusion
The kids loved Bicester Bowl. Its a great after school treat and its not going to break the bank either.
I'd much rather visit this one over the bigger LA bowls etc. I would suggest taking the kids because its great fun even if you like me hate bowling.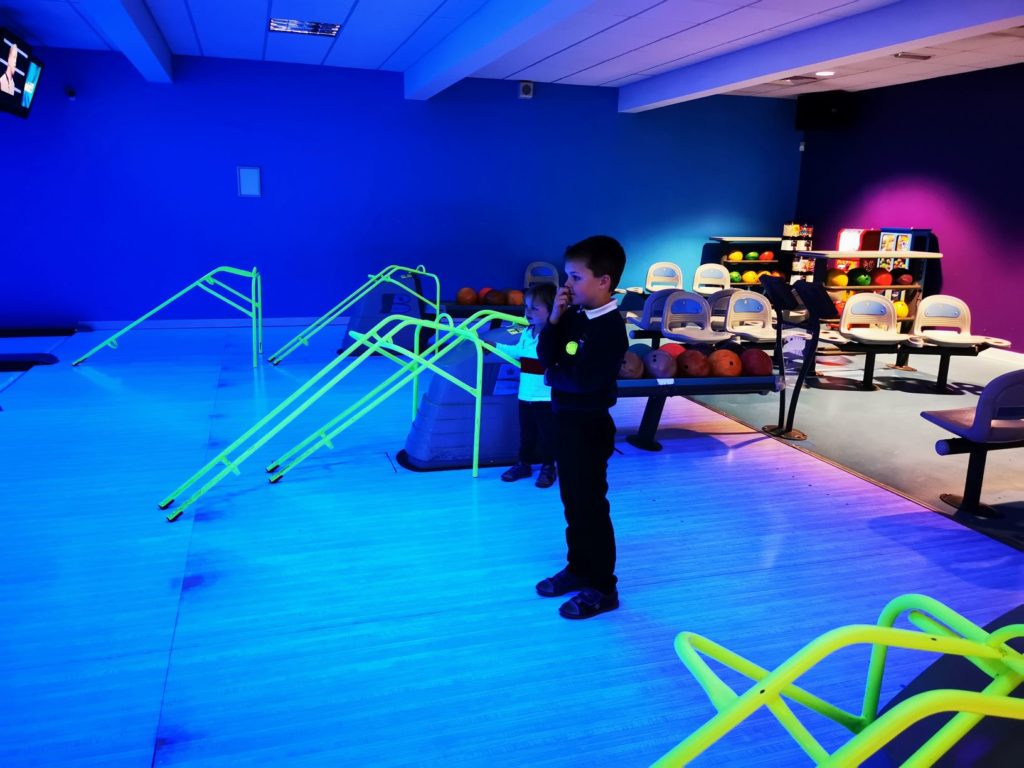 1 game was more than enough for me and a great amount for the kids too. I think any more and their attention would have strayed back to the bloody arcade machines. They'd already caused Elliot to have a tantrum as we were leaving!
I was impressed with the kids ability to take it in turns too. More so Elliot. I personally thought he was just going to hulk out and throw himself down the isle. So i'd say its a good activity for younger ones too!
AOB
To book your lane and for more information check out their website HERE
For more indoor activities have a look at the map HERE