Indoor Days
Ninja Warrior Milton Keynes
One for the older kids
Last night we had the utter pleasure of getting to try out the brand new
Ninja Warrior UK Milton Keynes.
I had no idea it was even coming until I saw a Facebook post. I knew the boys would love it so we had to go.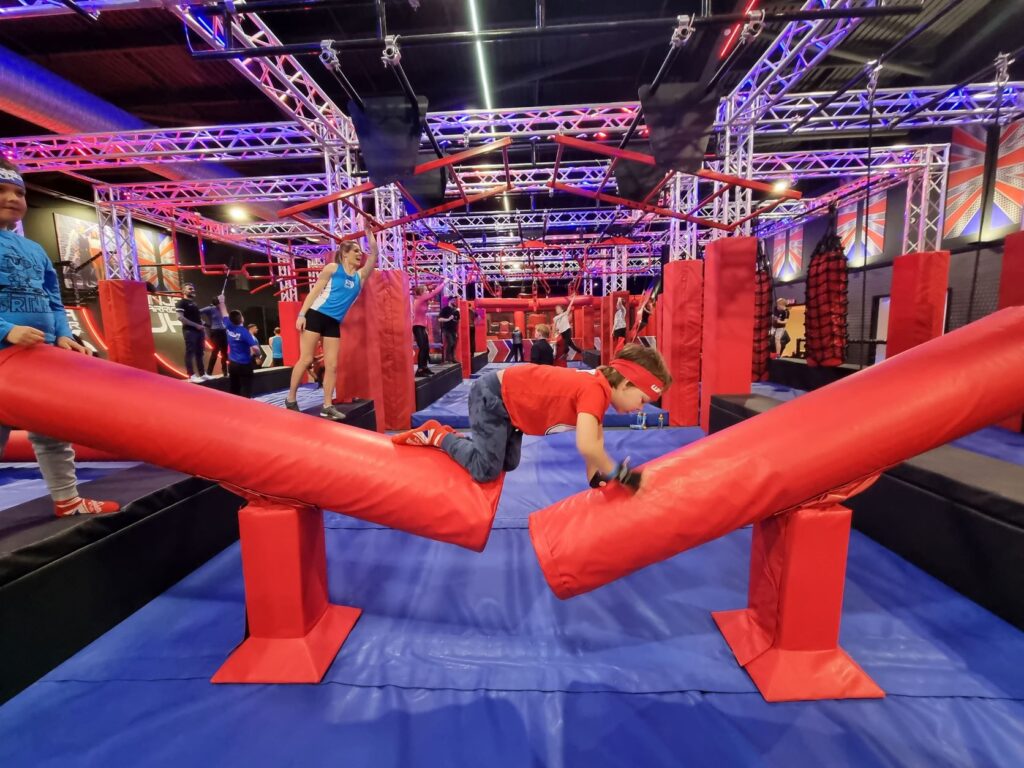 Ninja Warrior Milton Keynes
Most of you will by now know me and my style of review. My opinion can't be bought so I shit you not when I say we had an epic time. We were there easily 1.5 hrs and could have stayed longer. Well maybe the kids could have but me and the husbeast were keeled over in the corner dying of fat fuckery. However it was getting late and we had to head back to Bicester. So we had to bribe the little ninjas out of the arena.
I've got soooo many videos that I made a montage of how shit we were (Mostly me) on
Facebook
but if there's one thing ninja Warrior will do is make you feel either like a god or on the brink of death. Needless to say me and the husbeast felt the latter. It did not for one second stop us though it was bloody hilarious!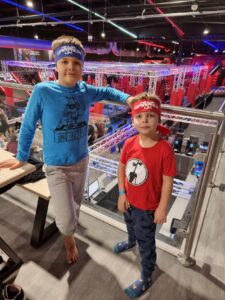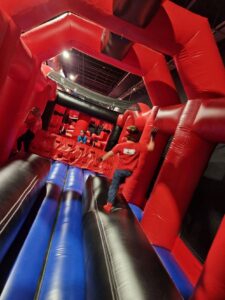 What's at Ninja Warrior Milton Keynes?
There's so much rammed into a space that isn't that big yet it never felt cramped. Not while we were there anyway. There's a huge and I mean huge inflatable area which is ideal for the younger ones that might not be able to navigate around the ninja bits.
There were varying skill levels of ninja courses to try. All of which I couldn't do to be honest the kids couldn't really master that many either but that doesn't mean they didn't try over and over again. They didn't get disheartened seeing other people/kids completing them. It just spurred them on. The staff were brilliant encouraging them.
I'd say the boys favourite part were the walls. The vertical ones you have to run up and try and pull yourself up. They did ok. I have the upper body strength of a new born aka. Fuck all chance. I couldn't even make it up the inflatable one.
Overall it was a hilarious family outing. One we all got involved in, one the kids could laugh at us over, One they want to keep going back to and one we don't mind taking them to either.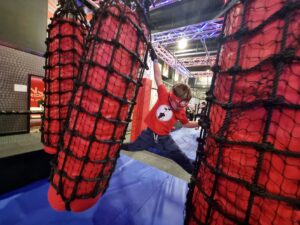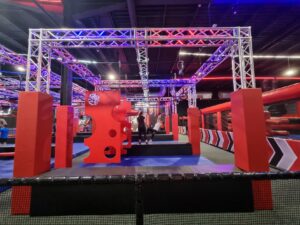 Everything else
They have a kitchen so there is food available there if you wanted to along with seating upstairs on the balcony and in the area in front of the arena. Their falafel wraps are delicious which shocked me haha.
There's a minimum age of 4 so this is one for the older kids and adults. You really don't need kids to enjoy it. In fact it'll probably be better without them haha. I can imagine it'll be very busy in the half term and weekends so if we go again it'll likely be an after schooler because we hate crowds but we did before covid too.
It's right next to IKEA on the end of the huge Asda too so you can get your shop on too. This also means there's a shit ton of parking available too just have a look at the restrictions first just in case you're planning on shopping too.
You don't need to buy the gloves we did as a gimmick but the kids didn't keep them on. The socks are for the inflatable so you will need a pair of those. While the kids are on the ninja courses they will need shoes on though.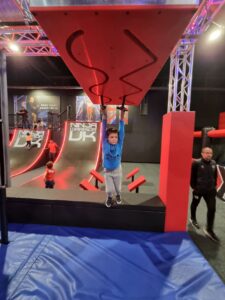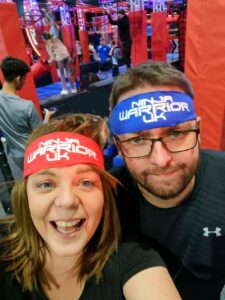 Ninja Warrior Milton Keynes Stats:
Distance from Bicester: 37 mins
Sat nav: Ninja Warrior Milton Keynes, Bletcham Way, Bletchley, MK1 1QB Click to load sat nav
Wheelchair friendly: Yes for access
Equipment upkeep: 10/10 brand new
Cleanliness: 10/10
Facilities: Everything you need
Age range: Age 4 and above
Safety: 6/10 (I mean its as safe as a ninja course can be)
Fun factor: 10/10
Dog friendly: No
Pushchair Friendly: Maybe room to have a pram if you're watching the older kids
Bikes and Scooters: nope
Website: https://ninjawarrioruk.co.uk/mk/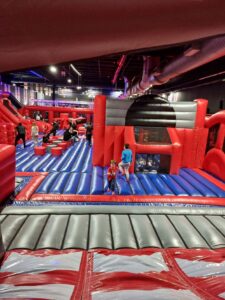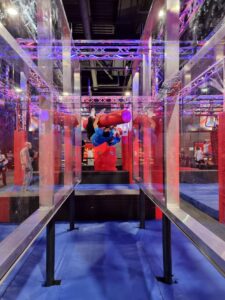 Conclusion
I can honestly say with my hand on my heart that ninja warrior Milton Keynes has been one of our favourite indoor family activities that we've done in a while. Ninja Warrior is a great treat. I love that adults can get involved if they want to yet also having the option to just watch if they wanted.
If your kids are old enough and they like this type of thing they yes 100% you should give it a go. It might not be for those that like to be able to do everything as I can imagine a few children might be disheartened with their lack of ability. Even though there is not shame. That shit is hard!!!
For more indoor activities have a look HERE