Met up with a friend at the elusive Wytham Great Wood and boy wasn't it great. Although i feel like I've been bench pressing a Bevy of swans.
A bevy of swans has zero relevance to this review but i only recently learned that a group of swans is called a bevy and i love it hahaha.
Anyway back to Wytham great wood and its greatness. ITS AMAZING!!!!!
I only came across it by sheer luck when i was walking round Farmoor reservoir. Its not even on google maps properly or not easily spotted anyway. However i love a map and eventually found its name.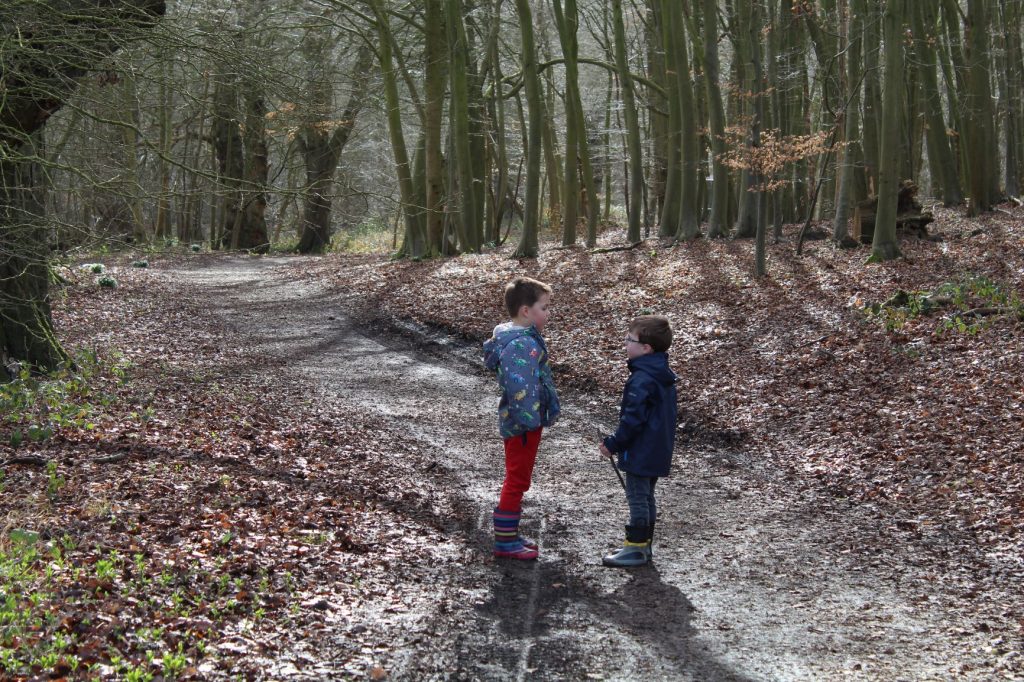 Whats it all about
Once i'd found the name i was off on a google research frenzy. I soon enough figured out a few things.
Its owned by oxford university
They don't allow dogs or bikes!!!!
You need a walking permit to be able to visit.
Its one of the most researched woodlands in the world!
Threat not the permits are free and took approximately 2 weeks to arrive along with a map and some information about Wytham great wood.
When you set your sat nav it will take you most of the way. You will spot a very small wooden sign to indicate you're heading in the right direction.
You will feel like you're going somewhere you shouldn't be. The track is narrow and behind some houses in Wytham and the signs all tell you you're not allowed. I've never been one to follow rules anyway.
Car Park
I soldiered on and eventually came to a car park. I didn't get stopped or shot so that's always a good start in my books. Car parks not huge but then there weren't too many cars.
We had to wait in the car for a while because my friend was late. Amature mistake really she's always fucking late (Don't try to deny it).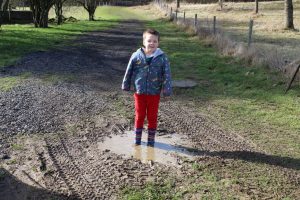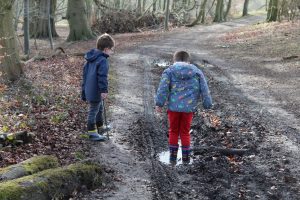 Got the kids all suited and booted, You will want to take wellies and possibly waterproofs. I took their wellies but no their waterproofs. Needless to say they got a bit wet. Newspaper currently in their wellies.
Rules are rules
When you head through the gate please take time to read the rules. Even i stuck to these rules. There really are no dogs allowed so don't try and sneak any in. We came across rangers while we were there so its just not worth it. Plenty of other woodlands for the dogs.
Head straight over the field in a straight line towards the trees. kids loved running over the hills.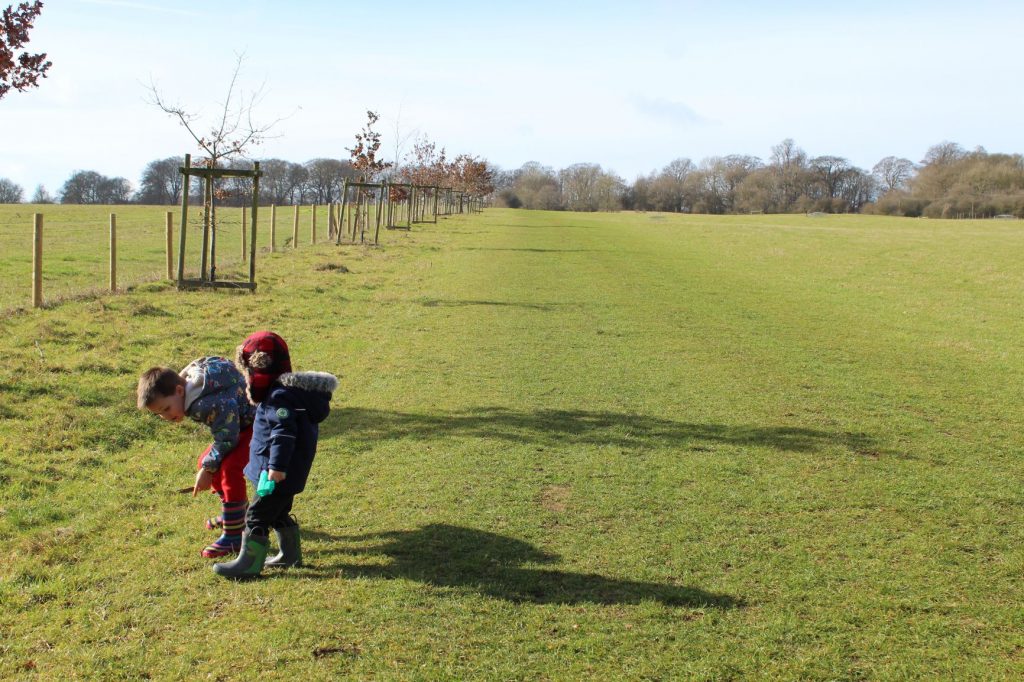 When i say all i mean Clark and his friend. Elliot had walked around 10 meters before he stated whining that his legs hurt. was starting to wonder if i should have left him at home (not alone in his cage i mean with his dad)
That worry soon vanished once he clapped his beady little eyes on the sheep and the forest.
First woodland area
We headed through another gate (you will be doing this a lot) and into a lovely small wooded area. almost like Wytham great wood was luring us int a false sense of pretense that its not that big. (don't be fooled)
This is going to make me sound like a right twat of a hippy but sod it. The trees in this area are stunning really old and gnarly pretty sure they were Oaks but the only thing i have in common with Charlie Dimmick is the lack of bra. I know sod all about trees and plants.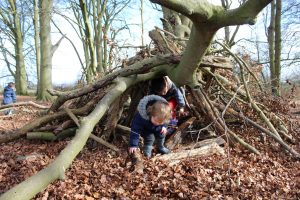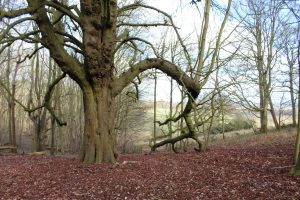 In this first wooded bit you will find possibly the best Den I've ever seen in a woods. The kids loved it. Seriously i reckon that bad boy would keep you safe in a storm. Had ts own little table and i'd say maybe a 4 man in size with its own back door. The kids called it a tunnel and despite Clark being temporarily one handed it didn't stop him from climbing all over it.
Bug Hotels
You will find lots of bug hotels all over Wytham woods as well as lots of little nest boxes which this kids loved spotting. They're all numbered too so this could be a great game for anyone walking with kids.
Our lot loved the snowdrops. Wytham woods is simply stunning, Clean and overall so very quiet. Just for these reasons I've popped it into joint 1st place with my other woodland love Rushmere.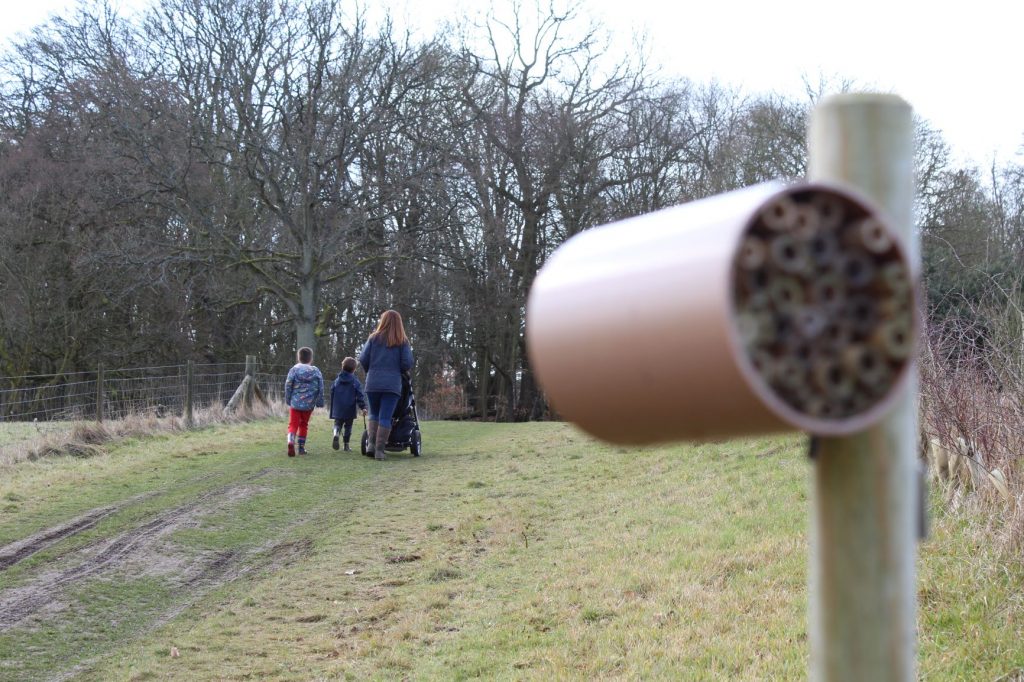 I wish i could tell you where the fuck we went next but if I'm going to be honest i don't have a clue. I was following my friends directions (She'll also deny this) Let me put it this way. She's no Bear Grylls.
In all fairness to her its bloody easy to get lost and we pretty much just winged the whole way round with a little help from a ranger we bumped into. There was not detailed map and even if there was i probably would have still fucked it up anyway.
Navigation
We managed to roughly navigate round with a mix of the basic map of Wytham Great wood on our phone and google maps sat nav. If our life depended on our navigational skills we would be fucked.
The 2 older boys were having a whale of a time. Satan on the other hand was full out pissed off and no longer wanted to walk.
Thankfully my friend had brought a pram and her baby carrier so popped her littler one in the carrier so i could put Elliot in the pram.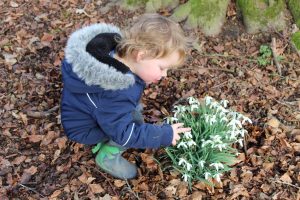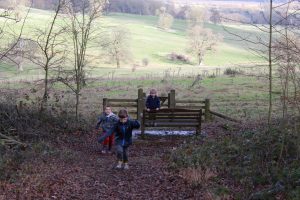 Let me tell you now as much as i love him i should have left him at home. Wytham Great wood is not idea for a pram and this one had off road tyre's on it. Unless you stick to the well used paths (which we didn't) or you have a very specific off roader pram do. not. bother. My arms this morning were fucked! still are. They aren't used to all that exercise.
Picnic
We found a great picnic spot with an awesome view of farmoor reservoir. Honeslty it was stunning. Almost made up for the smell. Holy shit it smelt like death. Haha god knows what those cows had been eating.
There is no cafe with over priced pasties and paninnis at Wytham Great wood. In fact there aren't even any toilets. At least i don't think there are. If there are i took a piss in that bush for no reason. Thankfully i didn't pee on myself like i normally do. Don't get me wrong i don't make a habit of pissing in bushes.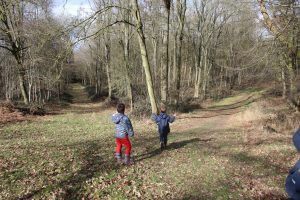 Take a flask of tea. I didn't but my friend did (probably why she was late) it was a great picnic and i cant wait to come back again especially in the summer and when the bluebells are out.
At this point we had been walking for a pretty long time. we came across more crossroads than i ever have in my life. Nearly every time just winging it and hoping for the best. Or letting the 2 older boys chose the way.
Snowden
Then it was time to make our way out. Old Chritopher Columbus (my Friend) took charge. Elliot in the pram again just before we arrived upon this big fuck off hill.
Seriously this bastard was more like Snowden. If i survived this then im a 3rd of the way through the 3 peak challenge. I should have gotten sponsorship and at least raised some money for Charity.
The ranger did warn us of the hills especially with the pram. He took one look at me and knew instantly that i was carrying a lot of cake (He's not wrong)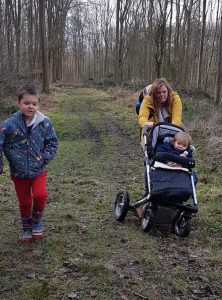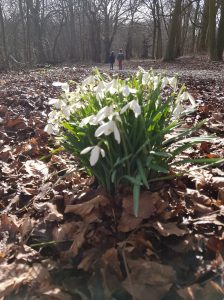 I was determined……not to fall on my face. The bloody hill was a mud slide and that's saying something i even had my awesome walking boots on. The whole time there's me struggling to get up the top. The whole time i had my twat of a friend taking photos of me struggling while Elliot was telling me to hurry the fuck up!!!
Got to the top alive. I must have stripped off the majority of my clothes on the way too. I was knackered and now Elliot wanted out.
Toddler tantrum
I knew he'd piss me about i did the whole "if i take you out that means you have to walk. I'm not carrying you, Do you understand?" Yes mummy he said.
I shit you not 3 steps he took before he told me his legs hurt and wanted back in the pram!!!! SHIT RIGHT OFF. Queue melt down. Mean mummy made him walk for a bit to prove that i'm no walkover (i really am though) and then he was back in the pram before long for the last leg.
found our way back to the beginning and the boys all had a play in the awesome den again. They all managed to run through the field to the car park down the hill.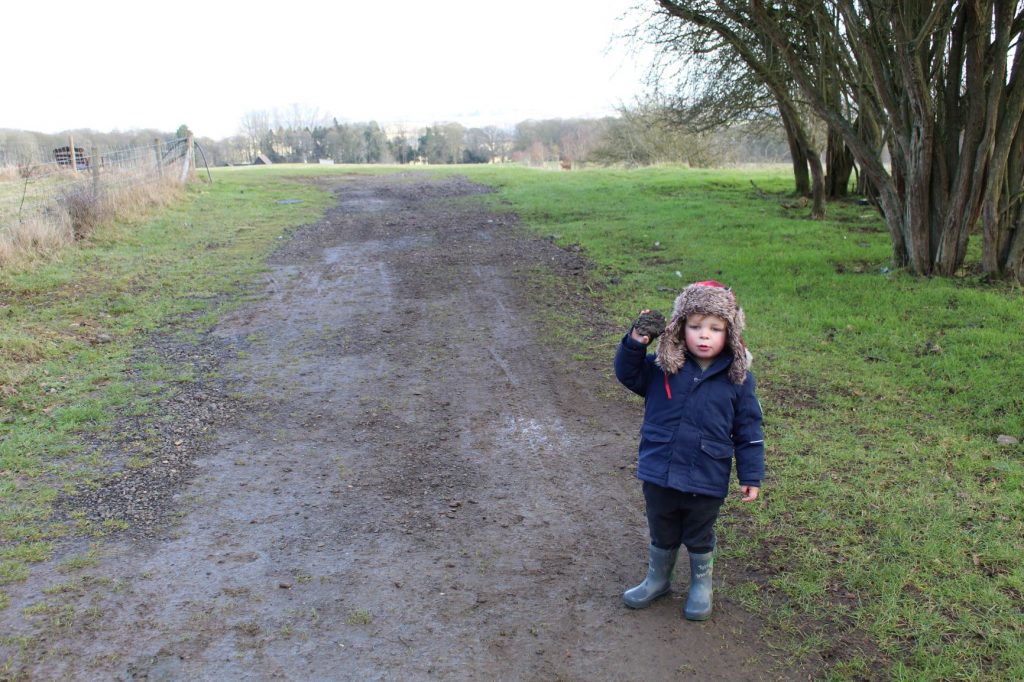 Elliot: Look mummy!!! Mud!!
Me: Oh Elliot get your hands out of the mud.
*walked closer*
Me: Elliot what is that?
Elliot: Mud
Me: Its all under you nails
*thinking thats an odd shade for mud*
Me: Oh ELLIOT!!!! thats not mud quick get here let me wipe your hand.
It was fucking sheep shit he had been playing with. That crap was embedded under his nails. Thank god dogs aren't allowed or that could have been a lot worse!
Back in the car. Head hit the car seats, boom the both of them were out for the count. Not surprising really. What an awesome day spent in Wytham Great woods.
Wytham great wood stats:
Distance from Bicester: 30mins
Sat nav: Car Park for Wytham Woods, Oxford OX2 8QQ Click address to load navigation.
Wheelchair friendly: No
Equipment upkeep: 10/10 fences and benches all well looked after
Cleanliness: 10/10
Facilities: N/A There aren't any its a huge woods
Age range: All ages
Safety: 9/10
Fun factor: 10/10
Dog friendly: No. No dogs are allowed
Parking = Free
Entry = Free
Conclusion
As i said earlier i loved Wytham Great wood so much that is has now taken shared top spot with Rushmere. That is no easy task either.
If you're looking for ready made fun for your kids please move along. You will not find that here. Thats not an insult not all kids love the outdoors and prefer to blast out their energy in a soft play. I'm lucky that my kids have realised that the outdoors can be fun too.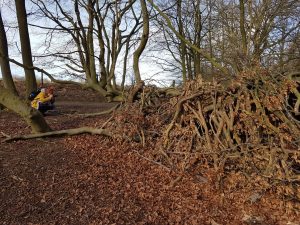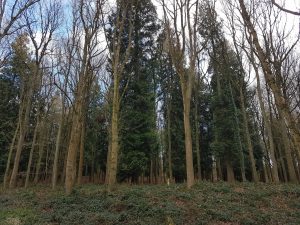 Dont get me wrong if i gave Clark the choice of a soft play or Rushmere there's no doubt in my mind he'd pick softplay every time.
It really helped having a friend with him to play with too. If it was just The Family Ticket he'd have moaned after 5 mins that his legs hurt.
I would highly Recommend Wytham great wood for all you outdoor families. It really is amazing and we only saw a very small area.
If you do visit. Please abide by the rules and for the love of god DO NOT leave any litter. It's a site of Special Scientific Interest and is one of the most researched pieces of woodland in the world. Don't fuck that up.
AOB
Dont forget you will need to acquire a walking permit to walk around Wytham Great Wood. You can do that HERE
Fancy finding some more woods have a look at my map of woodland HERE