We visited All things wild after a last change of plans thanks to everyone swamping to Twycross Zoo over half term.
I'll admit me and Clark have been here before. That was on a school trip though and i was helping out. Strictly no photos, we weren't even allowed our phones. I had to sneak it into the toilet cubicle with me just so i could get my daily Facebook fix.
All Things Wild School trip
As it was a school trip we were tight for time and there were set activities for the kids. I knew i wanted to come back again. That was over a year ago.
Wow i didn't realise just how much we had missed out on. Not only that, they have added so many new bits we spent a brilliant full day there and still didn't do everything.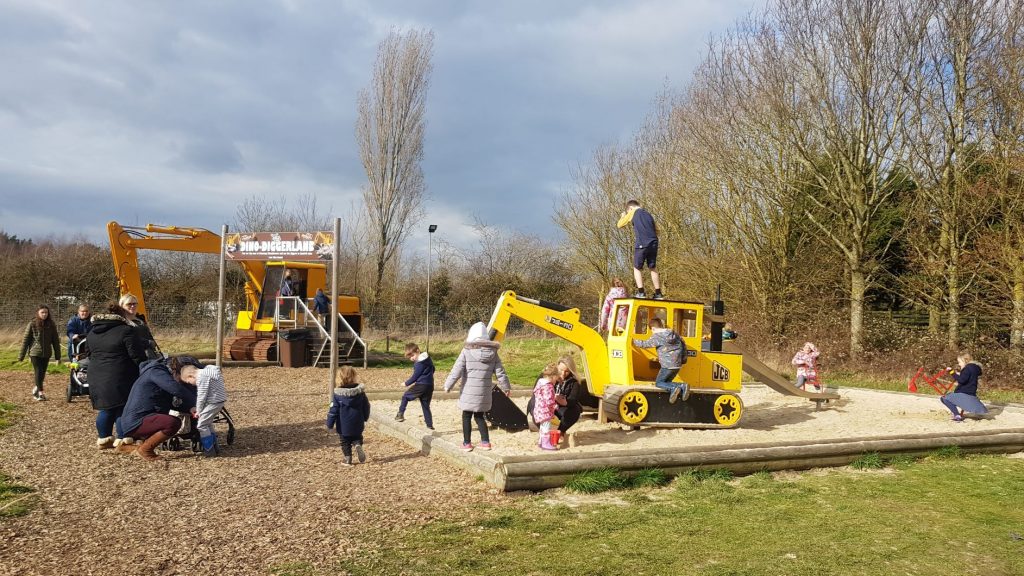 All things wild is without doubt the best value day out for younger kids. I say younger kids because i don't know at what age kids start getting bored of this style of day out. I'm just not sure if i'd take a teenager but then i don't have one yet (not looking forward to having one either they sound like dicks)
Right back on track.
What is All Things Wild?
Honestly its a lot of different things all mixed together for 1 great day out. Farm park, Zoo, soft play, Dinosaur park, Play park, soft play and museum honestly its got a great mix of everything.
Normally i hate it when an attractions has its hand in too many pots because they normally fuck it up. This place simply doesn't. Its not all immaculately brand new in fact some parts are in need of replacing but weirdly it all works. I think you'd be hard push to find a child who doesn't like All Things Wild.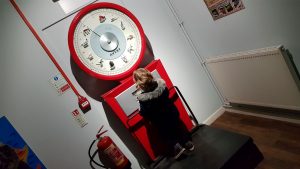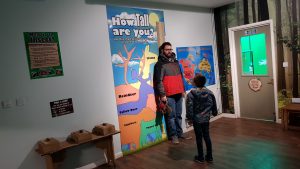 We Arrived at around 11am and after a small queue we were in. Straight into an interactive area. Kids were off. The interactive projection on the floor was a firm favourite with the boys. Lots to do already and this was only the first room.
Animals At All Things Wild
Off from this room there are a few doors to take. We went into the animal area. Here they saw reptiles, some weird arse animals we've never seen before and some birds 🙂
In the room opposite the first play area is where they hold talks. We didn't do any talks this time round because Elliot just wont sit still long enough. It was really cool the last time though. Clark go to hold lizards and i got to stroke an Armadillo!!! love Armadillos.
The boys were so busy exploring that they didn't even bother with the play park which was strange because the play park is a decent one too.
However they'd spotted tunnels and off they went into the Meercat area. The tunnels lead into the centre of their enclosure where the kids can stand and watch. Elliot' fascinated by Meercats. Little warning there are 2 entrances to this area as one mummy found out.
Kids Getting Lost At All Things Wild
Found a little kid wondering aimlessly around. Pretty sure her was trying to cuddle the porcupine. Luckily i convinced him to come back over the fence while i sent the husband looking for a mum that looked in a panic. He soon found her. Absolute worst nightmare. It could happen to anyone i don't give a shit if you think it wouldn't to you, You're in denial.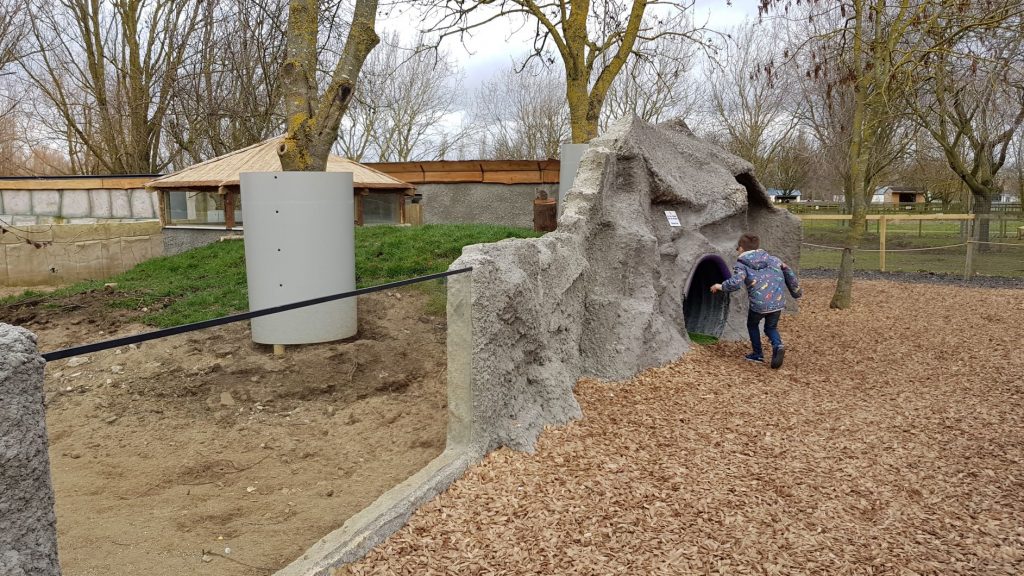 I've taught my boys (well Clark i have. Elliot I'm working on) That if they get lost to find either another mummy with kids, a police officer or to go into a busy shop and ask for help. Our address is etched into Clark's mind and he know's to aim for the genitalia if anyone tries to take him. Though even all that is sometimes just not enough. What a shit world we live in sometimes. Did you know that's kids are taught to shout fire now? Because people are less likely to help if they hear someone screaming help 🙁
Zoo area
Next we went to the zoo area. Here we watched some seriously woolly sheep getting fed and had a walk through the goat enclosure. One of the little Pygmy fuckers tried to nutt my knee. Luckily i moved out of the way quickly so it got the kids behind instead (Hahaha)
We went to the zoo area next with the larger animals. Zebra's, Emu's, Wallaby's etc. This area must have been really new it wasn't there the last time.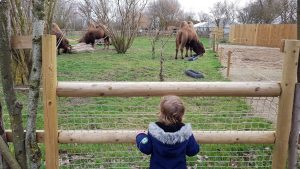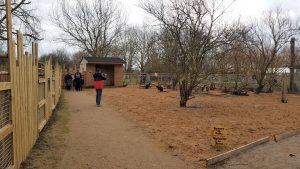 We did the walk through. After the goat one i was starting to worry that a wallaby would try kicking me in the flange. It didn't….Probably knew it'd lose a foot.
Now the walk through if I'm going to be honest was a bit shit. Not fully shit. Its a lot of waiting around for gates etc and i think it need a bit more fine tuning to keep the wait times down. When i say wait times I'm not on about stealth at Thorpe park queue time. Just long enough to piss the kids off though.
Dinosaurs galore
Next stop dinosaur walk through. Yep that's right a dinosaur park too. Now its not interactive moving dinosaur walk through like the likes of the one you'll find at West midlands safari park. It was still large enough and the kids loved it all the same.
Now we walked around it. Or in Elliot's case fell the whole way around it. Little warning the floor is crazily uneven with the odd metal bars sticking up (Not sharp but enough to trip you) Its that fine gravel flooring too so it stings like a bitch.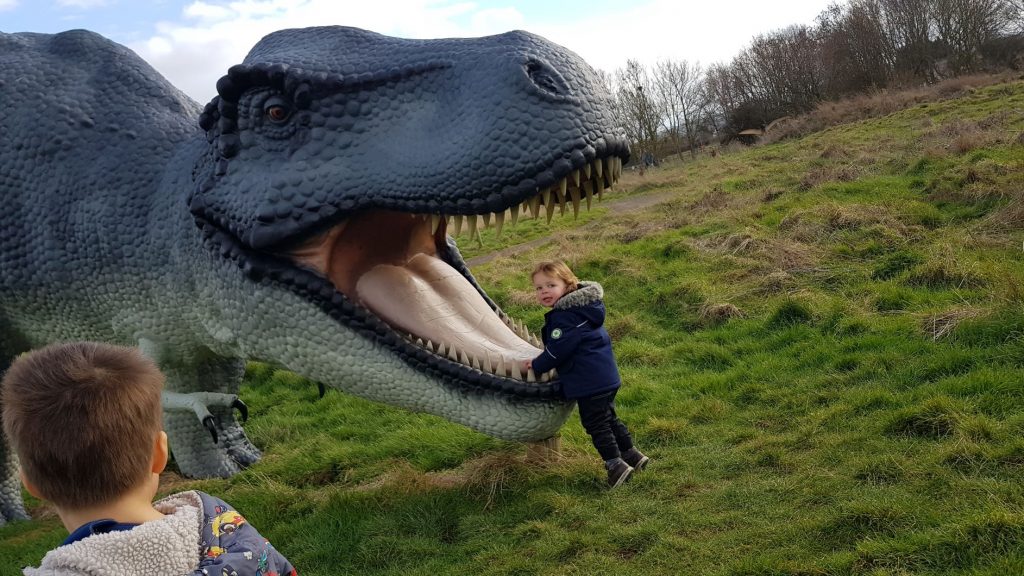 Although we walked through the dinosaur part this time. When we came with the school they did the tractor ride round. I will say that ride stuck into Clark's memory he loved it. What a great ride and if you get the chance you really should do it. It wasn't running until 1pm though and we didn't fancy waiting round. Thankfully we didn't because that queue when it did open looked like a kid crusher.
Cafe with soft play
We didn't fancy heading into the cafe (totally not been shopping for around 3 weeks now so had fuck all in the house for a picnic) the cafe was rammed. Why? soft play. One place we really didn't need to be. Not only do we generally hate soft play's but Clark already had a fucked collarbone. We didn't need him breaking the other one.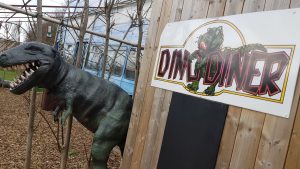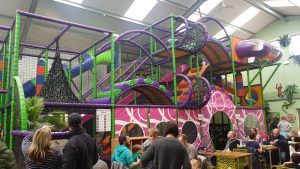 We just grabbed a few sausage rolls for the the food van by the double Decker bus ( normally serves food but was shut)
This area is great ,really central to everything. Next to another play park, Tunnels and a real size old helicopter that the kids can climb in and be pilot. Not only that but a life size digger, sand pit, mini diggers, more of a play area and and old car for them to climb around.
Go Karts
Clark since the moment he found out we were going back to All Things Wild didn't stop going on about the bloody go karts. He remembered them from the last visit and they weren't allowed on them then. We used it as a bargaining chip for his good behavior. Bless him he did well off he went with his one working arm. Good luck.
It was my job to distract Elliot. Easy another area with fun things to do, A big hollowed out tree trunk kept him busy for a while, Then onto hoopla (aka throw the solid hoops at mummy and try to knock that bitch out for not letting me climb into the beaver enclosure for a play) Tug of war, Balancing beams or as i would call it SAS training. That fucker is so rotten it needs ripping out before a kids face plants and takes a splinter to the eyeball.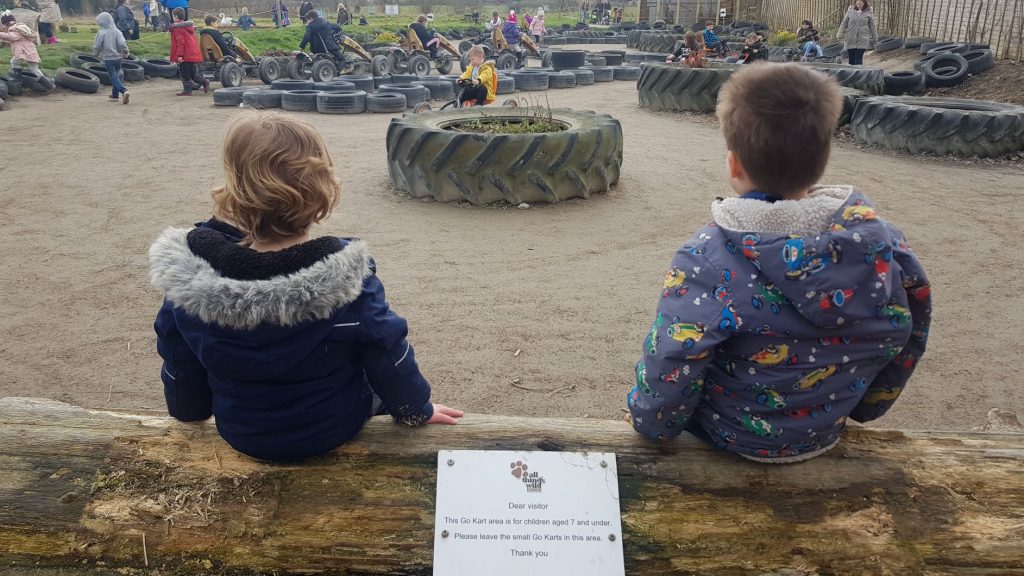 We were running out of things to do and i really didn't fancy the bear foot walk. As much as i love the idea in the summer. I can imagine him standing in a load of sheep shit of something.
Clark bless him was still sat waiting patiently. He'd been waiting for ages. The go kart area isn't monitored at all. Its an area which 100% needs it. You'll get a few scummy skank's that'll just desert there little loves there for the afternoon with no intention of sharing. The same little fuckers that block the route for everyone else when and just crash into others. Thankfully he eventually got a turn had a few laps and passed it onto another kid (how it should be done. Even if he didn't want to)
More dinosaurs
We started to loop round now and started to plan our escape. New stop the Dinosaur bar. Possibly my favourite area. Lots of interactive areas so make sure you don't miss this one out.
Despite Clark begging to go to the soft play we managed to bribe him out of it with the promise of the beach. Yep that's right the Beach. Its indoors and i can honestly say its the best play area of the whole area.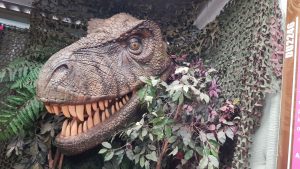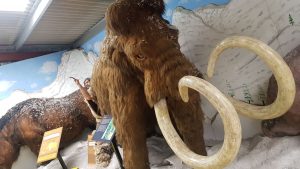 I know we all hate sand and i probably spent the majority of my time telling Elliot to stop trying to bind his brother and other kids in the pit. Once we finally got through to him though it was great. Nice, Relaxing, Not too busy and we could have a chilled out sit down. Hahah yeah right i was shopping in their amazing shop!
Beach
Tip the beach is hidden through the doorway in the corner of their shop. i don't think many people know about it either.
Packed up (dry sand it was easier than a real beach. Still got all up in their bits though) paid up and headed home. Which is a lovely drive through the villages by the way. Also spotted more ideas for future days out too 🙂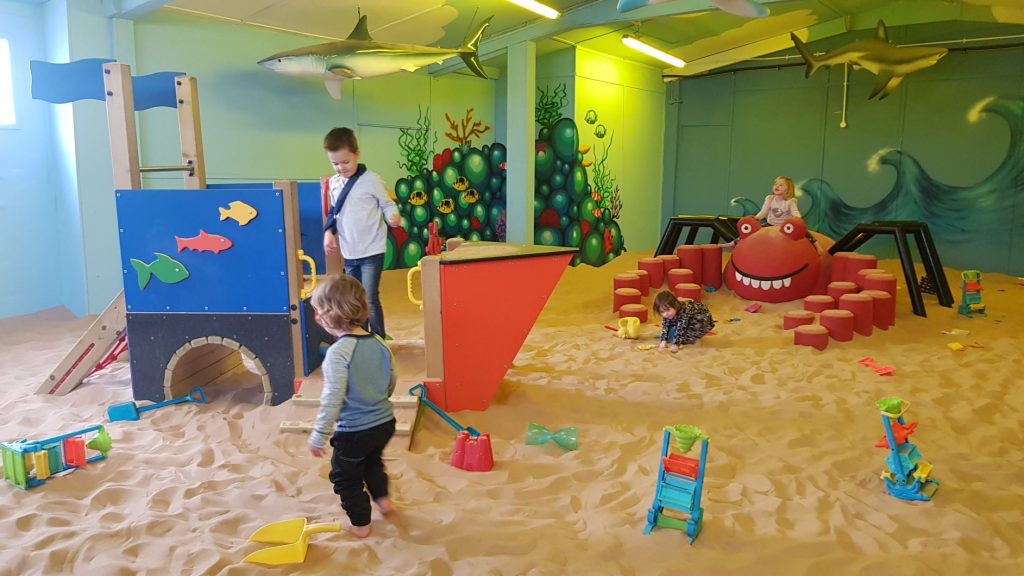 Lots To Do Right? All that cost us £35 in total. Yep cheap as chips right??? without any doubt in my mind one of if not the best value days out we've been on.
Forgot to mention that after you pay make sure you grab a free fun trail that the kids stamp as they go around.
All things Wild stats:
Distance from Bicester: 1hr 7mins
Sat nav: All Things Wild, Station Rd, Honeybourne, Evesham WR11 7QZ Click address to load navigation.
Wheelchair friendly: Yes but difficult in one or 2 areas
Equipment upkeep: 6/10 some areas need updating and making safe
Cleanliness: 7/10
Facilities: 10/10
Age range: better for Younger kids i think maybe younger teens too
Safety: 7/10
Fun factor: 10/10
Dog friendly: No. No dogs are allowed
Parking = Free
Entry = Adults: £11.99 Child (3-16): £10.49 under 3's: Free or admit any 5 people for £52
Conclusion
I know i say this a lot but wow. This place is brilliant. The adults and the kids loved every min of here today. Its become my favourite day out this half term. I would much rather travel to All things Wild with the kids over Green dragon or Millet's (Sorry not Sorry) in fact its even cheaper than Green dragon and there is a shit load more to do too.
If you have younger kids you really owe it to them to take them here.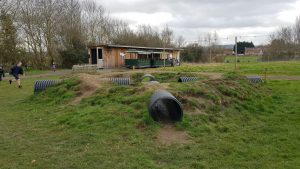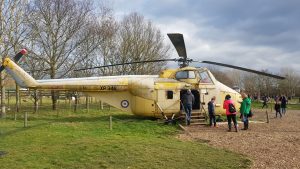 It was busy when we went this time but it never felt crowded because it was so easy to escape the crowds. Even looked like they're bringing in new enclosures.
Keep an eye on All things Wild. I think in years to come this could be the next big zoo. Lets just hope they keep the value and fun when it happens.
I haven't even mentioned nearly all of the fun things we did at all things wild but i was going on for too long and i don't want to bore you all.
AOB
If you'd like to book tickets and see more information you can find the All Things Wild website HERE
For more zoos and farm parks take a look HERE