I don't actually have a clue if this play park is actually called Boston road play park or not but that's how we got in so its what I'm going with for now. ***EDIT*** I've found out the park is called Manston park!
Recently Refurbished
Last year the council decided to update 3 of the parks in Bicester. I've been to one and thought it was a bit of a shit effort so just assumed the others would be the same. Apparently after today's visit to Manston park i would seem i was wrong.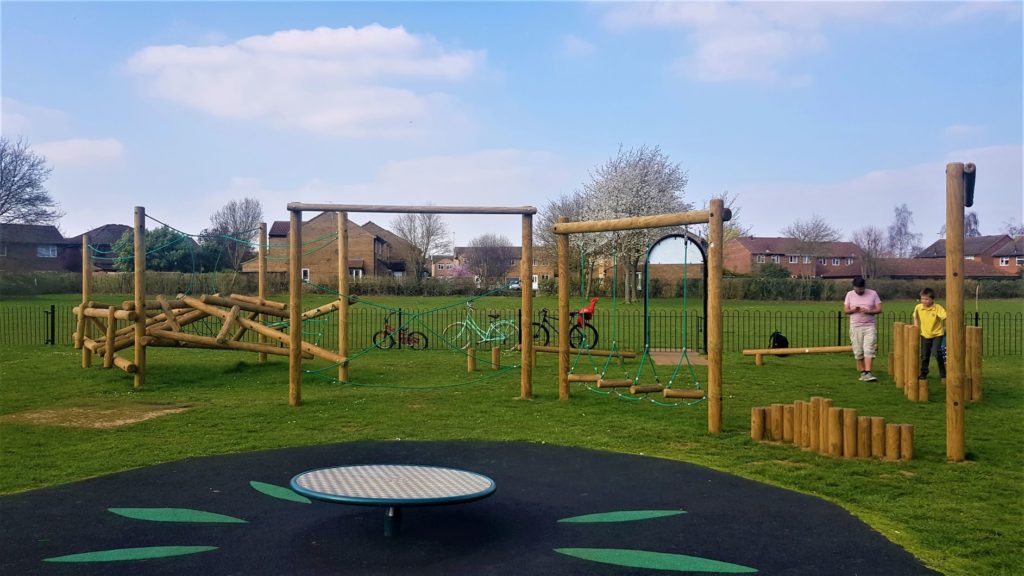 This parks bloody great! its a shame they couldn't have used the same idea for the Garth park shower of shit. Talking of Garth park its not that far away either. If you don't know where Manston park is, its pretty much opposite Lidl.
In my opinion its pretty easy to get to. We took our bikes after school. Making the most of this weather while it lasts. Its an easy Ride from Langford anyway mostly cycle paths which is ideal for the kids.
Lots of open space
Manston Park is set in a pretty big field. So there's plenty of space for ball games as we saw some kid and his dad playing while we were there. Also lots of space for the dogs to have a roam about. I cant comment for the norm as this was our first time at this play park but we saw lots of dogs and zero dog shit. Thumbs up from us.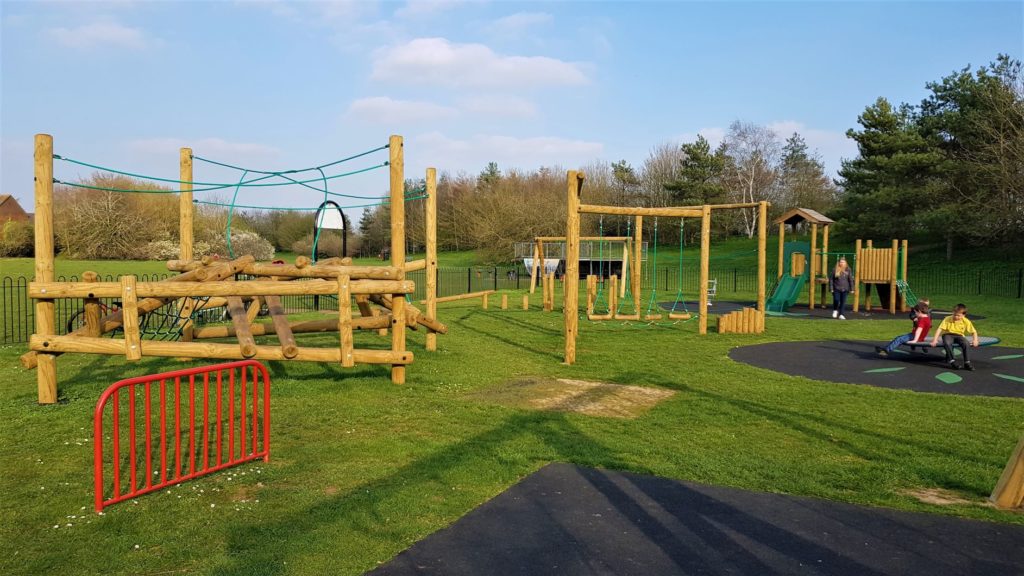 The park itself is fenced in. Dogs aren't allowed in the park but there are railings to tie them too while you play. Or you could just let them lose on the skate ramp.
Manston Park is still in great condition for a year old. Its a mostly wooden with 2 climbing frames.
Frames for all
The bigger climbing frame for the older kids is great for them to climb all over and has a really well built balancing circuit while is actually doable. Even the husbeast had a go. So although the climbing part of the frame is aimed at older kids the younger ones can still have a good go at the balance part.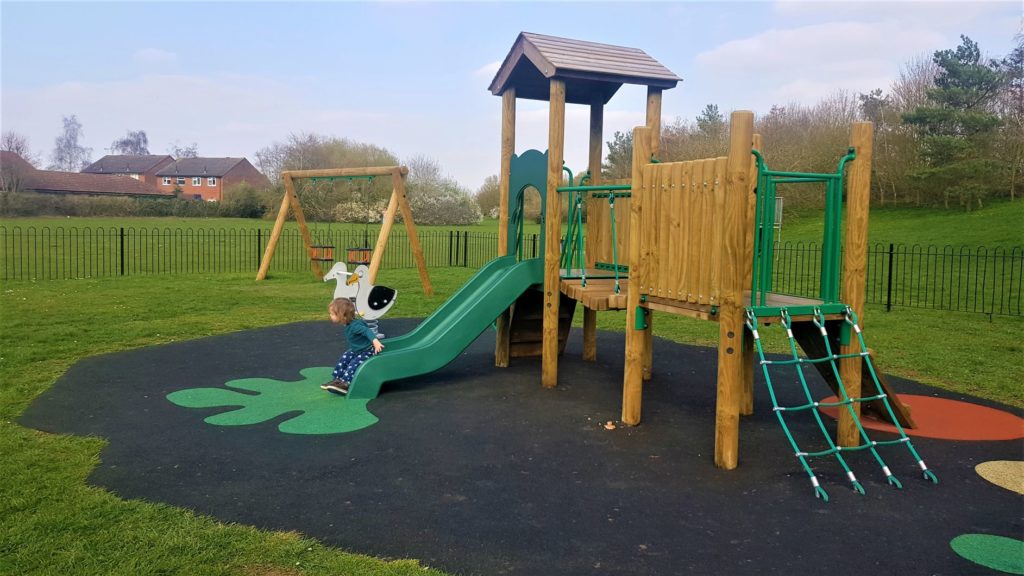 The toddler frame is lovely and easily accessible for them. The only downside is that it has the only slide in the park which may still attract the older kids.
The boys had a great time playing hide and seek even if they are pretty shit at it. Just warn the older kids to watch out for the overhead bar going up the toddler cargo net Clark managed to twat his head full force into it and screamed the park down for a few mins until he was distracted with a swing.
Swingers
Talking of swings there were plenty. 2 baby swings, 2 older swings and a cargo net swing. The baby swings are kept by the toddler frame which is a great way of stopping the smaller one from walking into the line of fire on the bigger swings. They all bloody do it like a moth to a flame.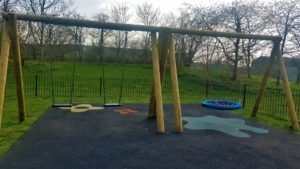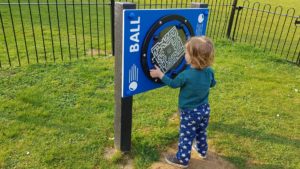 There were also 2 game stations the naughts and crosses game which i thought no kid ever played on until Clark became obsessed with. Is he the only one that plays Naughts and Crosses in a play park? There is also a marble maze thing that is harder than trying to break out of fort knox. I spent ages trying to complete that bastard, i gave up in the end.
More equipment
The roundabouts a good one too They loved standing on it as I'm sure all other kids do too. They've got better balance than me. Sod that i wouldn't last 2 seconds standing and spinning on that. Its not slow either.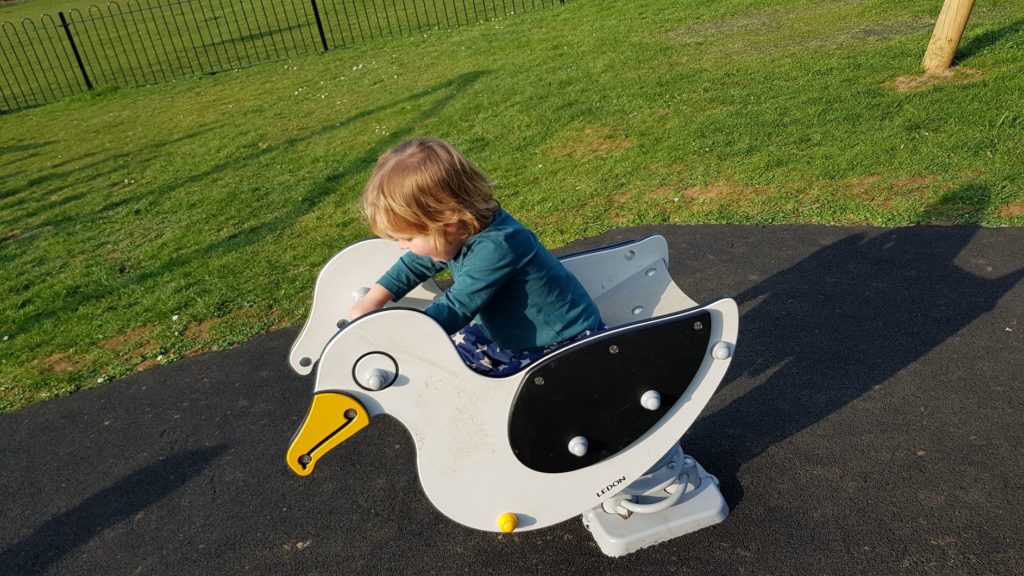 This brings me onto the last piece of play equipment for Manston Park. No park is complete without a springy face twatter so it would seem. This park however has decided to make its springy face twatter into a fucking seagull!!!! i mean come on. Who the fuck likes seagulls. They're evil flying ice cream head scratching mother fuckers and their shit smells like death. I've lived in a seaside town so I'm saying this with true intent. I like wildlife but wasps and seagulls can shit right off.
Manston Park Bicester:
Distance from Bicester: 0 mins
Sat nav: Boston Road Bicester OX26 4FF Click for sat nav.
Wheelchair friendly: Yes
Equipment upkeep: 10/10
Cleanliness: 10/10
Facilities: 5/10 No toilets or cafe (Lidl over the road though)
Age range: all ages
Safety: 8/10 common sense needed in places
Fun factor: 10/10
Dog friendly: In the field but not in the park.
Conclusion
This is a really good park in a great location. The entrance on Boston road is right next to a bus stop too so you can always get to it if you cant drive or its too far to walk to. I think you can also get to it via Manston close which might be easier for parking too.
If you do go I'd recommend taking a picnic and some ball games the kids will have a great time there with friends.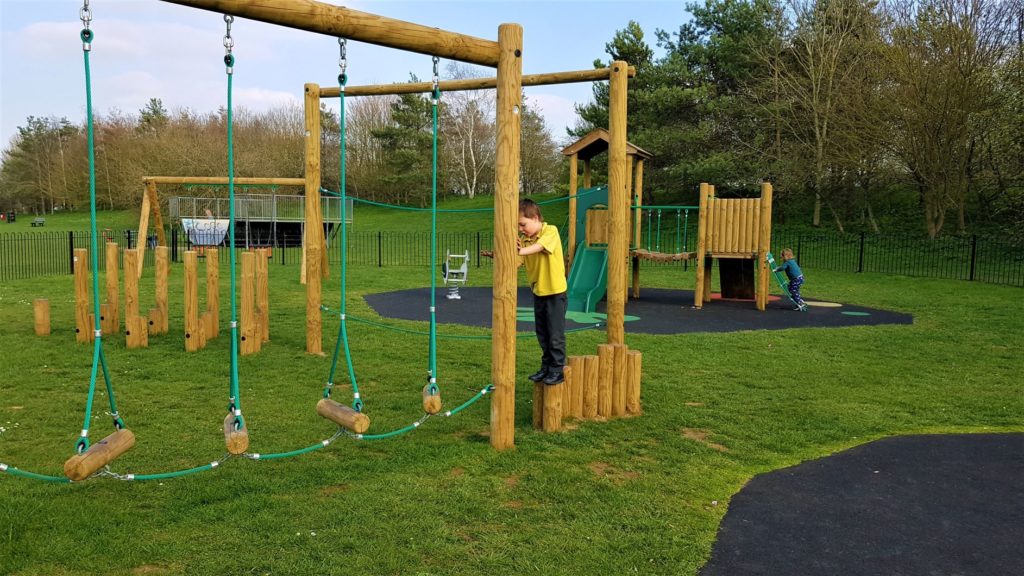 In my opinion is a nicer and safer option for kids than Garth park its just a shame they don't have the toilets and cafe which attract people to Garth. Its even got a skate ramp although i wouldn't have the balls to try out that bad boy. I'd be touching cloth the whole way down.
AOB
Check out the other parks we've been to on the free parks map i made just for you HERE
If you know of any other parks that need a good seeing to from The Family Ticket please drop me a message on the FaceBook page HERE