Museums
Pendon Museum | Model Village
I'm going to kick this off with an I hate model village places. I don't think I've even had a good time looking round model villages even as a child. Well apart from the one at Lego Land because that's super cool. However I decided to take the boys to Pendon museum because Clark loves trains.
Pendon Museum | Model Village
Its an easy enough drive for us and just over half hour away. It was during the Easter holidays so we just rocked up. Got there and it wasn't open. Not checking opening times and dates is my downfall. So now i had 2 pissed off kids in the back and I'm googling the shit out of everything trying to find something else to do instead.
Then someone walked out of the door, came and asked me to park in another spot because it can get busy….Turns out they were open because it was half term. Thank fuck for that because it was pissing it down at this point and I couldn't face soft play.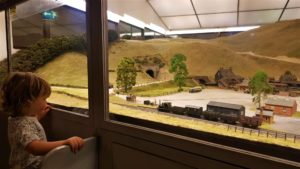 Once it had opened properly we headed in. The staff were super lovely and we got chatting to a lovely lady and her son who seemed to be regulars. We were asked if we would like to take part in the craft which of course I said yes to. It was free!
We also picked up a children's trail too. I wanted to make this visit last especially with the weather like it was. We headed for the craft session first because it was a drop in session and my kids are incapable of being patient (no idea where they get it from).
Pendon Museum Kids Drop In Modelling (making kind not photo kind)
Luckily we were the first there. We had to walk upstairs and past all the model railways and villages which was hard for the kids because they just wanted to look. Got there in the end and Clark took a seat in the room. Elliot was too young to join in but the lovely gentleman told me it wasn't a problem and he could make his own scenery.
Basically they got to make a piece of scenery to take home. It was really cool and best of all it was totally free. I had to help Elliot out a bit but there was one adult helper to each child and they loved it. Sticking grass, trees and they even got to use spray cans!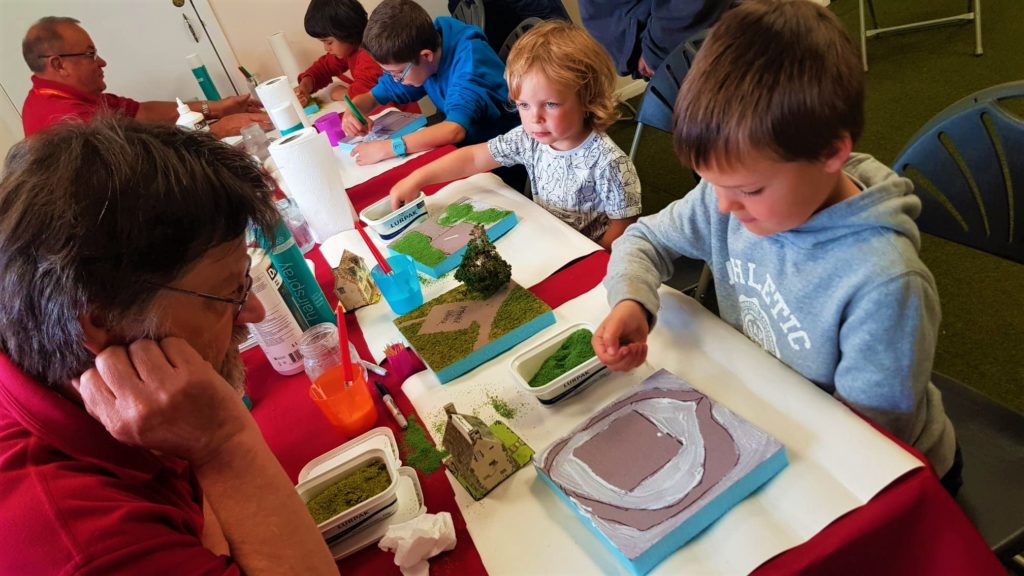 After they'd finished making a mess/a beautiful creation to cherish forever we left it on the tables to dry while we left to explore the museum.
Thankfully we did the craft when we first rocked up because there was a bit of a queue developing. A really eggy, tweed wearing mother giving the volunteers a lot of attitude because her little cherub was still waiting.
Exploring The Museum
Armed with the trail we headed into the museum. It was a lot busier at this point and some of the areas were hard to get too. They have little stools for the kids to stand on so they can see into the exhibits. My advice? If you can take your own. They were few and far between and lots of kids so i spent a lot of time picking Elliot up to look.
In fairness to Pendon museum although small the villages were pretty cute and Clark was loving it. He especially loved trying to spot all the items from the trail. I'll tell you know its not as easy as you think. Do what I did and listen for other families spotting things. Some say cheating I call it involuntary team work.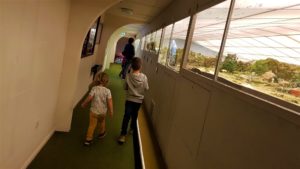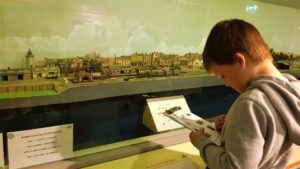 Elliot as usual was being a bit of a dick and poor Clark just wanted to have a look. Elliot on the other hand wanted to peg it round and generally act like a nutter. There were areas that he did stay and look at though especially the railways and trying to spot the trains moving round.
Clark had a great time. Elliot not so much bless him. He's young and just wanted to piss about outside can't say I blame him. After we made it round we headed downstairs where the shop and cafe was. We had a little snack and and bought a house for the boys model scene too. We handed in out trail and they gave us a fridge magnet which was a lovely touch considering the trail is free.
Pendon Museum Stats:
Distance from Bicester: 35 mins
Sat nav: High St, Long Wittenham, Abingdon OX14 4QD Click to load sat nav
Wheelchair friendly: Hmmm not the best read HERE for more info
Equipment upkeep: 9/10
Cleanliness: 10/10
Facilities: Toilets, parking and cafe
Age range: personally it depends on your child. I wouldn't take an under 3/4 again
Safety: /10
Fun factor: 8/10
Dog friendly: No
Pushchair Friendly: Not really
Bikes and Scooters: No
Public transport: Get to Didcot then jump on the D1A to Berinsfield. Get off at the plough and its a 5 min walk to the musueum.
Conclusion
Pendon Musuem was a great little morning filler. I loved the drop in modelling session and the i- spy trail and so did the boys. I would definitely go again but if i'm being honest i'd probably leave Elliot at home (Not Alone by the way).
The exhibits were brilliant and the attention to detail was phenomenal. I've still not been won over by this model village and there are a million other things i'd rather do. However its not about me its about the kids and Clark loved it so I'd happily take him back.
If you're planing on visiting the museum then do check out their website first for their opening times they're a bit faffy.
As far as the car park goes. Its teeny and the roads around are probably smaller so get there early to make sure you get a space. They do try and ram you in too. Thankfully we go there early enough otherwise I'd have no doubt crashed into someones car haha.
AOB
Check out their website HERE for more information, costs and opening times.
If you're after ideas for more days out indoor then check out the map HERE
What Else Is There To Do Close By: Brightwell-cum-sotwell play park, Harcourt Arboretum and Earths Trust (not reviewed yet)