So after nearly a week off (totally thought i was dying) I'm back on it. Today's venue of choice was the New Blue Diamond soft play at Bicester avenue.
The old Wyvale soft play that was there before hand was ok but towards the end it was well erghh Shit. At least it was for me. You could never get lots of bits were run down or broken but it was still a local soft play that many a parent or carer would go to for an hours rest (unless you had to follow your child round then it was the equivalent of a gym workout)
Blue Diamond soft play
The whole of Bicester (well anyone that looks after a child in Bicester) was in a stir when they found out that the soft play was going to get ripped out and replaced with a brand spanking new one. Finally Blue Diamond had pulled their finger out of their arse.
Unfortunately it was shut over the shit months where no one wants to take their kids out because its too bloody cold. Luckily it wasn't shut for too long or at least it didn't feel like too long anyway.
Blue Diamond soft play reopened last Friday and to be honest i couldn't be arsed with going on opening day. I heard that they didn't have a booking system and more nor any way of monitoring the 2 hour limit you have. FUCK THAT! sounded like it was going to be a shit show and one that i didn't want to go to.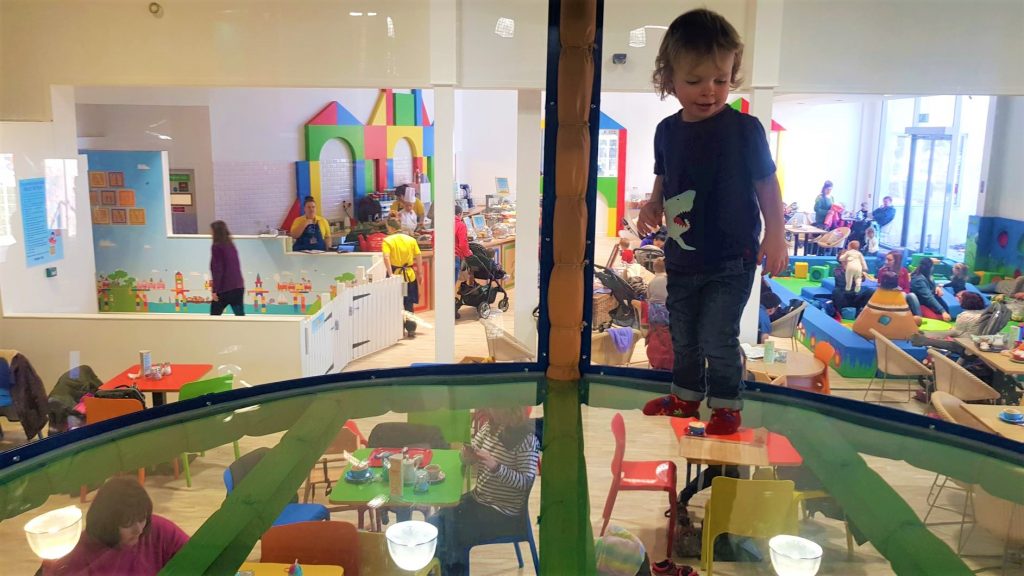 So today after finding out that i wasn't dying and i am just in fact a fat git who needs to eat more broccoli decided to pack Diablo (Elliot) into the car and try out the new Blue Diamond Soft play.
Mixed reviews
I've had a few people with mixed reviews on the Facebook page and each and every one of them have said pretty much what i also thought today too.
So the first thing i will address which seems to be what everyone else also has the issue with is the cost. £5 it cost me to take Elliot in today which to be honest doesn't sound like a lot and i was quite happy to pay but if you have more that one child that's going to start getting painful.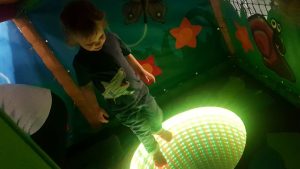 However that's for a 1-3 year old 5-12 years is £6, Monday to Friday. Taking the little ones on a weekend and you can add another quid on top of that. You do however get 25% off if you're a blue diamond loyalty card member……until the 31st of march. After that no poor people allowed. Instead you must send your children out to the streets to play with parked cars and rocks (I'm exaggerating for effect don't let your children play with rocks around cars it could end up costing you more than a session at Blue Diamond soft play) They do have a loyalty card though so make sure you grab one of those on your way in.
Right initial bitch over. The soft play area does look nice and clean and a shit load bigger. The staff are super nice. Which is really refreshing. pre refurb it was only ever 1 member of staff working if you were lucky but lets be honest they pulled the short straw that day and would gladly let you know how pissed they were to be in the soft play (don't blame them).
Not overly busy
The place was busy but not overly, uncomfortably busy. I went around lunch time in the hope that most people would have fucked off. This theory failed but luckily i managed to find a table which wasn't in the back of beyond (the seating area has at least doubled). Maybe this new system is working after all.
Elliot was straight off shoes launched at other kids head in a rush to try out soft play. Soft play is like crack for kids. I just wish i could share their enthusiasm about being stuck in a giant cage with shit loads of toddlers all screaming and acting like they are on crack.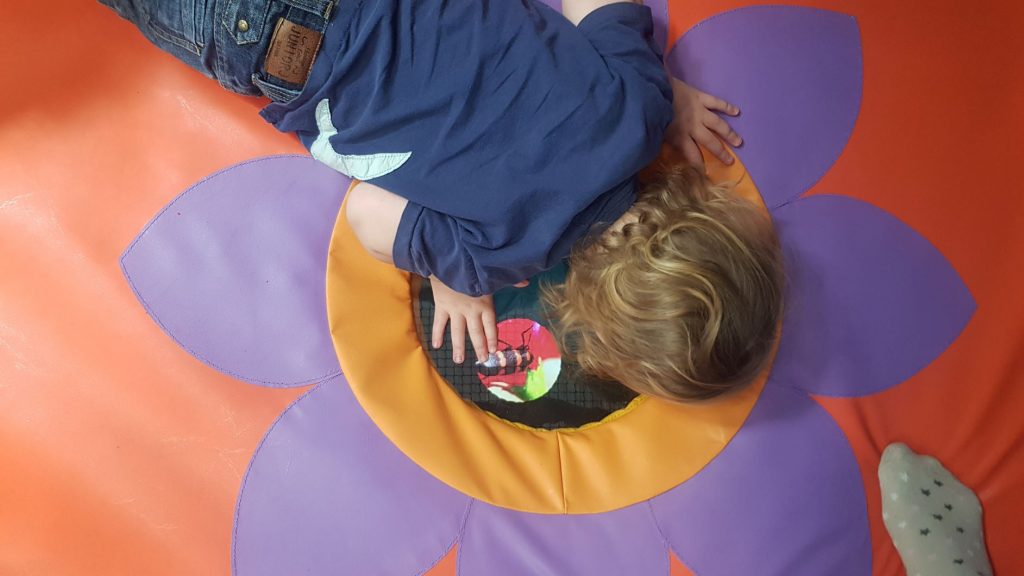 I had to go in with him at the start to make sure that he wasn't going to hang himself on a dangler or give himself whiplash going doing the steps like the old one had. To be fair to Blue Diamond soft play it was actually pretty safe. Well as safe as a huge metal cage wrapped in sponge can be.
A few people have said that its no bigger. I would agree with that. I would say its no bigger but it does utilise the space well. A few have said they've got rid of the slide too? This isn't true they have kept the big blue tunnel slide, the double wavy one at the back and they have added 2 slides where the smaller red one used to be.
The same but different
The Blue diamond soft play is basically an adaption of the original space. They still have the scary car wash things. I say scary because your child will run through it you're trying to keep up and if like me you're on the tubby side you honestly don't know if you will make it through. Luckily i made it through these (Not easily though)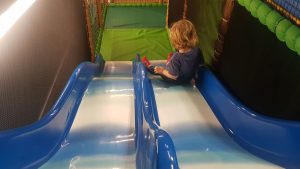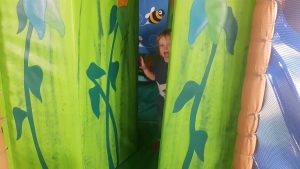 One thing that i did notice. NO BALL PIT!!!! seriously i don't know if i've totally missed it but I'm pretty sure i didn't. Is a soft play really a soft play without a ball tit (As Elliot calls them). The plus side is you're not going to panic when you lose your phone, You're less likely to contract a TTI (Toddler transmitted infection) and you don't have to worry about jumping into a pool of vom laying below the surface layer of balls.
Baby area
They have a secondary baby area which i didn't take photos of in case someone called the police on me. It look ok if your baby is going to sit there and hardly move but ill admit its not the best baby area I've seen.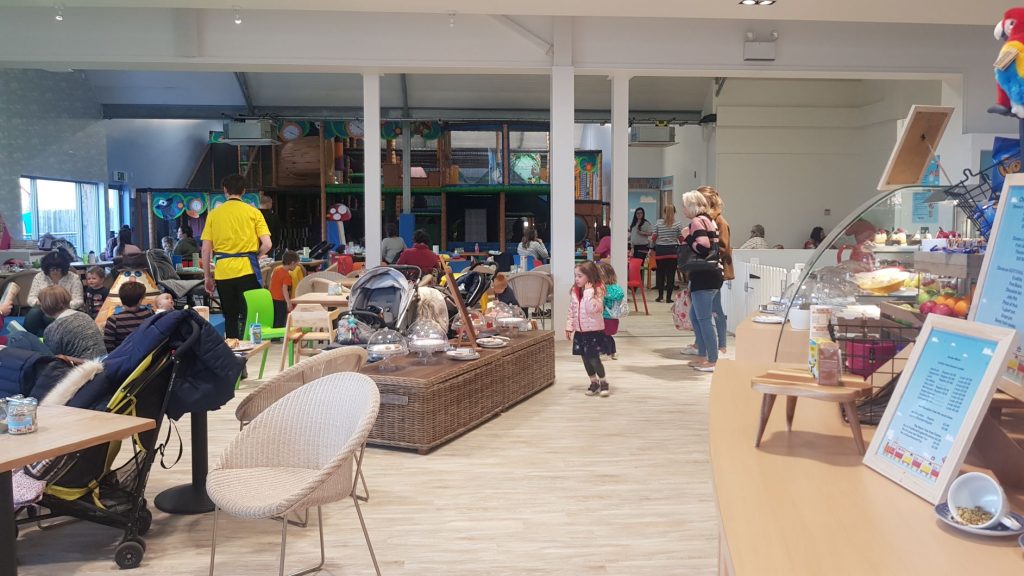 This resulted in lots of the smaller kids in the bigger area with lots of adults making sure they don't get twatted by the older ones.
I personally wouldn't take my eldest (5) because i just don't think its very well suited for older kids. Nor would it be very safe for the younger kids with the older ones in there.
Food
Onto the food. Hmmm its not cheap its not great. It did the job but I've had better. The service was fast and friendly but the food just doesn't compare to other soft play venues which are cheaper and have more going on.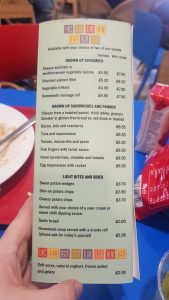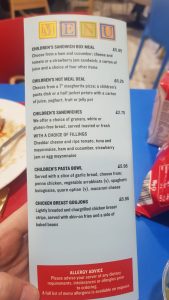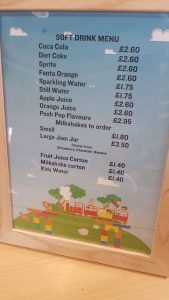 The cakes looked good but i'm trying to be less of a fat shit so i didn't have one (bloody expensive too) Elliot had a kids lunch box which was good because you get to pick the items. One thing i will say though the sandwich choice (for us) was shit. Cheese and tom, another one with a cucumber or jam. If your lucky your children will eat salad mine however wont they wont even touch anything that has come into contact with the juice of a tomato (i have to grate all veg into a bolognase). To me it would have made sense to make plain sandwiches and add salad fingers to the choices.
My Jacket was ok. It came out scarily quick by the time i'd ordered and sat down the bugger was there! thankfully it was cheese and beans. It was ok but maybe if I'm going to be critical i could have done with a steak knife to cut through the skin.
Cake shelf
A few other mum's mentioned about the cakes being withing reach. I thought they meant on a low self by the service station. Nope they're on a stand alone island full of cakes and glass domes covering them. Not sure if the designers have kids or not but i can imagine it wont be long until some cake loving toddler comes along, helps themselves and shatters the glass into other toddlers bear feet.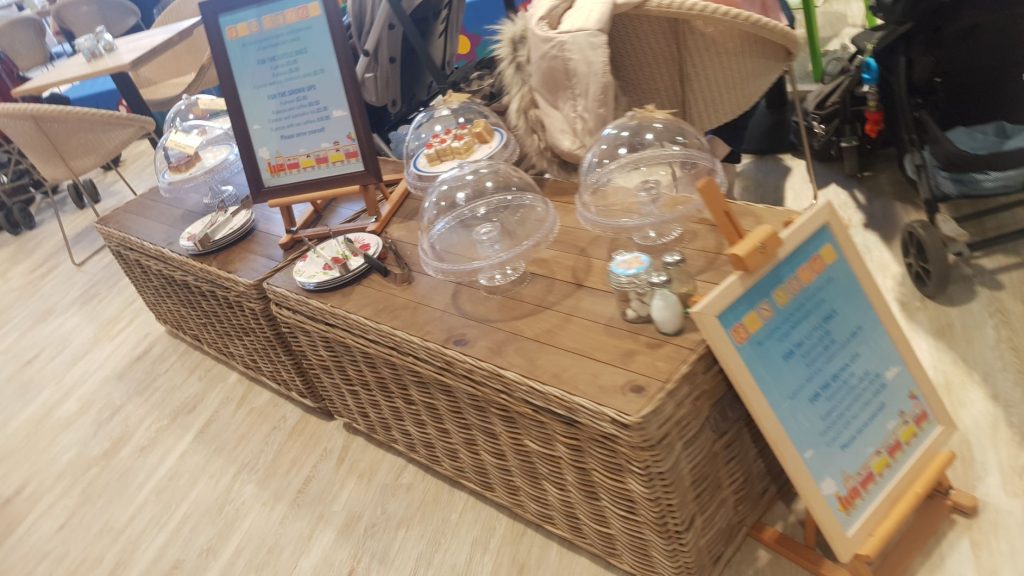 I must have sat in the most dick head place ever. Everyone had to squeeze past. Navigating through the tables and chairs is a bitch and i don't have a pram. They could do with encouraging parents to leave the prams outside. It was hell for them to get around. Then when they tried to leave some bright spark put the exit opposite a post. If you have a pram you'll have to do a reverse maneuver around a blind corner good luck. Oh and good luck avoiding the little tikes cars that ram into you ankles wherever you walk. Nice idea but shit all room.
We didn't stay for the full 2 hours but to be honest I'm not sure if anyone would notice (unless your kids are being dicks). I was pessimistic about the lack of booking system at first but if its anything like today i actually prefer it. You're not stuck to starting times which allows more freedom and less stress because we all know kids like to take a shit or vom on themselves just as we're about to leave the house.
Blue Diamond Soft Play stats:
Distance from Bicester: 0 mins
Sat nav: Bicester Avenue, Oxford Road, Bicester, OX25 2NY Click address to load navigation.
Wheelchair friendly: Yes but not going to be easy getting round the tables .
Equipment upkeep: 10/10
Cleanliness: 10/10
Facilities: 10/10
Age range: 0 – 6 (In my opinion but goes up to 12 years old)
Safety: 9/10 pretty good mark for a soft play
Fun factor: 10/10
Dog friendly: No
Parking: Loads
Entry: See prices on website or in the description i cant be arsed to type them all again.
Conclusion
I've been a bit critical so far i know. On the plus side. Its so bloody clean and Elliot loved it. Its refreshing to not have to travel all the way to Millet's or somewhere else just to get to a soft play.
I thought the actual soft play was good not great but not bad. I will 100% be taking Elliot regularly because its ideal, close by and for now clean. I personally wouldn't take both kids especially on the weekend or during holidays but that's more because of the fear of crowds haha.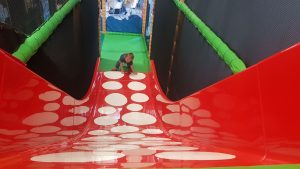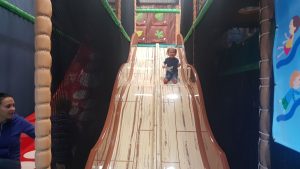 Have they done a good job? yes. Could they have done better? yes is it expensive? Hell yes. Its not a destination soft play but i don't think they are pretending to be. Its a soft play in a garden centre. Its more for the locals.
I do wonder how busy they will remain on those prices when the other 2 soft plays open one which is easier to get to and the other in Yarnton but looks like its going to be a beast. That being said i'd rather go to a quieter soft play any day.
Overall i liked it despite it's faults. Plus the staff were nice which always earns brownie points with me mostly because i know i'd be a miserable shit working round screaming kids all day.
AOB
Have a look at their website HERE for more information.
If you're after more ideas for soft plays have a look at the rainy days map HERE