So we cant go on holiday, we're cooped up inside and quite frankly bored in the evenings. Only one thing for it back garden camping. Slight problem though. We didn't have a tent.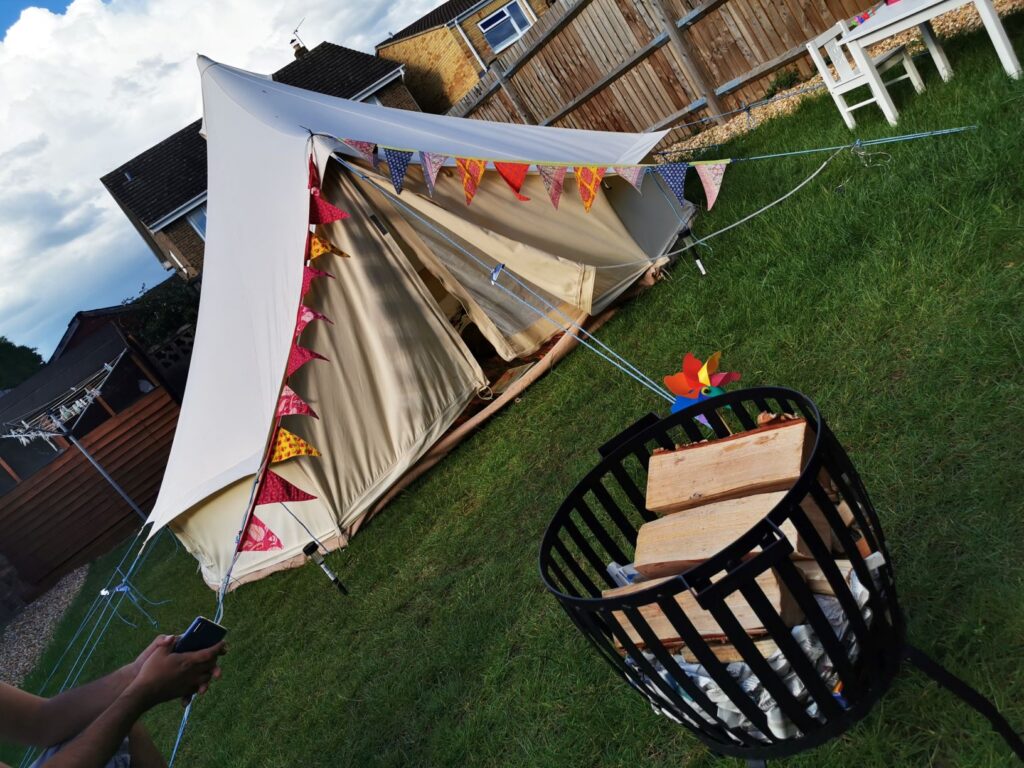 Back Garden Camping
Ok so I'll admit it wasn't totally all our idea to camp out in the garden. Clark's beavers were planning a camp out night which could have been done indoors too. Imagine my luck when I had an email ping into my box offering to provide us with a tent for the weekend from the awesome Norfolk bells.
I'll admit I hadn't a clue who they were, never heard of them so I had a quick nosey before replying in case they were shit. Well luck struck again they looked amazing so I jumped at the chance. I'm not normally one to do these kind of reviews but how could I say no? told the kids and they were super excited.
We dealt with the lovely Liz who owns the company its a local company too (Kirtlington). We ended up going for 2 single beds and a double bed in there too. After the house move I'd have had bugger all idea where ours were. We did say we'd use our own bedding though.
The day came and Liz came and set it up with zero contact as we have access via a side gate. Elliot sat in the window watching her……ok he was also shooting her with his imaginary gun but she saw the funny side (thank god).
Back Garden Camping In A Bell Tent
As soon as the tent was up (really quick too) the boys finally got some clothes on and they were off. It made our crappy garden look awesome. The bell tent was sooooo cute if any of you are massively into your Instagram you'll have a field day with one of these bad boys. It was hippy chic, boho and a load of other words that I cant think of to describe cool.
There was bunting on the outside, fairy lights inside and out and a cute little pin wheel too. The inside was perfect I'm not even talking crap I fell in love with it. Ok it was a bit of a sweat box at times but the furnishings were lovely. From the throws to the pillows and the final touches like the glow sticks and side table with the mirror and lantern.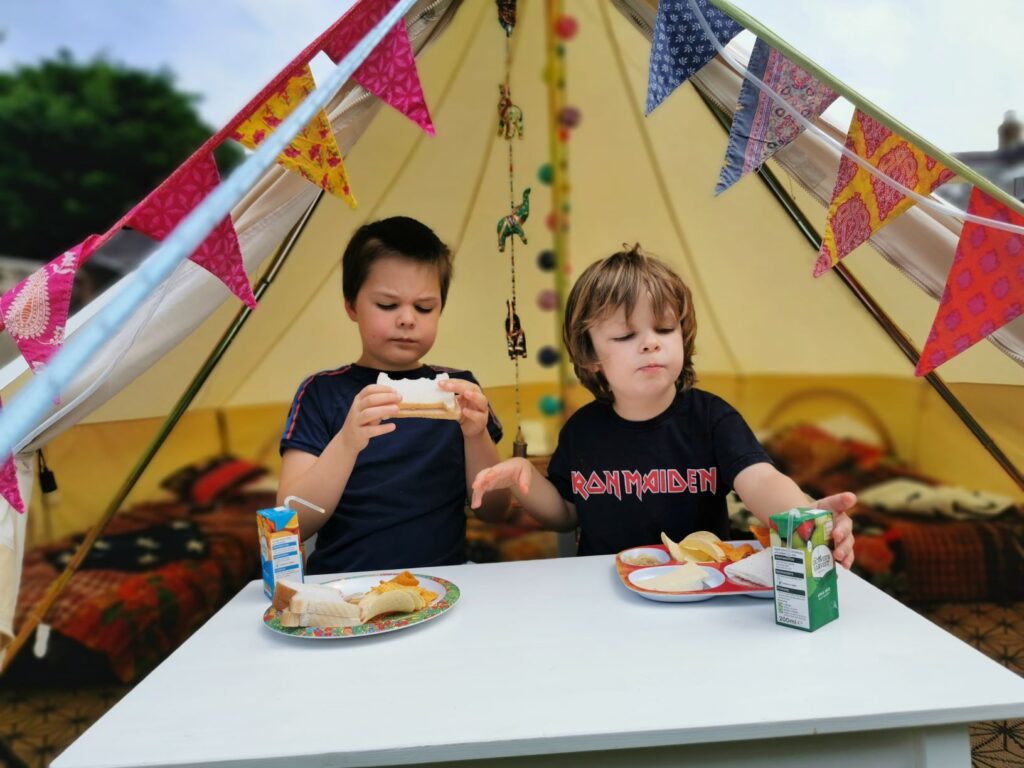 The boys were out there straight away laying claim on their beds. As it was lunch time they decided on some alfresco dining. I was a bit of a tight git and wouldn't let them eat in the tent haha so I brought their table down instead. Sod having crumbs in an air bed!
They were playing in it all day I shit you not. Well apart from when we went for a walk. They had even turned it into a shop which was great until I found the entire contents of their rooms in there. Which would have been fine if they ever cleaned up after themselves.
Back Garden Camping In A Storm
So we we're all set up for the night we had books, games….ok tablets too but we mostly played games. In fact I'm pretty sure we played approximately 3 different sets of top trumps, snakes and ladders and 3 games of Dobble. Then that's when we heard the first spot of rain.
We ran in to get a bag to cover the fire pit that we'd just prepared for our campfire and marshmallows. We didn't go the whole hog for dinner either so copped out and got a McDonalds. Hahaha ok we're not seasoned campers at all but we're trying.
Then the heavens opened and fuck me it was loud. Clark then declared he needed a pee so he ran into the house in just his pants then Elliot wanted to follow. Basically they just wanted to run naked in the rain (don't we all). Then the storm really started in came the thunder and lightning.
It was amazing laying there listening to it I must admit. We had to shout to be heard over the rain, This is when the husbeast started to panic about being in a tent with a big ruck off metal pole in the middle. Thankfully the storm passed……then the second one came. It was at this point we decided to rack it off and head indoors. The fear of lighting strike took over and it was just too loud to sleep for the boys. We called it a night at 9pm which for us was pretty good going.
Second Night Camping
Someone had left the Mc'nuggets outside too so they were well and truly soggy by morning. The kids gave us an extra 10 mins in bed despite them going to bed about 2 hours later than usual.
The second day was much the same the boys played in the garden with the tent most of the day. At one point they did both bugger off inside to play in their rooms. It was then I decided to pop out to the tent by myself. You know what I did? I read an actual book!. It was amazing and sooo peaceful. The husbeast could deal with their demands for a bit while I enjoyed me time.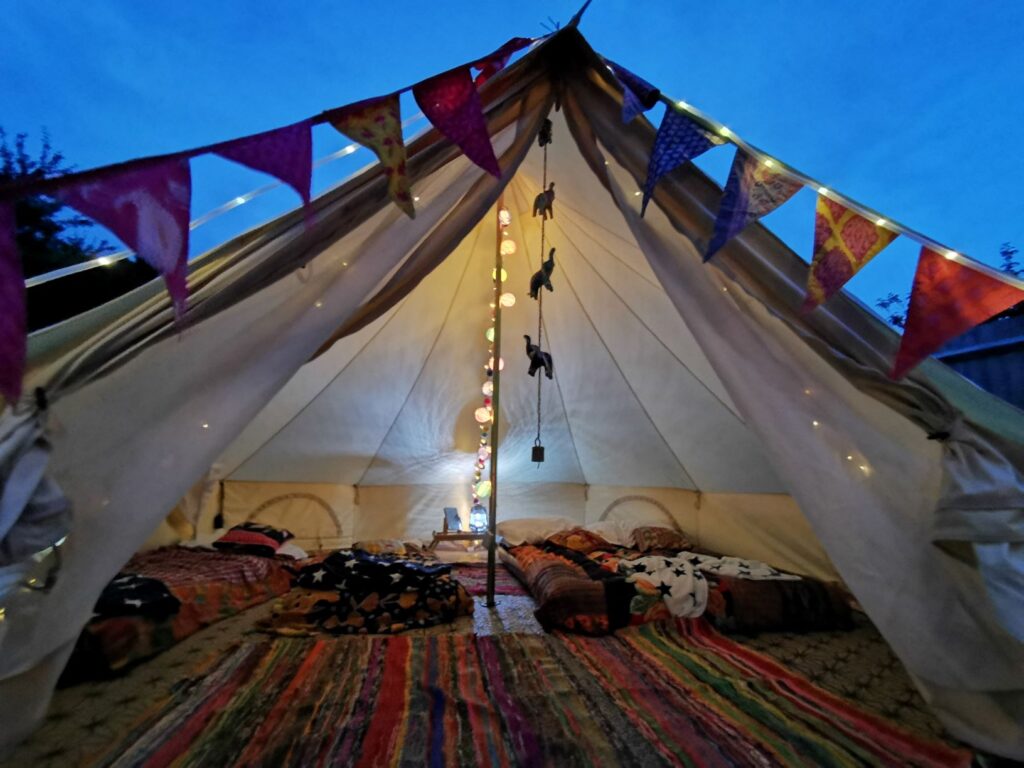 The day after the storm was a shit load better weather wise which meant we could dry out the camp fire for the evening. The boys helped me cook dinner a la beans on toast with sausages (Thats camp esk right?). We finally got to have our toasted marshmallows. Luckily I found some garden canes to shove them on the end of so they didn't set themselves alight.
Luckily the boys were knackered from a light night on the Saturday and a huge walk. So after a few games they were tucked up and asleep come 8pm whoop. Me and the husbeast sat outside and had a couple of drinks then fucked off indoors to watch a bit of TV until bed time haha. The little buggers woke us at approximately 4.10am when we all came back in and got another couple of hours in our own beds.
Conclusion
I'm not one to mince my words, nor do I lie if I think somethings shit I'll say its shit. So trust me when i say these bell tents are amazing. I'm gutted we didn't know about them for Clark's birthday it would have been an amazing birthday treat for him.
Norfolk bells without a doubt were amazing from the start to the finish. So if you're thinking of doing your own back garden camping have a look at these. Elliot was really not happy when it came to saying goodbye to the tent. He thought it was ours for good (Wish it was)
There are a few different options on their website so you can tailor the bell tents to suit your needs and budget. Prices range from £110 – £225 for 2 nights hire for garden camp out. Which yes may seem pricey but looking at some other bell tent hires that charge £200 per night I think its 100% worth the money if you chose to.
How great will this be for future camp outs and sleep overs when all these restrictions are lifted. I'd happily hire Norfolk bells in the future. Great thing is that its not just for kids too. They have load of different options and even provide for weddings. Possibly the best bell tent hire in Oxfordshire?
AOB
Have a look at Norfolk bells website HERE for more info (Don't forget to mention I sent you)
If you'd like to see some of my Other product reviews then you're shit out of luck I don't normally do them hahaha. Have a look at my days out guide HERE though.