Today was a last min jump in the car and wing it kinda day. I've been meaning to go back to Limes Farm again and I'd heard that Farthinghoe play park is a good one. Park and lunch seemed to be a good idea.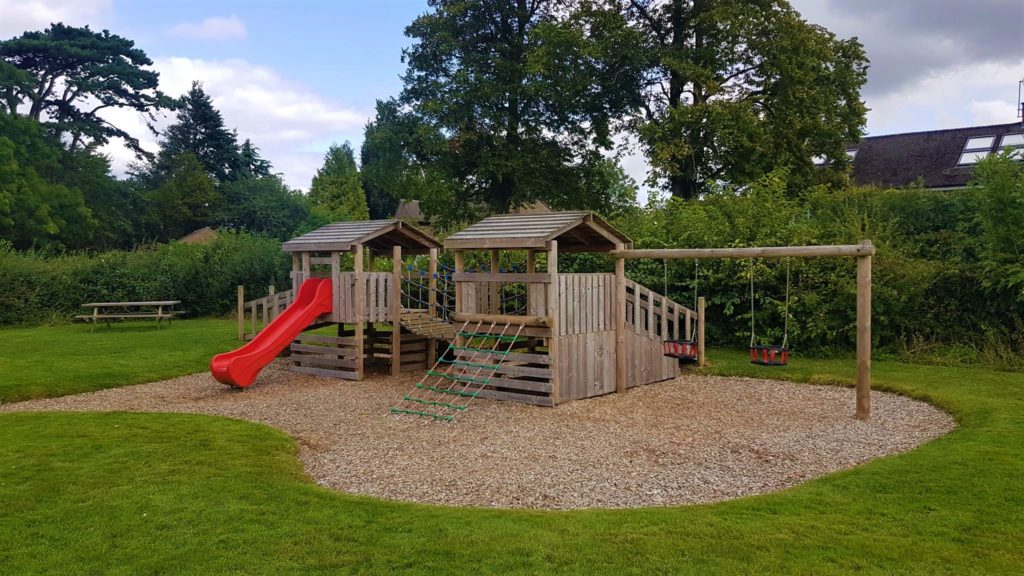 Farthinghoe Play Park
Took me a while to fine the sneaky bastard. Turns out it was on Clarks Road which Clark was really chuffed about. He's one of those kids that can never find anything in the garden centres with his name on. Nor Elliot for that matter because I've spelt it wrong so it would seem. English was never my strong point (thank fuck for spell check).
Farthinghoe is a teeny little village so there was no surprise that the play park had no dedicated parking. We had to go road side. Please don't park in front of the play park gates. There were cones there when we turned up but just in case there aren't if you go You at least know.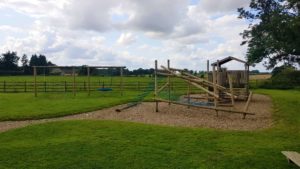 The play park is set back from the road on the Field side.Its not the biggest park but its cute and quiet with some lovely views across the countryside. We spent a fair while in there and the kids loved it. Finally some decent bloody weather.
Although the play park has no facilities there is a pub and Limes Tea rooms around 3 mins away. You could quite easily walk to either. We popped over to Limes after our visit for a spot of lunch.
What Equipment Is At Farthinghoe Play Park?
I personally think that this play park is brilliant for all ages although its small and doesn't look like it has a lot of equipment in there. They've managed to use the climbing frames really well.
The smaller children's frame is brilliant really easily accessible for a range of ages. There's 2 ramps for crawlers and new walkers. Cargo net for the more confident walker and there's even a little ramp climbing wall for those parents that are going bald because they have a climber (That's me).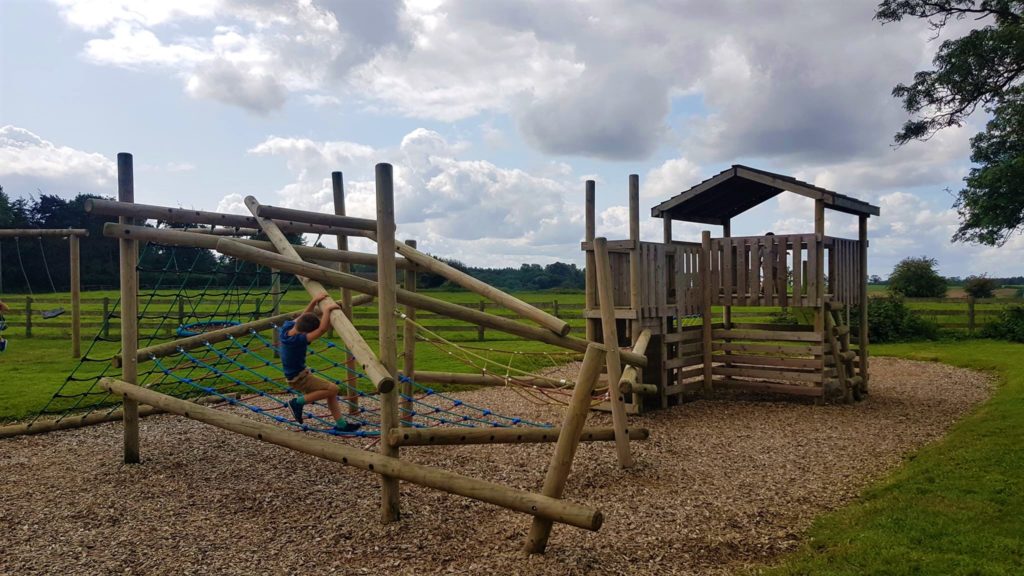 There are 2 shall we say huts to the smaller kids frame and they're joined by a little wobbly bridge. Both of the huts can be used as little dens on ground floor too for hide and seek like my boys were doing. There's a lovely (fast) plastic red slide to whizz down and the baby swings are attached to the side of this frame too.
Talking of swings on the opposite side (safe distance away) there are 2 older kids swings and a cargo net swing. I pretty much plonked my arse on the cargo swing for the whole duration of our stay at the park and swung away while the kids were playing. All i needed was a gin and I'd have stayed for the day.
For The Older Kids
The larger play frame is pretty big and a lot more challenging that the smaller frame which my two loved. I did have to help them both navigate the ropes at first but they soon got the hang of them so i could sit my arse down and play Candy crush.
Clarks a lot more reserved than Elliot….Probably something to do with smashing his collarbone earlier in the year while reviewing another park. Elliot gives Zero fucks and will launch from anything and I mean anything.I did keep half an eye on him when he was scaling the big kids rock climbing wall. That kids half goat I swear.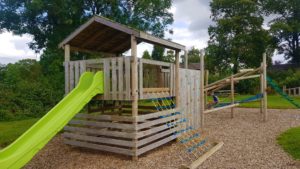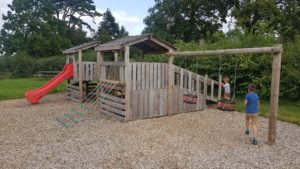 The slide's a lot bigger on this frame too and a lot faster with it. The boys did slightly favour the bigger frame over the smaller one. I do like the bigger frame because its not that easy for younger ones to get up it. They might try but you'll either notice before they hurt themselves or they'll get bored trying.
When we visited Farthinghoe play park there were loads of different mushrooms. I hate all brands of mushrooms anyway and so do the kids but if you've got a muncher you may want to keep a closer eye on them. Kids are hard enough as it is without them tripping their tits off on some magic mushrooms they've found under a slide.
Farthinghoe Play Park Stats:
Distance from Bicester: 20 mins
Sat nav: Clarks Ln, Brackley NN13 5NX Click to load sat nav
Wheelchair friendly: Yes
Equipment upkeep: 10/10
Cleanliness: 10/10
Facilities: None in the park but Limes farm and pub close by.
Age range: All ages
Safety: 8/10
Fun factor: 10/10
Dog friendly: No
Pushchair Friendly: Yes
Bikes and Scooters: No
Public transport: From Banbury jump on the 500 to Brackley and get off at St Michael's church and walk the rest. It'll take around 25mins.
Conclusion
We really enjoyed Farthinghoe play park. Its great place to chill out while the kids play (take Gin and a picnic). Its a good park for a range of ages that'll keep them busy for ages.
I really liked how quiet it was too. I always love having a play park to ourselves. Who doesn't?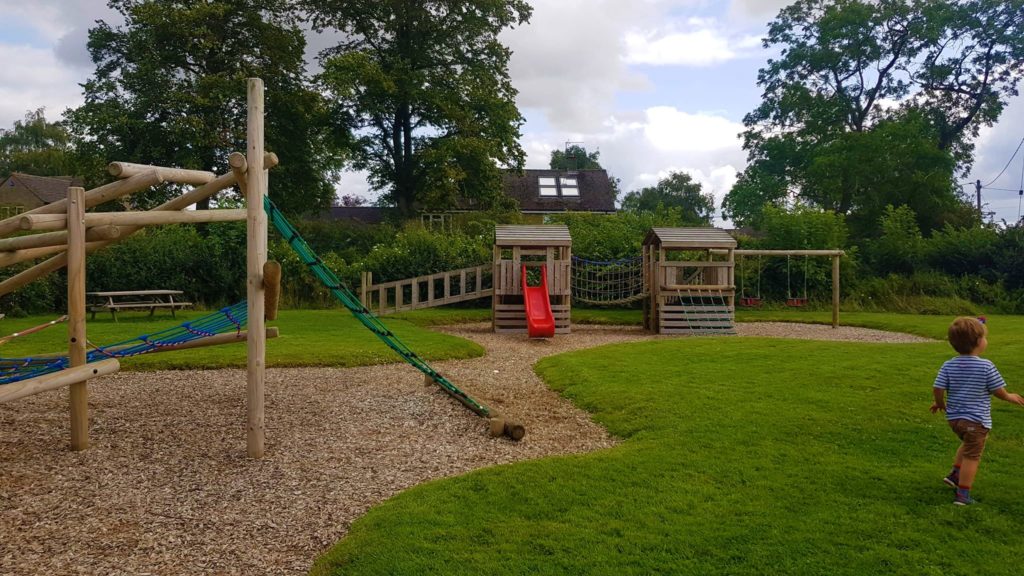 You can easily make a full day of it visiting all the parks in the are. Visiting Limes farm for a spot of lunch or even the flight deck cafe to watch the planes which isn't far either.
Bottom line if you get a chance then you should go. Its a great little park so pop it on your list.
AOB
I'm always on the lookout for new play parks to review so if you know of any good ones please do message me. Its easier to message me on the Facebook page HERE
If you'd like to check out more play parks near you then have a look at the Play Parks map HERE