Today i visited the Stratton Audley play park….Alone. Yep i did what i always thought i wouldn't do. Go to a play park without any kids. Thank fuck it was empty!
I've been starting to wonder how I'm going to carry on with my reviews once Elliot goes to school. So Stratton Audley Play Park was a trail run for me. I'm happy to say it went pretty well. I was a bit worried about someone calling the police on me. That would have been a fun one to explain.
I Didn't Get Arrested
So I've avoided the sex pest list and I'm happy to report that Stratton Audley Play Park is bloody awesome.
Due to me not having to stop Elliot from climbing up to heights and launching himself off i was able to have a proper nosey too. I know i don't have the human guinea pig to do the actual testing but with the amount of parks I've been too and having 2 boys that should have been born lemmings i think I've got a good idea still.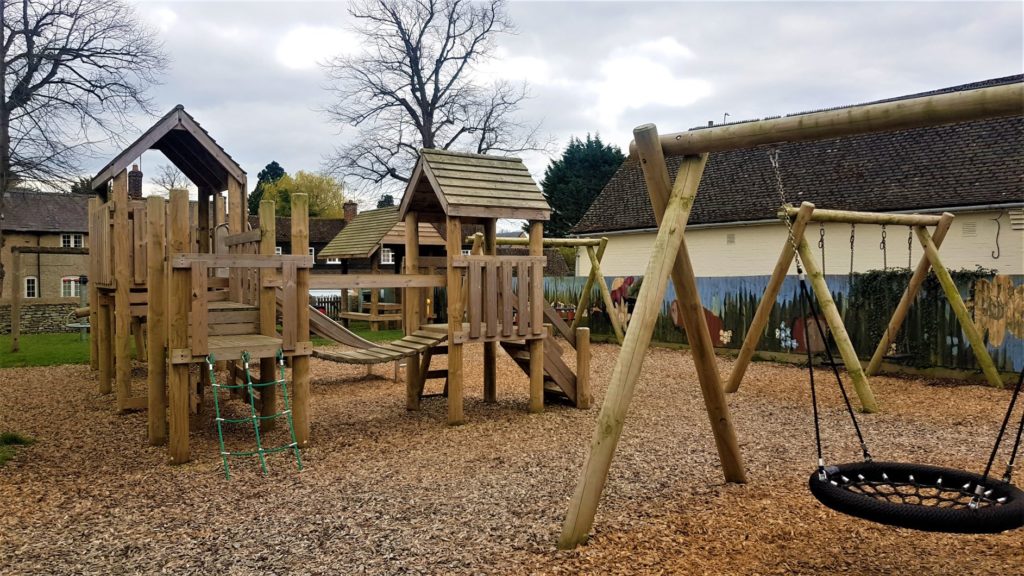 You'll be happy to know that its only 10 mins down the road from Bicester (not so happy if you don't live in Bicester). Its pretty easy to find too and although there was no designated parking for Stratton Audley Play Park there was plenty of roadside space opposite. As always please be respectful of residents when parking and try know to be absolute tools and park on the junctions like they do in Bicester.
Small and Powerful
Stratton Audley play park isn't huge but it utilises the space well and I'd be more than happy to take both boys there because it caters for a range of ages. Its also fully fenced in with only one way in and out so if you park yourself by the gate those little monkey's aren't going anywhere.
The whole floor is lovely soft wood chip too so if they do face plant the floor it wont be as hard and they might only receive a splinter to the eye ball. If its raining they also have a nice covered area with a bench too. Perfect for us parents watching as the kids get soaked while they still play.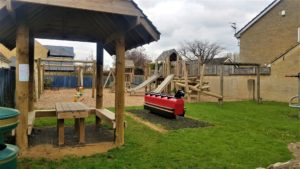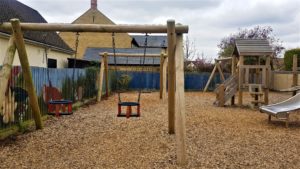 Ok so onto the equipment at Stratton Audley Play park. The first thing i spotted was the horse! yep one of those giant vintage rocking horses that seem to be making a comeback. The old stuff is always the best.
Springy Face Twatter
Now as you all know I'm not a huge fan of springy face twatters. However!!!!! Statton Audley Play Park have gone one step further and fitted a double springy face twatter. Genius so not only will the child in front twat their face on the camels head the kid behind will also twat their face onto the back of the kid in front. Its times like these i wish i had twins to see this bad boy in action.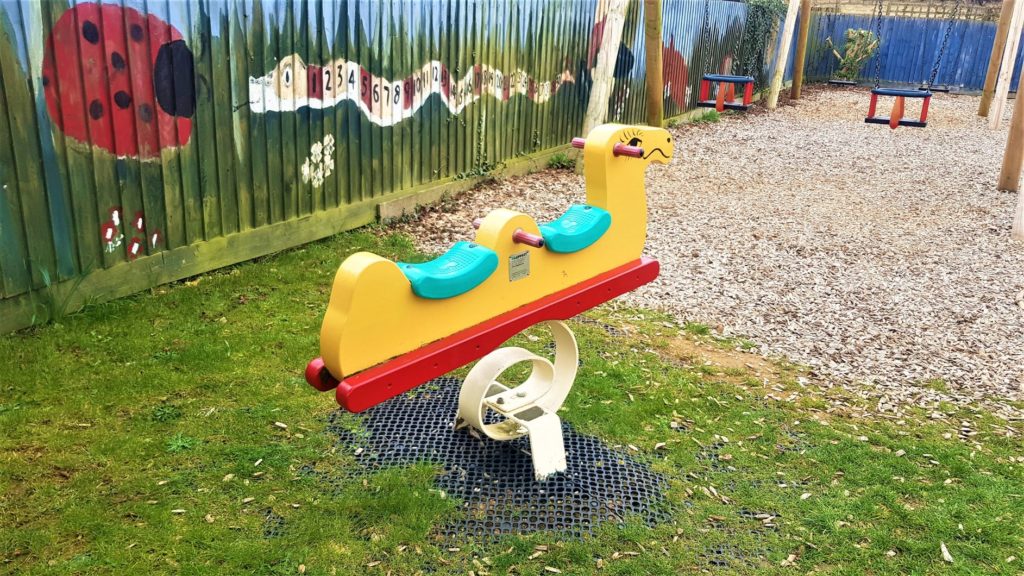 There are swings. To be precise 2 baby swings, 2 older kids swings and a cargo net swing so in theory plenty to go round. Although if you have 2 kids you're going to shift some lbs running from one to the other to push them "higher mummy! Higher"
Onto the lovely wooden fame. There is only one but its big and really lovely looking. At one end you will see that its aimed for the older kids and thankfully it looks hard enough to deter smaller kids from trying to climb up it which i think is great. The amount of times we go to parks and they make the older kids frame accessible for younger one. Its like people are taking it upon themselves to cleanse the gene pool.
Lovely Climbing Frame
The other end is much more easily accessible for younger ones with nice steps and ladders yet they have still managed to maintain an element of danger that toddlers seem to crave. The wobble bridge. If your small one's short enough they will likely fall out the side. Not a big drop though especially with the cushion of splinters below.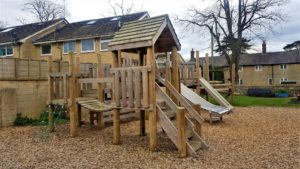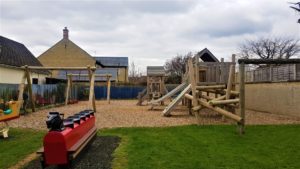 The slide is positioned halfway through the climbing frame. A clever way to distract the toddlers from certain death (slight exaggeration) up ahead at the older kids side. Its very cleverly designed with is perfect when somewhere doesn't have the space for 2 individual climbing frames.
Stratton Audley Play Park Stats:
Distance from Bicester: 10 mins
Sat nav: Cherry St, Stratton Audley, Bicester, OX27 9AA Click for sat nav.
Wheelchair friendly: Yes
Equipment upkeep: 10/10
Cleanliness: 10/10
Facilities: 5/10 Couldnt see any toilets.
Age range: Sign says up to 12 years old
Safety: 8/10 common sense needed in places
Fun factor: 10/10
Dog friendly: No
Conclusion
I'm pretty shocked that i haven't been here already its a really great park. One that i feel i could sit down and watch the kids play happily at (pah who am i kidding they argue everywhere). I mean the kid of park that for my age kids i wont have to be stood by them all the time.
I love how nice and clean it is and its lovely colourful wall too. I will definitely be heading over here again soon with the kids. There's no doubt in my mind that they will love it. I'd probably take a travel potty and some snacks too because i can imagine we would be in there for a while.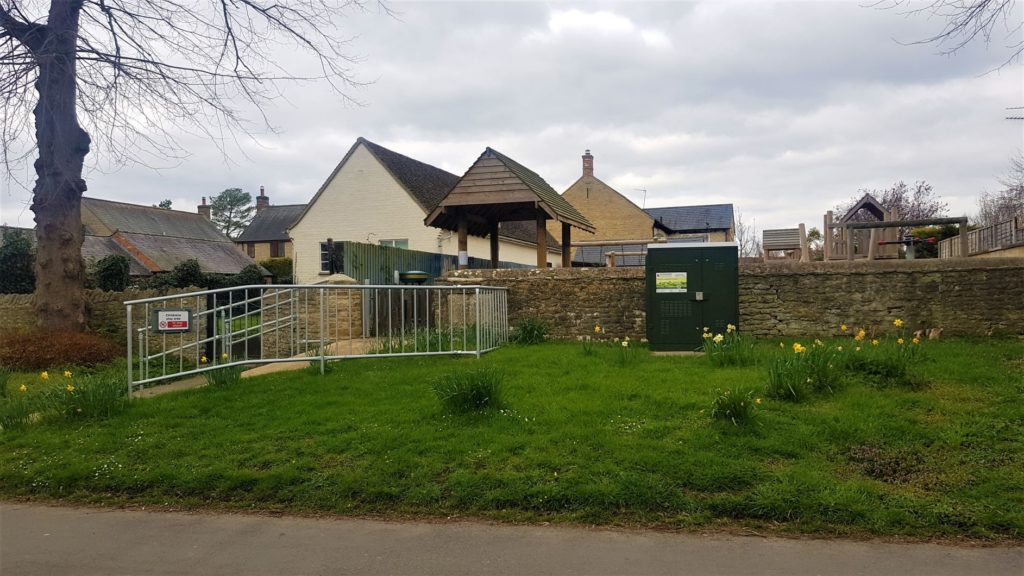 You should get your butts down there asap. This looks like a relaxing park. A very hard balance to find these days as most good parks are seen as huge beasts. Stratton Audley play park reminds me of a shetland pony. Small and cute but still able to give a powerful kick to the flange/balls
AOB
Check out the other parks we've been to on the amazing map i made just for you HERE
If you know of any other parks that need a good seeing to from The Family Ticket please drop me a message on the FaceBook page HERE