St Albans signal box has been on the list for a while but they're only open on certain dates. Luckily We could make the Saturday of their big weekend and for us with a train mad son it was perfect.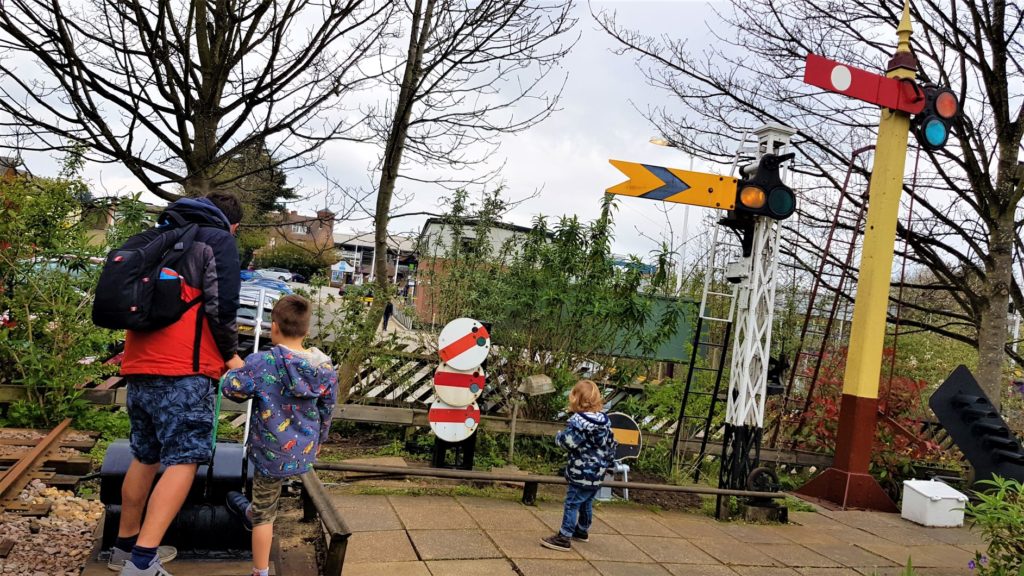 I'll mention now that its not somewhere that'll keep the kids busy all day but it was a great half a day out for us with a chilled out morning (Pah yeah right my kids are nuts nothings ever chilled). St Albans signal box is small but its brilliant and i shit you not the kids can pretty much touch anything and everything.
St Albans south signal box
Yes St Albans seems like a bloody mission if you're based in Bicester but if like me you work on time rather than distance. It's just over the hour mark so for us it was fine. Maybe not worth doing if your kids aren't interested in trains because they will likely whine the whole time.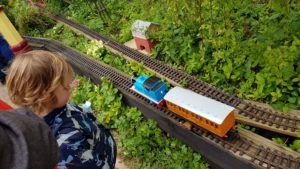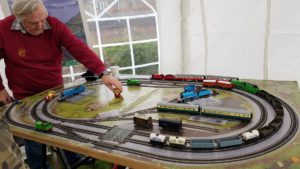 So st Albans signal box is basically a museum, a small one but hugely interactive. When we arrived we got luck and managed to find roadside parking which was free for up to 3 hours. Its at the end of a dead end road and if some absolute too parks on the double yellows (Like they did when we went) Its a bitch to turn around so just be weary of the parking if you decide to visit.
Luckily it wasn't raining when we went because i'm not sure we'd have enjoyed it so much if it was due to a fair bit being outside.
Train Rides
Just outside the entrance there was a miniature train offering rides for 50p. This is when we realised we had no cash. Off the husbeast ran into the town (Just up the road) so they could have a ride. Its just a short straight track that went back and forth a couple of time but the kids loved it. (Not sure older kids would be very impressed though)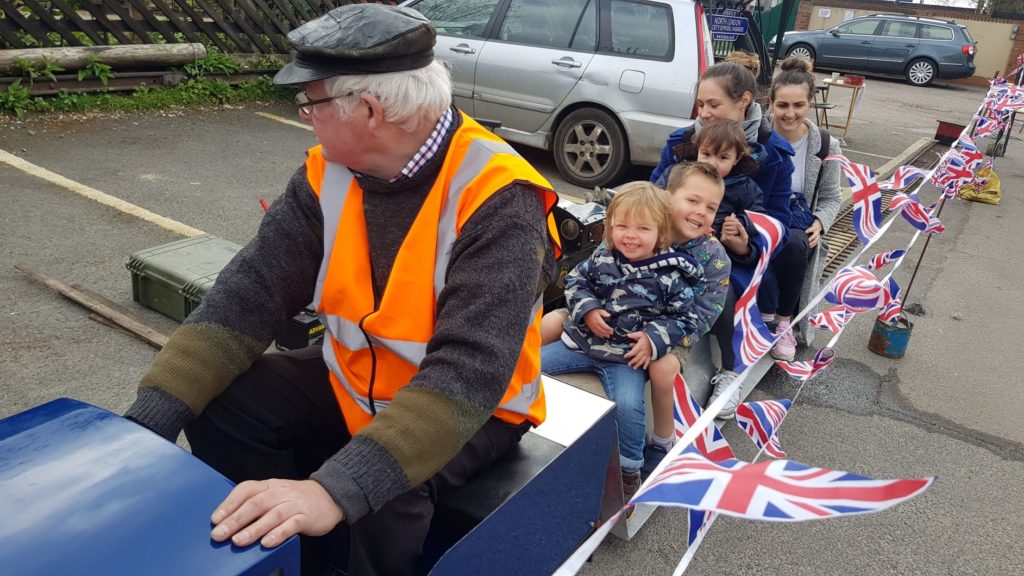 After the short ride we headed into St Albans signal box. We were greeted by a lovely man that chatted to the kids about trains and gave them train tickets so they could enter (cute touch) there was a box for donations which we popped some change into.
St Albans signal box is situated next to a working rail line (no danger of kids getting onto the tracks so don't worry) However this meant Clark and Elliot could train spot while walking round. When i say train spot i mean scream "TRAIN" at the top of their voices every time one went past. Being so close to the station that was fairly often.
Down at the bottom of the garden
The Garden is brimming with train memorabilia from old signs to old light and signals. The signals were why we wanted to come. The kids get to pull all the old levers and change the signals. All of the staff were so helpful to because half of them you have to pull in a certain sequence to make the magic happen.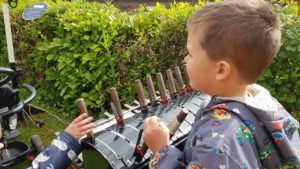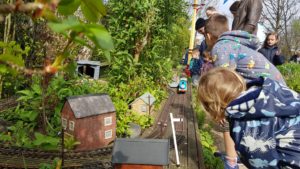 In the garden they have a cute model railway which goes round the whole time we were there. The day we visited they had Thomas the tank engine running and the kids were transfixed.
There are even more signals towards the end of the garden for the kids to play about with. All kids love a good lever to pull and there are definitely enough to go round at St Albans signal box.
Signal Box
Next we headed down the path to the Signal box itself. The wall of the path is covered with lots of cool train signs and a huge train bell. To get the bell to make a decent noise you need to give it some welly.
Once we got to the bottom of the steps up to the signal box we were invited in for a demonstration of how the signal box used to work. We were lucky to fit in as the last family. Now I've never seen the inside of a signal box (old or new) and i thought it was fascinating. There was a whole row of levers and the lovely man demonstrated just how they used to do it.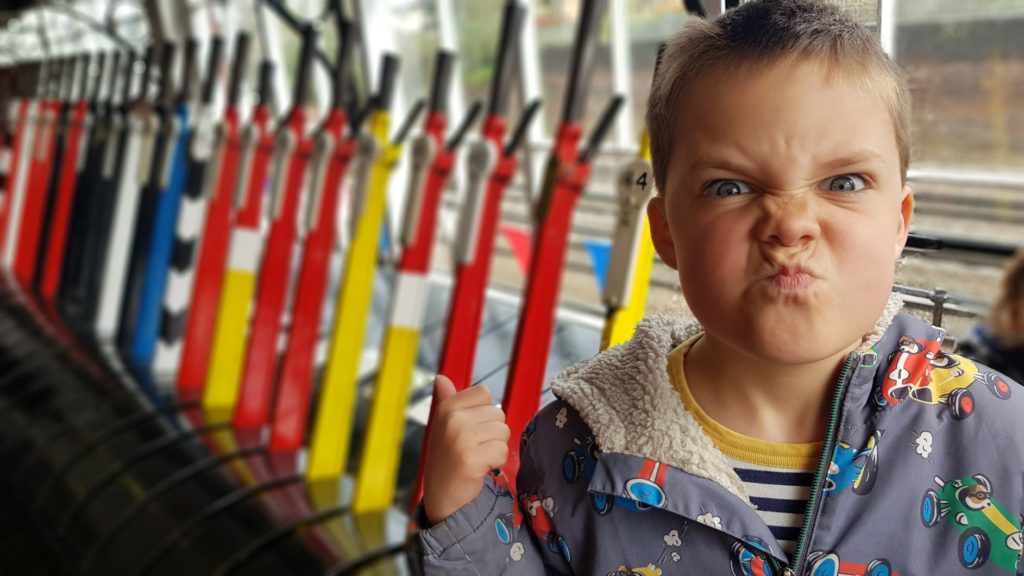 Not going to lie my kids couldn't have cared any less especially when they had the best view of the trains running on the tracks below. It worked out pretty well. They were fascinated with the actual trains while me and the husbeast had the chance to listen for once.
Signal Demonstration
After the demonstration the kids were allowed to have a go of some of the pulleys again. All kids are rough but not once were they told to be gentle it was refreshing.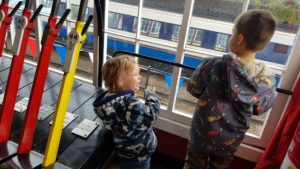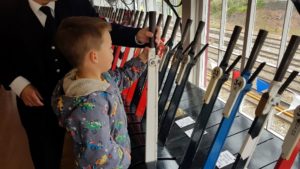 Once we headed down the steps (St Albans version of the empire state building minus the lift) we headed into the room under the signal box which was full of so many contraptions. Buttons, knobs, pulleys, bells and even a horn thing. (I know it sound like I'm describing some kind of BDM dungeon but don't stress I'm not). Again the kids were encouraged to touch everything the staff in their were so good with kids too and got them all laughing and were helping to explain things it was great.
Hangry
At this point the kids were starting to get Hangry so we headed back up the top to their make shift cafe and grabbed some cookies and drinks. Its not a cafe so don't expect to be able to buy lunch there because you'll be disappointed. Its more of a refreshments hut but it did the job until we headed off to find somewhere for lunch.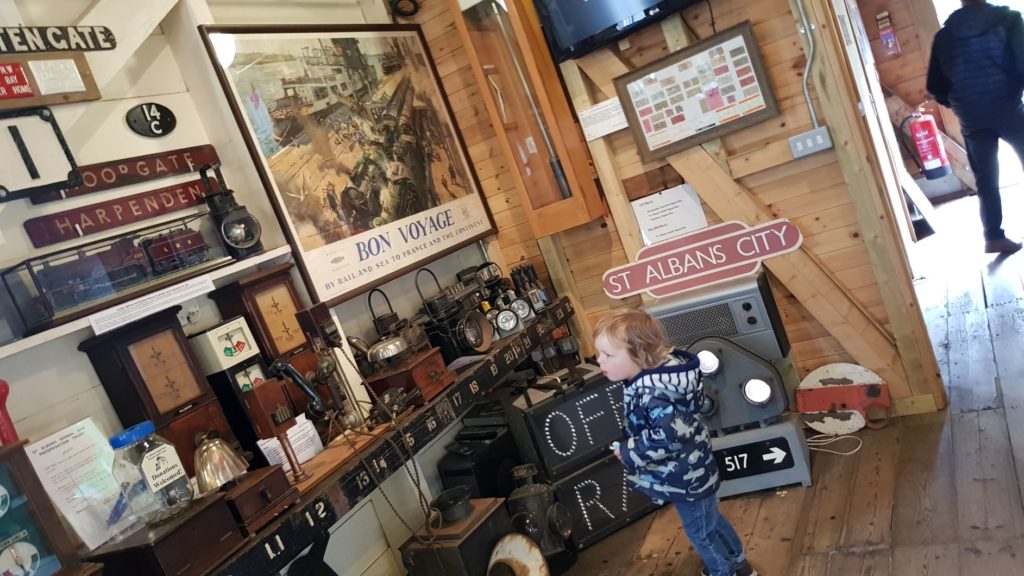 After a lovely chat with even more staff and another play with some more signals we decided to head off. On our way out i bought the boys a little badge each and as we left the boys got to pick their own pencils to take home. Cue attempting to take it off Elliot so he stops running with it like a knife before impaling himself on it.
St Albans Signal box Stats:
Distance from Bicester: 1 hour 10 mins
Sat nav: Ridgmont Rd, St Albans AL1 3AF Click for sat nav.
Wheelchair friendly: In parts but not going to be able to get up to the signal box.
Equipment upkeep: 10/10
Cleanliness: 10/10
Facilities: 4/10 Didn't see any toilets but could be wrong
Age range: all ages but i can imagine teens wouldn't be too happy
Safety: 6/10 lots of places to trip but just keep your wits about you
Fun factor: 8/10
Dog friendly: No
Conclusion
St Albans signal box for us was a perfect afternoon out. It's free the staff are helpful and friendly and its absolutely perfect for kids that love trains.
I don't think i'd recommend it to anyone that didn't have a love for trains because i can imagine you and your kids would be disappointed/bored. This place is for a niche and we thankfully fit into it perfectly and it was never at any point busy so we got to see everything.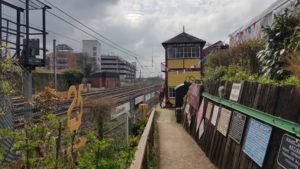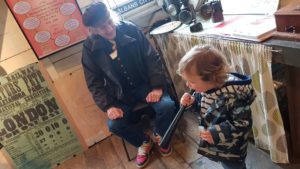 Its not somewhere i feel we would need to go to again but I'm glad we went the once. However if we lived closer i could imagine spending a lot of time here.
You need to make sure you check out their opening times before you decide to visit too. To avoid any disappointment.
AOB
Check out their website for more info an opening times HERE
If you're looking form more child friendly museums then check out my reviews HERE