Just me and the boys today. Meaning time to try out a new walk. Rushbeds wood is a 15 min drive from me in Bicester and I'd never even heard of it before.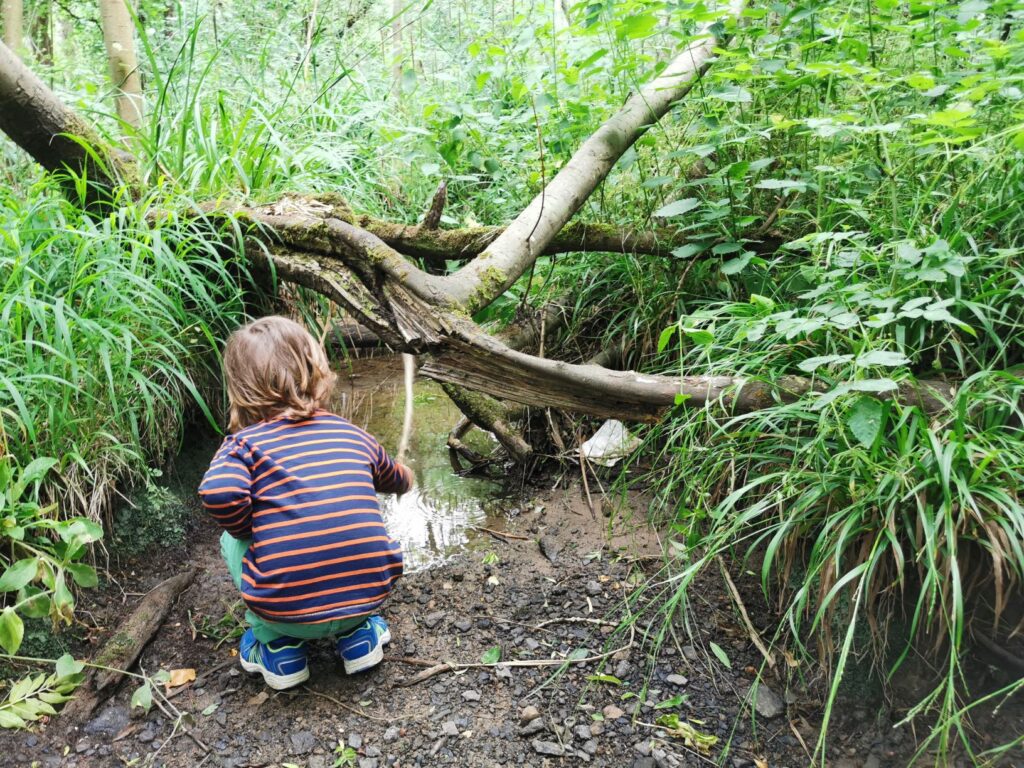 Rushbeds Wood
Took a while for me to find the car park for Rushbeds wood mostly because I kept driving past the entrance thinking it led into a farmers field. So keep your eyes peeled for a gated (But oped) entrance over a railway bridge. The roads a bit bumpy but once you're over you'll find the car park. There's enough space for maybe 4/5 cars? maybe more but I'm not the best at parking.
When we arrived we were the only car in the car park (thank god). While I'm at it the bridge is a good place for a stop of train spotting unfortunately we missed the trains. We heard them but just missed them much to Clark's disapproval.
We headed into the woods from the main sign. The boys had a mission today and that was to make a journey stick which is something form the mud & Bloom box that the boys get once a month. It's normally left to me to do it all but today they seemed interested. Its pretty easy to do yourselves too. Find a stick, wrap string round it, collect finds along your walk and tuck them behind the string on your stick. Took the boys about 30 mins to find the perfect stick each but we got there in the end.
The Paths are pretty wide and well maintained so getting round with a pushchair will be easy for you. After a while we noticed that there's a really windy little river that runs throughout the woods. It was pretty empty when we visited but I can imagine it fills up pretty quickly in the wetter months.
Exploring Rushbeds Wood
The boys had a great time trying to follow the river. At one point it was so empty they could jump down into the riverbed for a closer look. After a quick mooch about the boys were off again. Shoving flowers and sticks into their journey sticks. Clark then decides he cant be arsed to carry his anymore so made me do it.
We go to the end of the fist path after around an hour. Its only a 2 min walk but the boys were in the mood to take ages over everything which was fine by me. They seem to argue less when they're outdoors (hence why were outside so much)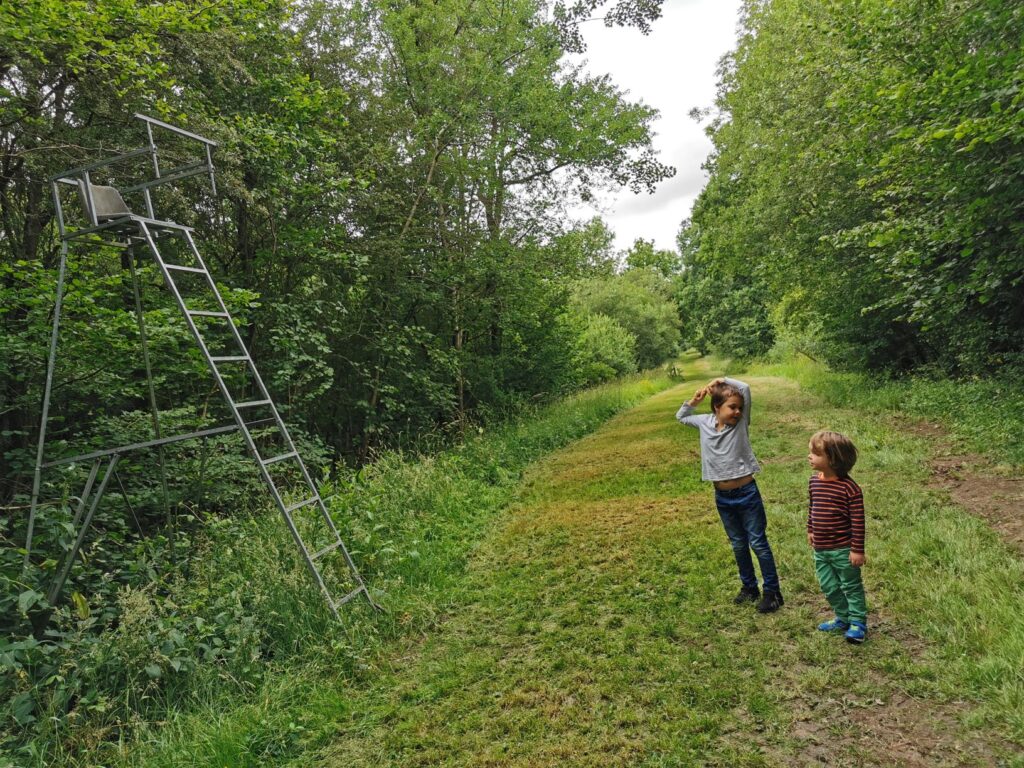 The path gets even wider as it turns round to the right giving the kids even more space to mess about. As we headed further into the woods Clark noticed there was a fence up. He then decided the fences were up to keep animals in. I decided to wind him up and say it was for the wolves. Haha should have seen his face especially where the fence has fallen enough for the wolves to escape.
After convincing them that we didn't have to run (Thank god as I'm carrying a lot of extra trunk after lock down.) We came across a really, really, tall chair at the top of a ladder. I'm not 100% sure but i think they might be for bird spotting. The boys wanted to go up which of course they we'rent allowed then they wanted me to go up. I also said no in case I fell and then they'd be all alone in the forest with the wolves. They said it would be ok and that they could carry me, then proceeded to try and left me…..and failed epically.
Lots More We Didn't See
We came to a crossroad with some more of the confusing signposts which basically all say the same. Aka go where the fuck you like. The boys stopped to have a read of one of the information boards about the woods and discovered there were long eared bats in the woods. They then took the right route, probably because they knew it would be the shortest route back to the car.
Along this path the boys started to pick wildflowers for me and their sticks (Mostly cows parsley and there was shit loads so calm down green peace). I had them in a vase for about 24hrs before having to throw them in the compost because they stunk of shit.
The path opens up to a bit of a clearing halfway with loads of logs stacked up aka a giant bug house. There were absolutely hundreds of butterflies down here. It was a bug hunters dream. Could I get a photo of one? could I bollocks. By this point the boys were trying to fob their journey sticks off to me.
All hell broke lose when Elliot refused to carry his own stick and wanted Clark to carry it instead. This resulted in Clark launching the stick into the middle of the woods never to be seen again. Thankfully I had some snacks with me to diffuse the situation before heading back to the car and buggering off home.
Rushbeds Wood Stats:
Distance from Bicester: 17 mins
Sat nav: Rushbeds Wood, Aylesbury Click to load sat nav
Wheelchair friendly: Yes
Equipment upkeep: N/A
Cleanliness: 10/10
Facilities: Small car park
Age range: All ages
Safety: 9/10
Fun factor: 9/10
Dog friendly: Yes
Pushchair Friendly: Yes
Bikes and Scooters: Not really
Kite Flying: I didn't see anywhere suitable
Conclusion
Although we didn't really explore a lot of Rushbeds wood what we did see was really lovely. It was nice and quiet and because of parking it'll never be able to get too busy either. It reminds me a little bit of Piddington wood in that sense.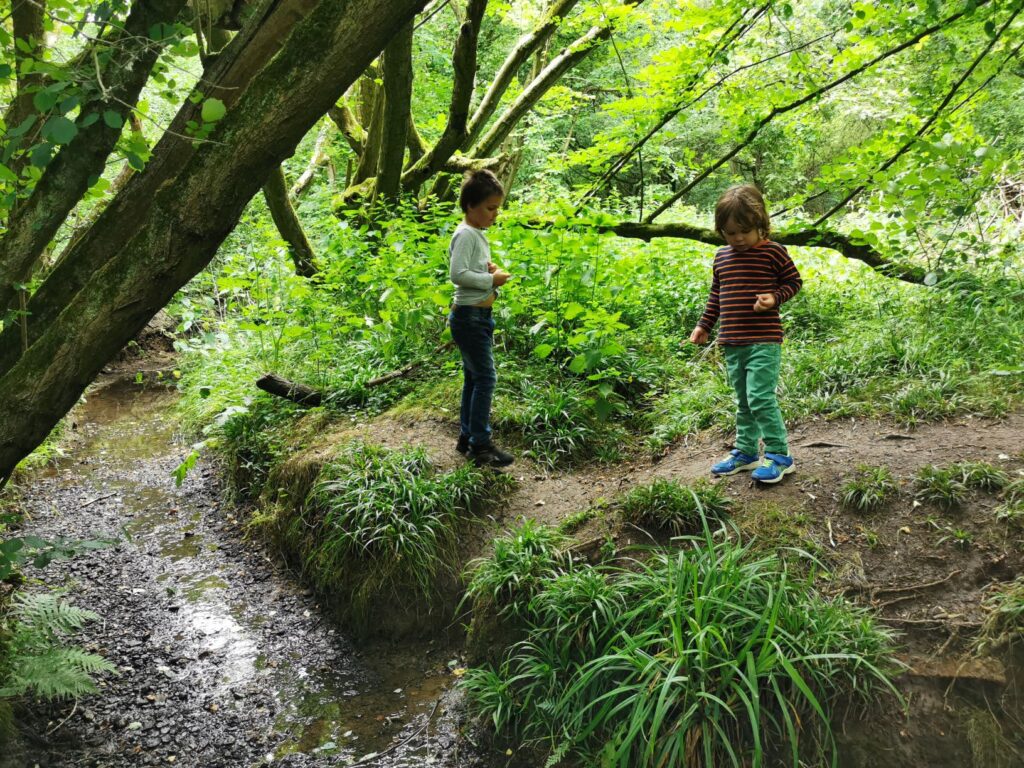 We will definitely be heading back with the husbeast to explore more of the wood. I'm intrigued to see if we can find these wolves haha. Its a cracking space to let the kids run round without having to worry about them running into the middle of the road. So if you do get a chance have a gander.
AOB
For more woodland areas to explore have a look at the map HERE
For more information on Rushbeds wood check the website out HERE